How often should you change your bra?
Wondering how often should you change your bra? Here's the how often you should replace your bra according to experts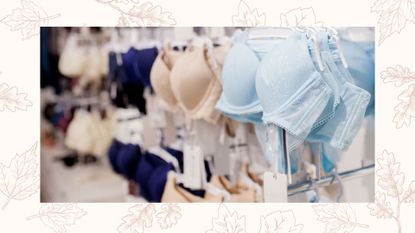 (Image credit: Getty Images)
How often should you change your bra? A question that strikes fear in many - even the savviest of shoppers, we're all guilty of holding on to older pieces of lingerie that have reached their 'comfortable stage'.
The foundation to every outfit, having great bras is integral to your wardrobe. The only way of ensuring your bust line sits correctly, having the best bras ensures you feel supported, while your clothes will look and fit better. Getting fitted and purchasing a top-quality bra will offer the right level of support, to begin with, but no bra can remain gravity-defying forever, so it's important to understand how often you should change your bra so that you maintain a selection of comfortable bras that also enhance your shape.
How often should you change your bra takes into account numerous factors and while there is a rough guideline of how long a bra should be worn - after 6 to 12 months the elastic starts to be less supportive and the fabric can stretch out of shape, there are also other contributing factors that mean you should replace your bra immediately, regardless of the time period that has elapsed.

How often should you change your bra: This is when you need to replace your bra according to lingerie experts
So how often should you change your bra? In part the answer is down to how you wash your bra and how you dry it according to lingerie expert Dora Lau, founder and CEO of Dora L International.
"Generally, if you hand wash your bras and do not put them in the dryer, they can last for about a year. Putting your bras in the dryer breaks down the elastic much more quickly and they will need to be replaced more frequently."
So while it might be more convenient to throw bras in the machine, when it comes to longevity, keeping your delicates in a way they're accustomed will mean your bras last longer. We suggest setting aside an hour once a week and hand washing your bras in one go, but as with machine washing, wash in color batches to avoid brighter bras staining your best whites. If you're still determined to machine wash, at least make sure t to use a delicates bag to keep your bras from snagging and make sure to hang dry them.
How do I know if I need to replace my bra?
It isn't just how you're bra is washed that affects the longevity, there are other factors to consider says Dora:
"Is your bra stretched out at the band? Are the cups stretched out? Are the cups too small? Do the straps fall off your shoulders (a sign that the band is stretched out). Did you gain or lose weight recently? Is the underwire painful or sticking out?".
If you answer yes to any of these questions. According to Dora, "You need a new bra - no matter how long you have owned the bras in your wardrobe".
And Katie Weir, of Curvy Kate, concurs, although Katie suggests there is wiggle room and how often should you change your bra can depend on how frequently you wear that particular style.
"You should change a bra that you wear most regularly (3-4 times a week) once a year. For bras you wear less or on special occasions - it can be up to 18 months".
But as with Dora, Katie suggests there are certainly caveats and you need to consider how a bra should fit and if yours is actually sitting correctly as a signal as to whether it's time for a change.
"The fit is key", says Katie. "If you are on the tightest hook of a bra before that heat is up… it could mean a new bra sooner! If you see weight fluctuations or premature aging of the bra due to machine washing." Then again, a bra change is on the horizon. And learning how to measure bra size will help you determine if you're in need of new bras sooner rather than later.
This is why Katie says "we suggest a bra fitting every six months to check for any changes and it could mean it is the time to invest in a new size or style!".
But do take into account how your bra size changes throughout your cycle before panicking.
Here's our quickfire checklist that gives you the things to look out for when asking how often should you change your bra. And remember if you answer YES to even one point. It's time to replace your bra.
One year mark: If you're had your bra for a year. It's time to replace it.
Worn on the tightest hook/band is stretched out: If you're bra is on the tightest hook, it's time to think about bra shopping as it means the elastic has relaxed.
Shoulder straps slip (and you've tightened them): Another sign the elastic has stretched out
Cups too small: We all have a little weight fluctuation throughout our cycle but if you're spilling out of the cups, you need a new bra.
Cups too big: Again, if you lose weight and you're not getting the right lift or fit, it's time to shop.
Underwire digging in or sticking out: If the underwire is digging in, it's a sign the bra is too small, equally if the wire is literally sticking out, it's had one too many washes.
General discomfort from the bra: Bras should never be truly uncomfortable, so if you're finding your bra unbearable, something is wrong with the fit.
How to make your bras last for as long as possible
To avoid changing your bra more frequently than necessary, regardless of whether you wear the best bras for large busts or small busts it's important to store wired bras as flatly as possible - so wires aren't twisted. The best bralettes however have less rigid storage rules. But regardless of the types of bra, washing and caring for your bras correctly will extend their life.
"The use of the bra dictates how often you need to wash it," says Dora. "An Everyday Bra which is used for general leisure, workout or sleep should be washed every 2-3 wears or more often if it's the warmer months. (While) sports bras should be washed more frequently. Really, no more than two wears, and preferably after one wear depending on your daily workout routine."
The frequency we have to wash our bras undoubtedly contributes to how often should you change your bra and if you have a smaller selection of bras that are washed and worn regularly, you might find they lose their support more quickly. This is particularly annoying if you want the best bras for back fat as the elasticity and support of the bra is highly important. Where possible, having a larger rotation will not only lessen the frequency you need to do laundry, but it will also mean each bra has less demanded of it.
And while Dora states that "Bras can be put in a laundry mesh bag and washed with similar colors." Whatever you do "Do not put bras in the dryer." just hang dry them to keep changing your bra to a minimum.
Sign up to our free daily email for the latest royal and entertainment news, interesting opinion, expert advice on styling and beauty trends, and no-nonsense guides to the health and wellness questions you want answered.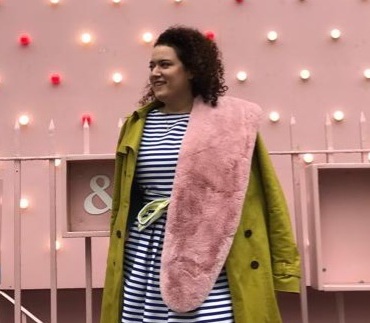 Rivkie is a fashion editor, writer and stylist with over fifteen years' experience in the industry. Having studied design and pattern cutting at the London College of Fashion, Rivkie fell in love with styling and journalism, covering fashion weeks in London, Paris and New York.
Specialising in plus size fashion, Rivkie has long championed that style is for everyBODY and has been a regular talking head on a host of radio stations and television shows, pushing for greater representation for plus size women and fashion throughout her career.