London Fashion Week 2023 highlights - from new look Burberry to diversity on the runway
The major London Fashion Week 2023 highlights and trends that our fashion team will be thinking about until September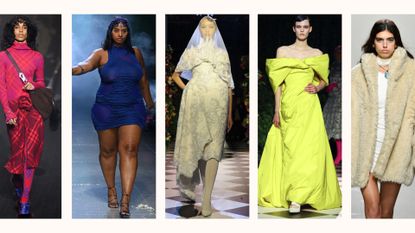 (Image credit: Getty Images)
When it comes to the London Fashion Week 2023 highlights, the London shows followed hot on the heels of New York and offered a jam-packed schedule mixing established names with hot new talent. While the first collection from Burberry's new creative direction, Daniel Lee, was one of the hottest tickets of the week, there were plenty of other big fashion moments.
Often beating to the sound of its own drum, London Fashion Week has a far more rebellious reputation than the other three fashion capitals. While New York Fashion Week trends 2023 delivered sophisticated styles and plenty of future classics, London was all about exploration and creativity.
With a number of British designer brands showing during the week, there was a strong mix of well-known names and exciting new talent to take note of. But while all the London Fashion Week highlights happened on the runway, they weren't just about the clothes.
5 London Fashion Week 2023 highlights to note
1. Burberry's new look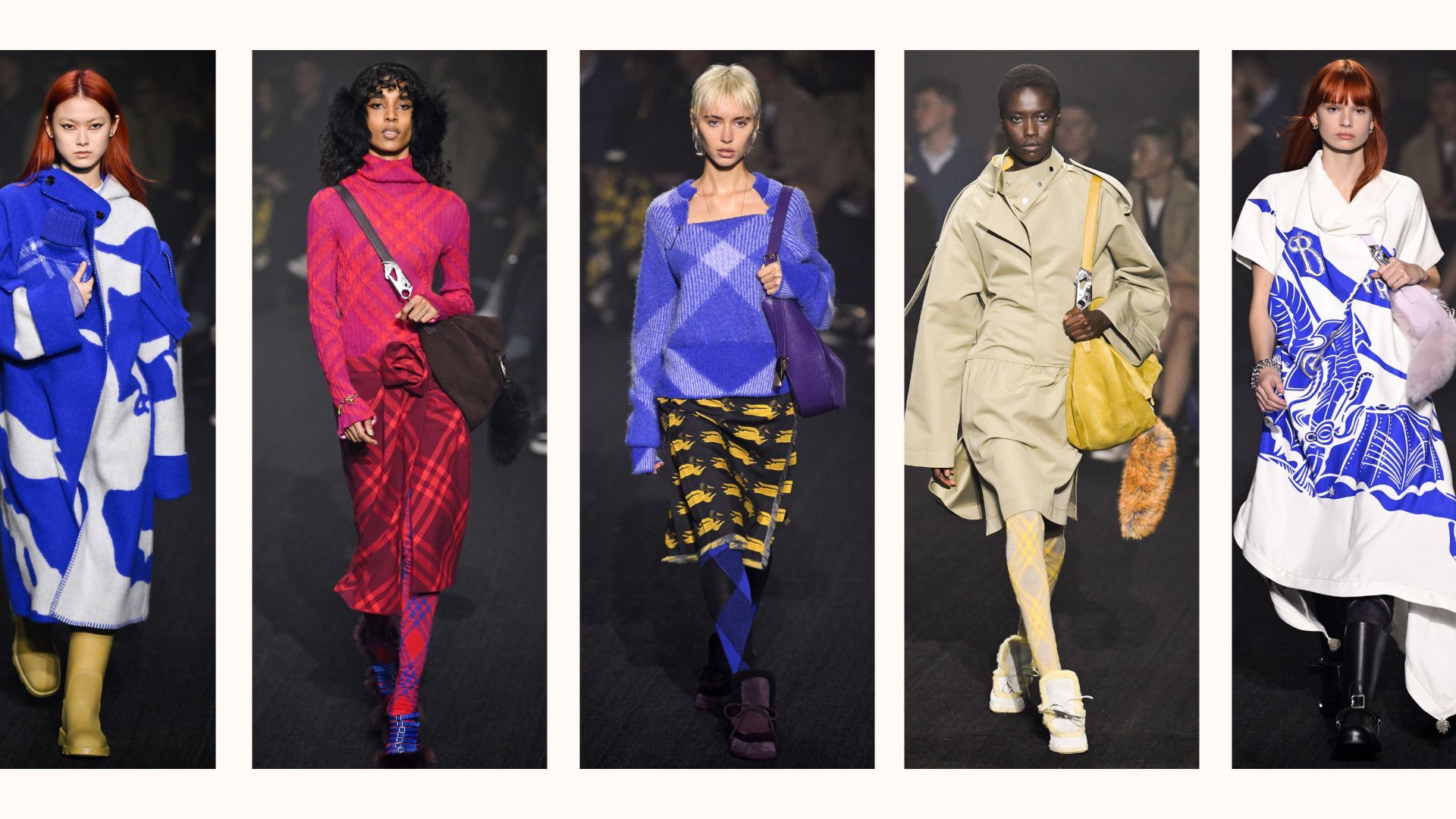 Burberry's London Fashion Week show was the first under new creative director Daniel Lee. Audiences were teased with promo shots of Lee's new Burberry - edgy, modern, and youthful - on the brand's social media channels earlier this month, fuelling the anticipation for a reimagination of the heritage label.
With punky echoes of late '70s Britain, as well as stand-out oversized outerwear and pillowy accessories, the collection provided a modernization of the nova check that is set to become a new staple of Burberry's brand identity. But on top of sleek and timeless turtlenecks, tights, and, of course, Burberry trench coats, Lee also injected youthful and light-hearted touches into this debut - our personal favorite piece being the duck trapper crocheted hat; a true mark of British culture. A masterclass in how to update a label without losing any of its well-established charm, this show was one not to miss.
"In a palette of rich jewel hues, Lee's diagonal oversized reimagining of the classic Burberry check breathed fresh life into the brand," agrees fashion editor Antonia Kraskowski (opens in new tab). "Emerging on an array of clothing, from sweaters and blanket coats to urbane bomber jackets, this was a nod to predecessor Ricardo Tisci's moves to expand the brand's streetwear offerings. Burberry's equestrian knight made an appearance too - this time as a bold, oversized graphic print that is sure to draw attention from younger customers," she says.
"Of course, it can be hard to swallow the price tags that come with these fashion flights of fancy at the moment, but in a nod to the current cost of living crisis, Lee sent models down the catwalk clutching knitted hot water bottles bearing the updated check - sure to be on every fashionista's cold weather wish list this winter."
2. Diversity on the runway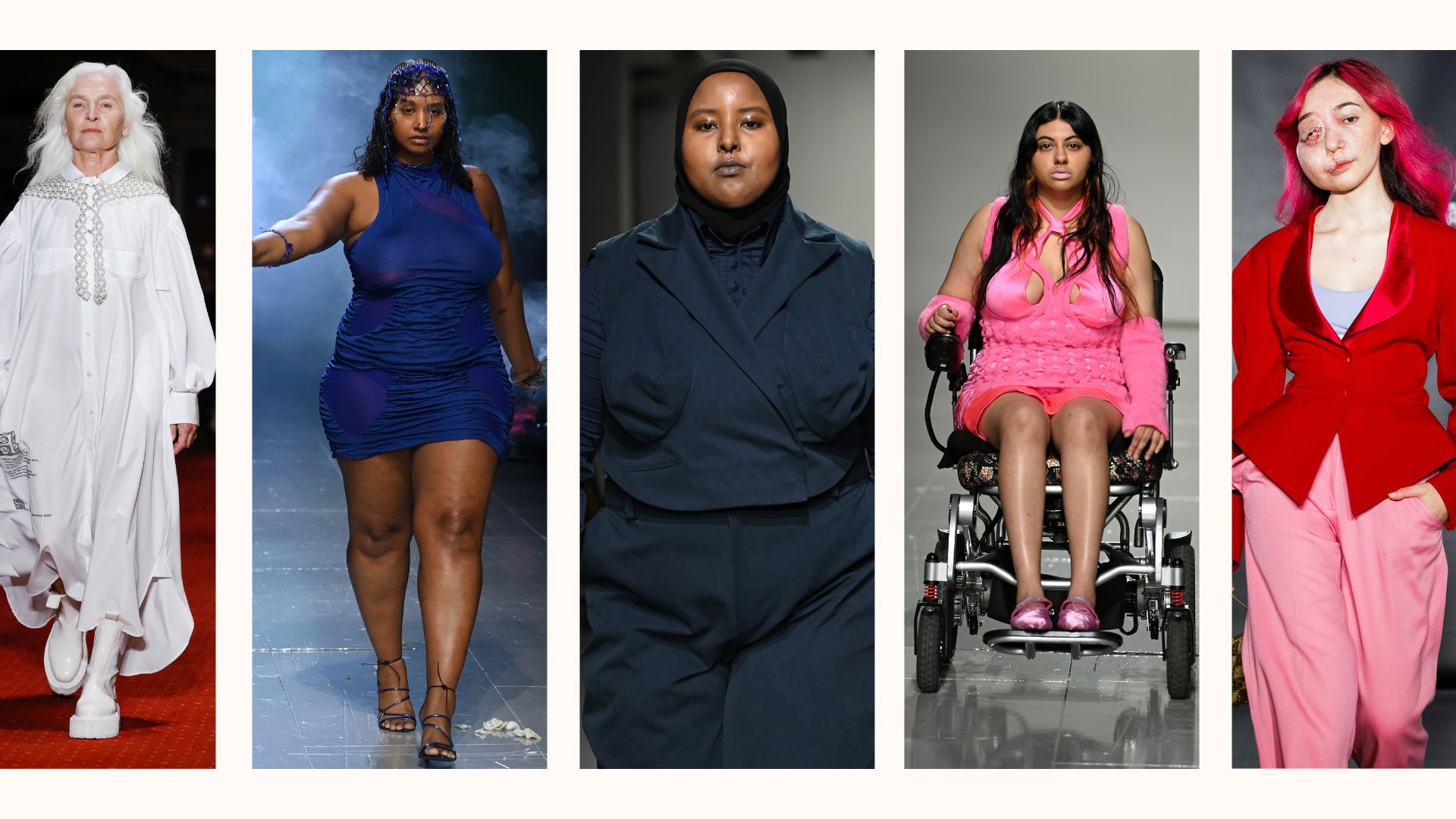 Diversity has been one of fashion's hottest topics in recent times and this season a great range of models is one of our major London Fashion Week highlights. While standard-size models are the mainstay of most fashion shows, designers also took note that reflecting their potential customer base was a great way to demonstrate that fashion and style are for all, making inclusivity one of the biggest fashion trends for the London shows. Key players in this changing face of fashion included Di Petsa, Sinead O'Dwyer, Feben and Oxfam's Fighting Poverty show.
3. Let's Get Dressed Up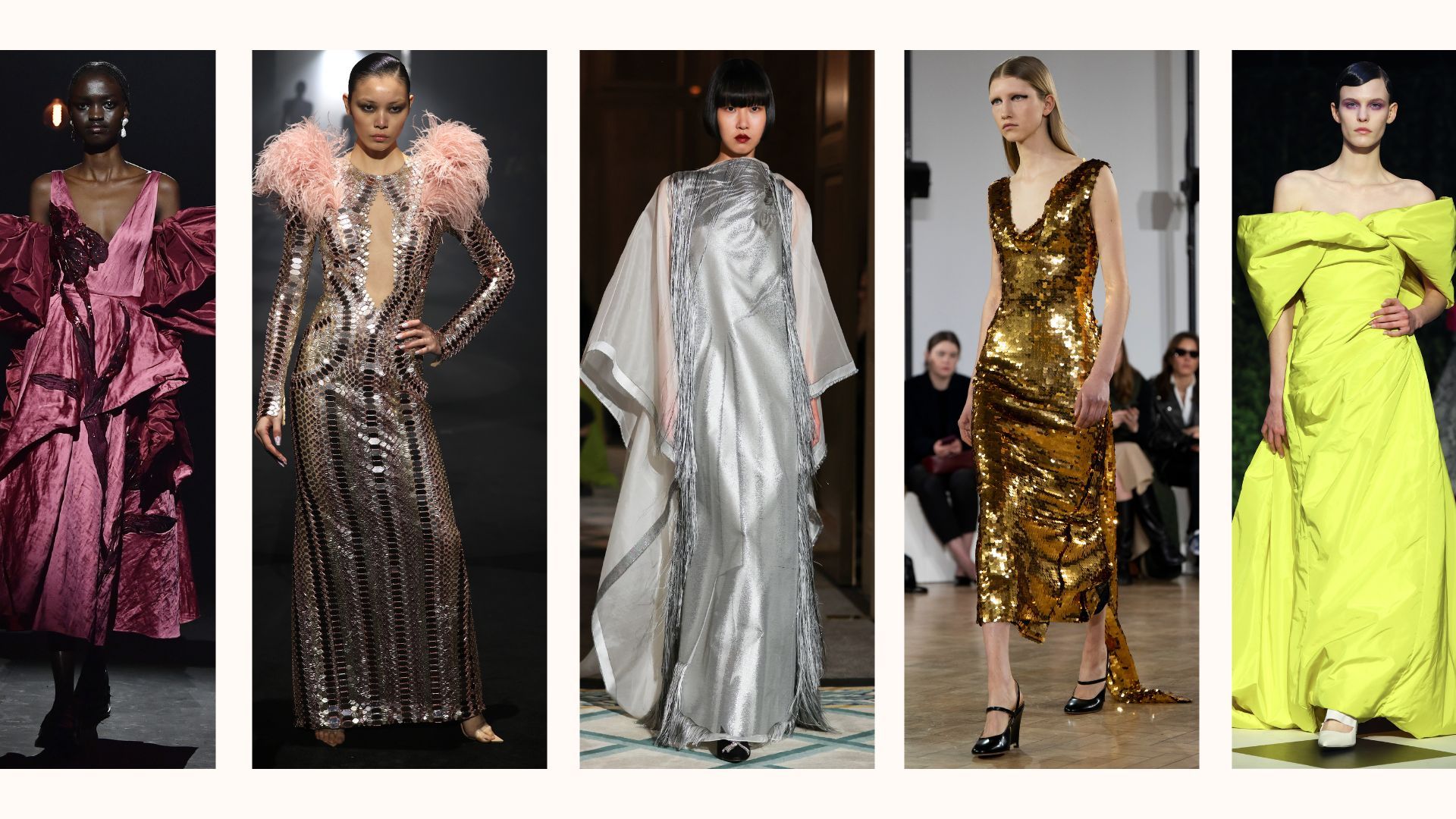 With many referring to this fashion month as the first that has felt 'normal' in some time, designers celebrated this feeling with plenty of occasionwear ensembles and the best dresses, ready for the end-of-year party season. From frothy tulle dresses to lashings of embellishment, romantic lace-detailing and curve-enhancing silhouettes, the highlight of this week was just how joyous the clothes felt. With often more than a nod to renaissance dressing, the poised and pretty runway shows from Richard Quinn, Erdem, and Emilia Wickstead have us practicing our waltz in anticipation. We expect partywear continue to be a big theme during Milan Fashion Week 2023 too.
4. Wedding Belles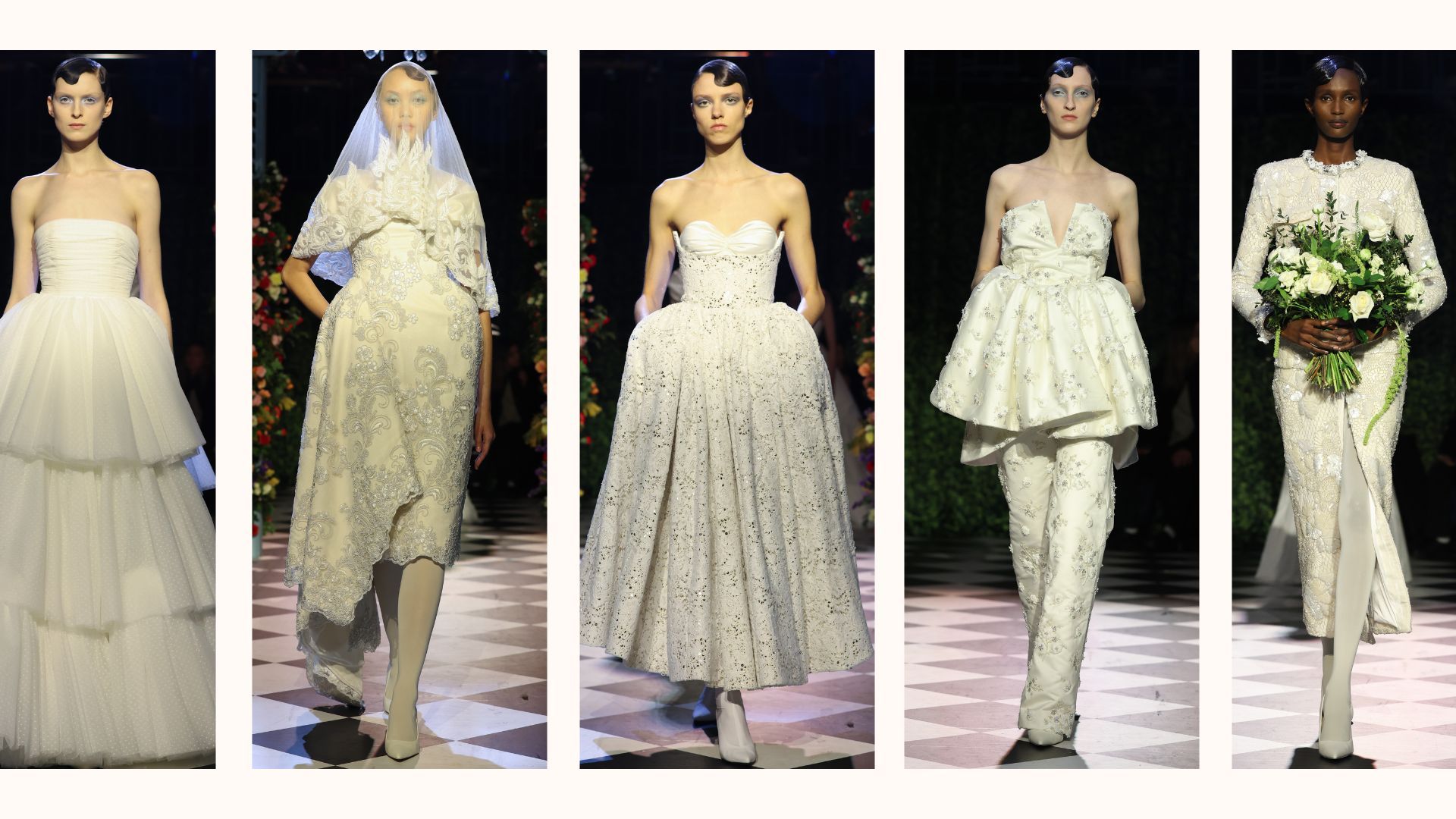 Normally associated with Paris couture, white 'wedding' dresses were a surprising London Fashion Week trend. If you've started your hunt or are getting hitched later in the year the wedding dress trends 2023 have a feminine and romantic feel that was exuded on many a London runway this season.
Master of dresses, Richard Quinn presented a host of white dresses in gown and ballerina length that wouldn't look out of place at any 'I do' moment. From traditional tulle tiers to sculptural skirt designs, not feeling a white frock for your big day? Quinn's embellished peplum top and matching pants is an ideal choice for an edgier bride.
5. Conner Ives shows off sustainable credentials at LFW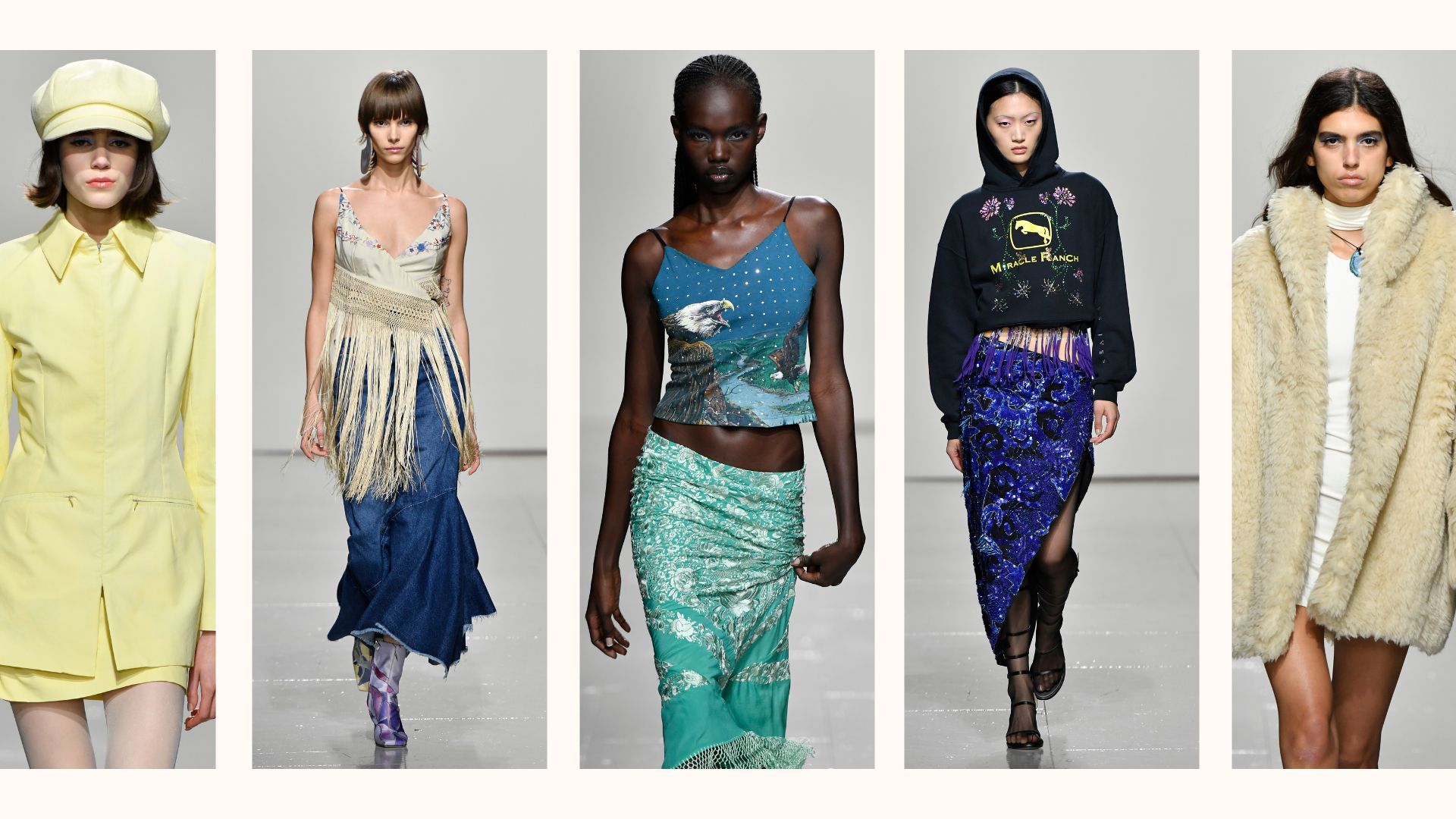 Undoubtedly one of the most fun collections of London Fashion Week 2023, New Yorker Conner Ives hoped to embody 'fashion mania' with his latest work. A dream for anyone who remembers '90s and early '2000s style with warmth and fondness, each runway look called to pop culture moments that will always signal fashion at its best, with focus on dopamine-inducing fabrics, prints and cuts that will never age. But what we really adored about these garments was not just the Y2k feel, slouchy silhouettes, or even the expert styling - it was the fact that an estimated 70% of the collection was made from recycled vintage materials, a facet that Ives was insistent on from the beginning of the design process. The nostalgia-filled looks referenced muses including Paul Thomas Anderson's 1999 film Magnolia (which the collection is named after), Kate Moss' iconic Glastonbury getup, as well as a wedding gown and hat inspired by The Parent Trap, almost entirely without the need for creating new fabrics. Recycled denim and silk scarves were repurposed expertly, demonstrating both Ives' innovation and craftsmanship that we couldn't stop looking at.
Huge strides have been made towards sustainability in the fashion industry of late, with some of the best sustainable clothing brands including Ganni and Daniel W. Fletcher embracing recycled and sustainably made fabrics. However, Ives' vision has proven that not only can climate-friendly clothing compete with entirely new garments, but it also has the capability to outperform them in terms of style and substance. Messy, frantic, and vivacious in the way that all truly memorable fashion is, the designer's second collection hints at huge things to come in terms of the development of the signature Conner Ives style, as well as progressions in the sustainable fashion world.
Rivkie is a fashion editor, writer and stylist with over fifteen years' experience in the industry. Having studied design and pattern cutting at the London College of Fashion, Rivkie fell in love with styling and journalism, covering fashion weeks in London, Paris and New York.
Specialising in plus size fashion, Rivkie has long championed that style is for everyBODY and has been a regular talking head on a host of radio stations and television shows, pushing for greater representation for plus size women and fashion throughout her career.