The best dressed celebrities and red carpet looks from the post-Oscars Vanity Fair party 2023
These stars brought their A-game to the Oscars Vanity Fair party 2023 and wore red carpet looks that we can't stop thinking about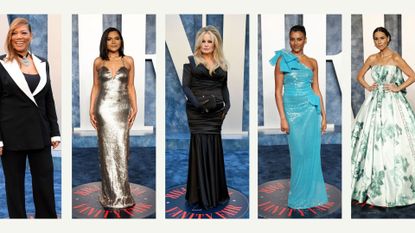 (Image credit: Getty)
The post-Oscars Vanity Fair party gets almost as much attention as the red carpet for the awards ceremony itself, with a star-studded guest list of celebrities and fashion icons. Attendees always pull out all the stops when it comes to their ensembles and 2023 didn't disappoint.
Our 2023 Oscars best dressed list showcased some jaw-dropping and iconic looks from this year's champagne carpet, but the Oscars afterparty gives stars who weren't nominated and attending the main awards show an opportunity to shine.
Stars such as Mindy Kaling, Laura Dern and Simone Ashley led the arrivals at the Vanity Fair party 2023 and sparkled on the red carpet, as all that glitters and shimmers was definitely a popular theme for the looks this year. Here our fashion editors pick their favourite red carpet outfits and best dressed celebrities from the post-Oscars Vanity Fair party 2023...
The best dressed stars at the Oscars Vanity Fair Party 2023
1. Minnie Driver
Following the Oscars 2022 best dressed, we were ready for big things this year - and Minnie Driver's afterparty look has given us everything we hoped for. Though slightly divisive, we're obsessed with this floral fabric that creates a vintage feel and works perfectly with the silhouette. Just the right level of drama for the Vanity Fair afterparty, the fitted bust with subtle ruching and modern ladder detailing takes this look beyond your typical puffy red carpet dress. Off-the-shoulder looks are always a huge hit in our books, so if you're considering what to wear to a wedding this summer and want to be a little more daring, don't be afraid to opt for a similar cut.
2. Mindy Kaling
When we think of the Vanity Fair Oscars party, glitter and sequins instantly come to mind. Undoubtedly one of the best dresses of the night, Mindy Kaling's floor-skimming gown embodies sophisticated elegance with a daring twist, thanks to the plunge neckline. The real standout detail of this look is the embellished straps that add a truly luxury feel and work in harmony with the rest of the gleaming look. Sequin skirts and dresses will never go amiss when it comes to occasion wear, especially when teamed with a figure-hugging fit as good as this. Experiment with different colored sequins and metallics to find one that really compliments your skin tone when trying out this look.
3. Jennifer Coolidge
One of the fan favorites of awards season, Jennifer Coolidge has done every ceremony in style. Everyone needs a statement black dress in their capsule wardrobe, and this mermaid-style Dolce & Gabbana look is memorable and distinctive without straying from Jennifer's signature style that works so well. Opera gloves are having a real moment right now, having been sported at Paris Fashion Week 2023 and by Kate Middleton at the BAFTAs, and we love this take on the trend that blends them seamlessly into the rest of the dress. Let this be a lesson that black by no means has to mean plain. The right accessories and subtle detailing, like these shoulder cutouts, can make any look a standout at the Vanity Fair Oscars party 2023.
4. Queen Latifah
When done right, tuxedos for women really are unbeatable. The exaggerated collar and exposed shirt cuffs inject some personality this look without losing the boxy appeal of a suit, whilst the flowing flared trousers add a hint of femininity to Queen Latifah's ensemble. Channeling the jewelry trends 2023, this statement pendant adds the ideal amount of bling that brings a more playful and modern feel to this timeless look. Easily recreated with any boxy blazer and wide leg trousers, this is an outfit we will definitely be taking inspiration from for events and days in the office alike.
5. Kate Hudson
Kate Hudson always seems to get it right on the red carpet, but we have to say that this Barbiecore dress has blown all her other gowns out of the water. The deep V neckline is beautifully paired with these oversized asymmetric shoulder details that could only be done at the Oscars afterparty, providing a look that will certainly stay on our minds for a while. A truly glamorous couture moment, the tight body and flowing skirt add a dose of drama that this bright pink hue works in harmony with. Channel the fashion color trends and go for vivid summery color palettes when shopping for an occasion dress that will catch everyone's eye just as much as this one.
6. Laura Dern
Sophisticated yet edgy, Laura Dern's metallic look evokes images of a 70s rock star with a chic touch. A long skirt outfit makes a welcome change from dresses and is a brilliant way to play around with textures in any ensemble. The pairing of a satin corset with a sequined blazer and skirt creates dimension whilst retaining that afterparty 'I just threw this on' vibe. We love the fringed edges of the jacket, one of the key fashion trends 2023, as well as the trendy wavy hairstyle that ties it all together. Black has been favored by numerous stars on this year's red carpet, and we will be taking notes from the contrasting silver hues that make this look a real standout.
7. Simone Ashley
From Met Gala looks to this season's catwalks, blue is having a resurgence in the world of formal dressing. This Nina Ricci gown is extraordinary and a masterclass in how to do color just right for the red carpet. With oversized bow detailing and a cheeky leg slit, Simone Ashley's gown is the ideal balance of playful and refined - exactly what we want from the Vanity Fair best dressed. We love that the one-shoulder silhouette balances out maxi length of the dress, whilst the gathered fabric body creates the most gorgeous fit. Bringing back dopamine dressing as we head into spring, this is a color we expect to see trending in the coming months.
8. Leslie Mann
This year's Oscars best dressed favored sheer textures and we're obsessed with Leslie Mann's take on the trend. Teaming a daring see-through bust with a full mesh skirt, there is just the right amount of skin showing here. We love this high cut neckline that adds a sophisticated touch to the look whilst also accentuating the waist and allowing the ruffled skirt to have its moment. Another look incorporating sequins, there is no end to the ways that a touch of glitter can be added to a red carpet dress. Paired with the best designer heels and best designer bags, tulle dresses make a real statement that will never go out of style, and you can find skirts similar to Leslie's look on the high street.
9. Lily James
Looking to update your collection of the best cocktail dresses? Feathered detailing is a brilliant way to add a fashion-forward feel to any look, as demonstrated by Lily James' breathtaking baby pink number. We know that there's no going wrong with strapless dresses, but the added fluff creates a luxury finish that makes this one of our favorite gowns of the night. Another iteration of the tight body and flowing skirt, this is a silhouette that will look gorgeous on anyone and is perfect for black tie dressing. To make this look your own, channel the handbag trends 2023 and accessorize with a structured clutch.
10. Kerry Washington
Champagne can be a slightly risky choice amongst a sea of black and bold colorful hues on the red carpet, but Kerry Washington demonstrates how to do it right. This structured corset-style body and fabric gathering detailing is very Westwood-esque and so timelessly elegant - this is a gown that wouldn't look out of place on 90s red carpets, but will also stay trendy for years to come. The barely-there straps also work to let the body of the dress do the talking, whilst the hourglass waist draping beautifully accentuates her figure. When shopping for wardrobe essentials, go for neutral hues that can be worn anywhere, and style up with unique fabrics and cuts that will make your look stand out.
11. Sharon Stone
Sharon Stone is always one to watch when it comes to awards season dressing, and she has nailed both style and substance yet again. Caped dresses are finding their way back into mainstream favor, and when they look this good, who can say no? The dramatic silhouette contrasts wonderfully with this soft yellow hue - right on trend for spring and bringing a touch of sunshine to the Oscars afterparty red carpet. The white floral applique at the hem of this look completely ties it all together and adds some texture and personality - a beautiful way to refine the gown and inject some timeless sophistication. Finishing the look with a matching mini bag, a style essential for any event, this is definitely one of the standouts from the night.
12. Tracee Ellis Ross
If you're looking for drama, Tracee Elliss Ross has hit the nail on the head with this Balmain ensemble. We are always pretty torn when it comes to hats on the red carpet, but this look may have swayed us. Keeping things minimal in terms of color, the silhouette is doing all the talking here. The black flared trousers and opera gloves (a clear favorite accessory) allow the boxy, structured cape to really sing whilst drawing the eye upwards towards her face. If you want to give statement accessories a go, start by keeping things neutral and allowing your chosen piece to be the main component of your look. When done right, as demonstrated here, it is a foolproof style that gets people talking for all the right reasons.
Amelia joined woman&home after graduating with an MA in Magazine Journalism from City University in 2022. She specialises in lifestyle journalism and throughout her undergraduate degree she wrote for a variety of student publications, where she developed a love for all things style, beauty and sustainable fashion. She has previously written for titles including OK! Magazine, New! Magazine and Notion before she started her career as a lifestyle journalist with woman&home after completing an internship with the brand.