Best Met Gala looks - the most fashionable moments from the last 20 years
Revisit some of the best Met Gala looks from the most fashionable red-carpet event of the year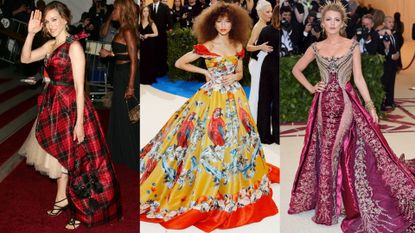 (Image credit: Getty Images)
woman&home newsletter
Sign up to our free daily email for the latest royal and entertainment news, interesting opinion, expert advice on styling and beauty trends, and no-nonsense guides to the health and wellness questions you want answered.
Thank you for signing up to . You will receive a verification email shortly.
There was a problem. Please refresh the page and try again.
When it comes to the best Met Gala looks, the more outlandish the better. While there are plenty of high-profile events that allow celebrities to sashay down the red carpet in their finest outfits, the Met Gala—formally known as the Costume Institute Benefit—takes red carpet dressing to a whole new level.
The Superbowl of fashion, the best Met Gala looks give any red carpet, even the top Golden Globes dresses a run for their money. From the best Oscars dresses to the BAFTA's best dressed 2022, we're thrilled that dressing up is back on the fashion sets agenda. A yearly event to celebrate fashion in all its glory, the Met Gala plays host to some of the biggest names in film, music and style. A themed evening, it is essentially the greatest costume party of the year, a night where the best dresses are taken to a whole new level. Full of drama, it's a chance for A-listers to think outside the fashion box and over the years we've seen all sorts of weird and wonderful outfits.
The Met Gala, which began in 1948, is held to raise money for the Costume Institute and heralds the opening of their annual blockbuster show, which influences the gala's theme each year. An annual event, it is the one high-profile red carpet that truly puts designers and their work front and center, with many creatives attending with their celebrity muses. While 20 years ago the benefit was merely another place to showcase a fancy frock and your best designer heels, today many follow the evening's theme to a tee, producing some outstanding fashion moments. And while fashion has changed considerably over the last two decades, there's still something that ties together the best Met Gala look—and that's drama. After all, this isn't just any red carpet.
Best Met Gala looks from 1999-2001
1. Billie Eilish—2021
After showcasing her new blonde transformation in British Vogue a few months earlier, Billie Eilish's arrival at the Met Gal in 2021 cemented her transformation from androgynous style icon to A-list pin-up. The theme of In America: A Lexicon of Fashion allowed the singer to pay a tribute to Old Hollywood glamour and her blush pink gown, designed by Oscar de la Renta, was inspired by the dress Marilyn Monroe wore to the Oscars in 1951. The feather-light tulle layers, combined with the voluminous style meant Billie was truly the belle of the ball. However, this dress was much more than just a chance for the teen to dip her toe into a new style. Not only did she change the way she looked, but Billie also used her appearance to change Oscar de la Renta's policy on fur as the committed vegan refused to be dressed by the fashion house unless they stopped selling it.
2. Lady Gaga—2019
If anyone was going to nail the theme of Celebrating Camp: Notes on Fashion, it was going to be Lady Gaga who made the ultimate pop star entrance at the 2019 Met gala. As she told American Vogue: "I know intrinsically that I have a camp soul!" Dressed by her friend, American clothing brand, and long-time collaborator Brandon Maxwell, the star arrived in an oversized bright pink cape coat with a matching pink hair bow. It was so oversized that it needed its own entourage to carry it while she ascended the stairs to the Met. The drama didn't stop there though. As Lady Gaga continued to walk the carpet, she stripped down to reveal three different outfits, ending in literally her (very sparkly) underwear. The final icing on the cake was the $2,000,000 worth of jewelry she wore to accompany her outlandish outfit. How can you beat not one, but four, Met Gala looks in one—pure theatre.
Ahead of their time, pink is one of the biggest fashion color trends this season, so take a leaf out of Lady Gaga's book and invest in one of the best pink dresses this season. We can't promise you'll find one quite as dramatic, but this mood-boosting hue certainly offers a dose of dopamine dressing.
3. Blake Lively—2018
While Rhianna's fashion nod to the pope caused controversy, Blake Lively really stole the show at the 2018 Heavenly Bodies: Fashion and the Catholic Imagination Met Gala. Her gown, from Italian clothing brand Versace had more than a touch of Game Of Thrones to it and featured an ornate ruby and gold design with intricate beading. Taking a whopping 600 hours to make, the jewel-encrusted gold corset, which showed off Blake's figure perfectly, was complemented with a ruby-red skirt with peekaboo sheer panels, enabling Blake to showcase her legs in a subtle way. The heavenly look was completed with a beautiful halo-style headpiece, giving Blake a modern angelic look.
4. Zendaya—2017
In 2017 the Met Gala celebrated the design genius of Rei Kawakubo in Comme des Garçons: Art of the In-Between. Actress Zendaya may not have followed the theme per se, but her tropical print gown by Dolce & Gabbana certainly stole the show. The young star proved that formal attire can also feel edgy, by choosing an unexpected print and teaming it with a simple red lip. Red-carpet perfection.
5. Beyoncé—2016
Latex is not usually associated with A-list red carpet appearances, but it was the perfect fabric for Beyoncé to rock at the Met Gala in 2016, thanks to its futuristic theme—Manus x Machina: Fashion in an Age of Technology. As per her previous appearances at the event, Beyoncé chose Riccardo Tisci, then at French clothing brand Givenchy, to design the futuristic dress. Executing the theme with the right level of drama, the dress hugged the star's hourglass body shape—it was truly a perfect Met Gala look. The latex dress was given an injection of feminity thanks to the puff sleeves and pearls, and of course, this being Beyoncé, these were no ordinary pearls—each one was rumored to cost a whopping $8,000!
6. Rihanna—2015
Rihanna brings her full style game to the Met Gala, and while all her outfits deserve to be awarded best in show, the cape-come-gown she wore in 2015 is arguably her finest fashion moment. Totally nailing the theme of China Through the Looking Glass, the songstress chose Chinese couturier Guo Pei for her stand-out yellow cape. Rihanna recently admitted that she was worried she had gone too far with the embroidered dress coat, fearing she looked like a clown, however, despite inspiring a whole raft of memes, the bright yellow fur-lined outfit totally stole the show. It weighed in at a hefty 25kg, meaning getting in and out of the limousine was a struggle but a fashionista like Rihanna knows that for the best Met Gala looks sometimes you must suffer for your art. Most people would keep the rest of their outfit relatively simple, but this is Rihanna, so she went large with a headpiece and necklace, which gave the whole look a very regal air.
7. Dita Von Teese—2014
In 2014, the Met Gala celebrated the English American fashion designer Charles James, known for his highly structured creations, so it was very fitting that burlesque performer Dita Von Teese chose an architectural Zac Posen number. Not only did the design give a nod to James' own sculptural designs, but the retro feel was very much in tune with Dita's usual style. The mermaid hem emphasized Dita's curves, harking back to the screen stars of yesterday. The star coordinated her lipstick and handbag with the red trim and lining of the dress, bringing a whole lot of retro glamour to the red carpet.
8. Cara Delevigne—2013
Sadly, there were very few mohawk hairstyles or safety pins on the red carpet for the 2013 Met Gala where the theme was Punk: Chaos to Couture, however, British model Cara Delevingne managed to bring a little bit of punk to the night with her dress from British clothing brand Burberry, reminding us all that the brand is about much more than its classic Burberry trench coat. The daring low-cut V-neck dress was given edge thanks to the heavy metal studs, while the simple cut showed off Cara's model figure to perfection. Adding to the punk vibe with her cool accessories, including a LeiVanKash dagger necklace, Cara proved without a doubt that punk can also be chic and stylish.
9. Florence Welch—2012
Moving away from the sea of body-conscious, barely-there gowns, Florence Welch went for full-on frills with this ethereal Alexander McQueen dress at the 2012 Met Gala. Not everyone could pull off the dandelion embroidered organza tiered dress, but the frills suited Florence's boho aesthetic. The sheer paneling detail to the bust and arms gave it a sensuality without revealing too much skin—a real revelation on the modern-day red carpet. Like the designs of Schiaparelli and Prada who were celebrated that year, it was fantastical, whimsical, and definitely a Met Gala look to remember.
10. Taylor Swift—2011
For her third appearance at the Met Gala, Taylor Swift chose a J Mendel gown, which pretty much nailed the theme of Alexander McQueen: Savage Beauty. Gothic elegance reigned supreme, as the pretty nude frock was given a harder edge thanks to the addition of lace embellishments and layers of mesh and tulle. The exquisite draping on the back of the dress added extra drama as it extended into a full train. The whole look was finished off with a simple up-do and dramatic dark lipstick, proof that Taylor was growing up.
11. Kirsten Dunst—2010
It seems quite appropriate that Kirsten Dunst chose Rodarte to dress her in 2010. The theme of American Woman: Fashioning a National Identity seemed particularly relevant to the then, fairly new label, which was set up by the Mulleavy sisters in California. The actress, who has had a long relationship with the brand, perfectly suits its romantically quirky designs. While a white frock can look a little bridal on anyone else, for a Hollywood star like Kirsten, it gives off a youthful vitality. The embroidery, pearls, and fluffy shoulder embellishment, alongside the draping, give interest to what could have been a plain dress, ensuring that Kristen looked incredible on the night.
12. Kate Moss—2009
With a theme like The Model As Muse: Embodying Fashion, Kate Moss was bound to have one of the best Met Gala looks. Back in 2009, she paired a gold lame Marc Jacobs mini dress with a matching turban, designed by milliner Stephen Jones. It's true that the Croydon-born model would look good in anything, but this shimmering, draped dress made her look like a star of yesteryear, combining old-school glamour with new-school cool.
13. Victoria Beckham—2008
As a Spice Girl she had plenty of girl power so it's perhaps no surprise that Victoria Beckham shone at the Met Gala in 2008 when the theme was Superheroes: Fashion and Fantasy. The former pop star opted for a vintage Giorgio Armani, '80s beaded dress coat. The mixture of tailoring with semi-sheer fabric made for a powerful red-carpet combo, while the thigh-high slit, ramped up the sex appeal. The designer attended with husband David Beckham, marking the couple's first appearance at the Met Gala together.
14. Mary-Kate Olsen—2007
Fashion designer and actress Mary-Kate Olsen brought full-on drama to the red carpet in 2007 when the Met honored ground-breaking French designer Paul Poiret. Her theatrical feathered gown, which was from Lily Et Cie by Rita Warnick, wouldn't look out of place on a red carpet today, as it gives a nod to the latest fashion trends with its heavy artisanal detailing. An over-the-top dress like this could swamp a smaller frame, but Mary-Kate knows the power of a deep V for petite women—as lengthening the neckline, makes you look taller.
15. Sarah Jessica Parker—2006
If you've ever wanted to learn how to dress like Carrie Bradshaw, take notes now. In one of the best Met Gala looks of all time, Alexander McQueen and Sarah Jessica Parker arrived in matching tartan for the 2006 Met Gala, AngloMania: Tradition and Transgression, which showcased British design talent. A nod to the designer's Scottish roots, on paper the dress shouldn't have worked but McQueen worked his magic to create a truly eclectic red-carpet gown. The juxtaposition of the tartan against tulle created true drama, bringing traditional and modern together in one dress. Cinching the dress in with a belt added a modern touch, showcasing SJP's waist, and gave the ensemble a Sex And The City twist—Carrie would wholeheartedly approve! The actress recently revealed that despite the glamour of the night, she didn't enjoy herself as she was so nervous about attending with McQueen, who she was in awe of.
16. Jennifer Connolley—2005
A quick Google search for the best Met Gala looks in 2005, reveals a whole host of badly fitting satin dresses, hardly in keeping with the theme of The House of Chanel. Thankfully, Jennifer Connelly bucked the trend, opting instead for a short and sweet Balenciaga dress. The actress has long been a muse for former Balenciaga designer Nicolas Ghesquiere, so it was no surprise he chose to dress her for the event. An ideal look for pear body shapes and rectangle body types, as an embellished bust line adds fullness and curves, as well as drawing the eye up the body and balancing fuller hips. If you have a dress with a busy bodice, keep the rest of your look simple and sleek to avoid being overwhelmed.
17. Scarlett Johanssen—2004
Proving that dressing to a Met Gala theme doesn't need to stray into fancy dress, Scarlett Johansson channeled the theme of Dangerous Liaisons: Fashion and Furniture in the 18th Century in her simple, yet beautifully cut Calvin Klein dress. The cut skims her body while the bodice area alludes to the 18th century, while still feeling very modern. The yellow silk made Scarlett stand out on the red carpet, although the actress recently confessed that away from red carpet events, she chooses more neutral shades.
18. Iman—2003
Looking like she'd just stepped off the silver screen, Iman dazzled in a white halter neck dress, that just screamed pure glamour. The theme of Goddess: The Classical Mode couldn't have been embodied better than in the Calvin Klein dress, the simplicity of which, meant she could ramp up the accessories, such as her floral headpiece. Halterneck dresses can be particularly tricky to wear, so if your dress doesn't have any in-built support, make sure to bag yourself one of the best bras to ensure the best lift. Halterneck dresses are a great style for those with wider shoulders or more slender arms as it draws the eye up the body centrally, elongating your frame.
19. Renee Zellweger—2001
As befitting of the theme, Jacqueline Kennedy: The White House Years, actress Renee Zellweger channeled the former First Lady in a simple cream shift dress. The vintage Oleg Cassini gets extra theme points as Cassini was the official wardrobe designer for Jacqueline Kennedy when she was in the White House. The dress may have been vintage, but the bandeau silhouette was enjoying a revival in the early Noughties, which made it feel very on-trend at the time. The cute bow detail around the waist helped to create an hourglass silhouette.
20. Liv Tyler & Stella McCartney—1999
When the theme is Rock Style and your dads are rock stars, you simply have to defy convention and ditch the formal dress for a homemade top stating your lineage! Liv Tyler and Stella McCartney proved their real rock chick credentials with their asymmetric tops, which went on to spawn a whole new trend that lasted several seasons. It was also the start of mixing and matching formal wear with more casual attire—best white trainers with smart trousers anyone?—and showed that fashion could be fun and still red carpet appropriate!
With over 22 years' experience in journalism, Jayne has written about a variety of subjects. She spent the start of her career within the world of film, interviewing Hollywood stars, attending premieres and lusting after red carpet outfits, and then moved into fashion, launching websites for big magazines such as Look, Woman's Own and Wedding and working with top fashion brands such as Westfield, LK Bennett and Hunter.
Career highlights include dressing up as Kylie (in gold hot pants!) for a national newspaper and working on big fashion events alongside Giles Deacon, Henry Holland and Naomi Campbell.