BAFTAs best dressed 2023: 12 striking outifts from the BAFTA red carpet
These are the stars that have made our BAFTAs best dressed 2023 list and what you can learn from their style choices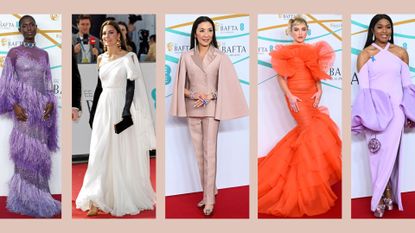 (Image credit: Getty Images)
Red carpet dressing is an art form in itself and the BAFTAs best dressed 2023 are a testament to this. The stars turned out in their finery for the 76th British Academy Film and Television Arts awards and there were some easily identifiable trends on the night.
With a full roster of red carpets this season, we finally have award season back in full swing, and the BAFTA's best dressed 2023 looks were often in stark contrast to February's Critic's Choice Awards 2023 best dressed. Reflecting London's rebellious sense of style, there were far more androgynous looks, with a number of big names shunning old school glamour for a fresh and edgy take on red carpet dressing.
With a largely monochromatic palette, accented by some of the biggest fashion color trends of the season - thanks to Angela Bassett & Florence Pugh - many stars opted for black and white ensembles, for more understated, pared back elegance. The 2023 BAFTAs, nestled during London Fashion Week, offered a prime time for designers to show off their wares both on and off the runways, and stars did not disappoint. From tailored pant suits to form fitting gowns, the drama was peppered in the form of sculpted silhouettes or metal hardware built in and onto dresses for a futuristic feel.
We've rounded up the BAFTA red carpet outfits that we can't stop thinking about and how you can use the same clever styling techniques to enhance your own occasion wear looks.
BAFTAs best dressed 2023: Our 12 favorite red carpet looks and what you can learn from stars' style choices
The BAFTAs best dressed 2023 is an excellent source of inspiration for occasion dressing this summer and beyond. If you're after ideas for what to wear to a wedding or are in need of the best cocktail dresses, while you might not have the access to couture, you can still get ideas for shapes and cuts that will enhance your silhouette and tap into the fashion trends 2023.
1. Princess of Wales
Looking utterly dreamy, the Princess of Wales, Kate Middleton attended the BAFTAs 2023 awards with husband Prince William. Seemingly Kate had got the memo about the black and white color palette that many stars were selecting for the BAFTAs and followed suit in a directional one shoulder white gown. Accenting the look with a host of trend-worthy accessories, Kate wore long black opera gloves that finished past her elbow and sky high heels, and carried a sleek black box clutch, finishing her ensemble with gold drop earrings, from Spanish clothing brand Zara, showing that Kate can navigate the high-low mix to perfection. Kate's earrings are now sold out, although you can snag a similar pair of leaf earrings (opens in new tab) from the brand. The Princess of Wales' monochromatic look mirrored Prince William's, who opted for Tom Ford tux with a twist, choosing a black velvet jacket. The pair looked sharp and elegant for the evening ahead.
For those that love Kate Middleton's dresses, you might recognize the Alexander McQueen dress, as it is a look the Princess of Wales has worn before. The dress, last worn by Kate in 2019, had been altered for the BAFTAs 2023, with a flowy cape-like detail being added to the one-shoulder gown.
For those wanting to reflect a little of Kate's style in their own wardrobe, one shoulder dresses were a big hit at February's NYFW, and they're a great way of lengthening your torso, as the one shoulder detail draws the eye up. A pleated, Grecian style gown, with an A-line skirt is also extremely figure-flattering as it flows over your frame.
2. Michelle Yeoh
Having had an excellent start to award season in January for both her acting talent and stylish looks, we were excited about what Michelle Yeoh would wear to the BAFTAs, and the star did not let us down. In a total switch up from the look that saw her land a spot on many Golden Globes 2023 best dressed lists, which delivered classic red carpet glamour in droves, Michelle opted for a tailored outfit by Dior for her appearance on the BAFTA 2023 red carpet.
One of the best tuxedos for women we've seen on the red carpet for a long time, the two-piece featured a double-breasted blazer, with a classic satin collar. Teamed with tailored-to-perfection, slim-fitting pants, the jacket, which nipped in at the waist, was enhanced by the caped back, which gave this old-school look a thoroughly modern twist.
Showcasing Michelle's petite frame, the pale pink tux helped to mix up the star's look. Giving a nod to the jewelry trends 2023, Michelle added a colorful cocktail ring for a playful way to accessorize formal attire.
While this isn't the most daring look we've ever seen on the red carpet, it certainly was refreshing. Michelle Yeoh's sophisticated spin on the evening has really paid off and is a stark reminder to us all that black tie dressing can include pant suits, tuxedos and flattering jumpsuits if you don't want to go for a floor-sweeping gown. Look for luxe detailing such as satin revere collared jackets, nipped-in waists and cape backs to make a two-piece stand out from the crowd.
3. Emma Thompson
Also loving the tuxedo look was another of our BAFTAs best dressed 2023 stars, Emma Thompson. The much loved British actor looked absolutely radiant in an all white ensemble.
In a more relaxed fit than Michelle Yeoh's caped design, Emma's white tuxedo also featured a satin collar and double-breasted design by Laura Pitharas. Finishing the look with a coordinating white tailored coat that the star wore draped over her shoulders, we spied what looked like a very comfy, stacked-soled pair of sneakers hidden beneath puddled, pleated front, wide leg pants.
A woman after our own hearts, there is nothing better than a comfortable shoe with a good grip, especially if you have to spend time on a red carpet posing and chatting to waiting press, and Emma Thompson looked very happy indeed.
A picture of elegance, Emma accented the entire look with a bold red lip that really pulled the outfit together. It's important to remember in a tonal look to create a focal point, and the red lip really centered the ensemble.
As you can see, tuxedos are clearly in for upcoming occasionwear and if you've been checking the wedding dress trends 2023, or are looking for rehearsal dinner dresses, you might just want to consider a white tux instead.
4. Angela Bassett
Angela Bassett has had quite the award season this year, both in terms of accolades and when it comes to winning in the style stakes. Making her way onto our BAFTAs best dressed 2023 list in custom Pamella Roland, the actress picked another daring gown, this time in a trending lavender hue. The fitted frock featured a shoulder baring design, but the sleeves were anything but absent. With bubbled hems, the sculptural cuffs were the focus of the design and looked almost like budding blooms thanks to their delicate folds. The rest of the dress design kept to a simple column shape, allowing the sleeves to be the eye-catching feature, while the halterneck style helped to add length to Angela's frame, to balance out the sleeve detail.
Lavender is one of the biggest fashion color trends of 2023 and this hue is set to be everywhere. One we have also seen popping up for later in the year too, invest in this purple perfection now and you'll be sure to get plenty of wear out of it.
Angela added a blue ribbon pin to her outfit to show support for the #withrefugees campaign and was one of many stars who sported the blue ribbon pin on the BAFTAs red carpet to bring attention to the UNHCR charity campaign and show solidarity with refugees around the world.
5. Viola Davis
Viola Davis has been finding her way onto our best dressed lists all season and so we're not surprised to be impressed again. Purple hues are a major color trend for the season ahead and we love this elegant shimmering gown that highlights the star's curves.
Opting for British designer brand Stella McCartney, Viola's floor-sweeping column dress is a custom look and the simple shape allows the high-shine fabric to do the talking, while the caped back added a level of subtle drama worthy of any award season. Delicately falling from the shoulder to just above Viola's knee, the cape elongates her frame, and helps to gently highlight her shape, with the column dress acting as a center panel, for an hourglass finish.
Keeping her accessories super simple on this occasion, Viola opted for some drop earrings and a small black top-handle bag - one of the big handbag trends 2023 - that was just large enough for the essentials.
If the BAFTAs best dressed 2023 have anything to do with it, then caped backs are making a comeback. An easy look to steal for party season, this elegant style is ideal for offering a little subtle upper arm coverage, while still giving that bare arm look and feel.
6. Florence Pugh
While there were numerous black and white looks at the event, we were overjoyed that Florence Pugh brought zesty freshness to the BAFTAs 2023 red carpet. Encapsulating dopamine dressing, we couldn't help but smile when seeing this bright orange dress from Nina Ricci by Harris Reed, and Florence looked absolutely stunning in it too.
Featuring sheer, pleated tulle layers that were delicately sculpted for a dramatic effect, the tiered train and high-low hem delivered everything we needed for a red carpet winner. Form-fitting and sophisticated, Florence reflected the fan-like silhouette of the dress, with fanned out hair for a cohesive and well thought-through ensemble.
As we head towards event season, with weddings, Christenings and the races to think of, don't forget that bright colored clothes can easily work for smart occasions too. Look to luxe fabrics such as silk and tulle to help your bold and happy ensemble feel elegant.
7. Cate Blanchett
One of the most elegant stars, Cate Blanchett's name is never far away from a best dressed list, and she lit up the BAFTAs red carpet with one of the most sophisticated and understated looks of the evening, yet still one of our favorites. When it comes to the best dresses for black tie affairs, a long black gown will always hit the mark and as we saw at the recent New York Fashion Week 2023 shows, LBD now means Long Black Dresses, with the style set to make a comeback as the wardrobe staple we all need.
Naturally ahead of the game, Cate Blanchett's vintage Maison Margiela column dress highlighted the star's frame, while the strong and angular shoulders narrowed the waistline of the look. Falling into a puddled train, the simple black boucle dress was uplifted by bright white layered pearls.
Cate's outfit demonstrated that sometimes sticking to the classics is all we need for a winning evening look. While dark colors can often be quite hard to wear, adding white pearls helped to break up the look and added brightness.
8. Lily James
Lily James' red carpet outfits in 2023 have been well documented and much talked about, and we're sure her BAFTAs red carpet 2023 look will be much the same. In a stunning white gown that delivered the Hollywood glamour the night had been missing, Lily's dress created the ultimate hourglass silhouette.
Designed by Tamara Ralph, the strapless white dress featured a bodice that hugged the star's curves, nipping in at the waist, and gathering at the front to create a narrowed middle. The drape front pleated as it fell to the ground, lengthening Lily's silhouette. With a bowed back for added wow factor, it was of course the dazzling, jeweled cage front of the bodice with spider web-like qualities that ensured this look was one we'd all be talking about for days to come.
While we doubt you'll find something similar at straight-to-market brands, you can still draw inspiration from this truly dazzling look. The V silhouette of the cage helps to draw the eye down the body, so look to V-necklines to instantly lengthen your frame. The gathered center at Lily's waist creates a defined focal point, highlighting and narrowing her waist - ideal tips to follow if you're looking to create, or dress, an hourglass shape.
9. Julianne Moore
Following the theme of the night, Julianne Moore kept things simple and understated in a bandeau black dress, up-styled with a frothy, feathered white jacket, highlighting two of the most trending hues of the BAFTA 2023 red carpet.
Red carpet dressing is clearly back with a bang. But stars' more pared-back style for the BAFTAs, suggested that London, unlike award ceremonies in LA are less about walking looks straight off the runway and more about a relaxed sense of glamour that fits perfectly with London's edgier feel.
A timeless dress, Julianne Moore's Saint Laurent gown featured a bodice that delicately gathered to the side of the waist before falling into an A-line skirt with thigh-flashing slit. The white feather jacket transformed the outfit from formal evening attire to A-lister status and, of course, Moore's nonchalant, off-the-shoulder way of wearing the piece sealed the deal on the look overall. When it came to jewelry, the bold silver choker tapped into current trends and added detail to an otherwise bare neckline.
A black dress for the evening is a minimalist capsule wardrobe staple and Julianne Moore demonstrates how you can use accessories and jackets to reinvent timeless designs to give a directional feel. Feather embellishment is one of the big trends of the season, and a dressy piece of outerwear will ensure you stay cozy and tap into the latest coat trends in one easy step.
10. Jodie Turner-Smith
One of our favorite looks of the evening was delivered by Jodie Turner-Smith. In a dazzling combination of feather trims and sequins, Jodie's Gucci dress had so much movement that it was impossible for the star to not command all the attention.
Tapping into WGSN Color of the Year 2023, Digital Lavender, the column silhouette gained depth and texture from the trend-worthy embellishments, while the angular tiers continued to create beautiful drape and drama. Topped off with a heavily jeweled choker and some of the most intricate make-up of the night, we loved the joy that Jodie brought to the occasion. After all, if you can't go all out on the red carpet, when can you?
This season is all about texture and while we saw less evidence of that amongst the BAFTAs best dressed 2023, feathers and frothy tulle were all over the runway in each of the four fashion capitals. If you're shopping for the best wedding guest dresses this season, make sure there are some feathers and sequins in your style arsenal.
11. Jamie Lee Curtis
Jamie Lee Curtis followed the main color palette of the evening in a black and white ensemble from Saint Laurent. Used to dressing for the red carpet, Jamie Lee Curtis looked comfortable and collected for the night ahead. In a white bias cut silk skirt, that grazed the ground for a subtle nod to classic Hollywood dressing, the velvet cross-fronted top with deep V-neckline added a contrasting texture to the outfit.
A longer-line top is not always easy to pull off with a long skirt outfit, but Jamie Lee Curtis makes this combo look effortless. By keeping the color combination simple and classic and ensuring that both pieces had fitted elements to them, the actress manages to avoid looking overwhelmed by fabric, instead looking confident and elegant in one hit.
If you want to wear two longer-line items together, ensure that you highlight your waist, either through a belt or by making sure your top is more tailored, nipping in at the waist.
12. Rita Wilson
Full sequin gowns were relatively few and far between on the BAFTAs 2023 red carpet, but we absolutely loved Rita Wilson's midnight blue attire. In an almost ombre array of blue sequins, the simple but flattering cut enhanced the star's figure and is, thankfully, a look you can draw plenty of inspiration from too.
The faux wrap front creates a curve-loving silhouette, delivering a gentle side drape that will skim across a silhouette. The V-neck is great for elongating a figure and Rita adds a long drop necklace to draw attention to the figure-lengthening style.
The dropped armhole creates a batwing shape that ensures this style of dress is as comfortable as it is glamorous, making it a real stand out piece.
Rivkie is a fashion editor, writer and stylist with over fifteen years' experience in the industry. Having studied design and pattern cutting at the London College of Fashion, Rivkie fell in love with styling and journalism, covering fashion weeks in London, Paris and New York.
Specialising in plus size fashion, Rivkie has long championed that style is for everyBODY and has been a regular talking head on a host of radio stations and television shows, pushing for greater representation for plus size women and fashion throughout her career.