Paris Fashion Week 2023 highlights: We round up our favorite style moments
These are the Paris Fashion Week 2023 highlights you need to know about including Victoria Beckham, Chanel, McQueen and Louis Vuitton, plus more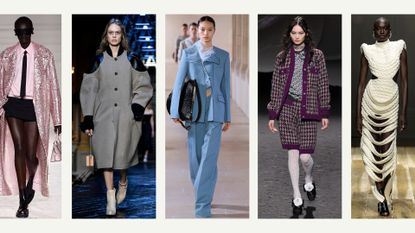 (Image credit: Getty / McQueen imagery: Matteo Colzani)
Paris Fashion Week 2023, the final stop on this season's circuit has come to a close, bringing an end to the month-long fashion circuit. Home to some of the world's greatest designer brands, we've rounded up the shows we loved and what that means for your wardrobe come fall.
Paris Fashion Week 2023, the last stop on fashion's tour of major style cities, is where you can find some of the best French clothing brands. Showcasing some of the most famous and influential designer brands, editors, and fashion buyers descended on Paris to see the final round of fashion trends 2023 is set to offer.
Parisian women are known for having exceptional style and are experts at mixing minimalist capsule wardrobe heroes with new and trending pieces, making Paris Fashion Week 2023 street style a great source of inspiration for fashion fans too. Home to the likes of Dior, Saint Laurent, and Chanel, this is the city where some of the best designer bags are created and we expect to see plenty of new handbag trends emerging this week.
Paris Fashion Week 2023 highlights so far
Whether you want to read about the latest designer tote bags, the best designer heels or simply what fashion color trends you need to know about, we've rounded up our Paris Fashion Week 2023 highlights, to help you stay on top of what's going to be hot next season.
1. Chanel
In the shadows of a giant 3D Camellia suspended above the runway, models showcased designs by Chanel creative director Virginie Viard, who took over the role in 2019 following the death of the iconic Karl Lagerfeld.
The new seasonal offering from the French fashion house saw models opening the show in a selection of monochrome looks emblazoned with Chanel's signature floral motif based on the Camellia in many different guises. Ranging from simple patterned outlines atop geometric prints and subtle buttons to appearing in three-dimensional form as statement collars and embellishments on clothing as well as hair accessories and jewelry, it's apparent that Chanel thinks florals are not just for spring.
An initial monochrome palette slowly gave way to gentle nods of color in the palest of pinks woven into the fashion house's famous tweeds and houndstooth, before appearing as full outfits of shimmering candy floss pink.
Despite feeling young and girlish, many of Chanel's signature styles such as tweed skirt suits and shift dresses remained largely in their classic iterations, updated instead with fun knitwear and white lace tights once again featuring the Camellia motif worn underneath.
One new update to the two piece however is the pantaloon short suit look - a knickerbocker-inspired trouser falling just below the knee, teamed with a cropped fitted jacket in matching tweed. While we're not yet convinced on this trend, where Chanel goes, people tend to follow so don't be surprised if a return for this look is on the cards.
This season's must-have Chanel diamanté wide leg jeans also appear, reimagined, as quilted satin wide leg pants that will no doubt be the most sought after Christmas party look this winter - expect a slew of straight-to-market homages to this single piece.
Of course, it wouldn't be a Chanel show without a collection of new, lust-worthy Chanel bags and this season didn't disappoint. Alongside the brand's signature quilted leather styles dangled new season tweeds, fully sequined floral takes and shiny pink patent versions decorated with oversized Camellia clasps. Models also swung small tambourine bags with gargantuan flowers and abstract takes on Chanel's favorite bloom in both pink and monochrome iterations.
If Chanel is anything to go by, this fall will be blooming marvellous.
2. Louis Vuitton
Louis Vuitton Creative Director Nicolas Ghesquiere's latest collection for the French mega brand saw the designer take the classic signifiers of Parisian style and re-work them for a modern age - after all, haven't we all lusted after effortless French chic on more than one occasion? Taking place in the upper ballroom and galleries of the the Musée d'Orsay, models walked on an elevated runway designed to echo the paved streets of the city.
The classic chic pearl necklace was replaced with dresses festooned in tiny pearlescent drops. In monochrome shades and with a bubble-like pattern across delicate wool, the previous heirloom item has a breath of fresh air to it for next season.
Bustier dresses, another French staple, were re-designed in thick wool and teamed with broad shouldered knits worn underneath but with a tightly cinched waist to highlight the simple silhouette.
Neat knits were maximized to create chunky mini dresses perfect for flitting around the city with a subtle tri-color logo featuring the LV monogram while cardigans were emblazoned with abstract prints and updated with leather pants.
Following the broad-shouldered theme, coats with rounded shoulders and voluminous shapes appeared in several iterations - from mixed tweeds and pinstripes to designs featuring statement leather patches.
However, it is the latest Louis Vuitton handbags paraded by marching models that are the key items every season. For an update on Louis Vuitton's Twist handbag, France's tri-color of red, white and blue became the basis for a series of quilted new styles in a combination of the three colors for those looking for the best designer bags with a literal a twist.
As a final love letter to the city, the other key handbag design for Louis Vuitton FW23 is the faux-semblant, an illusion - with bags shaped like houses, buildings and street signs taking inspiration from the city itself, making them the ideal choice for what to wear in a Paris and beyond.
3. Victoria Beckham
British designer brand, Victoria Beckham's latest offering, shown on Friday during Paris Fashion Week 2023 was perhaps her most eccentric and artful collection yet. Playing on contrasting textures in most looks, the former Spice Girl featured everything from feathers and silk to mock-croc, shearling and hair in a collection that is classically understated, and just a little bit out there.
Early flights of fancy included feather detailing adorning many of the less structured looks, peeking out from under lapels of suit jackets, attached as a whimsical accessory for swirling silk pleated skirts and embellishing the deep V-necks of silk-chiffon dresses.
For every beautiful bias-cut floaty frock and swishy silk skirt, there was an equal and opposite piece of tailoring - oversized wool blazers were teamed with fishnets for a look that wouldn't have been amiss in Robert Palmer's video for Addicted to Love.
Proportions of accessories also veered from one extreme to another with oversized half-moon and barrel bags carried tucked under models arms interspersed with tiny vessels that fitted into the palms of hands, barely visible to the audience.
Looking for the perfect leather pants? At Victoria Beckham, smooth skins got a mock-croc update in shades of tan and deep chocolate brown, worn with matching boots to create a seamless leg, coupled with slouchy knitted roll necks for a look that VB herself will no doubt be spotted sporting soon.
Other casual offerings included a '70s-inspired shearling aviator, perfectly oversized to fall off the slim shoulders of the model, first teamed with a macramé sweater and wide leg jeans but equally at home worn over a bewitching black silk maxi dress for the perfect combination of casual and formal.
Macramé also appeared in the form of a sheer, pale pink floor-sweeping frock finished with a fringe of contrasting maroon hair - another play on textures in Victoria Beckham's most eclectic show to date.
Of course, it wouldn't be a Victoria Beckham show without beautifully cut coats. From lightweight trenches artfully thrown over silk dresses and skirts to tailored wool coats with just a hint of military structure, you can rely on VB to create the perfect pulled-together outerwear.
4. Alexander McQueen
Entitled 'Anatomy', the Princess of Wales go-to designer brand Alexander McQueen Fall/Winter collection examined the anatomical structures of humans, flowers and clothing through tailoring, focusing on cut, proportion and silhouette.
In show notes released by the brand from creative director Sarah Burton, the collection's inspiration was described as "the classic subverted: turned inside out and upside down." With a focus on extremes - volume is either dramatic or tightly bound in neat silhouettes, with many of the clothes featured dissected elements such as slashed shoulders.
Prior to the show, the brand shared X-ray images on social media of key pieces, further echoing the exploration of anatomy.
Opened by Naomi Campbell emerging from the outer shadows into the light, the supermodel appeared to be wearing a corseted top with subversive cut away detail across the chest. The restrictively-bound upper body contrasted with wide leg pants, a theme that continued through the collection.
Tightly fitting tailored blazers and coats featured pin sharp shoulders with ever so slightly upturned seams, created a macabre silhouette. Trench coats in both cotton and leather became statement outerwear - cinched at the waist, contrasting with the wide A-line cut and oversized voluminous sleeves. Worn pushed up the arms and teamed with sleek leather gloves to exaggerate the hourglass silhouette yet further.
Evening gowns in deep fall hues were reimagined in form fitting leather, coupled with exaggerated draped detailing to create fauna-like structures reminiscent of orchids, which also feature as a statement oversized print further in the collection, appearing on coats, flattering jumpsuits and sharply tailored suiting as well as knitted designs.
Heavy, oversized cable knit sweaters were teamed with tiny leather shorts for a play on proportions and knitted dresses appeared as slashed ribbons, further attesting to the nature of dissection.
Extreme proportions continued with exaggerated corsets, balloon-like hems and towering shoulders on several evening gowns, contrasting sharply with the slick, bound-like tailoring of other looks from the collection.
And what of looks suitable for a princess? Several stand out gowns made of intricate strands of glittering beads created a shimmering, iridescent mermaid-like effect perfect for the brand's most public fan to wear on the red carpet.
5. Valentino
With a show set in the grand surroundings of Hotel Saloman de Rothschild and a theme of Black Tie, many might've expected a plethora of gowns for Valentino FW23. Pierpaolo Picciolo once again managed to surprise his audience, subverting the theme to become a reimagination of the principle of uniforms and masculinity. Show notes described the "demystification of the formal, designed to break convention... a dress code can liberate, limitation can be free"
Inspired by 1970s Britain, many of the looks were coupled with skinny black ties as well as other elements of Rockers, Teddy Boys and Punks - the show opened with a model dressed in a tailored monochrome sleeveless shift with a contrasting sharp white collar and coupled with heavy bovver boots.
Model after model paraded down the runway in crisp, skinny fit shirts and ties, worn with everything from red carpet-worthy sequin maxi skirts to micro hot pants and feathers.
Teamed with oversized silhouettes of coats and blazers, looks subverted classic suiting proportions, reimagining them for a new generation that probably will wear their two pieces socially rather than to the office. Coats in giant monochrome checks, classic grey tweed embellished with sequins and a shimmering pale pink sequin trench were amongst the standout outerwear pieces that will undoubtedly be snapped up by next season's street stylers.
While the primary focus of uniforms was reflected in looks based on tailoring, there was still a considerable amount of gorgeous gowns with Piccioli's signature twist that will undoubtedly appear on red carpets shortly.
Actresses will have plenty to pick from including a full length sequin fish tail in deep plum complete with shirt placket and tie to diaphanous silk shirt dresses finished with sharp shirt collars or stunning sequin gowns in pastel colors coupled with the collection's androgynous black skinny ties.
6. Givenchy
Typical Parisian elegance dominated the snaking runway at Givenchy. Creative director Matthew M. Williams set the tone of this season's collection from the very first look - monochromatic black comprised of a turtleneck, floor-sweeping trousers and a waist-nipping maxi blazer complete with oversized shoulder pads, continuing the '80s trend as sported earlier in the week at Saint Laurent.
Classical elements like pointed stilettos, draped silk skirts and sheer textures all made an appearance, offering understated elegance, but each repositioned next to details such as patent finishes, sneaky cut-outs and supple leather fabrics, giving a trend-worthy twist for the modern woman.
Dripping and overflowing from sleeves into accessories, pearls were transformed from the quintessential string necklace into entire outfits. Highlights of green, including a figure-hugging floral dress, satin shoes and baggy cargo shorts, didn't feel at all out of place, thanks to the underpinning of timeless Givenchy accessories and styling. Most notably, a bandage style dress, finished with a shimmering repeat fish print, proved that playing with atypical patterns and silhouettes is no risk with craftsmanship like this.
Bound to become desired trends this winter, tactile outerwear and oversized tulle stood out in just the right way amongst a sea of androgynous jackets, with flowing organza-style dress trains providing a sense of fluidity that ran throughout the entire collection. Calling back to FW22, utility details, statement spherical necklaces and gloves continued to emerge, with opera gloves - a favorite of many fashion houses this month - pairing beautifully with a puffed-up, bustle-shaped skirt.
In keeping with Williams' previous Givenchy collections, each moment felt familiar whilst also brewing excitement thanks to unexpected and subtle twists. From marabou trims to skirts over pants, this was a lesson in integrating trending moments without losing any of a brand's heritage appeal.
7. Balmain
Crafting the future by respecting the past was the overriding theme for Olivier Rousteing's 'New Look' for Balmain. Shunning big trending moments to instead 'Focus on the essentials', Rousteing's fall/winter 2023 collection announced a fresh direction for the heritage brand.
Designing the collection around four pillars 'Timeless design, exceptional craftsmanship, sharp silhouettes, and a New French Style' that remained respectful of the brand's past, the show exuded Balmain's spirit.
Elegant and feminine, original brand signatures made a triumphant return to the runway, with bell skirts, perfect pleating, exquisite corsetry, and rich embellishment work in abundance. Harking back its '40s roots, oversized styles were replaced, as at Dior with an hourglass silhouette that hailed curves back in fashion. Jackets nipped in at the waist, peplums were full-hipped, and skirts belled, while retro, off-the-shoulder-wrap silhouettes offered refinement to both day and occasionwear.
Having once said that 'dressmaking was the architecture of movement', Balmain's love of precise cutting, pleats, and, sculpted styles made a big splash, in the form of playful asymmetric bow detailing at necklines and interpreted into skirt and dress fronts.
Pearl and diamante detailing made for a party-ready switch out from sequins, with fully embellished dresses and exquisite pearl-heavy corsets some of the most striking pieces in the show, celebrating the brand's fine couture history.
When it came to accessories, Balmain once again stood out from the crowd, with oversized embellished totes, jewel-encrusted sphere clutches, and color poping shoulder bags, although our favorite has to be the Balmain monogrammed toolbox. Hats played a huge part in the collection and as a popular style choice for the Paris Fashion 2023 street style set, perhaps headwear is about to get a more prominent spot in our wardrobes once more.
Whilst the collection was largely monochromatic, metallic embellishment, alongside pink and green added a modern and bright feel to vintage-inspired looks.
In a world where fashion strives to constantly reinvent, it felt good to see a collection that once again championed, as Rousteing put it, 'the essentials'. Timeless designs that celebrate the craftsmanship of dressmaking in all its glory.
8. Chloé
Celebrating women has been an overarching theme across both Milan and Paris Fashion Weeks and Chloé followed suit with a collection inspired by Artemisia Gentileschi, the celebrated 17th century female painter. And although fashion history was used to gently inform the collection, the end interpretation was thoroughly modern in execution.
Paying homage to cuts of the era, overly rounded-shoulders and statement sleeves were paired with simple shift dresses for maximum wearability, while just off the shoulder, boat neck dresses with A-line skirts delivered instant elegance.
Drawing inspiration from a selection of Gentileschi's work, paired with Chloé's timeless style, a palette of black, white and brown took center stage, ensuring these simple silhouettes could slip effortlessly into your wardrobe and remain in your outfit rotation for as long as you so choose. Although there were some bright color clothes, such as the statement yellow, black and white striped pieces, overall, neutrals were very much the order of the day.
Leather continued to be triumphant, as designers looked to deliver investment pieces, with outerwear once again particularly strong. Shearling and faux furs, paired with relaxed tailored leather coats, and teddy textured jackets offered tactile looks that set the bar high for the coat trends 2023.
Knitted pieces, including the chicest of caped back sweater dresses added a cozy feel that complemented the cocoon shapes and quilted coats for a feeling of protection for the fall/winter season.
Of course one can't discuss Chloé without talking about the bags. Renowned for both the Woody tote and its Marcie Saddle bag, the runway was bursting with new season goodies. Offering an array of super slouchy styles, oversized structured designs and shearling totes, the handbags reflected the textural feel of the collection, with some zanier iterations including a striped back that almost camouflaged into the matching ensemble.
The brightest dress in the show completed the homage to powerful women. Referencing Gentileschi's painting 'Esther before Ahauserus', the paneled tapestry dress was hand crafted by Mumbai's Chanakya International embroidery studio, a program that gives women from low-income communities hand embroidery training. Something that felt particularly poignant given the theme and ahead of International Women's Day. Super sleek, this was the ultimate education in how to dress simple but stylish.
9. Isabel Marant
A little bit bohemian, a little bit '90s-grunge but undeniably achingly cool, Isabel Marant is the French fashion brand that will add a little 'je ne sais quoi' to your closet.
One of the most shoppable collections at Paris Fashion Week 2023, the runway was packed with instantly wearable styles. From new denim trends, including flattering jumpsuits with just the right amount of slouch, cropped tuxedo blazers teamed effortlessly with the best skinny jeans and luxe lived in leather looks that covered everything from one-pieces to elongated biker jackets and buttery soft asymmetric dresses, this was a collection that understood what its consumers needed next season.
The outerwear was utterly dreamy, with some of the best winter coats we've seen this season. Leather and shearling played a pivotal role and if Isabel Marant is anything to go by, the fall/winter coat trends are going to be packed with this fabric combination. Covering everything from outerwear to cute gilets - ideal for layering over new season knits and dresses, cocoon coats, as well as classic trench coats played effortlessly into the layering feel of the collection.
Offering a little more of a '90s aesthetic, short sequined dresses and tank tops added a nod to party season, with an oversized slouchy glittering sweater dress slipped on over a tonal matching roll neck for a more laidback feel.
With a bit more of a rock and roll edge, the collection felt glam but practical - an aesthetic we aspire to on the daily and there was a real nod to styling pieces your own way, with asymmetric zips and poppers on dresses, jackets and boots that could be tweaked just-so to customize your look.
Exuding the confidence of Parisian style, soft-touch totes were tucked under arms rather than slung over shoulders and paired with slouchy over the knee boots - suggesting this boot trend will make a return later in the year.
Delivering a palette of neutrals, accented by mustard, red, pink and burgundy, this was a collection that would easily slot into existing winter capsule wardrobes, adding a new season freshness that equally promises not to date. Can it get much better?
10. Loewe
Spanish clothing brand Loewe, was one of the most anticipated shows of Paris Fashion Week 2023, certain to provide numerous fashion highlights, and we weren't disappointed.
Collaborating with artist Lara Favaretto, the runway was occupied by a large confetti cube installation. The 21 cubes which were made entirely from packed confetti - no glue or other substances, were constantly altering (albeit slightly), being shaped by those that passed or interacted with them.
Reflecting this fragility, constant state change and almost out of focus feel, the collection leaned into the movement of clothes and fabric, by making drapery central to the collection. Asymmetrically draped shirt dresses and oversized knits were cleverly balanced and toyed with the natural movement of clothing, replicating the ruching that happens when humans and fabric collide, making these everyday occurrences a design feature, not an error to be readjusted. Simple midi dresses and knits were printed with images of draped fabric, or graphics of other garments, creating a feeling of distortion ensuring all was not as it seemed.
Reflecting the central installation, that provided the circuit for models to walk around, two confetti-inspired trench coats were two of the most standout and glamorous styles. Contrasting sharply with stiff pastel leather cropped shirts and pleated skirts.
When creative director, Jonathan Anderson, first joined Loewe, he created the legendary puzzle bag, and for fall/winter 2023 there was a new silhouette in town. Taking pride of place on the runway, oversized, slouchy totes were carried top-handle or slung over the shoulder down the runway.
Loewe's footwear has become something of a statement in recent seasons and bowed sandals, alongside slouched ankle boots continued to be a standout feature of the show.
Unlike anything else we've seen during Paris Fashion Week, while many brands have used the first shows of 2023 to dig deep into their archives, Jonathan Anderson continued to take Loewe on a journey of invention and creativity.
11. Dior
Championing extraordinary women, creative director Maria Grazia Chiuri based this collection on three 1950s icons who challenged stereotypes of women of the period. Catherine Dior - sister to Christian Dior and the original Miss Dior; actress and singer Juliette Greco; and singer Edith Piaf. To mark the collection, artist Joana Vasconcelos created a scenographic installation, which formed the backdrop to the runway for the show, which was entitled 'Valkyrie Miss Dior'. Valkyrie, a Norse mythological Goddess, enchanted audiences through a collection that drew on Dior's past, filtering it seamlessly into the brand's future.
While many designers during Milan, London, and New York Fashion Weeks chose to continue to champion '90s fashion trends, at Paris Fashion Week 2023, Dior fought back against relaxed styles, proudly proclaiming the waist very much back in fashion. Offering a perfect mix of old and new, with masculine tailoring interwoven with undeniable femininity. The collection paid homage to some of Dior's most stand-out style contributions, with Dior's 'New Look' of cinched waists, peplumed hips, and full-skirted silhouettes appearing throughout in numerous guises.
The start of the Dior Fall/Winter 2023 collection offered a nod to Catherine Dior's heroic past in the French resistance, with a '40s and '50s-inspired offering of uniform-style dresses and androgynous short-sleeved shirts that were tucked neatly into full skirts, marking the show out as undeniably Dior. A-line shift dresses, modern tailored straight-cut midi skirts, and the most perfect knife pleats were teamed with a series of shirts, sheer polo tops and calf-sweeping wool and silk coats; while structured short-sleeved jackets with matching skirts made for a chic re-imaging of skirt suits.
Military elements continued to nod to the decade of inspiration, with cropped double-breasted wool coats, bomber jackets, and aviators given a modern feel through the use of quilt detailing and luxe fabrications. If you've ever wondered what to wear in Paris, the 20-minute show was the ultimate instruction guide.
An overwhelmingly monochromatic collection, brightness was injected through checks and subtle ombre designs, with red, green, navy, and purple offering much-needed pops of color. Floral prints made reference to Catherine's later years as a dealer at the flower market as well as Christian and Catherine's mother's skill as a botanist.
Standout outerwear pieces included scarf wrap necklines and evening silk trench coats that helped pivot the collection toward some of the brand's best cocktail dresses. With bandeau cuts, Regency-core square necklines and elegant, just-off-the-shoulder A-line dresses that sauntered down the runway in a multitude of colorways.
Elegant styling carried the past into the present, with berets, hair bows, and long leather evening gloves peppered throughout. Top carry handle bags emphasized the lady-like feel of the show which was given a youthful feel thanks to the combination of socks and strapped court shoes, as well as stompy combat boots, that were both looking to the past and the boot trends to come.
While major runway shows offer us a glimpse into fashion's future, Dior's fall/winter 2023 collection is reminder that the lessons and memories of the past still underpin it all.
12. Saint Laurent
From the gold runway and bold chandeliers to the electronic classical soundtrack, Saint Laurent was determined to usher the '80s back into fashion during Paris Fashion Week 2023 - not the only brand to champion the era - Moschino made a similar bid for the return of the '80s during Milan Fashion Week 2023.
The Saint Laurent show was a masterclass in classic eighties styling. Over-exaggerated shoulders literally overtook the runway, although while shoulders were out there, blazers remained tailored through the body, which only highlighted the size disparity further, and longer-line jackets were paired with coordinating pencil skirts for the fiercest of two-pieces. Tightly-belted waists tallied with what we saw at Dior, hailing relaxed dressing over and the waist firmly back in fashion. And while the first part of the collection was dominated by skirt suits, when pants did finally come into action they had super skinny legs and ultra high waistbands, completing the '80s aesthetic.
A collection of power dressing pieces, androgynous tailoring was mixed with sexy, plunge neck tank tops that gave a more relaxed feel to blazers, while silky blouses with pussybow necks and caped backs added a softer feel to the angular aesthetic. Crafted in a mainly monochromatic color palette, flashes of gold, maroon and camel added a rich depth to the collection.
Thanks to the tailoring, suit fabrics underpinned the collection, however leather iterations of both blazers and statement shoulder aviator jackets added a sportier feel that reinforced the era of choice.
When it came to accessorizing, despite making some of the most sought after designer bags on the market, the best Saint Laurent bags were absent from the runway, with the house choosing instead to focus on its clothing. Styling was minimal, with Saint Laurent opting for simple statement hoop earrings, aviator sunnies and oversized, draped scarves that were secured with gold rings.
An era of fashion many felt style forgot, Saint Laurent under creative director Anthony Vaccarello managed to reinvent fashion history, resetting the '80s as a truly chic style moment. Now that really is fashion magic.
Antonia Kraskowski is a freelance fashion editor with over 15 years of experience in the industry.
Having started her career at Conde Nast working for titles including Easy Living, Glamour and Vogue New Markets, Antonia went on to work in the fast-paced world of newspapers and weekly magazines, becoming Fashion Editor at Express Newspapers and Magazines in 2014, a role she held for five years before going freelance.
Her career has seen Antonia travel the world, shooting in 18 countries and styling campaigns for brands ranging from Ben Sherman and DKNY to Wallis.