These are the Paris Fashion Week 2023 street style trends you can wear right now
We've spent hours searching through Paris Fashion Week 2023 street style snaps so you don't have to. Here's how to shop the looks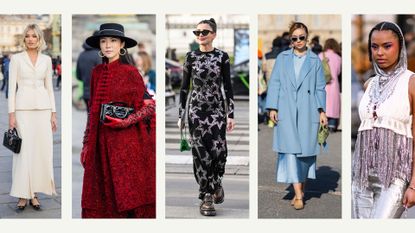 (Image credit: Getty)
Paris Fashion Week 2023 street style imagery is a true indicator of what trends are bubbling on the fashion scene. Ever the masters of chic and effortless looks, the French know a thing or two about dressing well - and we're taking notes.
Paris Fashion Week 2023 hosts some of this season's most anticipated shows. Home to some of the best French clothing brands including the likes of Dior, Saint Laurent, Loewe and Chanel, but it's not just the runway looks we're keeping a close eye on. Fashion week attendees have proven once again that they're the ones to watch when it comes to instantly trending styles, and there are a few looks that have really caught our attention this week.
The fashion trends 2023 have hinted at a few colors and fabrics to keep an eye out for, many of which we've seen cropping up across various fashion weeks. Each fashion city has its own unique aesthetic, New York Fashion Week street style was all about statement pieces, while Paris Fashion Week street style offers a wardrobe refresh of classic pieces, alongside trend-led designs. These are the emerging trends we've spotted on the streets of Paris that we can't get enough of and how to wear them.
5 TRENDS WE'VE SPOTTED IN PARIS FASHION WEEK 2023 STREET STYLE SNAPS
Following on from Milan Fashion Week 2023, Paris is continuing in stunning style. We have looked through hundreds of street style images so that you don't have to, and there are several trends we kept coming back to. These are the pieces that fashion show goers think you need to add to your wardrobe, stat.
1. Metallic accents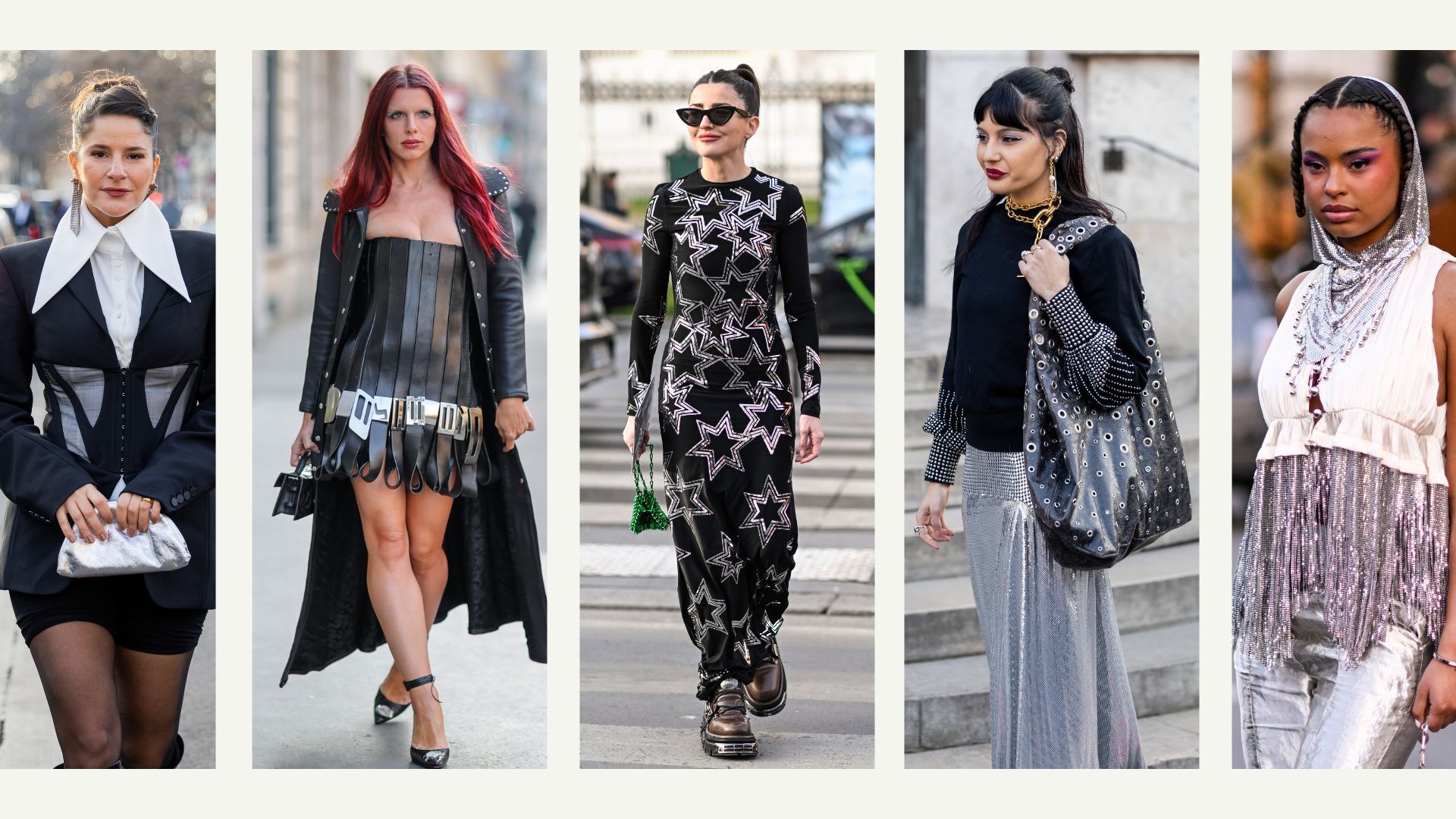 Metallics are everywhere this season, but dressing like a human glitterball can seem a bit much sometimes for a casual afternoon. Enter: metallic accents. The subtle way to incorporate this shiny trend into your outfits, and we have spotted this everywhere in Paris. Using details like belts, buckled handbags and jewelry to play into the trend, this is one that can easily be replicated to give your wardrobe a modern update. From the best designer tote bags to chunky bracelets, you'll probably have most of the elements you need in your existing wardrobe to make this style work.
(opens in new tab)
RRP: $39.90 / £25.99 | Handbags are the ultimate statement accessory, and this Zara number is so versatile. Perfect for pairing with silver jewelry, it will slot effortlessly into any bag collection.
(opens in new tab)
RRP: $160 / £135 | Replicate Julia Fox's style by adding a silver belt to your party outfits. Use with the best straight leg jeans for a practical look, or layer several belts with a black skirt for a statement evening look.
2. Textured Coats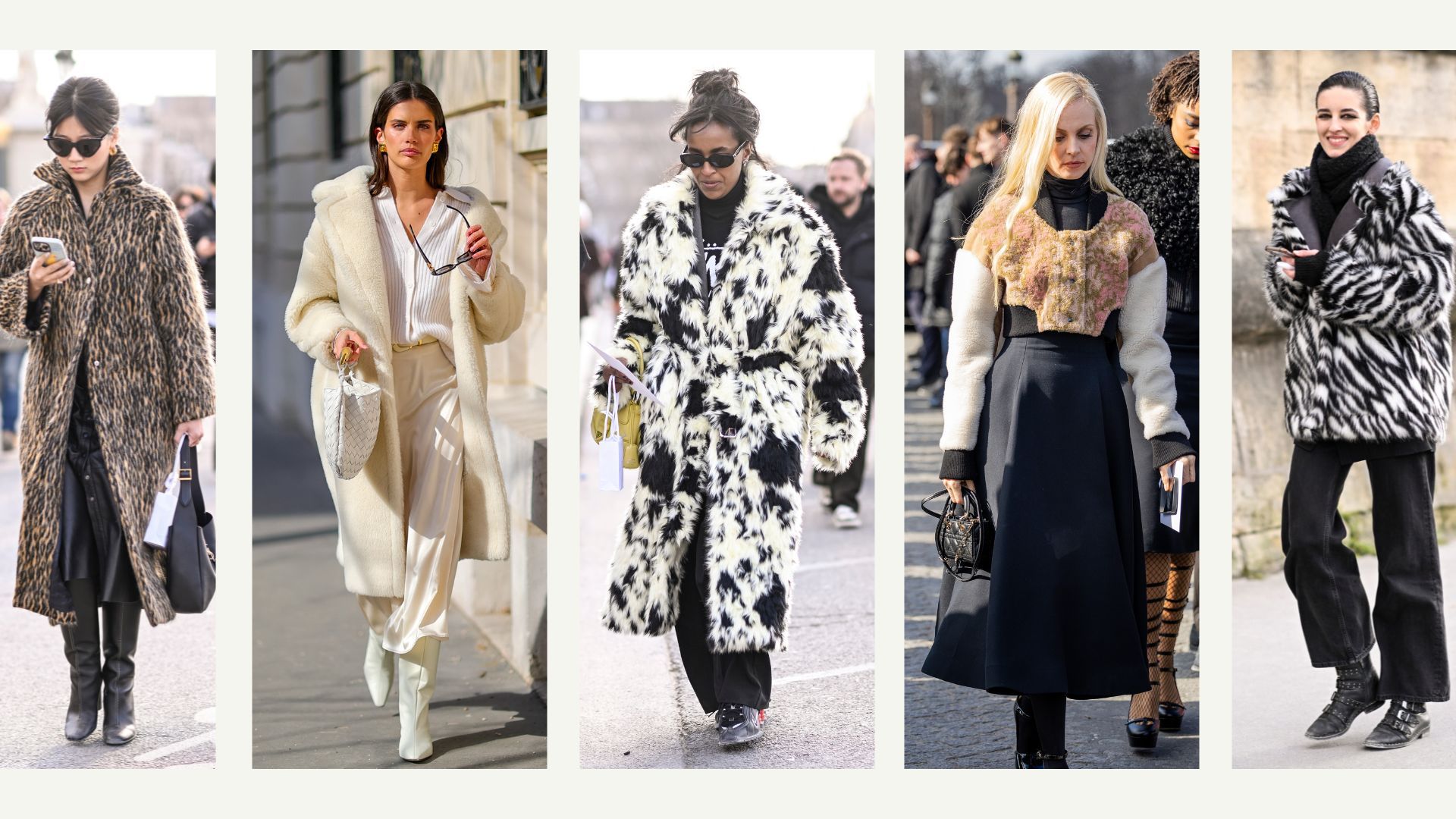 The 2023 coat trends showcased a large number of teddy, faux fur, and textured coats. An ideal choice if you're wondering what to wear in Paris, we've spotted plenty of fashion week guests snuggling up in cozy styles to beat the chill. A speedy way of adding depth to your look, camel coat outfits might be a timeless classic, but faux fur coats offer an edgier alternative. Spotted on off-duty models and fashion show guests alike, animal-printed faux fur coats, alongside neutral block color beige, black and white iterations reigned supreme and is certainly a look to take note of.
(opens in new tab)
Endless Rose Shearling Jacket
RRP: $190 / £167.55 | The cropped silhouette of this jacket makes it ideal for casual styling. Best paired with some chunky Chelsea boots and a black skirt, this is a cold weather staple.
(opens in new tab)
Jakke Katie Faux Fur Leopard Coat
RRP: $438 / £467 | Leopard print is a total wardrobe essential and a coat like this makes a real statement. Throw on over an all-black outfit to add a touch of luxury, or layer with chunky knits in winter.
(opens in new tab)
Adidas Zebra Fleece Jacket
RRP: $100 (US only) | We love fleece jackets for looking good whilst also feeling comfortable. Ideal for styling with your best leggings post-gym or dressing up with jeans for the weekend, you'll wear this everywhere.
3. Perfect pumps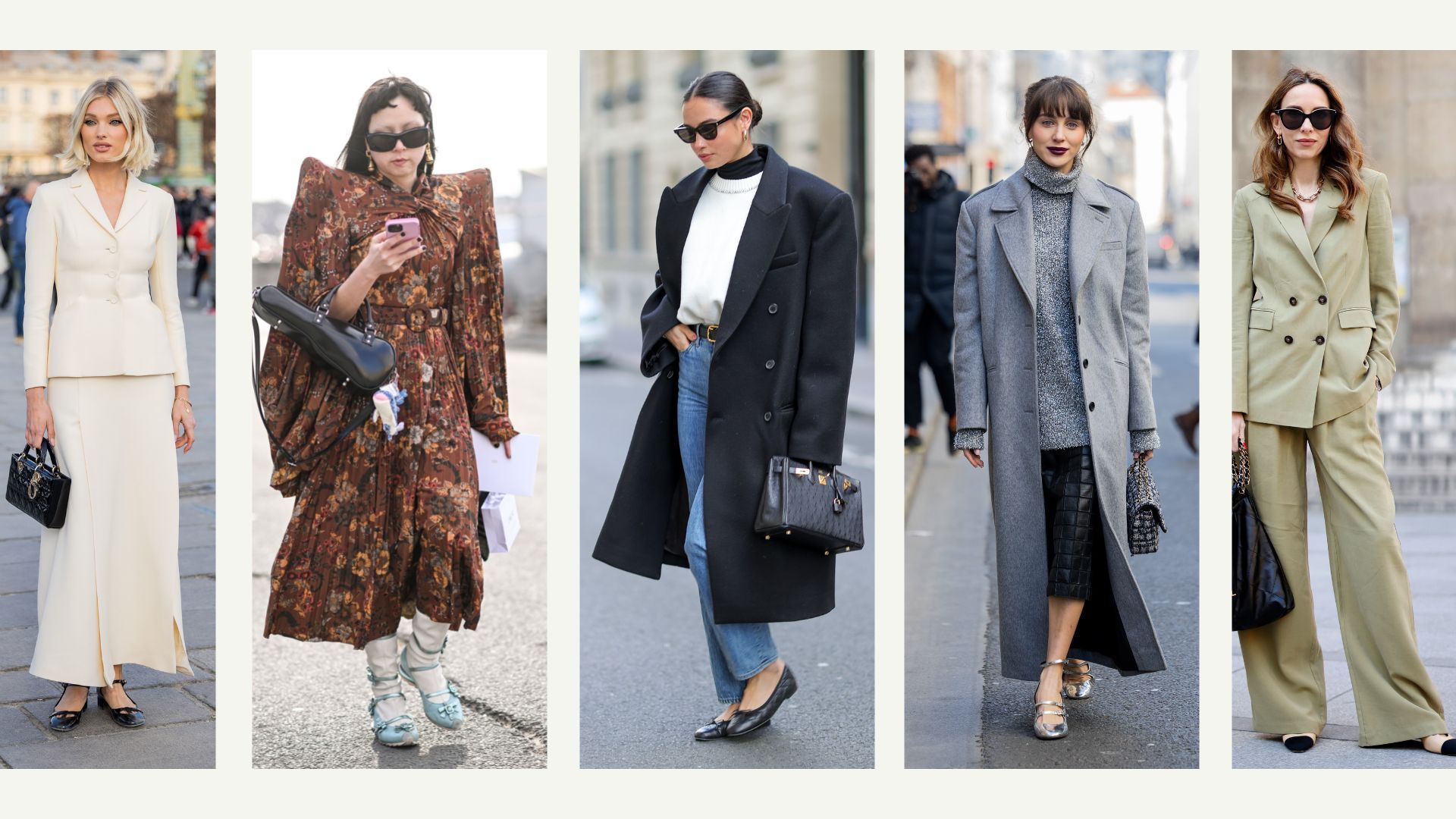 The ballet pump trend has been slowly gaining traction over the past few months, particularly on social media. But for true Parisians, it is a shoe style that has never gone out of style. One of the top shoe trends 2023, this is an item that is both practical and stylish - what more could you want? Keep it classic with a flat pair in a black or cream hue, or experiment with shiny metallics, criss-cross straps and platforms to modernize the look. If you're planning a trip to this style capital in the near future, a pair of pretty pumps won't fail you.
(opens in new tab)
RRP: $99.99 / £59.99 | Metallics are bang on trend this season and these pumps add an injection of fun to any look. Made from 100% leather, they are high quality as well as eye-catching.
(opens in new tab)
Steve Madden Patent Pumps
RRP: $79.95 (US only) | If you like a little bit of extra height, these are the pumps for you. Ideal for smart casual outfit ideas and wearing to the office, they're worth every penny.
(opens in new tab)
RRP: $140 / £138 | This timeless silhouette will always come in handy in your shoe rotation. Perfect for styling with the best jeans and a white tee, they will add a refined sophistication to even the simplest of ensembles.
4. Blue hues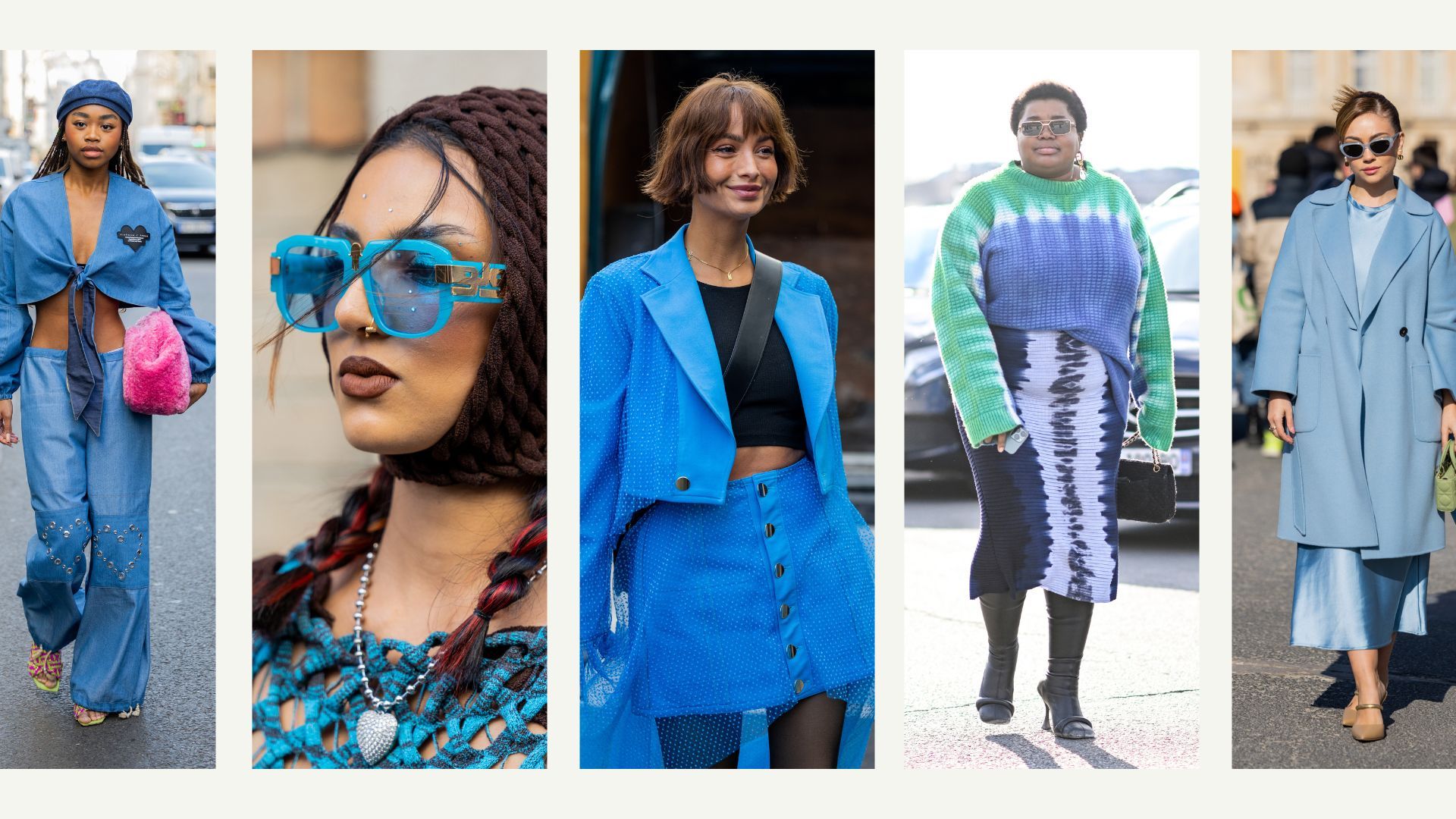 One of the key fashion color trends 2023, tranquil blues are having a major moment. The perfect shade for transitional weather, there is no season or occasion that a pop of blue won't compliment. Work it into one of the eyeglasses trends with some bright and bold turquoise frames, or go for a more everyday look by pairing your best jeans with a relaxed blue tee and some trainers. If an all-blue look is slightly out of your comfort zone, accessories are a great way to ease yourself in. Consider a blue baguette bag or some statement earrings to finish off any ensemble.
(opens in new tab)
RRP: $59 / £52 | Statement sunglasses will always be one of our favorite sunglasses trends, and they offer an easy way to add some color to your look. Practical and gorgeous, this is a great price for some high-quality frames.
(opens in new tab)
RRP: $39.99 (US only) | A rival to the best sweaters, a lightweight cardigan is an ideal layering piece for transitional weather. Style in place of a jacket and wear open to show off your full outfit.
5. Heavenly hats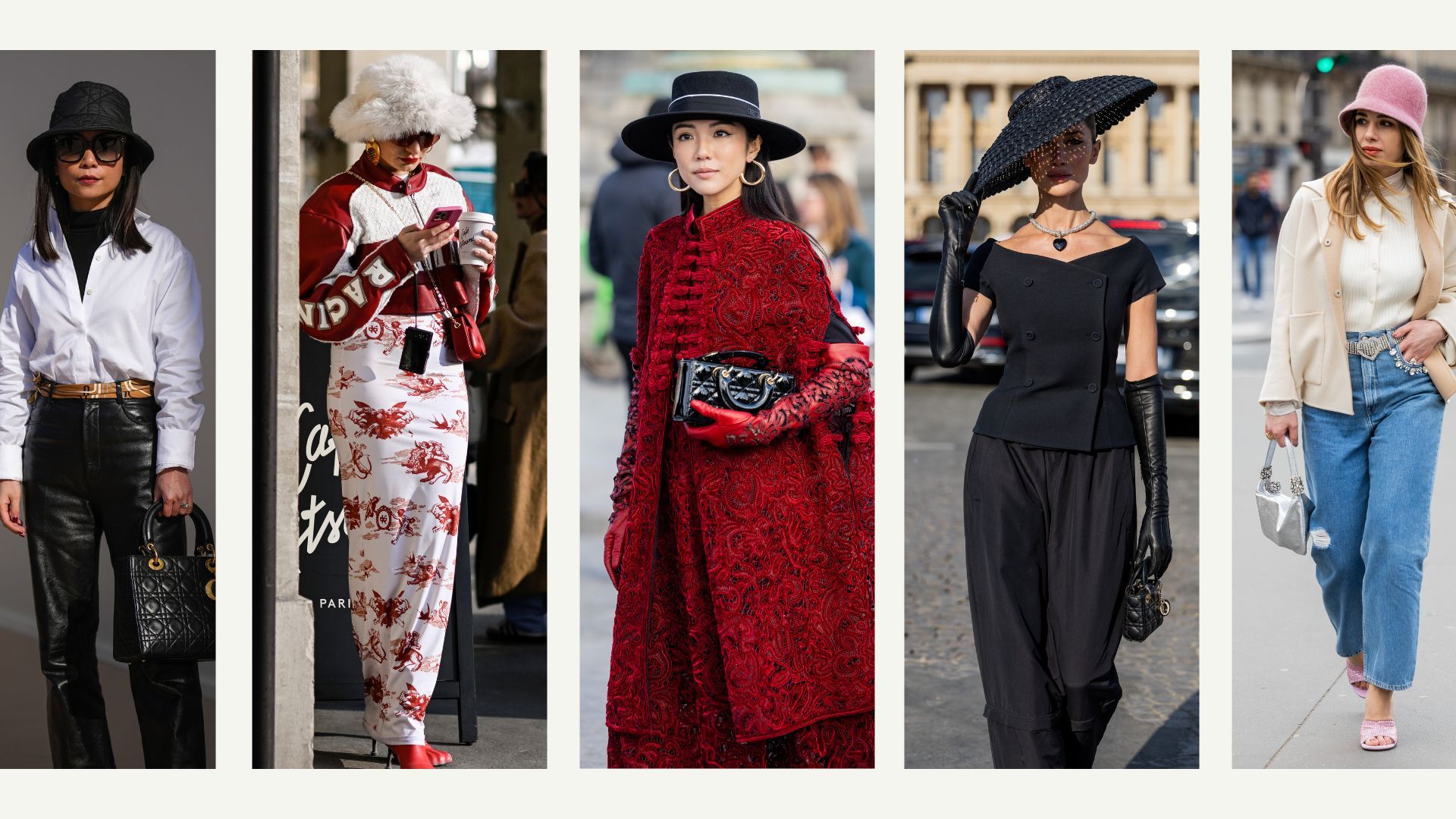 Pretty early on in everyone's style journey, they categorize themselves as one of two things: a hat wearer, or a non-hat wearer. If you identify as the latter, we're here to tell you that absolutely anyone can look good in a statement hat, and it's never to late to start wearing them.
From buckets to boaters, there is no end to the number of styles out there, and this season's Paris Fashion Week street style shots prove that they can work for numerous different style aesthetics and occasions. If you want to finally master how to dress simple but stylish, finding a signature hat will add a chic and refined edge to any outfit combination.
Not sure you can do it on the daily? Take inspiration from Paris Fashion Week 2023 street style for your headwear when it comes to what to wear to the races or for wedding season later in the year.
(opens in new tab)
RRP: $64 (US only) | Athleisure lovers, this one is for you. Throw on this trendy bucket hat to mask bad hair days or to tie your monochromatic looks together. Ideal for summer days, you will get plenty of wear out of it this summer.
(opens in new tab)
RRP: $25 (US only) | We saw bucket hats a plenty during London Fashion Week 2023 and this gorgeous accent piece that will add some fun and color to your spring wardrobe, this trendy piece is great for all seasons.
Amelia joined woman&home after graduating with an MA in Magazine Journalism from City University in 2022. She specialises in lifestyle journalism and throughout her undergraduate degree she wrote for a variety of student publications, where she developed a love for all things style, beauty and sustainable fashion. She has previously written for titles including OK! Magazine, New! Magazine and Notion before she started her career as a lifestyle journalist with woman&home after completing an internship with the brand.