Oscars 2022 best dressed—the 11 red carpet style moments to note
Oscars 2022 best dressed—these are the stars that brought their fashion A-game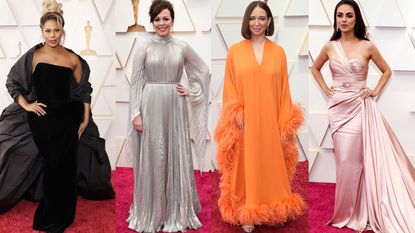 (Image credit: Getty Images)
The Oscars 2022 best dressed list is packed with some of the biggest names in Hollywood, wearing some of the most recognizable names in fashion. One of the most important nights of the year for both film and style, getting your outfit right on the red carpet is no easy task.
With so few major red carpet events over the last two years, you might worry that the Hollywood elite would be out of practice. Having looked back at the best Oscars dresses for the last twenty years and our favorite Golden Globes dresses, we're pleased to report that the stars were as stylish as ever, showing off some of the best dresses on the red carpet at the 94th Academy Awards.
Unlike at the BAFTA's and Critics Choice awards, we saw very little in the way of trends when it came to the Oscars 2022 best dressed. As you might expect, the most celebrated red carpet of the year was packed with looks that were made to stand out and grab attention. From huge trains to bright color clothes and some eye-popping plunging necklines, nailing the Oscars red carpet is all about finding the unmarked line between statement style and timeless elegance. These are the 11 stars that we felt did just that.
Oscars 2022 best dressed: the 11 most stylish stars
The ideal excuse to get dressed up, the looks we see at the Oscars can often have a huge impact on the styles the ready-to-wear market embraces as we head into party season later in the year, so get ahead of the trends and take note.
1. Jada Pinkett-Smith
Wearing the master of drama, Jada Pinkett Smith opted for a breathtaking Jean Paul Gaultier emerald green gown for the Oscars 2022 red carpet. The daring dress featured a fully ruched bodice that contoured to the star's slender frame up to the hip bone, before developing into a full sculptural silk satin skirt that ran off into a floor-sweeping train.
A daring look, the fitted elements, and the more voluminous aspects balanced perfectly. Paired with skyscraper green heels, the star finished the look off with statement diamond earrings, equally eye-catching, they only enhanced the ensemble further.
2. Olivia Colman
Olivia Colman is becoming a dab hand at red carpet dressing but last night may have been one of her best looks yet. Looking utterly stunning, the actress really upped her style ante in a silver Dior gown. One of the best French clothing brands, a Dior dress really is the most fashionable of choices for such a glitzy occasion.
With a modest high collar, the fully pleated bodice drew the eye up and down the body, adding height to Olivia's frame (and of course the high piled hair helped too). Demanding attention with sensational batwing sleeves, Olivia brought both elegance and drama in one hit.
3. Jessica Chastain
Jessica Chastain scooped best actress at the 94th Academy Awards, but the star also won in the style stakes with her amazing Gucci dress. The stunning gown featured a rose gold sequin bodice that showcased an ombré effect as it dripped into a fully sequined lavender skirt. Trimmed with a frothy, ruffled hem, the magical gown was truly appropriate for such a big night for the actress.
Rose gold is universally flattering and the ideal metallic hue for those who can't quite decide whether they're team gold or team silver when it comes to a little bit of sparkle.
4. Nicole Kidman
Nicole Kidman is no stranger to an Oscars best dressed list and understands the formula needed to ace it every time. Wearing custom-made Armani Privé, Nicole gave a nod to many of her Oscars looks of previous years.
In a strapless style that has become synonymous with Nicole's style, the actress opted for a light blue silk dress that was expertly tailored to her frame. With a peplum skirt that added volume to her hips, the dress featured an oversized bow back detailing, a silhouette that echoed many of Nicole's previous stunning red carpet looks. While this very much stuck to a pattern we're used to seeing from Nicole—if it isn't broken, why fix it?
5. Queen Latifah
We're all about colorful clothes this season and Queen Latifah brought the sunshine to the red carpet in droves. Wearing a fitted yellow gown and coordinating shawl by Pamella Roland, the star embraced Dopamine Dressing, one of the biggest fashion trends 2022 has to offer. Pairing her show-stopping yellow look with a small and understated white clutch bag by Roger Vivier—maker of some of the best designer heels, Queen Latifah brought a playful element to the Oscars 2022 best dressed.
The tailored dress highlighted Queen Latifah's silhouette, while the color-matched shawl with metallic detailing added the wow factor for the red carpet. Cascading down into a train, this outfit brought energy and elegance.
6. Maya Rudolph
Keeping in the vein of bright hues, Maya Rudolph really brought her A-game for the Oscars red carpet this year. While many of the Oscars 2022 best dressed list opted for more bodycon numbers, we love the relaxed fit of Maya's orange gown. Bringing all the glamour, Maya's Valentino dress was trimmed in a thick layer of orange feathers, giving us a strong '70s vibe.
Wondering what to wear to a wedding this summer? Take a leaf out of Maya's book and opt for something less form-fitted. While we associate black tie events with body-conscious silhouettes, a dress that is more relaxed but well fitted at the shoulders and bust will skim your shape offering a stylish and comfortable look. Look for embellished or printed styles that offer luxe detailing to make a loose-fitting gown just as stylish as a figure-hugging one.
7. Lupita Nyong'o
Lupita Nyong'o always looks absolutely radiant on the red carpet, so we're not surprised she made our Oscars 2022 best dressed list. Wearing Italian clothing brand Prada, the gold sequinned gown ensured that Lupita stood out on the red carpet. The dress followed a simple column shape, allowing the embellishment detailing to do the talking. We loved the mix of sequin styles, from flat gold sequins to the firework style palette sequins that were seen shooting off in all directions through the skirt of the dress.
Sequin dresses are always a good investment. Opting for simple silhouettes, such as a column dress, that won't date, will ensure you'll always have a go-to special occasion look in your capsule wardrobe.
8. Uma Thurman
Uma Thurman brought a more androgynous feel with her red carpet outfit. Opting for a monochromatic look, Uma wore a white silk shirt and floor-length black skirt by fashion house Bottega Veneta. Known for some of the most popular and best designer bags, the Bottega Veneta aesthetic for quality and simplicity shone through here on Uma's chosen look. With a nod to the classic tuxedo, Uma looked sharp in her understated ensemble. A classic color combination, in simple silhouettes, this is an outfit that will stand the test of time.
A wardrobe essential, you can never go wrong with a white silk shirt. Offering unparalleled elegance, if you're looking for a failsafe evening look, a silk shirt can be paired easily with everything from palazzo trousers to a-line midi skirts.
9. Mila Kunis
Bringing old-school Hollywood glamour, Mila Kunis was a dream in a Zuhair Murad couture, baby pink satin gown. The asymmetric dress featured intricate pleating across the bodice and a striking one shoulder strap. Contouring to Mila's petite frame the dress cascaded into a side train that added just the right level of volume to the look. The soft pink hue was spot on for the start of spring, while the sweetheart cut on the bust evoked a vintage Hollywood feel.
10. Kirsten Dunst
Kirsten Dunst is one of our favorite stars for red carpet inspiration and we were not disappointed by her Oscars 2022 dress choice. Wearing vintage Christian Lacroix, Kirsten looked incredible in the frothy red gown. Wearing red on a red carpet is always a gamble, but this gorgeous pinky, cherry hue was spot on. The simplistic strapless, a-line shape was enhanced by the 3D tulle applique and while the dress was vintage it felt thoroughly modern. Keeping the rest of her look pared-back, Kirsten allowed her frock to do the talking with rosy cheeks and swept up hair, showing off the classic strapless neckline.
A simple a-line, strapless dress will never go out of fashion. One of the most enduring evening wear shapes, you can guarantee investing in a similar design will ensure you've always got something to wear to those big black-tie occasions.
11. Laverne Cox
Velvet was a huge trend for the BAFTAs best dressed 2022 and again for the best dressed Critics Choice Awards guests, so we were thrilled to see Laverne Cox stealing the red carpet limelight in this beautiful black velvet gown by August Getty Atelier. The asymmetric velvet dress oozed Hollywood glamour, with a fitted bodice that finished at an angle, elongating the star's frame. Contoured to Laverne's figure, the slinky velvet gown was juxtaposed by an oversized opera coat that added a more theatrical feel and hung stylishly off Laverne's shoulder.
Velvet is one of the most enduring fashion trends when it comes to evening wear, but thanks to this year's '90s nostalgia trend we expect the embracement of velvet, particularly as we head into the Holiday season to really influence the party looks on the ready-to-wear market as we close out 2022.
Rivkie is a fashion editor, writer and stylist with over fifteen years' experience in the industry. Having studied design and pattern cutting at the London College of Fashion, Rivkie fell in love with styling and journalism, covering fashion weeks in London, Paris and New York.
Specialising in plus size fashion, Rivkie has long championed that style is for everyBODY and has been a regular talking head on a host of radio stations and television shows, pushing for greater representation for plus size women and fashion throughout her career.