BAFTAs best dressed 2022: The best looks from the red carpet
The red carpet is back and the BAFTAs best dressed list of 2022 doesn't disappoint when it comes to style and sophistication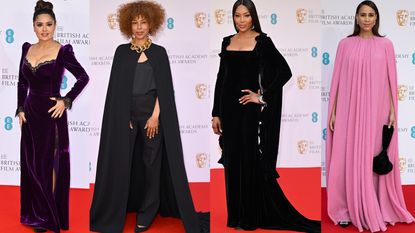 (Image credit: Getty Images)
The BAFTAs best dressed list is a highly contested one. While of course, the ceremony is about honoring the film and television industry, it's the battle outside the auditorium on the BAFTA red carpet 2022 that we were truly interested in.
After a two-year hiatus, the BAFTAs finally returned to a full in-person format and the stars were out in force to not only enjoy the occasion but like many of us, use it as an excuse to finally get dressed up to the nines too. Featuring some of the best dresses, the red carpet is where the latest fashion trends can really come alive and for many designers are as important as their initial runway shows.
While we only see the final result on television or in a red carpet shot, preparing for the BAFTA red carpet is no easy feat. It takes an army of stylists, makeup artists and hairdressers to get the stars into their finery and ready to attend. From custom-made dresses to designer call-ins, as much as actors are battling for the gongs inside the ceremony, outfit selection comes with its own pressures and rewards too.
And we're pleased to report that the BAFTA red carpet 2022 did not disappoint, giving the best Golden Globes dresses a run for their money when it came to style. Although it can often be a riot of color, with celebs rocking the best jewelry brands, last night many guests opted to wear black as a way of marking the current war in Ukraine, adding an appropriately somber tone to the evening.
The BAFTAs best dressed
1. Lashana Lynch
Lashana Lynch collected her BAFTA Rising Star Award last night in style. Perhaps most recognized for her role in Daniel Craig's final Bond film, No Time To Die, where she takes over the role of 007, Lashana looked glamorous in a chic black midi dress that featured a dramatic asymmetrical bow on one shoulder that draped into a train-like detail. The nipped-in waist helped to balance the shoulder detailing, while the slitted neckline completed the incredibly elegant outfit. The rising star kept her accessories simple, with a pair of pearl cluster earrings, a bejeweled cuff, and an unfussy watch.
2. Salma Hayek
We expected nothing less from Salma Hayek, after all, the House of Gucci star is a regular on the fashion front row and certainly knows how to work the BAFTA best dressed list. In a deep purple velvet gown, from, of course, Gucci, the actress looked every inch of her A-lister status. We've seen a huge '90s revival over the last year and this dress really nods to the gothic undertones we've witnessed on the runway. The sweetheart neckline is ideal for Salma Hayek's hourglass figure and the nipped-in waist and bodice seam detailing further highlights and contours her curves. Piling her hair on top of her head helped Hayek to add inches to her look, of course, adding a pair of the best designer heels didn't hurt either.
3. Ann Dowd
American actress Ann Dowd has graced many a red carpet during her career, so the 2022 BAFTA red carpet should have been a breeze. Like Lashana, Ann opted for black for the evening but added plenty of glitz to proceedings with a fully sequinned dress. The sheer yoke paneling and see-through sleeves, with sequin detailing, was a stylish way of showing just a little skin, ensuring the dress feels light and glamorous but not revealing. The higher waist seam on the dress helps to create an hourglass style nipped-in waist, which is complemented by the godet pleats in the skirt, as the fuller hemline creates a narrowed middle silhouette.
Black sequins are easier to wear than plain, block color black, as the sequins catch the light and bounce that light back to the face, ensuring a red carpet winner.
4. Haley Bennett
Haley Bennett, star of Music and Lyrics and The Magnificent Seven looked absolutely sensational in a Maison Valentino guide, as she seemingly glided down the BAFTA red carpet at London's Royal Albert Hall.
One of the most dramatic dresses of the evening, the strapless gown, with full skirt and train, featured hands crossing and touching one another across the bust line, as well as outlines of bodies hugging offering the idea of unity, solidarity and humanity, which was very much a theme across the board for this year's red carpet.
5. Sophie Okonedo
Not all heroes wear capes, but after Sophie Okonedo rocked this dramatic black number, she's certainly high up on our BAFTA best dressed list. When it comes to the red carpet, women often opt for a gown as a safe and appropriate bet for the black-tie event, however, Sophie demonstrated perfectly that a well-tailored outfit and some strong accessories can outtrump a gown. A simple black silky cami, tailored pair of trousers and classic pointed pumps were instantly up-styled by the addition of a standout chunky gold necklace and floor-sweeping cape—one of our favorite looks of the evening.
6. Naomi Campbell
Fashion icon Naomi Campbell lived up to her reputation on the BAFTAs red carpet 2022, wearing a stunning velvet evening gown from British clothing brand Burberry. Famed largely for its trench coats, it's easy to forget that the brand also produces red-carpet-ready dresses too. The Victorian-style square neckline highlighted Naomi's amazing figure, while the bodice contoured the model's curves. Fluting into a soft, back train, the gown featured dramatic sleeves with curled lettuce hem detailing. Keeping her accessories simple, as Naomi knows that less is more, the star opted for a pair of statement earrings and a singular cuff to complete her look.
7. Emma Appleton
Emma Appleton dazzled, literally and figuratively in this high neck, floor-grazing, black velvet dress, studded with jewels from French clothing brand Saint Laurent. The sophisticated dress featured a full-length sleeve and the gently contoured silhouette looked gorgeous on Emma. The high neckline worked well with Emma's choppy bob hairstyle and the star kept her outfit simple, pairing it with a coordinating Saint Laurent clutch bag.
8. Zawe Ashton
Embracing the Dopamine Dressing trend, by far one of the most popular fashion trends 2022 has to offer, Zawe looked absolutely beautiful in a pink caped gown. The flowing fabric looked effortlessly billowy and dramatic, yet incredibly soft and feminine. Designed by Emilia Wickstead, one of Kate Middleton's designers of choice, Zawe paired the pink dress with a black bag and black shoes with jeweled buckles to finish off a winning BAFTA red carpet ensemble.
9. Shirley Bassey
Attending the BAFTA dinner at The Grovesnor House Hotel, Shirley Bassey oozed old-school glamour. In a flesh-toned, floor-length gown, with scattered beadwork and a cropped brown textured jacket for added luxe, Shirley Bassey reminded us all that she's been ruling the red carpet for many years and knows how to turn on that style magic when needed.
10. Joanna Scanlan
Picking up the Best Actress award, Joanna Scanlan looked elegant in a black floor-length gown. The higher neckline and voluminous, draped sleeves is the opposite of what we saw from a number of the BAFTA red carpet 2022 attendees, but Joanna carried her look with style and elegance. Adding a pop of color with bright red shoes—a big shoe trend for 2022, and simple silver jewelry, the dress tapered into a more fitted bottom half, ensuring the look felt well balanced.
BAFTA red carpet 2022 trends
Many stars opted for black on the red carpet as a mark of respect for the ongoing conflict in Ukraine, meaning that overwhelmingly, stars turned out in various iterations of black, floor-sweeping gowns.
As always, silhouettes did lean towards body con styles, with waists being very much the focal point. There was a real feeling of old-school glamour, perhaps a strong indication of a desire to go back to the glory days of red carpet dressing and a return to the normality of the award ceremony that had been missing for the last two years.
Velvet played a key role on the red carpet, channeling the '90s aesthetic that has been increasingly popular on the runway and of course sequins were used to uplift outfits of all styles.
While plunging necklines may have been the norm on previous red carpets, for the BAFTA red carpet 2022 we saw many boat necks, slash necks and much higher necklines than we're used to seeing on the red carpet, ushering in a subtle and sophisticated aesthetic.
How do BAFTA dresses get selected?
Renee Cafaro, creative director of plus size luxury brand RCA Public Label dressed two attendees for the BAFTA red carpet 2022. "A lot more goes into getting a client into the perfect gown for the red carpet than meets the eye. I start with pitching designs inspired by the client or event," he says.
"After ideas have been selected, there are then patterns to cut, sewing and fittings, all long before the big day—if you're lucky to get a client who knows their plans that far in advance. Then you must be prepared with lots of backup outfits and an arsenal of tools for last minute alterations or costume changes for parties. It's a lot less glamorous and a lot more about troubleshooting, being ready to alter any design to ensure your client feels confident and perfect on the red carpet. The day before an event is usually a flurry of chaos and sequins!"
Rivkie is a fashion editor, writer and stylist with over fifteen years' experience in the industry. Having studied design and pattern cutting at the London College of Fashion, Rivkie fell in love with styling and journalism, covering fashion weeks in London, Paris and New York.
Specialising in plus size fashion, Rivkie has long championed that style is for everyBODY and has been a regular talking head on a host of radio stations and television shows, pushing for greater representation for plus size women and fashion throughout her career.