These are the most iconic Golden Globes dresses from red carpets past that we still think about
We're reflecting on our favorite Golden Globes dresses from the past two decades that we're not sure this year's looks will be able to beat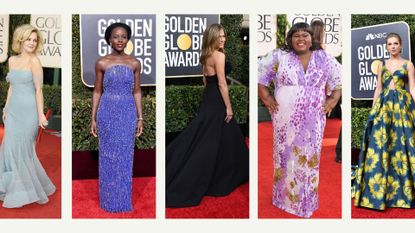 (Image credit: Getty)
woman&home newsletter
Sign up to our free daily email for the latest royal and entertainment news, interesting opinion, expert advice on styling and beauty trends, and no-nonsense guides to the health and wellness questions you want answered.
Thank you for signing up to Woman & Home. You will receive a verification email shortly.
There was a problem. Please refresh the page and try again.
The best Golden Globes dresses are perhaps one of the main attractions of the star-studded awards ceremony, allowing a glimpse into the sartorial elegance of the Hollywood elite. Though hundreds of celebrities have graced the Golden Globes red carpet in the last couple of decades, some looks will always stick out in our memory for all the right reasons.
The Golden Globe Awards, which celebrated its 80th anniversary this year, honors the best and brightest talents in film and TV - but its the Golden Globes dresses we're particularly interested in. After the halt in Hollywood events in recent years, audiences now love nothing more than to pore over the intricate haute couture looks worn by our favorite A-Listers. Whether it is the wonderfully wacky world of the best Met Gala looks or the more refined styling of the best Oscars dresses, there is no shortage of interest in the hits (and sometimes misses) of the Golden Globes 2023 best dressed.
Striking the perfect balance of sophistication and flare, stunning Golden Globes looks are a dime a dozen. However, a select few will always come to mind when we reflect on our favorite gowns. Though some of these looks are approaching 20 years old, we see elements of all of them cropping up in the fashion trends 2023, proving the timelessness of a stellar design. For a masterclass in red carpet dressing, and to get some style tips and inspiration for your own formal wardrobe, look no further than our list of the best Golden Globes dresses.
BEST GOLDEN GLOBES DRESSES FROM THE LAST 20 YEARS - AS SELECTED BY OUR FASHION TEAM
1. Jennifer Aniston - 2020
Jennifer Aniston can make absolutely anything look good, but this jet black Dior gown really does speak for itself. Exaggerated skirts and long trains are sometimes at risk of swallowing petite frames, but this fit couldn't be better. The waist-nipping cut works perfectly to balance out the oversized skirt and puffy bust detailing, making for a timeless red carpet look.
The beauty of a black dress is that there's no one it won't suit, but this can also mean that it may fade into the background at an event like this. However, thanks to the strapless neckline and floor-skimming length, it's noticeable out for all the right reasons. When working with bulkier materials in your own wardrobe, follow Jennifer's lead by incorporating fitted elements around the areas you want to show off. This will also add extra drama to the oversized details.
2. Lupita Nyong'o - 2019
Tranquil blues are seeing a resurgence according to the fashion color trends 2023, so Lupita was several steps ahead of us in 2019. Bold colors are often a risky choice on a red carpet and tend to divide opinions, but we can't see how anyone could dislike this Calvin Klein look. An expertly crafted balance of eye-catching and timeless, this is one of our favorite red carpet looks in recent years.
If you gravitate towards classic cuts when it comes to dresses, you can add some interest to your look with texture or embellishment details. The tassels on this gown don't take anything away from the shape, but instead, create depth and movement - ideal for occasions where you want to turn heads. We love the choice to keep it minimal in terms of accessories, so as not to take away from the glitz and glamor of the dress. Don't be afraid to ditch necklaces or cuffs when sporting a particularly stellar outfit.
3. Taylor Swift - 2020
Taylor Swift's red carpet looks almost always provoke discussion. From her bleached shaggy bob at the 2016 Met Gala to the sheer chain dress debuted at the 2022 EMAs, she is no stranger to debate surrounding her wardrobe. This particular look from the 2020 Golden Globes is one of the most memorable on this list, both thanks to its Disney Princess style and vivid print. Italian label Etro is behind this luxury look, a favorite amongst celebrities, and we can see why.
Cutout details are a great way to add a slightly more youthful touch to a long dress, helping this sophisticated look to fit to Taylor's style. When shopping, look out for pieces with subtle details like this that add a more fashion-forward finish. To further personalize a look, play around with various hairstyles and jewelry pieces. Oversized earrings, like Taylor's, are one of the key jewelry trends 2023 and will instantly reinvent any look to suit your individual style.
4. Gabourey Sidibe - 2011
Animal print looks weren't uncommon in the early 2000s days of casually cool red carpet attire, but Gabourey's dress by American designer Marc Bouwer proves that the pattern can also work beautifully on a formal gown. Despite being 12 years old, this is an ensemble that we can see staying trendy for years to come. The minimal color palette ensures that the motif doesn't overwhelm the dress, whilst the V-neck cut and flowy sleeves create a harmonious balance when contrasted with the edgier pattern.
Whilst many formal dresses tend to highlight the waist, opting for cinching under the bust is a great alternative to draw extra attention to the neckline or sleeve details. Gabourey has also gone for a minimalistic approach to jewelry, letting the shimmering tones of the dress do all the talking. There really is no going wrong with sequin skirts and dresses for any formal occasion, especially when they look this good.
5. Kate Hudson - 2015
Expert craftsmanship is one of the key facets of Atelier Versace designs, which this dress has in bucket loads. The label behind some of the best known celebrity looks, including Blake Lively's color-changing 2022 Met Gala dress, it rarely misses. Though less statement than some other Versace creations, we love the elegant simplicity of this dress that suits Kate's style and personality.
A plunge neckline is often seen gracing Hollywood awards ceremonies, and though daring, it is a risk that paid off here. The maxi length of the dress works well to keep a formal element, and we love how the cut-out details work together with the deep V to create an hourglass shape. Kate's look is proof that the best dresses are the ones that are well-tailored, so don't be afraid to alter your own occasion wear when necessary.
6. Jennifer Lopez - 2016
Yellow is a bold choice no matter what type of outfit you are wearing, but J-Lo shows us that this is a risk that can pay off. What would otherwise be a fairly generic dress is totally transformed by the vibrant hue that clashes beautifully with the red carpet, ensuring a standout look. Though capes and shawls are often seen paired with formal dresses, the rounded shape and cropped length of this one adds extra interest. But by far our favorite feature of this dress is the cheeky leg slit, injecting some personality into this slightly more conservative look.
Designed by Giambattista Valli, this gown was a slightly surprising step away from the brand's typical oversized tulle designs, as well as J-Lo's usual sheer red carpet looks - and that's why we love it. When we first saw this look we were instantly reminded of Rihanna's yellow 2015 Met Gala gown, proving that opting for rich and vibrant color palettes makes for a statement piece, no matter the occasion.
7. Halle Berry - 2011
We all love an LBD, but it can be tricky to find ways to reinvent the style and make it your own. This 2011 look by Nina Ricci is certainly one of the best Golden Globes dresses for timeless style, and we can easily see something similar showing up on the carpet this year. Taking a simple shape like this lingerie-inspired silk dress and adding the extra net skirt layers really transforms the look, so it is always worth considering how you can combine items in your own wardrobe to create an entirely new piece.
The Nina Ricci label recently announced that Harris Reed, a 26-year-old British-American designer, would be its new creative director - and he has already worked with the likes of Adele and Florence Pugh on major looks. Expect to see a lot more A-Listers rocking the brand this year.
8. Drew Barrymore - 2009
Drew Barrymore absolutely stunned in this John Galliano dress at the 2009 Golden Globes, donning a totally timeless piece that we still adore today. Perhaps the detail that gives away the age of this look is the exaggerated hair-do that has been retired in favor of slicker, straighter styles in recent years. However, we won't let that distract us from the beautiful figure-skimming fit and asymmetric sleeve details.
The mesh overlay is one of our favorite parts of this dress, as it is a little more daring and textured than opaque fabrics. Plus, it allows the exposed seam details throughout the dress to really have their moment and pay homage to Drew's slightly edgier style. The fit of this dress will look particularly good on an hourglass body shape, thanks to the mermaid-esque skirt that flares out at the bottom. However, unlike the tight mermaid fit, the wavy seam of the skirt creates subtle movement and flow, making for an elegant and extremely chic look.
9. Olivia Colman - 2019
Sporting British clothing brand Stella McCartney, Olivia is the epitome of grace. The block color is perfectly balanced out with the trendy mesh sleeves and neckline that keep things formal, but also remind us that this isn't just another black dress. When wearing strapless pieces or anything that is showing some skin, consider how you can accessorize those areas with contrasting fabrics.
The short train works well to give the illusion of height, as well as reflecting the flowy nature of the dress' slit sleeves. We love the way this contrasts with the fitted shape of the dress. Olivia's style is the perfect example of timeless dressing that doesn't compromise on fun, trendy details, so she's always one of the first celebrities we turn to when looking for inspiration.
10. Beyoncé - 2007
Metallics don't seem to be as popular on the red carpet as they used to be, and this throwback Elie Saab look has us questioning why. Catching the light in all the right places, the golden hues of this maxi dress add a touch of warmth and brightness to the formal dress game - and prove that nothing is off-limits.
The bangle accessory works to create a sense of cohesiveness here, but we love that the neckline has been left bare. When working with fabrics that can color shift or change depending on the lighting, we recommend not overdoing it with metal jewelry that may also do the same thing. However, Beyoncé's look proves that there really is no such thing as too much sparkle - especially when it comes to Golden Globes dresses.
11. Jennifer Lawrence - 2014
We reckon that this will be one of the more divisive Golden Globes dresses on this list, due to the slightly unusual shape and details. This look is nearly a decade old, so it's understandable that certain elements may no longer appeal, but we love this ensemble purely because it turns heads - whether in a good or bad way. It's all too easy to go for a classic fit, but for a red carpet event, we always love to see a celebrity push the boat out a little more. Although this is also a Dior number, it completely stands out from Jen A's 2020 look.
The black band detailing gives the illusion of a longer torso, but it also works to add more definition to the hips and highlight the waist further. Adding belt details or cinching throughout a dress can completely alter its style, so this is a great thing to experiment with to breathe some new life into old looks. We're also drawn to Jennifer's bold lipstick choice that contrasts with the pure white of the dress. Channeling the whimsigoth trend through her makeup before it was a thing, we won't be surprised if this style of dress also finds further favor in years to come.
12. Viola Davis - 2017
Another yellow number had to make it into our top picks, because when it's done right, there are very few colors that look better on the red carpet. Nailing dopamine dressing, this canary yellow Michael Kors dress works to brighten up the whole room. Don't be afraid to go bright for formal wear - shades that compliment your complexion will never look out of place.
The one-shoulder detail is another feature of this gown that we love, and something that can be found at a variety of different stores at all ends of the price spectrum. A great alternative to low necklines, exposed shoulders have the same effect without showing so much skin. Contrasting with the column shape of the dress, this shoulder detail keeps things slightly playful.
13. Lucy Liu - 2019
Can you tell we have a weakness for tulle? Not only one of the best Golden Globes dresses, but one of the best red carpet dresses in recent years, we are completely obsessed with this Galia Lahav look. At the time, this look earned Lucy a place on several worst dressed lists, but we think she was just ahead of the trend cycle - a reminder to always trust your personal style over what's trending.
Applique and embroidery have been steadily growing in popularity for a while, and we love how these details have been combined with a bright color palette to create a dress you can't help but look at. The sheer cape creates a level of mystery and modesty, but still allows the abstract patterns to peek through. Something that creates conversation and sticks in your mind is our idea of a great outfit - and this fits the bill. Plus, asymmetric shoulders, capes and sheer dresses all feature in the wedding dress trends 2023, and we are in favor of bringing these same trends to Hollywood.
14. Helen Mirren - 2012
Navy is a severely neglected color when it comes to the best Golden Globes dresses, so this 2012 Badgley Mischa gown had to be on our list. We all know how essential a black dress is in any wardrobe, but we're here to propose that a navy dress is just as important and a great alternative to the classic LBD as navy is actually an easier color for many to wear.
The best part about this dress is undoubtedly the ruffled skirt, accentuated by the bejeweled waist detailing. This belt style works brilliantly to fuse the top and skirt of the dress together despite their slightly contrasting aesthetics, making for a unique yet chic ensemble. When experimenting with new textures, stick to neutral colors to ease yourself in and allow the detailing to really shine.
15. Cate Blanchett - 2016
One of the first stars we search for at any red carpet event is Cate Blanchett, as she always brings something distinctive to the table. This was certainly true of her 2016 Givenchy gown that not only dipped its toe into color, but also played around with tassel detailing and lacey textures. The straight shape of the dress is designed perfectly to show off the various textures at play - anything with too much definition would have taken away from these elements.
Despite the baby pink hue and intriguing applique, the overall look of the dress isn't particularly groundbreaking - until you see the back. This exaggerated scoop adds a gorgeous touch of youthful femininity to Cate's look, changing the vibe of her look for the better. Subtle plays like this will never go amiss amongst the fashion crowd, and can be the crucial step in transforming a gown.
Sign up to our free daily email for the latest royal and entertainment news, interesting opinion, expert advice on styling and beauty trends, and no-nonsense guides to the health and wellness questions you want answered.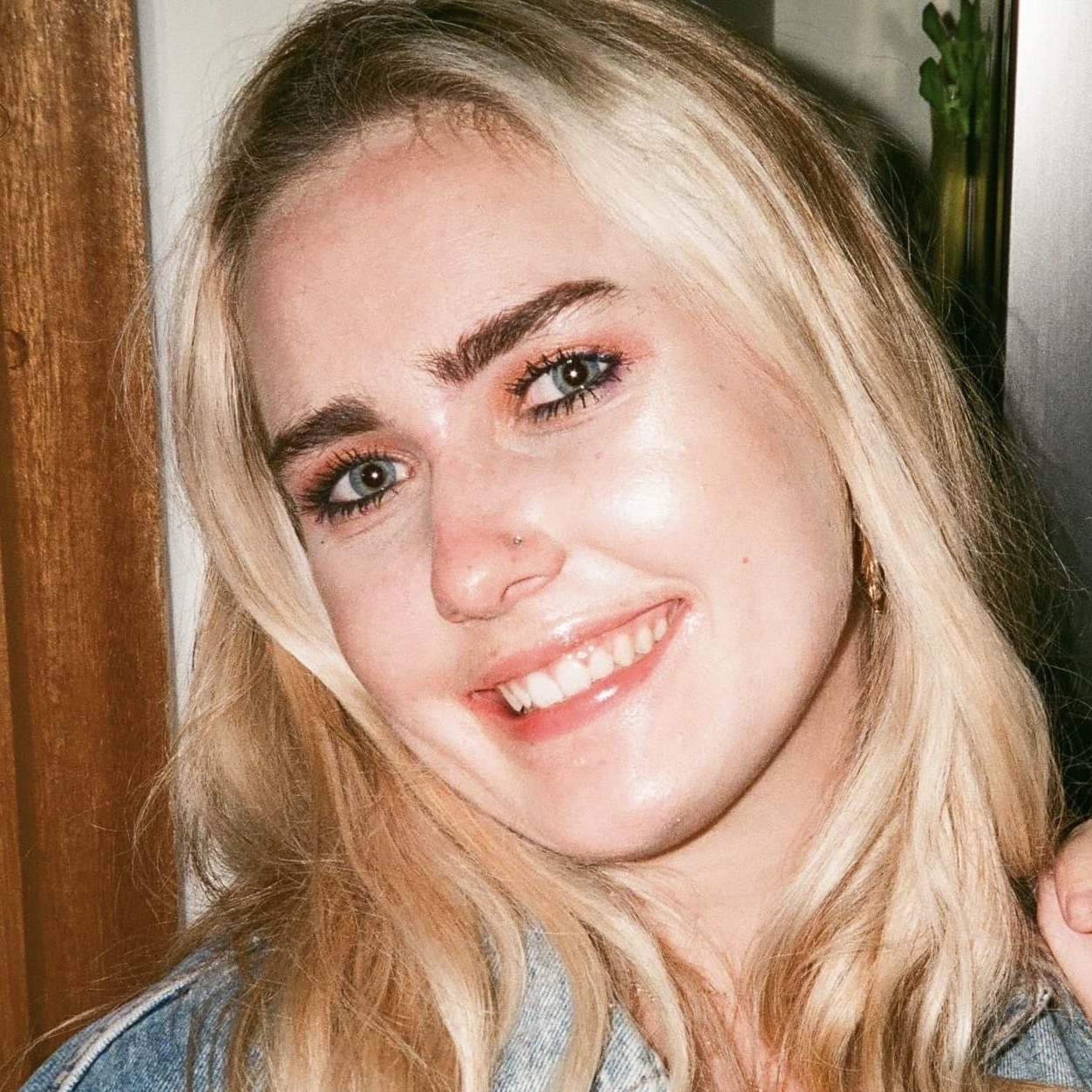 Amelia joined woman&home in 2022 after graduating with an MA in Magazine Journalism from City University and is now a senior writer. She began building her career as a lifestyle journalist after completing a fashion journalism course at the Condé Nast College of Fashion & Design in 2019, writing for a variety of titles including OK! magazine, New! magazine and Notion on topics such as sustainable fashion and entertainment. She specialises in fashion and beauty content, covering everything from product reviews and nail art trends to reporting on fashion weeks and the best-dressed celebrities at red carpet events. With a keen eye for lifestyle trends, she is always on the lookout for the latest products and brands to hit the market.