Five mistakes to avoid when buying a designer handbag, according to a fashion editor
These are the mistakes to avoid when shopping for a new handbag, according to a fashion editor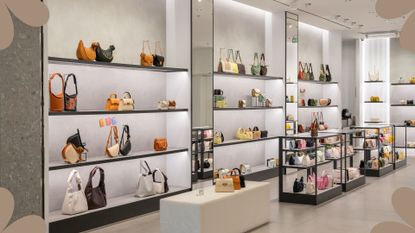 (Image credit: Getty Images)
Having a new accessory to play with can certainly up your fashion game, but when investing in a designer handbag, there are certain mistakes you'll want to avoid otherwise your new bag may end up end up languishing at the back of your closet.
If you're in the market for the best designer bags, there are five key mistakes you'll want to avoid before investing. With some handbags costing thousands, having a checklist of what to look for will help you decide whether the new bag you're considering is worth parting with your hard-earned cash for.
As a fashion editor and a handbag fanatic, I do my best to avoid making shopping errors when looking to add to my handbag collection. Whether you're after the best designer crossbody bags, or a designer tote bag. These are the things I consider when buying a handbag to make sure I get maximum wear out of it.
The mistakes to avoid when buying a handbag according to a fashion editor
While your handbag purchase will largely be governed by personal taste, the handbag mistakes I'm referring to are things that might make your handbag unergonomic, stopping you from using your bag to its full potential. I've created a checklist of key things to consider before reaching for your credit card, so your new bag becomes a well-loved purchase.
1. Know the purpose and function of your bag
I'm the first to defend the new season handbag trends as essential reading, but be realistic about why you're buying a new handbag and how concerned you are with longevity. To avoid buying the wrong bag be honest about your lifestyle, why you're buying the bag, and how often and where you see yourself using it.
Practically speaking, if you're shopping for the best designer bags for work they'll look totally different from the handbag you select to go with the best wedding guest dresses, so does the handbag you're looking at fit the brief?
2. Buying the wrong size
Once you have nailed the occasion the bag is for, it's time to see if it is fit for purpose.
When it comes to what to pair with the best wedding guest dresses, it's ok to opt for something a little more frivolous, such as designs with timely embellishments, however, you should go into the purchase being realistic about the bag's cost-per-wear and decide if you're ok with the price tag based on this usage.
If a bag is for everyday commuting, what are you aiming to fit inside? Ensure your chosen design is roomy enough. While micro bags dominated the fashion trends 2023, realistically if you want your cards, keys, phone, laptop, gym kit etc to all go inside, a spacious tote bag or one of the best work backpacks for women is most likely the style you need. Large bags, however, often include high-quality but heavy materials, such as leather and metal hardware. Which leads me nicely to my next potential handbag mistake.
3. Check how heavy the bag is
One of the biggest handbag mistakes you can make is not considering how heavy a bag is when empty. Often using beautiful metal hardware and thick leather to create a long-lasting and stylish bag, these luxury aspects can all add to the weight of the bag.
Before you commit, try the bag on, and see how it sits when empty and how you feel with the weight of the bag. Then consider all the items you need to add in. Is it lightweight enough to start with for you to still be comfortable with it when it's filled?
A great example of bag weight consideration is the now nostalgic Chloe Paddington Padlock bag. A supremely beautiful bag, the large metal padlock meant that this regularly sold-out design weighed nearly three pounds when empty. One of the most popular bags of the mid to late 2000s this was the IT bag to have, but it was also a serious arm workout. So decide what you're personally comfortable with.
4. Consider the color of your bag - classic or statement?
As a fashion editor, I'm supposed to tell you that it is a handbag mistake to invest in anything other than classic neutrals, and while to an extent the most timeless purchases will revolve around a palette of black, tan, and oxblood - as these never go out of style, I don't believe that anything in a brighter or slightly different hue is considered an error.
Dopamine dressing can up your mood and I believe, so too can a statement, colorful accessory. Governed by personal taste, if you want a bright bag to be the thing that stands out in your ensemble, then don't be afraid to embrace color. Ideal for elevating a daily commute, a colorful bag against your best trench coat will look chic and directional - and it won't necessarily date either.
I have a beautiful orange Vivienne Westwood bag that is largely as interesting and as timeless as it is thanks to its bright vinyl fabrication. If color works with your wardrobe or helps you to add personality to your look, then embrace those rainbow hues. However, do look for good quality fabrications so that the color wears well, and store carefully when not using your bag to avoid it fading and marking.
5. Are there different strap options?
It's easy to fall for this handbag mistake and I've almost fallen foul of this one on several occasions, but testing out the length of the strap options before purchasing is incredibly important.
Think about how you would carry your bag, if you like a top-handled bag, make sure the handles are short enough that you can fully extend your arm without the base of your bag grazing the floor.
Like a hands-free approach? Make sure that the strap sits comfortably across the body, with the bag resting at your waist or hip. The strap may be adjustable - which is useful as this means you can wear it multiple ways and lengths, however, if it's fairly thin, it will likely dig in when your bag is weighed down and can be uncomfortable.
If you like to wear your bag on your shoulder, test this out, as many bags look like they should sit comfortably on your shoulder, but the strap can sometimes be too short. This is especially true when wearing bulkier layers such as big sweaters or your best winter coat. If the strap is too short, it will constantly slip down your shoulder, making carrying awkward, especially when the bag is full.
Sturdy straps are a must, as these will help with the bag's longevity, and if the bag can be worn multiple ways, or you like to switch up how you carry a bag, test all of these out before committing.
6. Pay attention to fabric and construction
One of the most important things to consider when buying a bag is the material. High-quality fabrications, be it leather or vegan leather instantly indicates how well the bag will age, especially if it's one for daily use. For tote bags, look for buttery soft leathers that will wear similarly to the best leather jackets. Pay close attention to fastenings and hardware, be it zips or clasps, and make sure these are well secured and open and close easily.
Darker and block-colored leathers tend to last well, especially if stored in dust covers when not in use. I have however found some metallic foiled leathers discolor as they wear away as they rub against clothes. This doesn't mean shopping for a metallic leather bag is a mistake, but it is good to be aware that this style of purchase may have slightly less longevity than a block-neutral color.
And don't forget, if your bag does get damaged, approach a designer bag repair specialist to spruce up your beloved purchase and get items fixed as soon as possible to avoid problems getting worse. Maintaining your bag will ensure you can keep using it for years to come.
Rivkie is a fashion editor, writer and stylist with over fifteen years' experience in the industry. Having studied design and pattern cutting at the London College of Fashion, Rivkie fell in love with styling and journalism, covering fashion weeks in London, Paris and New York.
Specialising in plus size fashion, Rivkie has long championed that style is for everyBODY and has been a regular talking head on a host of radio stations and television shows, pushing for greater representation for plus size women and fashion throughout her career.