Best jeans to wear with Chelsea boots to to maximize this wardrobe essential
These are the best jeans to wear with Chelsea boots from laid-back wide legs through to skinny and straight leg styles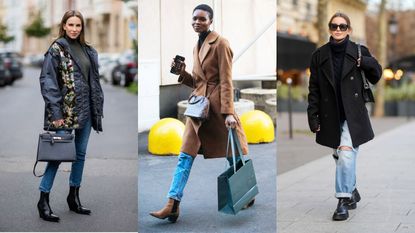 (Image credit: Getty)
woman&home newsletter
Sign up to our free daily email for the latest royal and entertainment news, interesting opinion, expert advice on styling and beauty trends, and no-nonsense guides to the health and wellness questions you want answered.
Thank you for signing up to Woman & Home. You will receive a verification email shortly.
There was a problem. Please refresh the page and try again.
The best jeans to wear with Chelsea boots will depend on a number of factors. This versatile boot style straddles smart and casual occasions and is both practical and smart for whatever the day throws at you. Working with numerous types of denim, this is a fashion pairing that you'll come to rely on.
Chelsea boots have been around since the Victorian era (yes, really) and have had more comebacks than some of your favorite pop stars, making them an investment piece that won't be going out of fashion anytime soon. And there is no better way to wear this style staple than with a pair of your best jeans.
"Chelsea boots are a classic that doesn't fit into a specific trend, and therefore can be worn in multiple different ways," says celebrity stylist Ellis Ranson. "They're hardwearing and comfortable, yet look great. Chelsea boots come back every year with a new color or style so you can really modernize them."
Best Chelsea boot jeans: 6 of the best jeans to wear with Chelsea boots
There are plenty of different types of Chelsea boots, ensuring you can find one that matches your style "from a chunky lug sole to a flat heel, pointy toe version" says personal stylist Zoé DuFour. The type of Chelsea boot you choose will impact which jeans will work best and the overall finish. For example, a heftier boot will slot beneath wide-leg or flared jeans to create a laid-back look, but will create a strong contrast against the tight fit of skinny jeans. Equally, a more elegant, classic Chelsea boot will jar too much with statement jeans and styles best with trusty straight-leg jeans.
"The timelessness of Chelsea boots allows you to style them in many different ways, from a classic to a more casual or boho look," advises fashion expert Rosie Mangiarotti. "They can even be dressed up for a fancier twist on your classic jeans and boots combination."
1. How to wear wide leg jeans with Chelsea boots
The best wide-leg jeans have been top of fashionistas' shopping lists for a while now. First, they were boxy and cropped with a high waist, and now, for 2023, they're nodding more to '90s fashion trends with a baggier leg, longer length, and slightly lower-slung waistline. The best way to style wide leg jeans with Chelsea boots is to go for a real pair of stompers. A huge boot trend, stompy boots offer the balance needed for heavier jeans, as dainty boots will get lost in the excess fabric. Take inspiration from street stylers and wear your wide-leg jeans tucked into the tops, or rolled over, a high-rise Chelsea boot. Just be careful not to go too wide with the denim or you won't be able to get the tuck. In terms of wash, we really like the contrast of pale denim with black boots.
Everlane The Cashmere Boxy Crew
RRP: $185 / £178 | The best cashmere sweaters will always earn their keep in your capsule wardrobe. This one has a slightly cropped and boxy fit that gives this luxury piece a cool and laidback edge. We love the spring-ready green shade too.
Frame Le High 'N' Tight Wide Crop
RRP: $268 / £282 | Designer jean brand, Frame is hard to beat and this pale blue pair of jeans are crafted from rigid denim that really holds its shape and is finished with a raw hem for an on-trend feel. They fit true to size, so stick to your regular size.
Dr. Martens 2976 Platform Chelsea Boots
RRP: $210 / £189 | Doc Martens outfits can always be relied on for an easy off-duty look. We love the platform sole of these black boots, complete with the brand's signature back tab that makes them a doddle to get on and off, along with zero laces too.
2. How to wear flared jeans with Chelsea boots
Our obsession with all things '70s is showing no signs of slowing down (thanks to the likes of Daisy Jones and The Six) and flared jeans are very much a part of that. It's easy to style flared jeans with Chelsea boots because their shapes slot together like pieces of a puzzle. The way in which flared jeans flute out from the knee makes space for your boots to sit neatly beneath them without distorting the lines or causing the denim to gather or bunch. To really lean into that '70s aesthetic, choose a Chelsea boot with a pointed toe in beige or tan, preferably with a little bit of a heel. Flared jeans do a brilliant job of making your legs look longer too (especially if you're petite) and the extra lift will only exaggerate this.
H&M Double-Breasted Trench Coat
RRP: $64.99 / £52 | One of the best trench coats we've seen this season, this ticks all the boxes for style and affordability. Wear open to show off your jeans ensemble, or closed with the belt knotted to emphasize your waist. It'll work for spring work outfits too.
Madewell The Perfect Vintage Flare Jean
RRP: $128 / £122 | Jeans you'll love from the minute you put them on, this pair from American clothing brand Madewell have just enough stretch to contour curves. They're available in standard, petite, tall, and plus making them size-inclusive jeans too.
Madewell The Elspeth Chelsea Boot
RRP: $198 / £188 | The almond toe, stacked heel, and red-toned tan shade give these Chelsea boots a Western feel the reflects this season's cowboy boot trend. These have built-in padding for maximum comfort if you struggle with wearing heels.
3. How to wear kick-flare jeans with Chelsea boots
If the idea of a full-on flare feels too daunting, then a kick-flare is the perfect way to dip your toe into the trend. Fairly new in terms of jeans silhouettes, unlike a true flare that flutes out from the knee, kick-flare jeans flick out much further down the leg - adding a little extra personality towards the ankle and are slightly cropped - separating them from a bootcut. This means you get all the benefits of space for layering your Chelsea boots, but without making such a statement and because they finish slightly shorter, they're ideal for teaming with Chelsea boots and showing off your fancy footwork. Kick-flares can make legs look shorter, so if that's something you want to avoid, then a Chelsea boot that fits tight to the ankle and has a heel is the best way to counteract this.
RRP: $59.90 / £45.99 | The perfect layering piece for in-between days, this fringed jacket will bring boho style to any outfit. It's slightly oversized, so stick to your regular size, or even size down for a tighter fit and keep your top underneath contoured.
Levi's Ribcage Straight Ankle Jeans
RRP: $118 / £110 | Unsurprisingly one of the best jeans brands, Levi's are pros when it comes to stylish denim that will stand the test of time. Its iconic ribcage shape is one of its most flattering styles as the high waist and straight legs flute out at the ankle.
All Saints Amber Leather Boots
RRP: $379 / £249 | Look beyond All Saints leather jackets to its footwear offering and you won't be disappointed. These track-sole boots are super cool and crafted from the softest leather. The elastic side panels make them easy to get on and off too.
4. How to wear skinny jeans with Chelsea boots
If you want an outfit combination that requires minimum effort for maximum pay-off, then you really can't go wrong with your best skinny jeans and Chelsea boots. As skinny jeans are form-fitting and narrow, they create the perfect canvas for letting your footwear have its moment. They also go with Chelsea boots of any shape or style, whether you prefer a shorter boot with a heel or a wide, flat boot that finishes mid-calf. You'll struggle to fit any boot beneath skinny jeans, so either tuck your jeans in (we find that tucking your jeans into your socks first makes for a smoother finish) or choose a cropped style that cut off just above the top of your boot. Easy.
Reiss Hollie Double Breasted Linen Blazer
RRP: $545 / £298 | If you're going for a chunky Chelsea boot, try styling a structured blazer with jeans. The wide shoulders will balance out your shape, creating an hourglass silhouette. This blue is absolutely gorgeous, add a white t-shirt and you're good to go.
Mango Skinny Cropped Jeans
RRP: $69.99 / £35.99 | These are the perfect pair of skinny cropped jeans for wearing with boots to ensure you don't end up with too much excess fabric in the mix. The slightly faded fabric on the front works to contour and lengthen your legs discreetly.
H&M High Profile Chelsea Boots
RRP: $129 / £79.99 | These boots are made from 100% buttery soft suede, so you'll need to invest in a good protector before you stomp your way out of the house. The light camel hue makes them ideal for a spring capsule wardrobe or early fall.
5. How to wear straight jeans with Chelsea boots
So when it comes to skinny vs straight jeans, think of straight jeans as the skinny's cooler cousin. Pretty much all the same styling rules apply when wearing this cut of denim with Chelsea boots, but now there's slightly more space to potentially squeeze the top of your boot beneath the leg of the denim. The wider leg means that chunkier boots will no longer stand out quite so much, which gives the overall look a more laid-back feel. Opt for high waisted jeans and wear them with a simple sweater or crisp-linen shirt half-tucked in at the front to highlight your middle.
& Other Stories Loose-Fit Linen Shirt
RRP: $119 / £75 | When it comes to how to style jeans, we are suckers for a long-line linen shirt, and this hot pink hue is the perfect homage to this year's Barbie movie. Make like Margot and double down with a coordinating pink tote bag too.
Everlane The Way-High Denim Jean
RRP: $118 / £113 | True black jeans can feel a bit too dressy for daytime, so we like that this dark grey pair from Everlane have a more relaxed feel. They're made from organic cotton with a dash of stretch to keep them comfy and ensure a better fit.
6. How to wear mom jeans with Chelsea boots
Mom jeans are the marmite of the fashion world - you either love them or you hate them. They're characterized by a high waist and a slightly wide, tapered leg that narrows as it reaches your ankles. The good news is that if you are on board, mom jeans work really well with Chelsea Boots as the narrow cuffs will slot nicely over a form-fitting boot. This gives you the neatness you'd get from wearing skinny jeans, but in a more of-the-minute way.
Mom jeans look their best in light or acid wash denim that nods to their '80s and '90s origins, and we like white jeans outfits too for a crisp finish for spring/summer. Chelsea boots that are slim-fitting, narrow, and heeled will convince even the mom jean naysayers to give this look a go.
Rag & Bone Knit Stripe Scoop Neck Top
Mango Mom High-Waist Jeans
RRP: $69.99 / £35.99 | Mango's denim offering just keeps getting better and better. These jeans are good quality and hold their shape well at a price that won't make your eyes water. Ideal for spring outfit ideas, they're available in several washes.
What are the best type of jeans to wear with Chelsea boots?
Not sure which jeans to wear with Chelsea boots? The good news is that you can't really go too far wrong. "There's no one jean for Chelsea boots," says fashion expert Chantelle Malarkey. "For the most part, they go with many, if not all. Personally, I think that flared jeans or boot cut styles (work) really well."
The type of jeans you choose will ultimately depend on how much of your Chelsea boot you want on show. "I would always recommend skinny or straight-leg jeans that are either cropped or tucked in as I think Chelsea boots look best when you can see the full boot in my opinion," explains Ranson. "Always aim for your jeans to hit just above the boot when it comes to a cropped style."
Not here for the cropped jean look, have no fear, you can still so the jeans and Chelsea boot look.
"Full-length, straight leg or boot-cut jeans are my favorite to pair with Chelsea boots because they can easily drape over the top, elongating the legs for a slimming effect," says stylist Melony Huber. This way, you'll only see the detail on the lower part of the boot, so look out for things like unexpected colorways or contrasting soles to add interest.
Is it OK to wear Chelsea boots with skinny jeans?
Skinny jeans have been a trusty staple in our closets for years, but fashion experts are divided as to whether this is the best jeans to wear with Chelsea boots. "I personally love to wear Chelsea boots with a skinny jean," says celebrity stylist Nina Vargas. "I learned that in order to make this work you need to find a pair of skinny jeans that meets the top of the boot."
On the other side of the fence is fashion stylist Robin Saperstein. "I personally wouldn't advise wearing skinny jeans at all right now," she explains. "It is basically the only silhouette that's not in style. It will come back, but right now I would advise putting them at the back of your closet and picking up a pair of straight-leg jeans instead. Straight is the new skinny and looks fabulous with a Chelsea boot."
If you're team Nina and want to commit to Chelsea boots and skinny jeans, just consider the proportions. The type of Chelsea boot that's most popular at the moment is chunky, high rise, and has a thick track sole, which can look quite bulky when worn with skin-tight jeans. Either lean into this look and balance out with a boxy-fit white t-shirt or oversized sweater on your top half, or choose a narrower Chelsea boot with a pointed toe and heel for a more seamless finish.
Can you wear straight-leg jeans with Chelsea boots?
It's skinny vs straight jeans when it comes to the best jeans to wear with Chelsea boots, and straight-leg jeans tend to be the more popular option right now.
"As long as they're cropped just above the boot, these are a great shape to team with a Chelsea boot," says Ranson. "It gives them that effortless retro look and is more comfortable day-to-day than skinny jeans."
In practical terms, the wider leg of straight-cut jeans makes them well suited to wearing with boots as you have space for layering. "Straight-leg jeans have a slight opening to them," explains Vargas. "You want the boot to be snug to your leg so that the jean opening can fall nicely over them. This helps to elongate your leg and not create a break in the eye." This will give you a more seamless silhouette, making you look longer.
Sign up to our free daily email for the latest royal and entertainment news, interesting opinion, expert advice on styling and beauty trends, and no-nonsense guides to the health and wellness questions you want answered.
Jess Beech is an experienced fashion and beauty editor, with more than eight years experience in the publishing industry. She has written for woman&home, GoodtoKnow, Now, Woman, Woman's Weekly, Woman's Own and Chat, and is a former Deputy Fashion & Beauty Editor at Future PLC. A beauty obsessive, Jess has tried everything from cryotherapy to chemical peels (minus the Samantha in Sex and The City-worthy redness) and interviewed experts including Jo Malone and Trinny Woodall.