Fashion editors' best-kept secret: How you can save hundreds on a Mulberry bag
Always dreamed of owning a Mulberry bag, or are you keen to add to your existing collection?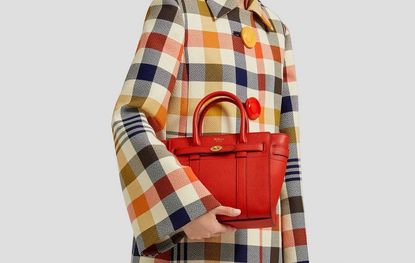 Launched at the beginning of April 2020 and for a limited time only, you can shop discounted Mulberry bags (and other items), directly from the brand, from the comfort of your own home.
Mulberry has some of the best designer bags around - but they're not cheap. And large discounts on designer goods are usually saved for those elusive sample sales that we sometimes hear about – but never attend. Classic styles rarely get discounted. That's why we were so excited when we stumbled upon the online Mulberry Factory Shop. (opens in new tab)
Mulberry Factory Shop: how does it work?
The offering at the Mulberry Factory Shop is quite impressive. You can purchase a Bayswater handbag, the brand's most popular iconic design, in classic tan or black for £766. Previously £1,095, you'll be saving £329!
As with all expensive handbag purchases, it's best to invest in a classic shade that won't go out of fashion. We recommend choosing tan, black or a lighter nude colour to get the most wear from your purchase.
If you are adding to an existing handbag collection or looking for something brighter, red is also a shade that will not date. Avoid bright 'fashion' shades such as orange and metallic turquoise, these are usually a one hit wonder created for the new season only. Although these seasonal shades usually offer the biggest discount, take a moment to decide if you will tire of the colour quickly.
The Mulberry purses (opens in new tab) do not have a huge saving – most of approximately £95. But a discount is a discount right? All currently available in those classic colours you should look out for, black, brown, tan and nude.
Stay in the loop
With new shades and shapes being added to the Mulberry Factory website, make sure you subscribe to the email newsletter to keep up to date. From what we can tell the email newsletter is sent out on a Friday.
The Mulberry Story
Established in 1971, in Somerset, England. Mulberry's founder, Roger Saul, established the brand at his kitchen table, with £500 backing from his mother. His sister designed the instantly recognisable tree logo. Both the logo and the name "Mulberry" came from the trees Roger would pass each day on his way to school. All of this represented a love of nature, the importance of family and the growth of a fundamentally British brand.
Mulberry is a British lifestyle brand, internationally acclaimed for quality and design. Mulberry's handbags - the Trout satchel, the Bayswater and the Alexa - have become contemporary classics, iconic examples of British design and manufacturing expertise.
If you prefer to shop pre-loved items rather than buy brand new – we have some good news for London residents.
When the UK government's lock down is over and it's safe to start shopping in store again, Mulberry also offer a pre-loved service, The Mulberry Exchange.
A selection of pre-loved and archive pieces are available to purchase in selected stores. All pieces are carefully revived by Mulberry's restoration artisans in Somerset. With a focus on rare silhouettes and limited-edition pieces, each bag will be valued and priced individually, with new drops arriving regularly. Pre-loved can be shopped in store only at the London branches, Bond Street and Gees Court.
*The only way to avoid unwittingly purchasing a counterfeit product is to buy from authorised Mulberry stores or recognised stockists*
See our pick of the best discounted items from the Mulberry Factory
The Bayswater
was £1,095 now £766, mulberryfactoryshop.com Mulberry's most iconic leather bag. This bag has been redesigned since launching in 2003. The new design is light to carry, yet inherently structured. Roomy enough for your laptop and all your essentials, this is a fab bag for everyday.
Bayswater Tote
was £695 now £451, mulberryfactoryshop.com Another perfect style for everyday use. The Bayswater Tote is practical and spacious. This classic style closes with the iconic Postman's Lock, and features a luxurious suede lining. Use the internal and removable pocket to store your most valued essentials.
Oval Plaque Keyring
was £75 now £38, mulberryfactoryshop.com A great gift. The signature Mulberry plaque makes this classic keyring a timeless way to keep organised.
Credit Card Holder
was £100 now £80, mulberryfactoryshop.com Not a huge saving but - this card holder is currently on the John Lewis & Partners website at full price. A practical design featuring four slots for credit and business cards. A concealed slim middle slip pocket is ideal for receipts or tickets.
Leighton
was £1,195 now £597, mulberryfactoryshop.com The Leighton bag offers a huge discount! It features a classic top handle and two longer straps, one in leather and one in brass chain, and all can be removed as desired to switch between style and carry options. Finished with the signature equestrian-inspired Rider's Lock.
Mini Zipped Bayswater
was £895 now £671, mulberryfactoryshop.com The Mini Zipped Bayswater is a scaled-down version of the original, retaining all the classic detailing including detachable leather straps and a miniature Postman's Lock.
VIEW NOW: Mini Zipped Bayswater
Small Darley Satchel
was £495 now £371, mulberryfactoryshop.com This pastel pink shade is perfect for Spring. The Small Darley Satchel combines equestrian vibes with retro mini-bag appeal, for a charming and practical bag that's perfect for everyday use. It's finished with the iconic Postman's Lock and has a detachable shoulder strap for an easy evening conversion to clutch.
Becky Joiner-O'Riordan is a Senior Fashion Stylist & Writer. With 10 years experience in the fashion industry, she currently works across woman&home, womanandhome.com, Woman, Woman's Own, Woman's Weekly, Chat, goodto.com, and has previously worked on Harper's Bazaar, Notion and Now Magazine.
After graduating from both the University of the Creative Arts and The Fashion Retail Academy with first-class honours she dipped her toes into the world of television styling working on This Old Thing, hosted by Dawn O'Porter and Channel 4's live tv show series Gok Live: Stripping for Summer.