Discounted Louis Vuitton bags do exist: Here's how to find one
The iconic Louis Vuitton monogram bag is more popular than ever, the price tag not so much...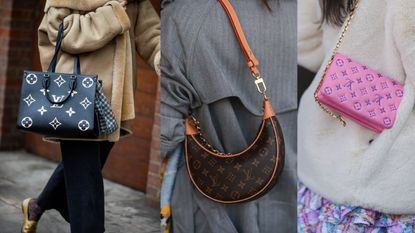 (Image credit: Getty Images)
Louis Vuitton bags never go out of fashion, in fact, right now, a classic Louis Vuitton bag is more popular than ever, and if you're a savvy shopper and know the right places online, you can find an original LV bag for a fraction of the price. But where - and has the brand got an outlet?
Louis Vuitton has always been known for having some of the best designer bags on the market and is always on top of the latest handbag trends. The best Louis Vuitton bags are timeless and beautiful, and like the best Chanel bags, they're heirlooms that you can pass down from generation to generation. The company's broader parent, LVMH, is big on luxury and they also own a number of other luxury fashion, lifestyle, and wine brands.
But it isn't just bags that Louis Vuitton is known for. One of the best French clothing brands, twice a year, at Paris Fashion Week, Louis Vuitton host a runway show to showcase their latest fashion collections, where they give press and VIP guests a preview of their clothing, accessories, and new season bag designs for the following season. A Louis Vuitton bag could set you back an average of £2,000 plus, and surging online searches for the famous "LV" monogram bag has shown they're as popular as ever. But if you don't want to pay full price for an LV bag, you'll need to do your research.
Is there a Louis Vuitton outlet?
Unlike many other designer brands, there is no official Louis Vuitton outlet store that is associated with the brand. Official products are only sold through Louis Vuitton stores, the Louis Vuitton official website and 24S - so be wary of any websites claiming to be an outlet.
Does Louis Vuitton have sales?
Unfortunately not - the brand never markdown prices, so if you're looking to get an LV bag for a smaller price tag, then shopping differently and turning to re-sale sites is your best option.
How can I get a cheap Louis Vuitton bag?
Your best bet is to head to reputable resellers for discounted bags. They won't be cheap, but if you know what to look out for, you can find a luxury handbag that will look more or less new, and stand the test of time.
The demand for pre-loved luxury handbags has soared to unprecedented heights, making designer bags not just great for now, but sound investments for the future. The designer resale market is now being dubbed the fastest growing business in fashion. In part, this has been spurred on by the ever-increasing prices of luxury goods, but a greener mindset amongst consumers is also playing its part, with more people investigating how to sell clothes online and doing their bit to keep items out of landfills for longer.
Handbag Clinic (opens in new tab) co-founder and retail director, Charlotte Staerck says, "Louis Vuitton is one of our top three bestselling brands. I think it's mostly down to its timeless aesthetic and longevity in the fashion industry. The LV Neverfull (opens in new tab) often sells within minutes of appearing on our website, and recently we sold one in just nine minutes. The LV Speedy (opens in new tab) bag is another hugely sought-after style. Made in 1930, it's still extremely popular today. Louis Vuitton bags are also highly durable—provided they have been well looked after correctly, the classic monogram and Damier styles will hold their value."
Here are Charlotte's top tips for buying a pre-loved Louis Vuitton bag:
1. Buy in the winter
The best time to snap up a Louis Vuitton bargain is between December and March. As with most high-end luxury brands, fashion houses increase the price of their handbags annually in spring. For Louis Vuitton, this is normally around 5%, but over the last few years we've seen as much as 17% with brands such as Chanel - this is due to the Covid-19 impact and the increased cost of sourcing raw materials. Between December and March is a great time to snap up an LV bag, as it will increase in value on the pre-owned market post-purchase, in line with the increasing prices at fashion houses.
2. Color effects resale value
Pay attention to the color of the leather. The LV Monogram, for example, is on vachetta leather which is designed to develop a patina over time. This slightly changes and darkens the color. So it's important to try and avoid buying a handbag with a dark vachetta as it means it's on its way out and considered too poor a quality to hold its value.
3. Pay attention to the handles
Louis Vuitton leather is super absorbent and the handles are the worst affected through wear and tear. The only way to correct this is by replacing the handles, which highly trained artisans can do. This costs around £150 for styles such as Speedy, Alma, and Neverfull, so it's worth bearing in mind as an extra cost when buying preowned.
---
The best specialist designer re-sale sites for Louis Vuitton bags
1. What Comes Around Goes Around
The vintage dealers at What Comes Around Goes Around ship internationally from their stores in New York and Los Angeles, but go through deep research and consultation with experts on authenticating each item that's sourced. The site has become the go-to vintage dealer of a host of celebrities when passing through New York or LA from jewelry to vintage band tees. Their biggest section though, is designer handbags, where there's a host of LV favorites on offer.
Our fashion editor recommends...
(opens in new tab)
Louis Vuitton Monogram Canvas Speedy Babdouliere 25
Resale price: $1,950 / £1,635.99 | In excellent condition, this classic second-hand Speedy has minimal wear, which is good news for those looking for a second-hand purchase that will look as near to new as possible. The Speedy was first introduced in the 30 cm size with the smaller 25cm size only being added to the lineup in 1959 at the request of Audrey Hepburn.
(opens in new tab)
Louis Vuitton Damier Ebene Neverfull Tote Bag
Resale price: $1,890 / £1,584.99 | One of the best tote bags, the Neverfull was first introduced in 2007 and became an instant classic. One of the houses' most successful silhouettes thanks to its simple shape and timeless design. Louis Vuitton continues to release the Neverfull in new prints, colors and fabrications each season, securing its longevity.
(opens in new tab)
Louis Vuitton Monogram Canvas Montsouris MM
Resale price: $1,550 / £1,299 | Looking for one of the best backpacks for working women with added fashion credentials? The vintage, late '90s Montsouris backpack features LV's iconic monogram on coated canvas with gold-tone brass hardware. Super smart, this classic backpack will be great for everyday use, work or play. You will find lower-priced options on-site, with some versions of this bag costing as little as $795 / £666.99, but in our opinion, it's worth investing a little more for a version that doesn't have any noticeable wear and tear.
2. 1stdibs
The online resale market 1stdibs (opens in new tab) covers everything from fashion and jewelry to fine art and furniture. More than anything else though, 1stdibs specializes in luxury offerings. Products might not be as cheap as the thrift store finds, but for collectors looking for a certain model to add to a collection or a bag in certified mint condition, 1stdibs has a ton of offerings for different options.
Our fashion editor recommends...
(opens in new tab)
Louis Vuitton Keepall Bandouliere 50
Resale price: $1,508.00 / £1,220.50 | Looking for the best weekend bag? This chic monogram, LV holdall will ensure that wherever you're heading, you're going in style.
(opens in new tab)
Louis Vuitton Lockit Bag Caramel Nomade Leather
Resale price: $1,355.87 / £1,097.35 | Looking for a gorgeous Louis Vuitton bag but without the repeat pattern monogram? This timeless silhouette is subtle and elegant.
3. The Handbag Clinic
The Handbag Clinic (opens in new tab) is a luxury handbag restoration and preowned designer resale retailer. Clients can book a consultation with one of Handbag Clinic's trusted team of dedicated experts, and they will be on hand to audit, authenticate, value, clean, restore, and sell your designer wares. With restoration at the heart of its business, customers can also sit back with the peace of mind that their beloved handbag will fetch its best possible price. The retailer has stores in Chelsea, Leeds, and Newcastle as well as three international stores. All bags go through rigorous quality control and authenticity procedure before going on sale online and in stores.
Our fashion editor recommends...
Louis Vuitton Twist MM with Chain Bag
Resale price: £1,975 (international shipping available) | One of the less 'classic' LV bags, this cute Twist is nice and compact and great for evening or an everyday cross-body bag with added glam factor from the gold hardware.
Louis Vuitton LV Pont 9 Cross-Body Bag
Resale price: £2,195 (international shipping available) | A subtle style, with LV monogram clasp, this black cross-body bag is a great choice for those always on the go. In classic black, this will pair well with everything.
4. Luxury Promise
Established in London, Luxury Promise (opens in new tab) is a premium marketplace, allowing customers worldwide to buy and sell their pre-loved luxury items from the comfort of their own homes. Each item is carefully authenticated and checked by a team of expert authenticators, going through a triple quality control.
Our fashion editor recommends...
Louis Vuitton Monogram Elipse PM AGL1912
Resale price: $876.06 / £700.00 | This bag is a great statement piece. A unique silhouette, teamed with the classic LV monogram print for an eye-catching investment handbag. If you're based in the UK you can check it out in their London office before purchasing.
Louis Vuitton Monogram Bucket Bag PM
Resale price: $533.38 / £395 | Bucket bags are one of the big handbag trends for this season, ensuring this timeless LV bag is also modern and fashion-forward too.
Becky Joiner-O'Riordan is a Senior Fashion Stylist & Writer. With 10 years experience in the fashion industry, she currently works across woman&home, womanandhome.com, Woman, Woman's Own, Woman's Weekly, Chat, goodto.com, and has previously worked on Harper's Bazaar, Notion and Now Magazine.
After graduating from both the University of the Creative Arts and The Fashion Retail Academy with first-class honours she dipped her toes into the world of television styling working on This Old Thing, hosted by Dawn O'Porter and Channel 4's live tv show series Gok Live: Stripping for Summer.