Best luxury pajamas to ensure you can relax in style
18 of the best luxury pajamas that are so chic and comfortable, you'll never want to take them off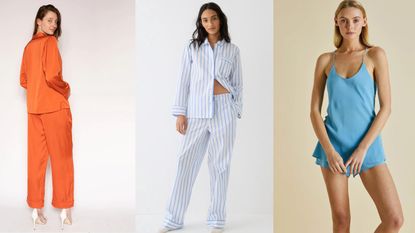 (Image credit: Latte Love, J Crew, Olivia Von Halle)
Are you looking to invest in the best luxury pajamas? If the answer's yes, then sit back, relax and read on. There are many reasons why spending a bit more on women's designer pajamas is a good idea.
With premium, high-quality fabrics, unique prints and well-thought-out cuts, when it comes to the best luxury pajamas, you're buying both quality and durability. Given that we spend around a third of our lifetime sleeping, it's worth investing in the best. As Ella Ringer (opens in new tab), director of the luxury lifestyle brand Yolke says, "Changing into a pair of soft pajamas, preferably ones with the added benefit of silk, will regulate your body temperature, keeping you warm in winter and cool in summer". Sounds dreamy eh?
Ever since Thakoon sent models down the runway in pajamas in 2016, the idea of nightwear as daywear has become increasingly popular, meaning if you bag yourself something silky and lovely, it could be more versatile than you think. As Kristi Edwards (opens in new tab), creative director of luxury sleepwear brand Hesper Fox puts it, "I think of PJs as an extension of my wardrobe. I take time to think about what I'm wearing when other people see me and how I show myself to the world matters to me, so I figure why wouldn't I give the same attention to how I dress at home?"
18 pairs of the best luxury pajamas to shop in 2023 for style, quality and fit
Why you can trust Woman & Home Our expert reviewers spend hours testing and comparing products and services so you can choose the best for you. Find out more about how we test.
When it comes to the best pajama brands there is an enormous choice on the market right now. The most luxurious pajamas are often crafted from high-quality fabrications and a precise fit and cut that enhances relaxation. We've rounded up 18 stylish pairs to consider for the new season.
1. La Perla Long Sleeve Pajamas
Specifications
RRP: $485 / £345
Size Ranges: US: 4-12 / UK: 8-16
This red-hot style works well beyond being the best valentine's day pajamas. La Perla defines romance with its nightwear offering, producing some of the best silk pajamas.
"Made by women, for women". Already one of the best Italian lingerie brands, its craftsmanship is evident from the high quality and meticulous detailing seen in each piece. With a 60-year heritage, La Perla certainly knows a thing or two when it comes to lingerie and nightwear. This top would be an easy addition to work into a night-out look. We love a super luxurious silk shirt with a pair of skinny jeans and heels for timeless style; button up to the top for a sharp fashion look or leave a few left open for a more relaxed feel.
---
2. J. Crew Long-sleeve Cotton Poplin Pajama
Specifications
RRP: $118 / £132
Size Ranges: US: 00-22 / UK: 6-24
Reasons to buy
+
Plus size available
+
100% cotton
+
Machine wash
There's a reason why these J. Crew jammies are a best seller. This style comes in three colorways and we literally can't decide which we like the most. With this menswear-inspired striped pair, we recommend sizing up for that borrowed-from-the-boys look. Luckily there's a great range of sizes, going from a 00 up to a size 24. These are a lightweight 100% cotton style so ideal for the warmer months whether you're lounging around on a Sunday morning or catching some well-earned beauty sleep. Want to know the best bit? These pajamas are online only so you can shop straight from your bed!
---
3. Sleeper Party Pajama Set
Specifications
RRP: $390 / £320
Size Ranges: US: 0-14 / UK: 6-16
Reasons to buy
+
Unique design
+
Perfect for ready-to-wear
+
Detachable features
Is there anything more decadent than a feather trim set of pajamas? We don't think so, especially when every single garment from Kiev-based Sleeper is handmade. With more than a touch of the roaring '20s about it, this versatile set will take you straight from party to pillow. Wear with a heeled loafer for a retro party vibe and keep accessories and jewelry to a minimum. The feather trim is detachable so there's no need to worry about them getting damaged whilst you're sleeping. Sleeper has an array of celebrity fans, such as Katy Perry, Brie Larson and Lena Dunham to name a few and the brand remains at the top of most fashionistas wish list too.
---
4. Beauty Pie Stretchy Pajamas
Specifications
RRP: $125 / £125
Size Range: US: 2-18 / UK: 6-22
Reasons to buy
+
Uses recycled plastic buttons
+
Machine wash
Marcia Kilgore is the brains behind Beauty Pie; the subscription-based online beauty emporium. You'd be forgiven for thinking it's limited to beauty products but there's also a small amount of loungewear; such as cashmere beanies, eye masks and some of the best luxury pajamas so whilst you're shopping for beauty buys why not stock up on some sleepwear too? We love the simplicity of this timeless and comfortable monochrome set, which currently only comes in grey and white. Available in five sizes, the relaxed, drapey cut is sure to provide maximum comfort whilst sleeping. We think they'd be perfect for a Bachelorette party or weekend away with the girls. Why not add a face mask to your basket for ultimate relaxation time.
---
5. Gilda Pearl Silk To The Stars
Specifications
RRP: $237 / £220
Size Ranges: US: S-L / UK: S-L
Reasons to buy
+
Individually handmade
+
100% silk
With celebrity fans including Hailey Bieber and Kylie Jenner, Gilda Pearl has some of the most feminine and opulent designs when it comes to the best luxury pajamas. From delicate lace trim camisoles to Marabou trim robes, they'll make you want to stretch out on a chaise lounge. This striking antique gold tone encapsulates richness and glamour and makes for an uplifting change from the usual tones of black, white and red silk nightwear sets. Each individual piece is exquisitely designed and made in the UK.
---
6. Averie Sleep Two-Piece Zebra Print Pajama Set
Specifications
RRP: $135 / £117.73
Size Ranges: US: 0-18 / UK: 6-16
Reasons to buy
+
Hand drawn illustrations
+
Fun Prints
This fun zebra print from Averie Sleep makes getting ready for bed a joy. With an array of tropical and exotic animal prints, these pajamas conjure up notions of travel, holidays and warmer climates. Determined to do its best for the planet, Averie Sleep promotes slow fashion, this means they don't start printing, cutting, sewing or shipping until they receive a pre-order. If you become a fan of the brand, then it's worth noting they offer a 30% discount on pre-orders of new styles to encourage on-demand shopping. This enables a reduction of waste due to little overproduction and inevitably less waste going to landfill - that's a big yes from us.
---
7. Nordstrom Cashmere Pajamas
Specifications
RRP: $399 / £331
Size Ranges: US: 00-16 / UK: 6-18
Reasons to buy
+
55% recycled cashmere
+
Premium fabric
Is there anything that sounds more relaxing than 'cashmere pajamas'? We don't think so. The best cashmere sweaters and socks are often our go-to for a warm and comforting night in, and these loose-fitting pajamas with wide sleeves and flowing pants are ideal for chilling out in. The feminine, dusky pink shade also comes in a cool charcoal or pale grey, and whilst these are clearly not party pieces, they would be a great choice for what to wear on a plane. The stretch adds a practical element, while the cashmere delivers on luxury.
---
8. Morgan Lane Ruthie Chantal Pajama Set
Specifications
RRP: $367.61 / £361.31
Size Ranges: US: 2-10 / UK: 6-14
Reasons to buy
+
Printed cotton and silk
+
Unique prints
New York based Morgan Lane knows its stuff when it comes to luxury pajamas. Founder Morgan Curtis has a passion for art and illustration and many designs include hand-drawn prints by Curtis herself. Blurring the lines between nightwear and ready-to-wear, its pretty pieces are too good to be just for bed. We love the whimsical juxtaposition of musical instruments and flowers in this style where every time you study them you find a new interesting detail. The red piping makes for an unexpected clash against the pink background. Rumour has it, Kendall Jenner and Taylor Hill are fans of these unique, beautiful designs too.
---
9. Eberjey Printed Sand-washed Pajama Set
Specifications
RRP: $215 / £205
Sizing Ranges: US: 4-10 / UK: 8-14
Reasons to buy
+
100% Organic cotton
+
Machine wash
Eberjey is named after the Nigerian word for joy and this pair is sure to bring you some. Providing the perfect balance between style and comfort, Eberjey is the essence of living an authentic life, it's about women feeling confident with themselves regardless of what they're wearing. Its pajamas feature traditional silhouettes that are both super soft and flattering. We love this understated take on animal print and the blush color offers the prettiest palette for springtime.
---
10. Dalll Silk Pajamas
Specifications
RRP: $328.03 / £270.99
Sizing ranges: US: M-XL / UK: M-XL
Reasons to buy
+
Silk
+
Machine wash
+
Cropped length
Reasons to avoid
-
Limited sizes especially small sizing
These feminine pajamas jumped out at us for their interesting crop. We like the 3/4 sleeve and the cropped pants made them a great option for warm weather if you don't want to wear a camisole and shorts set. Made from silk, they provide that slinky, luxe feel for sleeping in, while keeping you cool in the process and the brown trim subtly compliments the pale pink shade. The top could be paired with some tailored wide-leg trousers or even worn over a cream roll neck for a layered look.
---
11. Liberty Imran Cotton Pyjamas
Specifications
RRP: $285 / £225
Size Ranges: US: XS-XL / UK: XS-XL
Reasons to buy
+
Iconic Liberty print
+
100% cotton
+
Machine washable
Think weekend papers, think relaxing at home, think a vat coffee, sounds good right? Well so are these pajamas. Sure to elevate your sleepwear to a premium level, they're made from a Tana Lawn™ fabric which has been crafted over the last century by heritage fabric house Liberty and is 100% cotton, making them some of the best pajamas for women for breathability. The natural fabric means these luxury pajamas will keep you cool in the summer and warm in the winter. With high-end details such as mother-of-pearl buttons and piping trim, the more traditional silhouette is a chic, nighttime must-have.
---
12. Desmond & Dempsey Boxy Shirt and Wide Leg Trouser Set
Specifications
RRP: $225 / £180
Size Ranges: US: 2-12 / UK: 6-16
Reasons to buy
+
Free monogramming
+
100% organic cotton
Fondly named after the founders' Grandfathers, Desmond & Dempsey is a strong favorite amongst the fashion set. Known for its impactful prints and oh-so-silky sets, you immediately feel like you're winning when putting on a pair of these PJs. As Co-founder Molly Goddard says "Luxury pajamas will make you feel like the sort of person who files their taxes on time. They make you feel, albeit fleetingly, like you have your life together".
Each collection begins with a print that is painted in its London studio. From camisoles to briefs, full-sleeved pajamas to short sleeve styles, Desmond and Dempsey have you covered when it comes to the best luxury pajamas. We love the wide leg cut of the trousers and the eye-catching tiger print of the Jag set. Check them out too for stylish robes for women and some of the best slippers for women amongst their collection.
---
13. Olivia Von Halle Bella Azure Silk Camisole Set
Specifications
RRP: $325 / £260
Size Ranges: US: 4-12 / UK: 8-16
Olivia Von Halle was inspired by the lounging pajamas of the 1920s worn by the likes of Coco Chanel. Designed for the after party, Halle wanted an outfit to come home and change into whilst retaining that sense of style and luxury.
Crafted from a luxury crêpe de Chine silk; a super smooth feel with a fluid and flattering drape. The details certainly pack a style punch, from the bias-cut top, to the side slit shorts with fluted hem, every millimeter of fabric used to make this set has been thoughtfully considered for the best possible fit. For those looking for that extra level of decadence, you've come to the right place.
---
14. Tommy Hilfiger Ditsy Lace Short Pajama Set
Specifications
RRP: $135 / £90
Size Ranges: US: 0-14 / UK: 4-18
Reasons to buy
+
Affordable designer item
+
Adjustable straps
Tommy Hilfiger needs no introduction; the epitome of American clothing brands, the preppy label is known for its denim, sweatshirts and logo tops. Some might be surprised to know that the brand also has nightwear. If you're looking for a pair of women's designer pajamas without the hefty price tag then this set is for you. The ditsy lace short pajamas are ideal if you're looking for something for a little airer, making them a stylish option. The camisole top comes with adjustable straps allowing you to wear it at just the right level of modesty to suit you. What's more, it's an easy piece to rock under a leather biker jacket with skinny jeans for a night out.
---
15. Rixo Maddy Floral Print Pyjamas
Specifications
RRP: $282 / £255
Size Ranges: US: XXS-3XL / UK: 8-20
Reasons to buy
+
Vintage inspired
+
Versatile for nightwear
Reasons to avoid
-
Can't mix bottoms and top sizes
The female founders of London brand Rixo, bonded over their love of vintage. They share the desire to create a free-spirited label of easy-to-wear pieces for women regardless of the time of day. Often one of our London Fashion Week highlights, If you're looking for some pajamas that work round the clock, then these are the ones for you. The pretty lace trim number acts perfectly as a stylish top to wear with jeans, or alternatively pair with a wide-leg pants in a bright color for a statement look. Finish off with a coral lipstick to bring out the floral design. The added tie waist detail gives you the option of adding a bit of shape for those who like to create a waist.
---
16. The Lazy Poet Emma Peach Jungle Linen Pajamas
Specifications
RRP: $250 / £215.69
Size Ranges: US: 0-14 / UK: 6-18
Reasons to buy
+
Lightweight
+
Family matching available
+
100% linen
The Lazy Poet is known for its love of free spirit, travel and happiness in our world. Each print tells its own story and are ideal for lounging at home or far-flung travels. If the luxurious silky styles aren't for you then you may be a fan of The Lazy Poet's 100% linen fabric that it uses in many of its designs. Crafted from breathable linen, they're some of the best pajamas for night sweats.
This jungle print pair are machine and tumble friendly meaning you don't have to worry about extra washing care for them. And if matching couples pajamas is your thing, then this is the brand for you. With matchy-matchy sets for all the family, this is a label that emulates joy and a want for a laid-back, world-exploring life.
---
17. Deiji Studios Side Tie Linen Pajamas
Specifications
RRP: $210 / £180
Size Ranges: US: 0-14 / UK: 8-22
Reasons to buy
+
Plus size available
+
Machine wash
Reasons to avoid
-
Reasonably high price point
Deiji Studios is one of the best loungewear labels out there. With comfort at its core, this minimalist brand is all about breathable fabrics, inspired by simplicity and designed to be worn in bed or out and about. The simple color palette of soft pastels and monochrome, allows them to easily slip into your current wardrobe and would work well with denim and tailored pieces. Deiji items have a well-deserved place in your summer suitcase, they work well from day to night, making your travel capsule wardrobe work a lot harder.
---
18. Lattelove Orange Holly Tuxedo Double Breasted Satin Lounge Pyjama Set
Specifications
RRP: $206 / £125
Size Ranges: US: 0-18 / UK: 6-20
Reasons to buy
+
Plus size available
+
Machine washable
Lattelove was created with an emphasis on slowing down, relaxing and making time for the things that matter. There's no reason why those moments of peace, quiet and reflection should be less stylish than any other time of the day. With a range of fabrics from high-quality cotton, loose linen and chic silk, there's an extensive collection to choose from. This fab orange pair will no doubt bring a burst of color at bedtime and we particularly love the modern twist of the tuxedo-style top, capturing that sense of extravagance and old-school Hollywood glamour. Some of the warmest pajamas, that still feel luxurious, the top could easily be dressed up with some tailored trousers, luxe gold jewelry and a clutch for a super chic evening look, whilst the pants just need a thin turtleneck and heels.
Anna Woodham is a well-established stylist with nearly 20 years of experience under her fashionably tied belt. She has styled numerous celebrities such as Amanda Holden, Holly Willoughby and Claudia Winkleman to name a few and has endured a very tense moment interviewing Kim Kardashian during which her dictaphone decided to cease working!
Anna has worked for titles such as Stella, Grazia Middle East, The Telegraph Magazine, YOU magazine and was formerly Fashion Editor at S magazine. Anna also writes a blog called The Mothershop; a curated edit of the best maternity wear on the market.