Looking for the best jewelry online? Our fashion experts searched for you
Where can you find the best jewelry online? We looked for the best pieces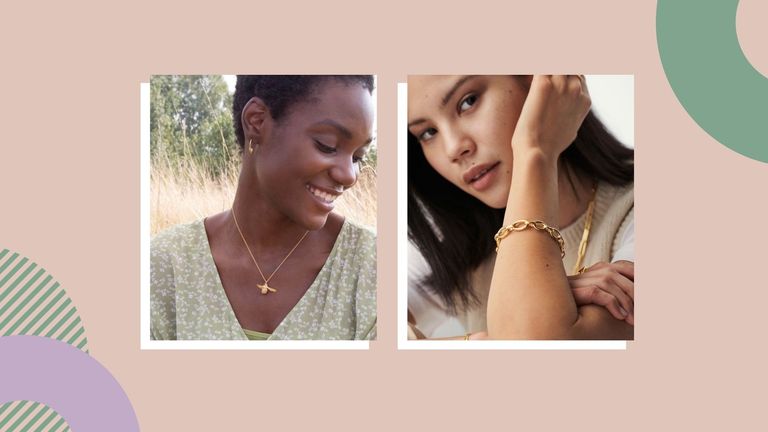 (Image credit: Future / Alex Monroe / Missoma)
Shop the best jewelry online to give your everyday looks an instant update, without even leaving home. Super stylish jewelry is just a click away.
Just like the best jeans and best white trainers, jewelry should be considered a wardrobe essential. We've already seen the best jewelry trends 2022 emerge but when it comes to necklaces, rings, bracelets and earrings, there are plenty of timeless styles too.
Try adding hoop earrings to your best t-shirt and you'll immediately feel more put together. When it comes to selecting the best necklaces, the chain length can really transform a look. Jewelry designer Laura Gravestock recommends styles with adjustable lengths: "with an adjustable style you can layer your favorite necklace with other pendants and change the length to suit the neckline of what you're wearing".
When it comes to metal, think about what will suit your skin tone. Silver tones look stunning against darker skin tones, while gold jewelry creates a warming effect on all skin. If you've got a yellow base to your skin, try rose gold jewelry instead as the pinky hue will balance your coloring.
Best jewelry online—quick shopping links
Best jewelry online—as chosen by our fashion expert
1. Abbott Lyon
Best for name necklaces
Reasons to buy
+
Pieces come in gold, silver and rose gold
+
Wide range of design styles
+
Free shipping worldwide
Abbott Lyon's jewelry pieces are all designed in-house for a truly premium feel. From minimalist pieces to statement designs, there's something for everyone. If you're a fan of Sex and The City, Abbott Lyon's signature piece is their gold plated name necklace—because if if you've been wondering how to dress like Carrie Bradshaw, a name necklace is a great place to start
Collection highlights
The brand's signature name necklace in gold has become a modern classic since Carrie wore her name necklace on Sex and The City. For the ultimate arm party, their chunky chain bracelets look great next to their cool oversized watches the brand regularly teams up with celebrities including Love Island's Olivia Bowen who has collaborated with the brand for an exclusive Valentine's Collection
---
2. Alex Monroe
Best for nature-inspired styles
Specifications
Prices from: from £75 (international shipping available)
Reasons to buy
+
Handmade jewelry
+
Conscientious design
+
Outstanding craftsmanship
Many of Alex Monroe's pieces are inspired by nature after a childhood spent roaming rural Suffolk. His original bee necklace has become an iconic piece and a favorite amongst fashion insiders—years after its release it is still a bestseller for the brand. His delicate floral and animal motifs appear across many of the finest rings, necklaces, earrings, and bracelets, all of which are handmade by a team of highly skilled designers in the UK.
Collection highlights
For a truly iconic piece from Alex Monroe, invest in the classic bumblebee necklace. Available in three colors as well as a solid gold version, this is the most recognizable piece from the brand. Other notable styles include his floral initial letter necklaces, delicate love ring, and feather earrings.
---
3. Branch
Best for wooden pieces
Reasons to buy
+
Unique wooden designs
+
Celebrity fans
+
Handmade pieces for high street prices
In a departure from many other jewelry brands, Branch is known for their use of natural materials, famously incorporating wood into many of their designs. The handcrafted designs have evolved into a range of exceptionally unique pieces, popular with celebrities—Beyoncé, Gwyneth Paltrow and The Duchess of Cambridge have all been spotted wearing pieces by the brand.
Collection highlights
Not only are Branch's chunky wooden rings handmade but they're also surprisingly affordable, with prices starting at £17. In recent years, the brand has expanded to work in buffalo horn—their bangles are available in classic natural colors as well as vibrant shades such as orange and green. Looking for a statement style? Their chunky wooden bangles and cuffs will look great in the summer when worn with simple dresses and the brand's earrings range from cool hoops and discs to statement spikes.
---
4. Dinny Hall
Best for artisan creations
Reasons to buy
+
Handmade designs
+
Sustainable practices
+
Covetable hoop designs
With over 30 years in the industry, Dinny Hall have a reputation to be proud of. Each piece is hand-drawn and designed in-house before being skillfully made by craftsmen trained by Dinny herself. The brand also has excellent eco-conscious credentials using recycled materials, responsible sourcing and fair labor initiatives led them to be awarded the Positive Luxury Butterfly Mark in 2020.
Collection highlights
Dinny Hall has something for every taste and occasion—from tiny, celestial stud earrings to cool, chunky chain necklaces. If you're looking for Valentine's Day gift ideas that can be worn forever, the Bijou folded heart necklace is a beautiful, delicate piece. Looking to invest in earrings you can wear every day? Dinny Hall is known for her iconic hoop earrings, so make sure you snap up a pair—our favorites? The slim medium bamboo hoop earrings.
---
5. Edge of Ember
Best for trend-led looks
Reasons to buy
+
An Instagram and celebrity favorite
+
Ethical gemstones and lab grown diamonds
+
Carbon neutral
With over 131k followers on Instagram, Edge of Ember has rapidly become a favorite amongst influencers and celebrities alike. Their cool designs have been seen on Rachel Stevens and Victoria Magrath of In The Frow, who has also collaborated on her own collection with the brand. Even the ever-stylish Meghan Markle has given the brand her seal of approval—she was spotted wearing their Kismet necklace. The brand also has excellent environmental and ethical credentials; not only are they 100% carbon-neutral, but they also only use recycled materials with ethically sourced gemstones and lab-grown diamonds at the heart of their designs.
Collection highlights
Personalization is a big trend for Edge of Ember—the initial and birthstone necklace which makes a thoughtful gift while the single diamond clicker earring is a continuous best-seller. Like many of their Pierced collection, it is sold as a single meaning you can mix and match styles. The new Zodiac collection is bound to sell out—recycled silver discs are plated in 18k gold and feature lab-grown diamonds as part of a stylish take on your star sign.
---
6. Jam & Rico
Best for sunshine inspiration
Reasons to buy
+
Caribbean-inspired designs
+
Ideal vacation pieces
+
Statement style
Inspired by founder Lisette Scott's Jamaican and Puerto Rican heritage, Jam & Rico has a distinct sunshine vibe to its collections. Designs are split into four countries— Aruba, Cuba, Jamaica and Puerto Rico. With motifs such as cowrie shells and sun rays as well as bright colors laced through designs, you can't help but want to book a trip to a sunny island paradise just to wear these pieces. There is also a fine jewelry off-shoot, J+R Fine which features beautiful nature-inspired wear-forever pieces.
Collection highlights
Jam & Rico has us ready to book a flight to somewhere warm. As you're packing your summer wardrobe essentials, make sure to slip in one of the Aruba collection's Cowrie shell bangles while the Jamaica collection's bright turquoise beaded Maria earrings will look fabulous paired with simple white summer dresses. If you can't wait until summer, try slipping the La Isla coin necklace over any of your colorful best cashmere sweaters for a little bit of sunshine.
---
7. Joma Jewellery
Best for gifting
Specifications
Prices from : £12.99 (international shipping available)
Reasons to buy
+
Intricate designs
+
Affordable price points
+
Great for gifting
Joma Jewllery was established in 2008 by Katie and Geoff Loxton. While travelling, the couple discovered beautifully crafted silver beaded jewellery featuring semi-precious stones. They wanted to translate these pieces into a new jewellery brand with a principal of affordable luxury.
Collection highlights
Named A Littles, the brand's beaded stackable bracelets are a cute way to mark every occasion with personalization options available. These can be mixed with other styles too, such as the hammered bangle. Joma's new secret sentiment lockets are also thoughtful gifts, with secret message discs hidden in a stylish round silver locket.
---
8. Lark & Berry
Best for cultured diamonds
Reasons to buy
+
Great green credentials
+
Celebrity fan list
+
Cultured diamonds mean they're more affordable
Fine jewelry brand Lark & Berry marries traditional craftsmanship with cutting-edge cultured diamonds. Since its launch in 2018, the brand has been driven by a desire for sustainability without compromise on design or luxury, winning a legion of fans including celebrities such as Irina Shayk, Kylie Minogue and Tess Daly. Nature-inspired styles feature cultured gemstones meticulously set in gold and platinum.
Collection highlights
Lark & Berry's don't come cheap but you get what you pay for with this impressive level of craftsmanship. We love the unique wiggly shape of the Dune hoop earrings from their piercing jewelry collection that give a fashionable twist to traditional diamond huggies while the Veto white sapphire and diamond necklace has got a firm place on many a fashionista's wishlist. If you're looking for a classic eternity ring, Lark & Berry's use of cultured diamonds means that you won't need to take out a second mortgage to afford one.
---
9. Laura Gravestock
Best for affordability
Specifications
Prices from : £25 (international shipping available)
Reasons to buy
+
Affordable price points
+
Cool designs
+
Female-owned independent brand
Laura Gravestock founded her namesake jewelry brand in 2009. Inspired by her childhood growing up in both the Middle East and Spain before she moved to East London, Laura's designs feature timeless style with a quirky twist. Popular collections include Struck, which features lightning bolt motifs while Written is a customer favorite featuring heart motifs and name rings which can be personalized. Singer Taylor Swift is also a fan, owning several pieces from the brand.
Collection highlights
Looking for a heart motif that will extend past Valentine's Day? Laura's multi heart ring from the Written collection will keep the feeling going. Add an electric edge to your outfit with a piece from the Struck collection which features lightning bolts or if you're looking for a statement piece, the Talon cocktail ring is a truly stylish conversation starter.
The brand also recently teamed up with fashion influencer and ex-S Club 7 singer Rachel Stevens to release a limited edition collection, RSxLG. The capsule collection features love motifs as well as cool leopard print pieces such as the Leopard Pendant, from £75.
---
10. Missoma
Best for demi-fine jewelry
Reasons to buy
+
Great prices
+
Demi-fine
+
Unique pieces
One of the first demi-fine jewelry brands, Missoma was founded in 2008 in London's Notting Hill and has since become a byword for cool, fashionable jewelry. Founder Marisa Hordern explains "I started Missoma because I was trying to find fashion-forward jewelry that was high quality and also affordable, and realized that it didn't exist—so I set about designing it myself".
After a runaway success that has seen the company expand to shipping to over 200 countries worldwide, the brand still retains its unique spirit of creativity and designs all of its covetable pieces in-house.
Collection highlights
Missoma's new Jelly Heart collection is perfectly timed for Valentine's Day with playful heart motifs featured throughout in the form of charm necklaces, gemstone rings and stud earrings. If you're looking for classic designs, Missoma's horn pendant necklaces from the Lucy Williams collaboration and delicate bobble chain necklaces are pieces to invest in. Personalize them with a pendant or charm for a unique look.
---
11. Monica Vinader
Best for classic design
Specifications
Prices from: $27.50 / £20
Reasons to buy
+
Timeless designs
+
Accessible price points
+
Personalizable pieces
Monica Vinader's simple yet gorgeous designs are coveted around the world. Known for their accessible luxury, pieces feature sparkling diamonds and gemstones but gold plating on recycled silver keeps the prices of many pieces affordable.
Collection highlights
Monica Vinader's affordability means that pieces make great gifts, particularly the Havana, Fiji and Linear friendship bracelets which are engravable. Other popular items include the Nura pendant necklace set which features mix and match options plus no fashion insider's hand is truly complete without one of Monica's stacking Siren rings or the Riva diamond hoop ring.
---
12. Orelia
Best for personalization
Reasons to buy
+
Can be worn layered or individually
+
Affordable
+
Personalizable
Orelia is the jewelry brand that aims to bridge the gap between ready-to-wear and designer. Many of their pieces are designed to be worn together, with chain necklaces layered delicately while their stackable hoops and huggie earrings create a cool ear party.
Collection highlights
Make that ear party a reality with Orelia's super cool tiny huggie hoop earrings with styles ranging from plain to tiny dangling moons and pearls. And the stacking doesn't stop there—the rose gold stacking ring set features six delicate styles that can be worn together for a statement look or individually across the hand. Similarly, the Satellite chain necklace will look great layered with other pieces or worn alone. And we're not the only fans of this brand—the Duchess of Cambridge has also been spotted wearing their pieces.
---
13. Shaun Leane
Best for investment
Specifications
Prices from: £90 (international shipping available)
Reasons to buy
+
Iconic talon and horn designs
+
Future design classics
+
Royal seal of approval
Winner of 'Outstanding Contribution to the Industry' at the UK Jewellery Awards 2021, Shaun Leane has established himself as a must-know name when it comes to jewelry design. Known for his long-standing partnership with Alexander McQueen, his designs are inspired by the natural world with many of his iconic pieces featuring thorns and talons. Leane's designs also have a softer side with pieces such as the cherry blossom collection. Sotheby's have called Shaun Leane's pieces the 'desired antiques of the future'. Making it one of the best jewelry brands to invest in right now.
His designs were given the royal seal of approval when he designed Princess Beatrice's engagement ring with her now-husband Edoardo Mapelli Mozzi. Together, the pair settled on a timeless platinum and diamond ring with inspiration from both Art Deco and Victorian designs.
Collection highlights
If you're looking for edgy cool, Leane's Sabre Deco collection is sure to be a future collectible. The silver twist hoop earrings and statement cuff are two highlights. We also love his Cherry blossom collection—silver, rose gold and diamonds are combined with delicate enamel detailing to create delightful floral designs.
---
14. Sif Jakobs
Best for color
Reasons to buy
+
Cool minimalist styles
+
Affordable price points
+
Uplifting rainbow zirconia designs
Copenhagen-based jewelry brand Sif Jakobs was previously known for its strong minimalistic design but since 2018 the brand has begun experimenting with colored zirconia stones in rainbow arrangements to great success and now features both simple classic designs as well as colorful, fun styles.
Collection highlights
The Bovalino collection features stones in striking colors that line the outside and front-facing insides of hoop earrings and rings to create a never-ending sparkle. In contrast, the Follina Pianura Piccolo ring celebrates simplicity—a modern take on the signet ring, it features a plain face with a tiny white zirconia stone inset in the side of the band. For an architectural vibe to your jewelry, the Ferrara collection features graphic, oversized twists that create a statement style across rings and bangles.
Antonia Kraskowski is a freelance fashion editor with over 15 years of experience in the industry.
Having started her career at Conde Nast working for titles including Easy Living, Glamour and Vogue New Markets, Antonia went on to work in the fast-paced world of newspapers and weekly magazines, becoming Fashion Editor at Express Newspapers and Magazines in 2014, a role she held for five years before going freelance.
Her career has seen Antonia travel the world, shooting in 18 countries and styling campaigns for brands ranging from Ben Sherman and DKNY to Wallis.