How to create a Japandi living room for a sense of calm and restfulness
Choose simple furniture, neutral colors, considered accessories, soft lighting to achieve this on-trend Japandi look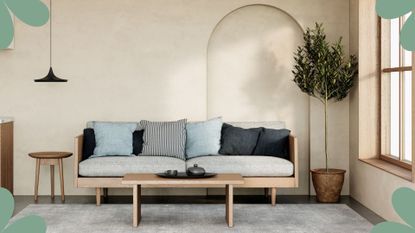 (Image credit: Getty Images | Nongnuch Pitakkorn )
Japandi living room ideas are perfect for the way we want to live now – a style that combines the clean lines of Japanese minimalism and the comfort of Scandi 'hygge' brought together to create the effortlessly stylish Japandi trend.
Japandi style offers a peaceful way of living, creating a restful space that combines the coziness and warmth of Scandi chic with the pared-back styles of Japanese minimalism.
As with Japandi bedroom ideas the ethos of Japandi living rooms is one of calm, with its roots firmly in natural materials, unfussy design, and the well-being aspect of plants, it creates a harmonious look that is aesthetically pleasing, relaxing, and most importantly comfortable.
Japandi living room ideas
With increasingly busy lives, where work and home life balance is constantly shifting, creating an aesthetic that combines Scandinavian warmth and comfort with the Japanese theory of 'wabi-sabi' where nothing should be too polished, is the perfect solution to decorate the central hub of our homes – the living room.
"Creating a Japandi living room is about choosing a few carefully selected pieces of furniture and using calm and neutral tones, says Kristina Dam, Design Director of Broste Copenhagen.
"Look for natural materials such as wood, steel, marble, and stoneware. Apply a geometric way of placing furniture so the overall look is easy for the eye to absorb. Simple ceramics such as vases or bowls and gathering them in groups make a calming expression. Large plants help to add scale to a living room too."
1. Seek rounded shapes for furniture
Curved furniture is instantly soothing, there are no hard edges, just fluid shapes that look comfortable and inviting. Especially when they are in tactile materials like brushed cotton, velvet, or on-trend boucle. Curved sofas tend to be bigger so you feel enveloped and secure when sitting in them with plenty of room for the family to lounge too.
Wood is also a key component in Japandi living room decor, in a mix of dark or mid-toned bamboo, cane, rattan, or slatted wood oak finishes."When choosing furniture for a Japandi living room invest in well-made, crafted wood," advises Devin Shaffer, Lead Sales Designer at Decorilla. "Japan is revered for the craftsmanship and practicality of their furniture."
The Japandi trend sits between western and eastern ideas of minimalism. "It allows designers to amalgamate and cross reference visuals, materials, and colors from two geographies that share similar outlooks," says Owen Pacey, founder of Renaissance London.
"One of the best ways to explore Japandi style is by looking for vintage pieces with Mid-Century silhouettes, combining wood with harder materials like stone, and layering up the scheme with soft furnishings, throws, and cushions to create a warm atmosphere. Stick to an earthy, warm color palette using the hues found in natural materials."
2. Adopt a calming color palette
The key to achieving the Japandi aesthetic for your living room lies in creating a cohesive color scheme – using the best living room paint colors that harmonize with soft furnishings and accessories to create a serene space that feels inviting and restful.
"To achieve the look in your own home, use a predominantly neutral palette to maximize the amount of natural light," says Raphael Le Berre of Le Berre Vevaud. "White walls and wooden floors are a good starting point."
Although the palette is primarily neutral, it also embraces nature, so green is a good color to choose for accent pieces, as it's calming and can be introduced without overwhelming the space, or detracting from the serene vibe.
Soft sage green hues are a good choice or 'muddy' shades such as that of Soft Khaki or Gentle Olive by Crown, as all of these earthy green tones combine beautifully with beige or gray tones via upholstered furniture or accessories.
"Look for warm wood tones with storage, and sofas that are comfortable in muted colors, you want the space to be harmonious, not overpowered by bright or contrasting colors," advises Devin.
3. Mix materials
Natural materials are key to styling the Japandi aesthetic. "The main thing to think about is the mix of materials and textures, combined with a minimalistic point of view," says Ida Linde, Designer at Belarte Studio. "The combination of wood, ceramics, clay, and textiles creates a dynamic look even if the colors are mostly neutral."
"Contrast is added with darker shades of wood, or even black, and also by mixing soft and rough textures. Being minimalist is not just that you should have fewer things in your home but to really think about why you have certain pieces in your home, choose things you truly love and that also serve a function for you. Japandi is about embracing imperfections, valuing craftsmanship, and being in tune with nature – it is as much about a mindset as a visual aesthetic."
4. Incorporate paneling
It's no coincidence that slatted wall paneling has become one of the biggest interior design trends in recent years, and that's because it's the easiest contemporary way to welcome texture to Japandi living room walls. Wooden paneling is a great way of creating a feature wall and it will cover up a multitude of sins, including damaged walls, as long as they are flat of course.
And it doesn't only mean cladding walls in wood, you can introduce the look with statement furniture pieces too. The front of a sideboard or storage unit with wooden cladding offers a textured finish that is reminiscent of a traditional tatami mat which is made from multi-layered rice straw and natural rush.
To build on the Japanese look add a floor lamp that has the look of a Japanese lantern to illuminate and cast shadows against the textured wall surfaces.
"Scandi is a firm favorite and is ever-evolving, and no longer just a case of oak and white finishes," says Giverny Simm, Design Manager of Hatch Interiors. "The introduction of more Japandi – Japanese Scandinavian feel has created an even more appealing and versatile look and is probably the easiest theme to create in your home. With its neutral colors and unrefined materials, it appeals most to those who choose a minimalist design scheme."
5. Choose low level furniture
Sitting on the floor is a traditional part of Japanese living, offering a comfortable way of relaxing. To create a more westernized approach choose low furniture that sits closer to the ground. Instead of a tatami mat, choose a chunky rug and add plenty of floor cushions to layer tactile textures to give the setting extra comfort.
"For the decor, choose low-level pieces to bring a sense of serenity to the space with rounded and curved lines, making the room feel more fluid and giving a sense of ease to everyday life," advises Raphael.
Use texture and pattern to bring in the Scandi aspect of comfort. Choose round-shaped furniture and accessories in cane and woven rattan to keep the Japandi look relevant – circles are significant in Japanese culture as an expression of wholeness that lives deep in our beings.
6. Add decoration with abstract artwork
The use of artwork plays a key role in decorating Japandi living room walls, but the key is to ensure your chosen art captivates without distracting from the calming essence of the rest of the design elements.
"Abstract artwork is another key element in a Japanese-style living room scheme, with uncomplicated shapes that don't draw the eye away from the overall effect," agrees Saffron Hare, Creative Director, at James Hare.
7. Welcome stylish and functional room dividers
Room dividers are highly useful pieces of furniture and fundamental to traditional Japanese interiors. They are especially useful if you live in a loft apartment or a studio flat where you want to zone separate spaces such as the living and dining area or living room and bedroom – creating zones is also perfect for making a small living room feel bigger. Plus they don't take up a lot of space, and usually fold so they can be placed out of the way when not needed.
"We have noticed Japandi style creeping into furniture design in recent seasons," says Tina Mahony, founder of Go Modern. "What people are looking for is flexible furniture that can be adapted to different uses, particularly since the pandemic, our perspectives about home have changed. We want home and the furniture in it to be both multifunctional and considered to improve our way of life and create tranquility. Japandi style is key to this way of thinking."
8. Focus on layered lighting
Lighting is a key component of Japandi living room ideas, blending the mood lighting of Scandi interiors to combat those dark winters and cold northern light, and the Japanese aesthetic of soft lighting to create serenity and calm. Given how living rooms play host to a multitude of purposes, from home working and entertaining to relaxing during leisure time meaning a layered lighting scheme is essential.
Creating pools of light makes the space feel cozy and warm, and places lights strategically to increase the sense of balance and flow. Seek lamps reminiscent of Japanese lanterns and reed lampshades to build on the natural theme and add organic shapes.
Another natural material that is key to the Japandi look is marble, a popular material for lamp bases to touch on the beauty of imperfections – because no marble surface is the same, so each design element is unique.
9. Introduce thoughtful window treatments
Shutters are an ideal Japandi living room window treatment, welcoming touches of warmth through natural wood to add another dimension to the room. Wide slat shutters tap into the Japanese look perfectly – offering clean, unfussy lines that allow complete control of the light that can be filtered to suit.
Other options for softer window treatments are overlapping voile panels or pleated blinds, or if you prefer the look of curtains or blinds, make sure they are in natural fabrics, linens, or weaves, in plain neutral or mineral tones.
10. Touch on Japandi style with wallpaper
If you're keen to embrace the Japandi design trend but fear it feels a bit too stark for your own living room, think about introducing a Japanese-inspired wallpaper design in a neutral shade. "Adding a decorative wallpaper will add warmth to the space in a subtle but effective way," says Rebecca Drury, co-founder of Missprint.
"Although blossom is synonymous with Japan, there are poppy fields all over the country and this oversized design has a definite Japanese feel to it. Team it with simple black furniture and let the design shine." Look to the latest wallpaper trends 2023 to inspire your chosen design.
How do you create a Japandi living room?
"Japandi style or Wabi-Sabi is set in biophilic design, aiming to bring elements of nature into your home for a welcome respite from the chaos of the modern world," says Luli Farrell, founder of Abi Interiors. "Think eco-friendly and sustainable."
"Japandi interiors mean natural materials – wood, ceramics, linen, and stone. Color is just as important as material when considering your overall design aesthetic. Feel grounded with a Wabi-Sabi color palette that embodies the earth – neutrals, shades of brown, and green. Brass, copper, and bronze are popular materials that complement the Japandi design style perfectly."
Sign up to our free daily email for the latest royal and entertainment news, interesting opinion, expert advice on styling and beauty trends, and no-nonsense guides to the health and wellness questions you want answered.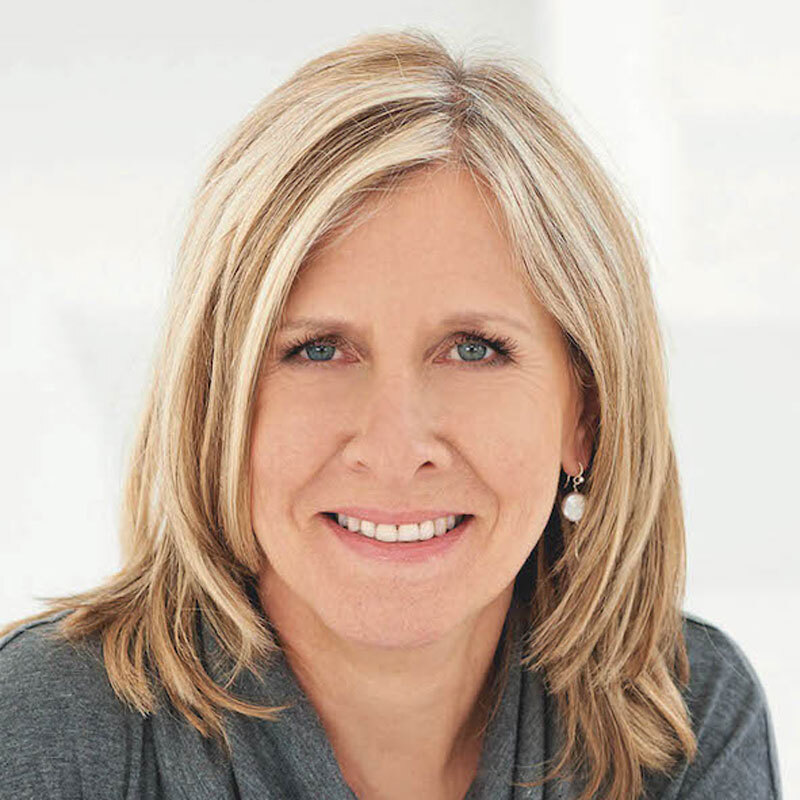 Interiors and lifestyle journalist
Alison Davidson has been working as an interiors and lifestyle journalist for over 30 years. She has been Homes and Gardens Editor of Woman & Home magazine and Interiors Editor of House Beautiful magazine, she has also freelanced and worked for most of the interiors magazines at one time or another. She is currently embracing the move to digital using the same knowledge and expertise to produce high quality features for an online audience.