Wallpaper trends 2022: 8 top picks for bedrooms and living rooms
The most in demand wallpaper trends for 2022 according to interior designers and trend experts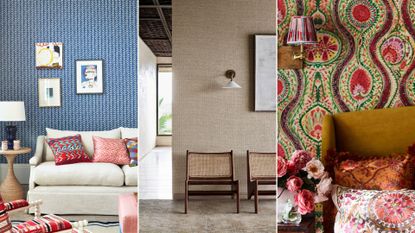 (Image credit: wal)
The latest wallpaper trends offer something to suit all tastes, from bold florals and striking stripes to dainty small-scale prints and subtly textured designs.
Wallpaper is a game-changer for refreshing interior design. Like the best interior paint colors, it can transform any room in as little as a day, and it's far less commitment and investment than overhauling an entire room to follow the latest kitchen trends.
James Greenwood, Interior expert at Graham & Brown, revealed to woman&home that floral and leafy patterns are dominating wallpaper trends so far this year, thanks to the influence of a key interiors trend: "One of the top 2022 interior design trends is Biophilia. This trend encompasses all things nature; so vivid florals and tropical leaf designs."
"We are also seeing a resurgence of vintage wallpapers and archival designs taking us on journeys into the past. The retro revival is perfect for those of us looking for nostalgia but is also finding a new, younger audience to experience the decor styles of the past."
Here, interior designers and wallpaper experts share the biggest wallpaper trends of 2022 and predict the biggest style statements that could endure into 2023...
The biggest wallpaper trends of 2022
1. Maximalism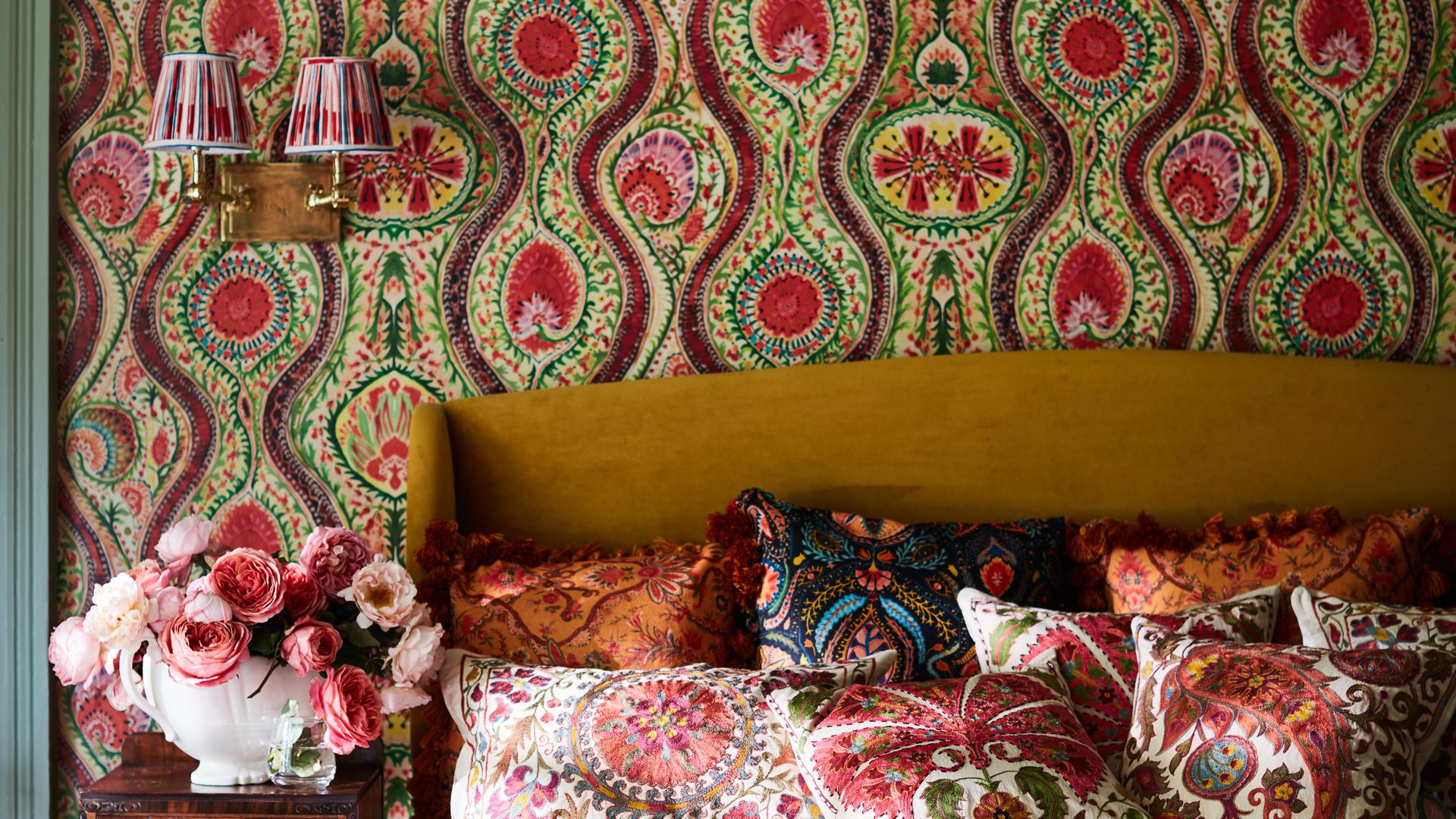 The maximalist trend has been prevalent in interior design in recent years and it continues to be best-selling wallpaper designs that are unapologetically bold, where more is more.
"Right now we're in an 'anything goes' era," explains Jillian Hayward Schiable, Co-founder of Susan Hayward Interiors. "Bright colors, large-scale prints, geometrical, and texture, texture, texture! Wallpaper works best when you need a bit of a pop. It could be a pop of color or some dimension on an otherwise flat wall. Taking a small room and wallpapering right up and over the ceiling can transform it into a different space."
"Maximalism is very much here to stay as we embrace more color, more pattern, and more texture," says Stefan Ormenisan, Creative Director of MindTheGap.
"Combining florals, leaf and botanical motifs work wonderfully well when layered together. A great starting point is a wallpaper, which will deliver the greatest impact on the room. The joy in maximalist interiors is often the combination or pairing of patterns, such as Ikats, geometrics, and stripes mixed with florals and botanical designs."
Because the look is all about 'overloading' patterns, the maximalist wallpaper trend works especially well in line with current bedroom trends. Create an intimate space by embracing the strong bedroom paint colors of the moment like navy blue and terracotta pink to complement your wallpaper choices. Heavy patterns are often best for smaller spaces because they run the risk of feeling overwhelming in larger rooms.
2. Sepia tones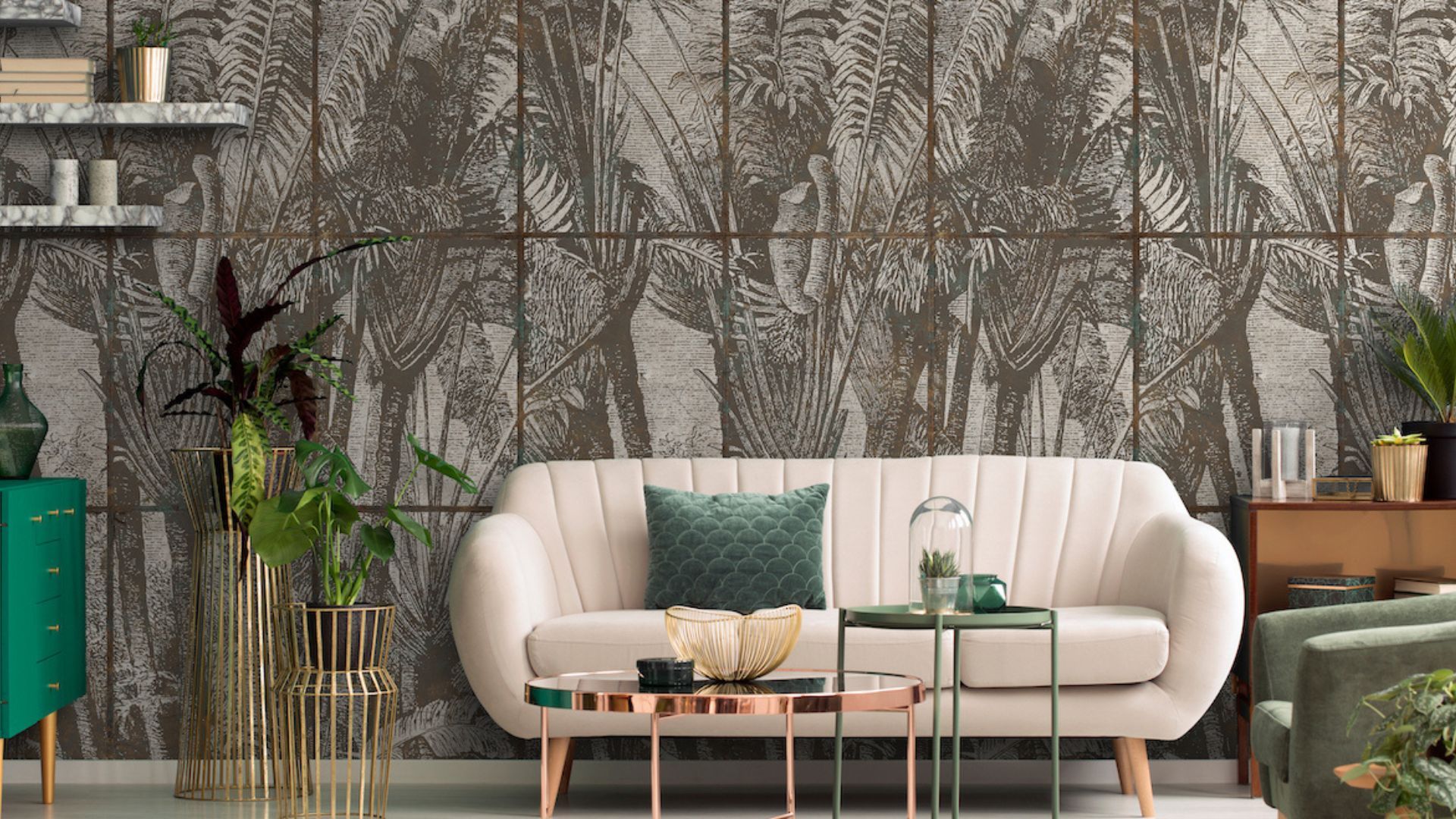 The botanical trend is reimagined with sepia tints for this wallpaper trend which offers a vintage feel reminiscent of Victorian botanical drawings. This 'Palm Design' is a jungle print, but rather than the usual green color palette it's depicted in subtle shades of gray to create a more serene sepia version of a jungle setting.
As an added design feature it also has an overlaid grid pattern which gives it a contemporary touch. This appears to break up the wall, so would be good in a large space such as a living room wallpaper or dining room.
"For ongoing design trends, we are designing fantastical nature themes with beautiful botanicals for 2023," says Jennifer Matthews, Co-founder of Tempaper. "I am seeing bold and graphic designs in interiors and a lot of retro styles in fashion, which tells me that will hit the home décor market soon."
Shop The Palm Grove wallpaper by Curious Egg.
3. Dreamy ethereal designs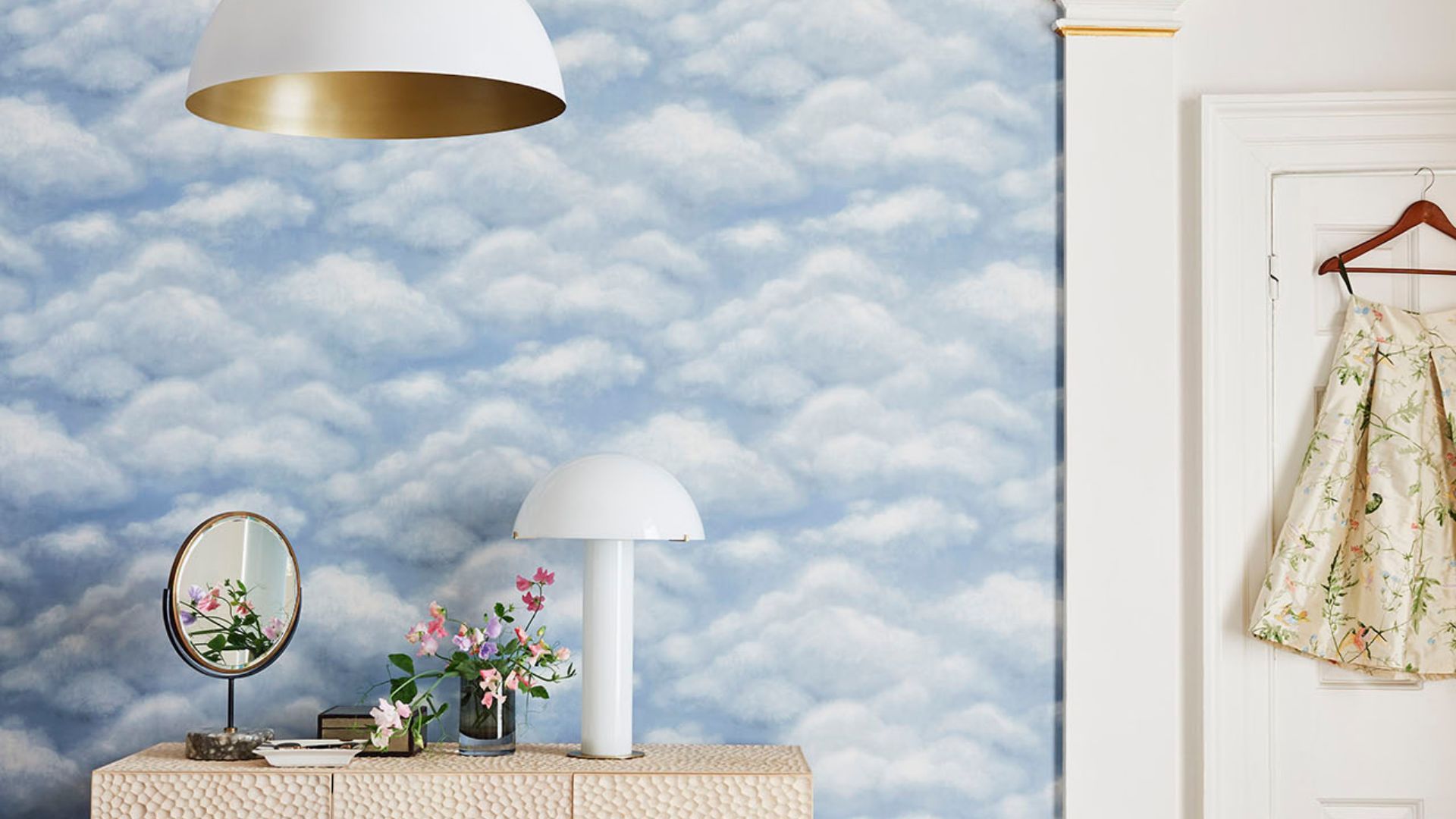 Looking for a dreamy design to add an element of escapism to your decor? Then the ethereal wallpaper trend is the one for you. We've seen stars having a spotlight in recent home decor trends, but the focus for this season is scenes of blue skies and fluffy clouds that work effortlessly in any room.
Using a cloud design on a peaceful blue background for a bedroom wallpaper is the ideal way to create a heavenly ethereal feel for a restful environment – which could aid in helping you fall asleep quicker. Alternatively, wallpapering alcoves on either side of the fireplace in the living room is a great way to add interest and introduce patterns. Pick out fine detail in the arch and cornice in gold for a luxurious touch.
"Wallpaper is incredibly diverse and can work in any room in the house," says Ann Marie Cousins, founder of AMC Design. "An affordable way to experiment with wallpaper is to use it in a small space rather than committing to a whole room. Opt for fabulous patterns that really draw the eye."
Shop Fresco Sky wallpaper by Cole & Son.
4. Small-scale pattern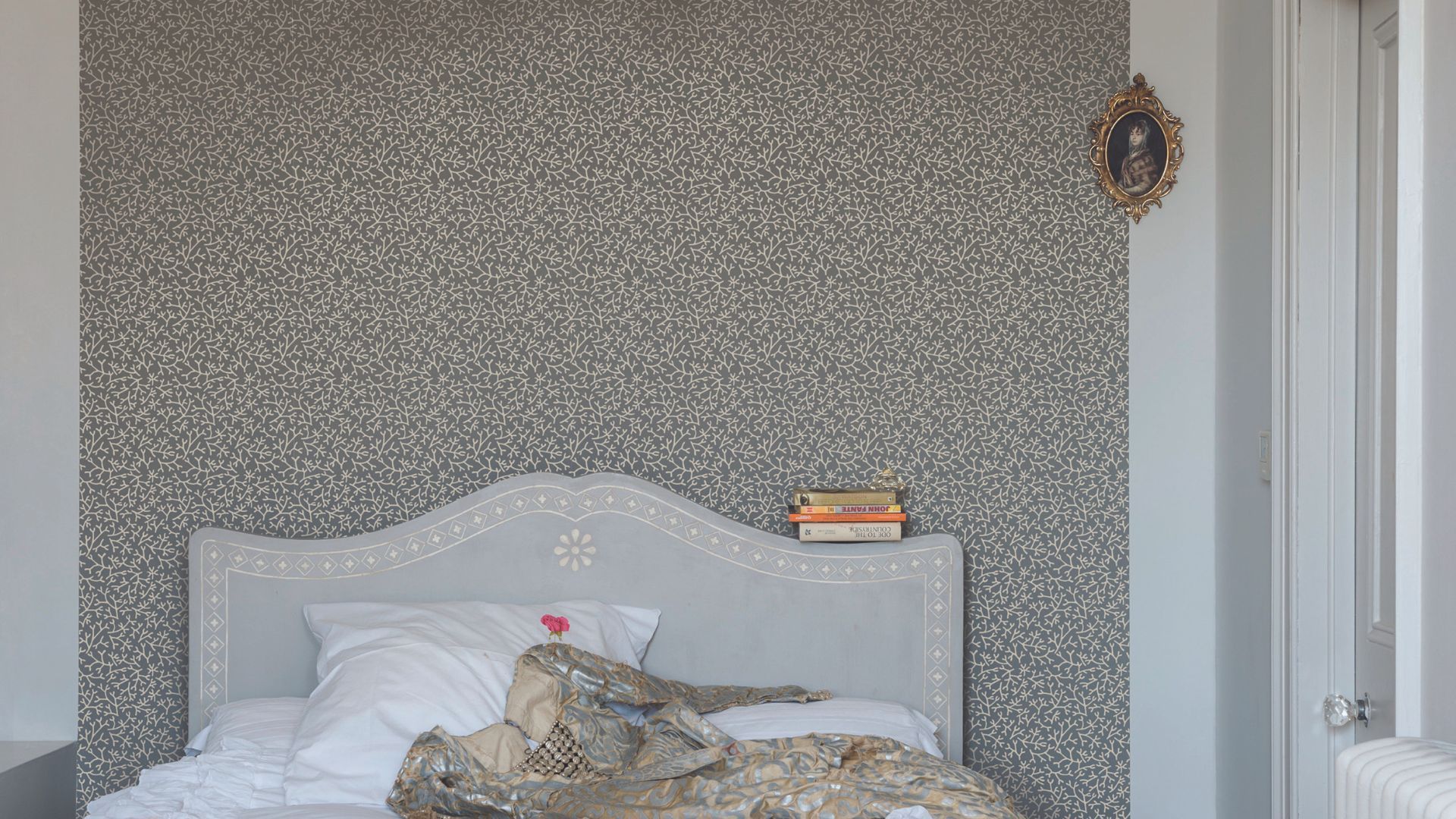 If you are unsure about using wallpaper, small prints are a good starting point. Using a small print wallpaper in a subtle color palette, such as gray or soft sage green means it doesn't feel overpowering and can therefore be used in any room of the home.
"Smaller repeat patterns are a lovely way to introduce yourself to using wallpaper," says Patrick O'Donnell of Farrow & Ball. "They are often less visually demanding than larger scale prints and discreet enough to almost 'disappear' giving a textural relief without any overriding strength of the pattern. Best used for a scaled-down look that doesn't overwhelm smaller spaces."
Shop Samphire wallpaper by Farrow & Ball.
5. Japandi-inspired texture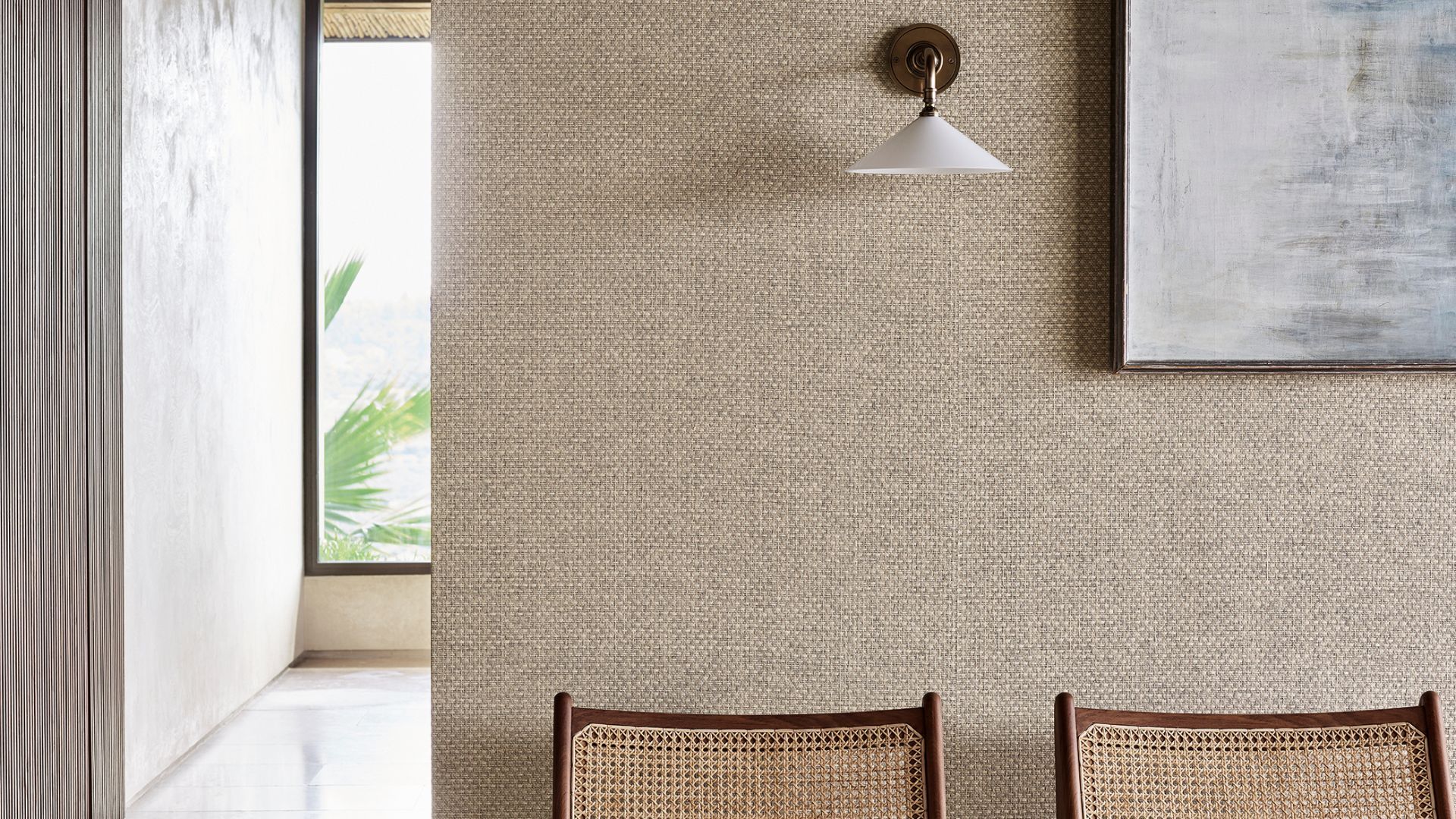 Textured walls are back in fashion, but offer a subtle and sophisticated look for 2022. Like this wallcovering from the Paperweave collection by Mark Alexander, which draws on traditional Japanese techniques of finely cut ribbons of paper which are spun and dyed, then handwoven from a sustainable crop of renewable fibers.
"Textured walls are a brilliant way to bring warmth and detail to any space," says Caroline Milns, Head of Interior Design at Zulufish. "Hessian or grasscloth patterns give a cocooning and softening feel to a room, suffusing the light as it falls on the walls and softly changing the appearance as the light moves from day to night. They add interest without making a strong impact, allowing for the architectural details of a room to be the focus and providing a harmonious background for a choice of furnishings."
Textured wallpaper is a perfect choice for a Japandi-inspired bedroom to create a restful, inviting sleep space. Follow the Japandi trend further by introducing dark wood frames and basketweave chairs and simple artwork.
6. New geometrics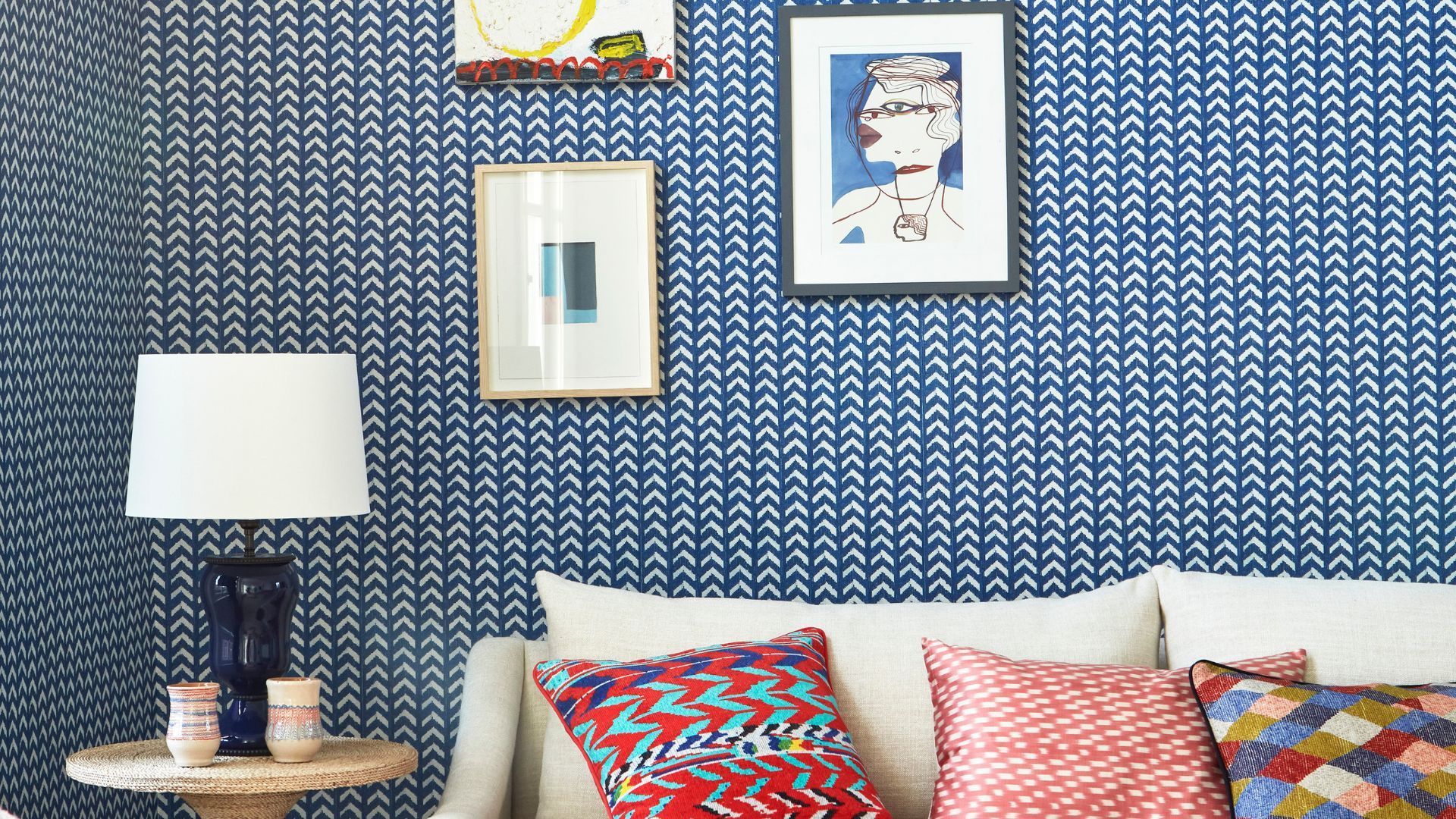 Geometric wallpaper designs have always been a popular choice for those wanting a middle ground between shaped patterns and stripes, and for 2022 chevrons are leading the way as the 'new geometric'.
This chevron design in strong cobalt blue and white is an alternative take on stripes to lead the eye upwards, so it's great for rooms with a low ceiling. It would work in any room but looks great as a living room wallpaper. Pick up the pattern in cushions and on the armchair fabric to bring your look together and choose art prints using the same best living room colors for a complete look.
Shop Diyenay wallpaper in Sapphire by Amechi for Dado.
7. Modern 70s stripes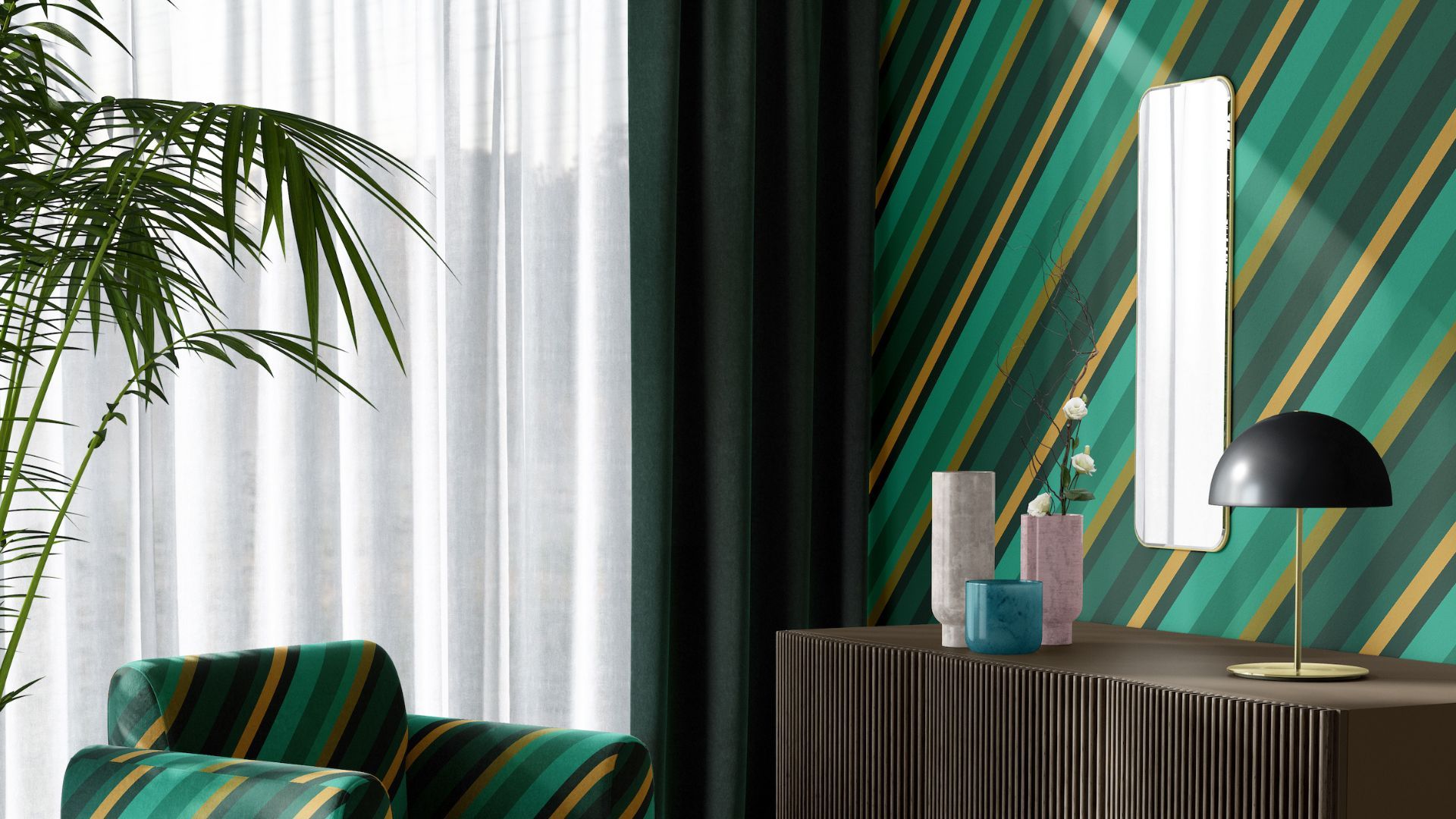 This year we are seeing a real resurgence of striped wallpaper – both bold and subtle. Stripes have been a slow burner for a few seasons now in living room wallpaper and bedroom wallpaper, and of course, they are a classic design - but for 2022 wallpaper trends the stripes are bolder and bigger than ever.
"One of the trends we are most looking forward to is the resurgence of the seventies," says Ross Taylor, Co-founder of The Curious Department. "Although seventies wallpaper prints can be incredibly bold, what we often see is that revived eras often express themselves in completely new color palettes."
This Liberation wallpaper (above) is a case in point, with its design reminiscent of a man's tie, these stripes are big, bold, and diagonal. Up the design factor and create even more of an impactful style statement with an armchair covered in the same fabric.
8. Expressive works of art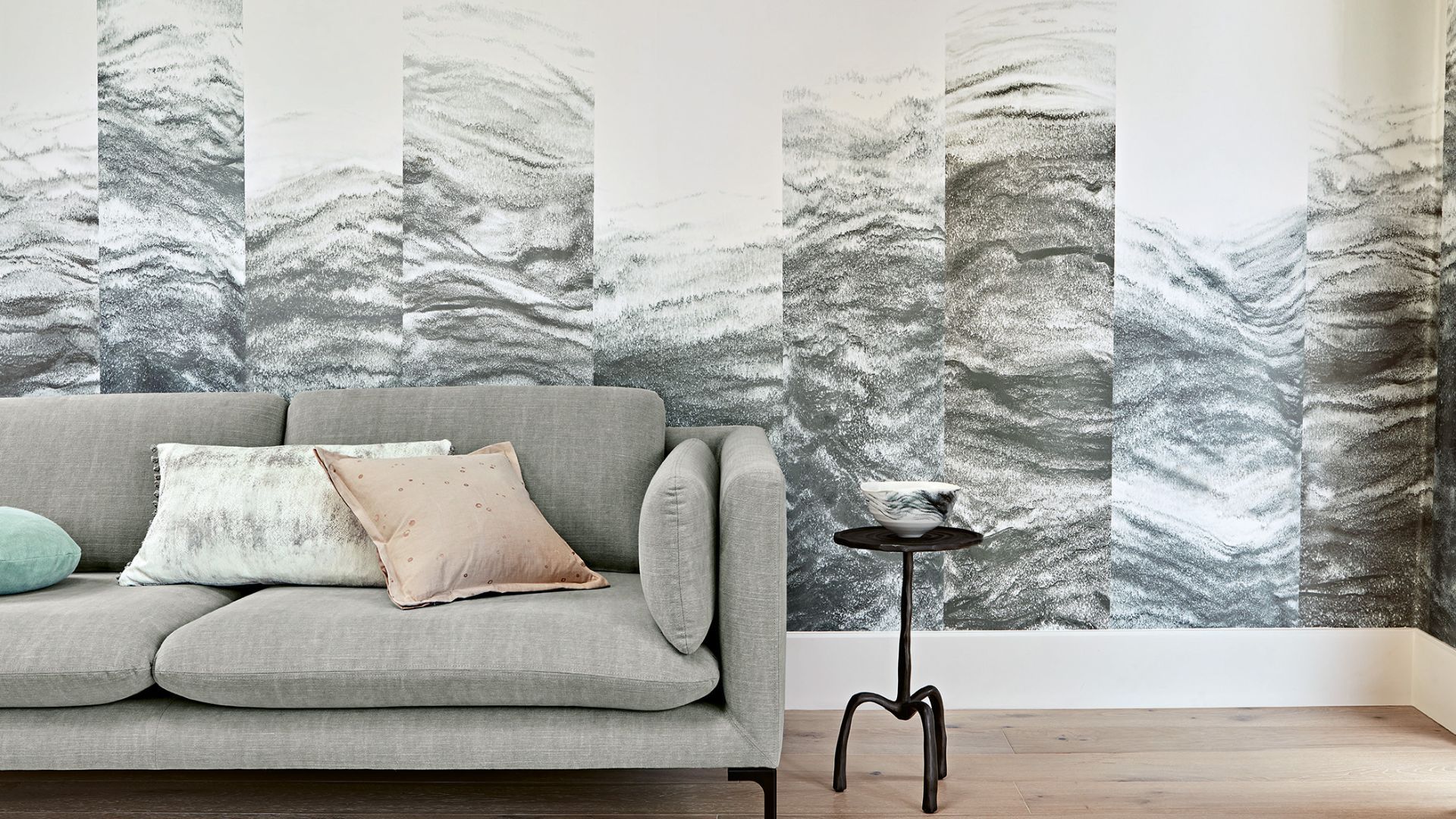 Wall murals that feel like art installations are the new way to wow with feature walls. This fabulous new Drifting Wall design from ceramicist, Kyra Cane for Villa Nova is an explosive swirl of pattern that has compulsive movement, translated from Kyra's original ceramic pieces.
The three-meter square mural is made up of six drops of wallcovering that are supplied and printed as a continuous roll. It would be amazing in a large area as a living room wallpaper, but keep furniture simple so it doesn't detract from the design. It would also look fabulous in a large, high-ceiling hallway.
Shop Kyra-Cane Drifting Shift Wall mural by Villa Nova.
Will wallpaper still be a trend in 2023?
"First of all, it's important to understand that wallpaper trends move very slowly," says Ross. "This isn't fast fashion; here today, gone tomorrow. And this is down to the commitment it takes to cover your walls with a print designed to last for years."
"For example, the jungle print theme has been running for years but is still hugely popular and will be for years to come."
"While wallpaper trends are slow burning, they always have a starting point. Sometimes that's culture or an external factor like the pandemic. One of the trends to watch is a resurgence of the seventies."
"The new color palettes are beautiful pastel blues, pink paint colors, and greens of the gemstone tourmaline. The revival of the 70s is very much culturally-led; runways in Milan have been strutting reinventions of the iconic Emilio Pucci prints for the last couple of seasons. This will ultimately find its way onto the walls of people's homes, but it will take time."
Interiors and lifestyle journalist
Alison Davidson has been working as an interiors and lifestyle journalist for over 30 years. She has been Homes and Gardens Editor of Woman & Home magazine and Interiors Editor of House Beautiful magazine, she has also freelanced and worked for most of the interiors magazines at one time or another. She is currently embracing the move to digital using the same knowledge and expertise to produce high quality features for an online audience.