How to create a Japandi bedroom for a calming and restful sleep space
These Japandi bedroom ideas will help you to style a tranquil sleep space with ambient lighting, calming color and on-trend Japandi furniture choices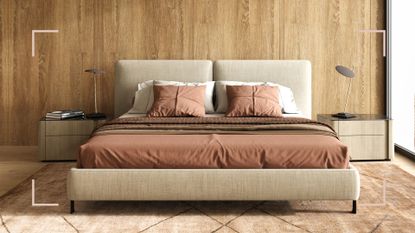 (Image credit: Getty Images/ Victoriia Kovalchuk)
Japandi bedroom ideas are the perfect choice for creating a soothing and restful space for sleep and relaxation. Combining all the comfort and warmth of Scandinavian 'hygge', with the simplicity and calm of Japanese minimalism, Japandi style is one of the biggest interior trends right now.
A combination of elegant Japanese minimalism and rustic Scandinavian simplicity, the Japandi style is a hybrid interior design trend that brings together the best elements of both and creates an eclectic, stylized look all of its own.
Rooted in natural materials, clean lines, and quality craftsmanship, the focus is on creating a calm, harmonious aesthetic and relaxed, comfortable environment, so bedrooms are the perfect fit when it comes to creating a Japandi-inspired scheme.
Here we explore the key interior design elements of this tranquil trend with designers and interior experts, who share their recommendations and insights into the best Japandi bedroom ideas for your home.
Japandi bedroom ideas
The beauty of a Japandi bedroom aesthetic is that it keeps the Scandinavian coziness and comfort in mind while factoring in the Japanese theory of 'wabi-sabi' - where nothing should be too polished. The results are an effortlessly serene space that is not only stylish but sure to help you sleep better, too.
1. Create calm with light-filled spaces
Tranquility is key when it comes to creating a Japandi bedroom, with soft, soothing textures and muted, earthy tones in abundance. Create a tranquil atmosphere by looking to nature for inspiration and working warm wood finishes, natural stones, and mineral pigments into the scheme so that colors and surfaces merge harmoniously – all key elements of the biggest bedroom trends for 2023.
"To achieve the Japandi interior, make sure the spaces in your home maintain an airy feel by maximizing the amount of light coming through your windows," says Yvonne Keal, at Hillarys (opens in new tab).
"If you're lucky enough to have large amounts of glass on your window treatments, try hanging some waved curtains that hang right to the floor and keep them open throughout the day to let the sunshine in and naturally brighten up the room."
"Waved curtains are a perfect mix of luxury and contemporary, working particularly well in bedrooms and living rooms and suiting the Japandi interior style perfectly!"
2. Seek streamlined surfaces
Streamlined surfaces and a calm, uncluttered aesthetic are essential in creating the pared-back style and harmony of the Japandi style. When it comes to bedroom furniture, the decoration should be kept low-key with clean lines, sleek shapes, and handle-free designs to showcase the grain and finish of natural woods or the subtle sheen of lacquered pieces.
Fitted wardrobes ensure that bedroom clutter is kept in check, with clothes, shoes, and accessories hidden neatly out of sight. Keep display areas to a minimum with just a few key pieces out on show to aid the feeling of calm.
"Wellbeing is a fundamental characteristic of the Japandi trend," says Rachal Hutcheson, at Sharps (opens in new tab). "Whether you're looking at the door furniture on the cabinetry or the color of the walls, the key is to create a concise set of materials and colors which feel calm and welcoming."
Good storage and a strong decluttering discipline are essential for maintaining the look. Rachal explains, "Less is definitely more when it comes to the design. What's on the inside is just as important, as the aesthetic relies on a clutter-free room. Make sure you spend as much thought on the way you want to store your possessions and the ability to access them as you do on the way each piece of furniture looks."
3. Make a statement with stylized pattern
While simplicity is key, that's not to say that rooms should be devoid of all pattern. Introducing a stylized pattern, such as a blossom print pictured above, is a fabulous way of bringing in an accent color that will provide visual interest and warmth against a calming, tranquil backdrop.
Choose just one statement pattern as the focal point of your scheme. This could be on a feature wallpaper or mural, on simple curtain panels, bed linen, or wall art. Then keep the rest of the scheme restrained and low-key in soft shades and toning textures that complement.
4. Simplify window treatments
Avoid heavy drapes and fussy window blinds to achieve the airy and light-infused spaces that are a core element of Japandi decor. Instead opt for lightweight panels, pleated blinds, and floaty sheers that are neat, tailored, and let maximum light flood in through windows. Choose natural linens and soft textured weaves in plain colors and soft, mineral tones.
Better still, consider ditching curtains and blinds altogether and opting for the frosted film at bedroom windows, like the Cherry Blossom film by Purlfrost (opens in new tab) above. Positioned on lower panes, it will provide privacy while still letting in plenty of light. Opt for pretty blossom prints or simple geometrics to add just a subtle hint of pattern.
5. Incorporate timber panelling
Despite Scandinavia and Japan being such different cultures and geographically apart, both share many of the same core design principles. Recognizing the beauty of natural materials and respect for craftsmanship is key, together with an appreciation for functionality and simplicity in design.
Using wood and timber as part of the decor is a design element that both share. From rustic timber cladding in Scandi-style oak, pine, or teak, to sleek vertical slats and panel screens made of Japanese-style Cedar, Red Pine, or Cypress. Paneling one wall in timber or adding a feature panel behind a bed is a stylish way of creating a focal point in a Japandi bedroom idea that will add warmth and color too.
"Wood is at the heart of Japandi interiors, due to its associations with nature, homeliness, and relaxation," says Yvonne. "Natural materials are proven to increase wellbeing in the home so it's important you incorporate these materials in functional spaces. To cheat slightly, place some natural wooden slat wallpaper on one of the walls to make it feel like you're in a spa."
6. Create a fusion of cool and warm colors
When it comes to the Japandi colour palette, it's often a combination of the bright, light and cool tones of Scandinavia, partnered with the traditional Japanese palette, which features darker, richer and more earthy tones, which work well as accent interior paint colours.
Make the two palettes work in unison, by opting for cooler tones and paler shades as background colours, with deeper shades reserved for furniture and soft furnishings. Darker tones of black, brown and charcoal work well as accent colours, helping to provide edge and definition.
"Introducing the Japandi look into your home is a great way to create a sense of peace and tranquillity," says Helen Shaw, Director at Benjamin Moore. "The simple scheme can be built around a neutral palette and colours seen in nature which will feel grounding and help to ensure the room feels serene."
"Consider soft sage green hues to add a pop of colour without being overwhelming, as well as warm beige and grey tones which are a great alternative to white. Keep clutter to a minimum and add interest and texture through soft furnishings to maintain a light and airy feel. Plants are the perfect finishing touch and will help to pull the paired back scheme together without it feeling overly done."
7. Choose low level furniture
Obstacle-free layouts are an essential part of minimalist design. Leaving breathing space around furniture creates a better sense of flow from room to room, as well as allowing more light to travel through the space.
When it comes to beds, Japandi-style sleeping platforms or low-level beds are central to the look and suit the aesthetic perfectly. Somewhere in-between a Japanese-style futon and a low-rise Scandi-style bedstead, the benefits of a low-level bed are that they make a bedroom feel more spacious, stay cooler (as hot air rises), and are easier to climb into too. Add to the literal coolness with a selection of the best cooling pillows, to enhance the overall comfort of your bed.
8. Create zen with balanced lighting
Lighting is a vital part of the Japandi aesthetic. In Scandinavian interiors, mood lighting is a necessity to counter the dark and gloomy winters, while Japanese culture puts value on creating serenity and calm, with Japandi style marrying the two.
Position lighting strategically to increase the sense of balance and flow in a Japandi bedroom, creating pools of light to make the space feel warm and cozy. Low-hung light pendants on either side of the bed are practical and give the space some symmetry too. A sophisticated level of lighting is an easy way to make your bedroom feel like a luxury hotel too.
9. Focus on bedding
In any bedroom scheme, the bed is generally the focal point, so even if there is minimal color or pattern in the rest of the interior, the bed is the one area where you can go to town a little.
Layer up the bed with linens in subdued, muted tones for a soft and soothing effect, or introduce a little extra color by going for earthier reds, terracotta, or darker denim blues. Introduce subtle patterns here too, with leafy prints, stylized botanicals, or blossom-inspired designs on duvet covers, bed sheets, pillows, and cushions. Organic bedding is a worthwhile investment – organic cotton and linens help to regulate body temperature and humidity naturally.
10. Connect with nature
Both cultures have a connection with nature, so pull in touches of greenery around the bedroom to bring the outdoors in. Try small arrangements of house plants in pots and hanging planters, mini Bonsai trees or tubs filled with bamboo. See our guide to the best places to buy plants online for recommendations on where to order these plants from. Alternatively, create a sculptural display by filling a simple ceramic vase with a few stems of cherry blossom or a shapely branch.
'For the best of both worlds, use the cosy appeal of Scandi style with the softer pieces of Japanese decor, to accessorise the spaces in your home,' says Yvonne Keal, Senior Product Manager at Hillarys. 'Dried Pampas Grass has Japandi interior written all over it. Place some of the grass in a clear vase in your bedroom, to create a serene and calming environment.'
Homes and interiors journalist
Lisa is a freelance journalist who has written about interiors for more than 25 years and has worked on all the major homes titles, primarily Ideal Home, but also including Homes & Gardens, Country Homes & Interiors, Style at Home, Livingetc, Woman & Home, Easy Gardens and Good Homes magazines. Homes and interiors have always been a passion and she never tires of nosying around gorgeous homes, whether on TV, online, in print or in person, as well as being a serial shopper/bargain hunter.