9 outdated interior design trends home experts will be ditching in 2023
From cottagecore to 'greige', experts reveal the outdated interior design trends we should be quiet quitting this year – and the on-trend alternatives to consider instead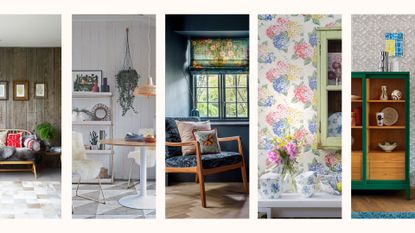 (Image credit: Future)
woman&home newsletter
Sign up to our free daily email for the latest royal and entertainment news, interesting opinion, expert advice on styling and beauty trends, and no-nonsense guides to the health and wellness questions you want answered.
Thank you for signing up to . You will receive a verification email shortly.
There was a problem. Please refresh the page and try again.
Planning on redecorating? Take note of the styles that are falling out of fashion, because we may only be in January but already some of the must-have decor styles of last year have become the outdated interior design trends of 2023. But never fear, the experts also reveal ways you can update each with an on-trend alternative.
Interior design trends of 2022 such as Cottagecore, with its rural feel, and 'minimalism' with its uncluttered aesthetic, increased in popularity – based on our desire to get back to our roots and make our lives, and everything in them, that bit simpler. But as times have evolved so too have our homes and how we choose to furnish them.
2023 interior design trends are a reaction to this, as we move towards showing off our homes again and making them more accurate reflections of our personalities. As a result, we're looking to the latest interior paint color trends 2023 for an injection of feel-good brights and the key kitchen trends to see how we should be updating investment rooms for a look that will last well beyond the year ahead.
Outdated interior design trends 2023: and the on-trend alternatives
The wholesome, rustic trends lauded 12 months ago are set to fade away this year and be replaced with something altogether more luxurious and statement. We're talking glamorous Royalcore, bright, bold colors, and furniture with curved edges.
With that in mind here at the trends that are dwindling in popularity in 2023, but accompanied by the alternative that gives a modern update to the look.
1. Cottagecore to Royalcore
2022 was all about Cottagecore with online Google searches for this interior trend skyrocketing 188% year-on-year. Born out of the pandemic and the desire to make our homes feel cozy, this trend centered around a rural aesthetic with wood, lace, tapestry, and florals being key elements. But, with the return to normality, Cottagecore has fallen by the wayside.
"The Cottagecore aesthetic was massive last year, but the country cottage vibes and nostalgic florals are being replaced by Royalcore," says Steph Briggs, co-founder of La Di Da Interiors (opens in new tab). "The trend embraces luxurious fabrics, vibrant colors with lashings of metallic details,"
"Inspired by the monarchy, and influenced by the likes of Bridgerton and The Crown, add a little Royalcore to your home by accessorizing with jewel-like colors and sumptuous fabrics such as velvet or silk." Using layers of luxurious fabrics is an easy way to make a home look expensive on a budget.
2. Safe grey to bolder brights
It feels like grey color palettes have been in vogue forever but, in 2023, they're set to become an outdated interior design trend. All-greys and all-white were previously favored for being inoffensive and adding a feeling of space, but their universal appeal is now tipping over into feeling bland and unimaginative.
"Swap the mid-grey mushroom soup interiors and add strong accent colors such acidic yellow and pea green," says Ander Olsson, interior design consultant at Draker Lettings (opens in new tab). While this might seem scary, Ander isn't the only one declaring the decline of decorating with grey – as is evident from the array of brights featuring as the biggest paint shades of 2023.
"We all needed a little extra calmness post-pandemic and the warmth of greige (a mix of grey and beige) was a big enough step from the infamous all-grey interiors that were so huge in the years before," says Steph. "However bold and beautiful is back, with Pantone's color of the year Viva Magenta (a stunning crimson red) a brilliant example of this.'
"Expressive and joyful, adding a little (or even a lot) of this color will add cheer and optimism to any interior… If you're not keen on Viva Magenta then look to other warm and spicy tones to use, Paprika Orange, Mustard Yellow, and Iron Rust will all work."
In terms of the paint itself, it seems people have finally had enough of flat matt. "Switch it for anything with a slight sheen - an eggshell or satin. Corridors and bathrooms work really well if you want to start small," says interior designer Lucy Breton (opens in new tab).
3. Monochrome to pops of color
Another outdated interior design trend for 2023 is monochrome. While we loved the fuss-free clean lines and the striking contrast of the best white paint punctuated only by black accents in 2022, this year we're after interiors that express a little more personality and depth.
"Monochromatic design is a trend that is fading and will go out of fashion in 2023," says Cameron Johnson, CEO & Founder of Nickson Living (opens in new tab).
Fortunately, it's not hard to change up monochrome interiors and Cameron suggests adding a few carefully chosen colorful accessories: "Incorporating pops of colors and patterns into your design versus simply blacks and whites is a relatively easy pivot and can be made all throughout the home."
"One might consider adding colored canisters to kitchens, a lovely colored throw to a couch, or a rug that simply brightens and adds personality to an otherwise monochromatic room."
4. Fast-fashion furniture to sustainable alternatives
Buying fast-fashion furniture in itself isn't a trending look, but it's definitely something that's going to go out of fashion in 2023. The reason for this is two-fold; firstly, vintage pieces are having a comeback but there's also a change in the mindset, driven by economics and the environment, towards a more sustainable approach to interior design. If we're buying new, we're looking for longevity in design, with items that are built to last.
Cameron agrees, citing the cost-of-living crisis as part of the reason behind this: "There is a flight to quality, investment pieces, and enough being more than enough during times of economic uncertainty, and we expect to see that manifest in the interior design arena."
"The constant need to buy new for the home is changing and this year we can expect to see a much slower, sustainable approach to interior design," says Amy Wilson, interior designer for 247 Curtains (opens in new tab). "Saving for investment pieces, buying vintage items, or updating existing furniture with a lick of paint will continue to thrive throughout this year."
5. Floating shelves to closed cabinets
There was a time when you couldn't go on Instagram or TikTok without seeing some gorgeous floating shelves with a few carefully curated books or knick-knacks, but that won't be the case in 2023, as this is one interior trend that's on its way out.
"In recent years the open shelving concept has taken the world by storm, with people wanting to create feelings of openness in their homes. But now people are realizing how much more time needs to go into making your home appear organized as everything is on display," says Chris Harvey, an interior expert at Stelrad (opens in new tab).
He points to simple display cabinets in as their replacement with minimal visible shelves being used more as decorative places to store plants and pictures rather than practical household items – those items can be concealed in the drawers instead.
Interior designer Justine Potts (opens in new tab) agrees that the demise of the floating and open shelves trend is down to the high maintenance of maintaining an organized home on display. "When planning any kind of storage your expectations on how it will be used need to be realistic and include a contingency for growth," she says.
"The trend for minimal open storage is all well and good if you operate a strict one-in-one-out rule but clean lines in a solid color or wood will always serve you better and make you look more organized than you might actually be!" She suggests that concealed cabinets, shelves, and wall units will be the new storage trend of the year – it's already appearing as a key living room trend in 2023.
6. Minimalism to Japandi style
Minimalism, where you use the bare essentials to create a light and airy, uncluttered space, is another outdated interior design trend for 2023.
"Minimalism has been replaced with Japandi trend in recent times (a mix of Japanese and Scandinavian design)," says Lisa at Stylize (opens in new tab). "If you haven't heard of Japandi before, you will very soon."
"This trend is a combination of Japanese minimalism and Scandinavian functionality, which focuses on light spaces and colors, and natural materials, with unfinished woods and bamboo featuring regularly."
Ideal for all rooms, so whether you're looking to create a Japandi kitchen, Japandi living room, Japandi bedroom, or a Japandi bathroom this trend is suitable for any interior space seeking a sense of serenity and calm.

"We will see people utilizing more natural resources for decoration purposes, but with a focus on tranquillity and peace," explains Sahar Saffari from Hi-Spec Design (opens in new tab). "Think home retreats, with areas taking inspiration from spas and rainforest aesthetics. For example, this could include a lot of plants, eucalyptus in the shower, bamboo, macrame, and crotchet."
7. Modern Farmhouse to Mediterranean Style
Google searches of the term 'Modern Farmhouse' decreased by 18% from 135,000 searches in January to 90,500 in October.
The trend for a relaxed farmhouse style with modern touches such as neutral shades, stainless steel appliances, and granite worktops nosedived throughout 2022 and is set to fall further this year.
"The notorious modern farmhouse decor that we all know and love might not be so popular in 2023, as we enter a year set to embrace brighter colors and bolder patterns," says Lisa Cooper, Head of Product at Thomas (opens in new tab) Sanderson (opens in new tab).
Lisa believes it will be replaced by Greek chic Mediterranean style, as searches for "Mediterranean Style Decor" are up 50% in the last year. It would appear the desire to escape to the country has evolved into a seaside theme instead.
"Although the blue and white color palette might seem a little cliche, there are small, simple, and stylish ways you can add this color combination into your home for a sprinkle of Mediterranean magic this year," she says.
"Whether you treat yourself to some new furniture, like a chaise lounge in the bedroom, or keep things simple with the addition of some meander patterned cushions, you can embrace the Grecian aesthetic without going overboard into the ocean!"
8. Linear design to sculptural curves
The trend for straight lines, whether it be shelves, sofas, or cabinets, is slowly fading from our homes in 2023.
"Straight lines and geometry are out, curves and movement are in," says the interior experts at wallpaper emporium Hovia (opens in new tab). "One of the most promising trends of this winter is curves and to achieve this style you won't need to redo your whole house, even though that might be an option for whoever might be able to do so. In fact, just an arched doorway or some fun and lively pieces of furniture such as a curved sofa can just do the trick."
"Curves are the furniture rage for 2023, especially kidney bean-shaped sofas," says Lisa, of one of the year's most notable sofa trends.
9. Trend-led gallery walls to sentimental artwork
Gallery walls filled with quirky slogans and iconic images were everywhere on social media in 2022 but they are set to be phased out now it's 2023. "Whilst a gallery wall is a fantastic way to tie in your interiors whilst surrounding yourself with things that you love and enjoy, 2022 saw the rise of quick cheap posters that show more trend than personality," says Justine.
This trend is set to be replaced by something altogether more personal, with sentimental pieces of artwork coming more to the fore. "Over the year, keep your eyes open for old photos and magazines you can tear out sheets from or local artists and designers; think of what will bring you long-term joy or bring back memories."

Lucy Breton goes even further, citing the end of the once-beloved gallery wall altogether. "Take down your gallery walls and instead opt for large-scale artworks. A photograph, painting, or even fabric wall hanging," she says.
Of course, whatever trend you choose, you need to remember that it needs to suit your personality and taste rather than just be something currently in fashion. As Anders says: "Most importantly, understand that trends come and go, so making your home personal to your taste is the main priority."
Charlotte Duck is an award-winning journalist who writes who regularly writes for Tatler, the Evening Standard, Yahoo Finance, and Virgin Money. She loves anything to do with property and has written about everything from homes with their own helicopter pad to transforming a room on a £99 budget.