Key living room trends 2023 – designs and colors to create complete comfort
From sustainable materials to calming colors, these are the hottest expert-approved living room trends for 2023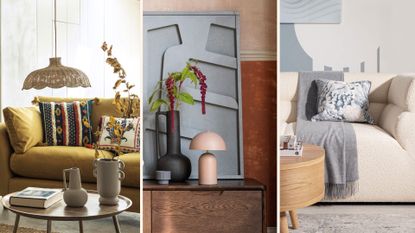 (Image credit: Marks & Spencer | Dwell )
woman&home newsletter
Sign up to our free daily email for the latest royal and entertainment news, interesting opinion, expert advice on styling and beauty trends, and no-nonsense guides to the health and wellness questions you want answered.
Thank you for signing up to . You will receive a verification email shortly.
There was a problem. Please refresh the page and try again.
From nostalgic furniture with a new twist to soothing 'well-being' rooms layered in natural texture, these are the living room trends 2023 to look out for in the coming year.
Implementing the latest trends into your home can feel like a decorating dilemma. On the one hand, there's the desire to create a progressive living room decor that's current, stylish, and well-received. But, on the flip side, the communal space of your home needs to accommodate your lifestyle for the majority of downtime.
As well as style, both atmosphere, and comfort need to be considered too or you could end up making living room decorating mistakes (opens in new tab).
In today's world, lounges need to be more adaptable than ever. As the need for home working and entertaining as well as relaxation increases, we require our living rooms to be multi-functional spaces that work for a range of tasks and functions.
Living room trends 2023
For the year ahead interior specialists anticipate warming schemes, inviting tactile upholstery and multi-functional living innovations as well as uplifting interior paint color trends (opens in new tab) that bring joy into our lives. Take a look at our pick of the living room trends set to shape living spaces in 2023.
1. Natural tones and textures
The trend of using natural materials in the home initially boomed in 2022, and according to designers is showing no signs of slowing down.
"The concept of bringing the outdoors in is going nowhere," says Ben White, a design expert at Swyft Home (opens in new tab). "In 2023 I would envisage natural stone textures being more key than ever. They help add elements of warmth and coziness to your home."
Kelly Collins, Interior designer and head of creative at Swyft Home continues, "Calming textures came into the limelight during the stressful years of uncertainty. Unsurprisingly, they've yet to fall out of favor. People want their home to feel like a tranquil haven, particularly in the bedroom and living room – both designated for relaxing and filled with plush, soft furnishings." This is also reflected in the latest bedroom trend for 2023, where comfort is key.
2. Rich accent colors
This year the vibrant 'Viva Magenta 18-750,' was announced as the Pantone Color of the Year 2023. "It is an animated red that encourages experimentation and self-expression without restraint", says the team at Pantone. "Brave and fearless, Viva Magenta is a pulsating color whose exuberance promotes optimism and joy".
The rich and rosy tone merges with the current dopamine trend flawlessly. There are a number of ways to use Pantone Color of the Year 2023 in your home, color admirers can dive in headfirst by painting full feature walls with a similar tone. While others might prefer the very berry shade as a sumptuous velvet sofa or even artwork and accessories for a more subtle approach to adding rich accent tones.
"Viva Magenta encompasses the sense of playful optimism and self-expression that we see as a big trend for the coming year," says Annica Wallin, executive creative director, of Desenio (opens in new tab). "This animated, crimson red is both exciting but comforting, and we hope it will inspire everyone to use their creative license to inject color and joy into their home".
3. Soothing shades of greens
With our current love for welcoming nature indoors, we should see that many living rooms are destined to be seen in shades of soothing green during 2023. From sage green to using Dulux Color of the Year 2023 'Wild Wonder', a very delicate green described by Dulux as evoking "warm tones of harvested crops with an upbeat glow which connects us with cycles of life, by creating a sense of energy and positivity."
Suzi Rae, Marketing manager at Sofas and Stuff (opens in new tab) adds. "A strong color for 2022, and one that shows no sign of diminishing in popularity in 2023 is green. Particular favorites are likely to be those that reflect natural tones, such as olive or sage green, perhaps set again a natural background tone."
Dobbies (opens in new tab)' homewares buyer, Hayley Ker, adds: "The highly versatile 'Wild Wonder' is set to be in-demand in 2023, so we've curated a unique collection of homewares that will allow people to join in on the trend in an accessible way. Gold glass vases and natural materials feature and are expected to be popular with neutral lovers to bring warmth into their interiors".
4. Ambiguous shapes
Curves are here to stay for a while for both furniture design and accessories. "Curved furniture will become the main focus," says Yvonne Keal, senior product manager at Hillarys, "with the flow and ease of the interesting shapes guiding your eyes around the room. Curvy and wavy lines will also dominate soft materials, like cushion covers and lampshades, for that added touch of playfulness.
Sculptural shapes coated in textured fabrics are a contemporary design match made in heaven.
"We've seen a preference for organic materials such as pieces with wood finishes and rattan. Whilst investment pieces such as sofas are endomorphic, offering interesting curves and comfort" says Rob Elliot, head of design at Dwell (opens in new tab).
5. Boucle
Stroke-able and loveable fabric, boucle, has been inching its way back onto furniture for a couple of years. But, 2023 is set to have all of us curl up on the bobbly fabric.
"Boucle has been one of my favorite textiles to trend in 2022, and it will be around to stay into 2023 and beyond," says Sam Baldry, Head of Design at Swoon (opens in new tab). "Its heavy yet super-soft texture - popularised by Coco Chanel in the 1950s – truly stands the test of time. To modernize the fabric and give it a contemporary edge, I love to pair it with smooth, sleek metals."
6. Velvet materials
The family and pet-friendly alternative to delicate boucle, velvet, remains as popular as ever for 2023 for upholstery and soft furnishings such as cushions and curtains.
It's rare to see a contemporary and luxurious living room without a statement velvet sofa. Rich green will of course be a favourite as well as chocolate and jewel tones.
"Velvet is a great material to use with bold colours – Viva Magenta, the colour of 2023 exudes opulence in velvet. Velvet can also be family and pet friendly, do your research and choose a durable velvet fabric that will last" says John Darling, founder of Darlings of Chelsea (opens in new tab)
7. Multi-functional spaces
In the quest to make our homes feel cozy living room layouts will return to one-room spaces in 2023, but with a twist.
Broken plan layouts mean open-plan floor plans remain but with multi-functional flexibility. Think sliding doors that create privacy for dining, room dividers to zone off a workstation, or privacy curtains to hide you away with a good book in a reading nook.
"Loosely based around open-plan design, broken-plan living is all about creating distinct zones to give our spaces more purpose," explains Rebecca Snowden, interior style advisor at Furniture and Choice. (opens in new tab) "While open plan brings people closer (due to the lack of walls), it also lacks privacy and warmth if the open areas aren't styled properly."
"Installing Crittall doors or partitions offers a stylish, modern way to create a separate room while letting the light continue to flow. Open shelving units work similarly – use a bookshelf as a room divider and fill it with a variety of greenery for a fresh and open look. "
8. Dark wood
Stylish with neutrals and a perfect team when teamed with green, dark wood furniture pieces are adding an updated stylish element to interiors in 2023.
"These organic neutral tones inspired by the natural world are always a great choice when it comes to interior color palettes, taking the muse from Mother Nature's wonders. Swoon has researched and found that browns (Google searches up 140%), beiges (up 300%), and khaki greens (up 400%) are surging in Google searches at the moment too, and for good reason" says Sam.
The versatile shade of dark brown is the perfect organic accompaniment to green. "Khaki's laid-back green tone transports you to a scene of serene botanicals, embracing all that nature has to give. Blending cool, iced chocolate accents with your khaki green interior truly enriches the natural atmosphere you have created, revealing a chic yet subtly styled space." Continues Sam.
Or, it can create a striking and fun contrast when teamed with neon brights. "Pairing neon pops of color with the opulence and mystery of dark wood is a super chic combination that will make your home feel cool and current," adds Sam.
9. The art of display
Accessories are what make living rooms feel personalized and displaying them expertly is set to give our homeware more purpose in 2023.
"Display, centers around the 'collectors' trend in which many of us are curating small but considered decorative accessories – from ceramics through to vintage collectibles – which take center stage in our living rooms," suggests Rachael Hutcheson, retail manager at Sharps. "The mix of storage solutions now incorporates a lot more open shelving and glass-fronted cabinetry to accommodate this movement. "
Expect to see display cabinets with fluted glass fronts or bespoke fitted furniture drenched in a color that offers rich backdrops for well-placed keepsakes.
"People are becoming far more color confident which is why we are seeing more homes finished in bolder hues" adds Rachael.
11. Retro revival
The rise in popularity of retro design is expected to become the go-to in 2023. "The 70s revival is an evolution of the Mid-Century modern craze that has dominated the industry for the past few years," says Kelly.

"Think rich, earthy tones like deep red and warm browns, with a mix of layered textures for that 70s depth in the finish. This period was also all about embracing patterns, so to really nail it, you need to go big and bold".
Retro revival leans on the maximalism trend and is a story for those who want to revolt against the so many soft neutrals to come next year. This 2023 living room trend mixes clashing color and pattern with kitsch accessories and metallic finishes but with a less is more mantra.
Sarah O'Sullivan, home designer at John Lewis (opens in new tab) says, "We've reinvented 'modern retro' to bring customers a sophisticated aesthetic that's calming and easy to live with. The brilliant mix of boucle, velvet, darker woods, and warm marbles work together to create an elevated and harmonious scheme"
12. Coastal charm
Coastal decorating schemes are set to make a splash in 2023 and breathe new life into living room spaces.
Hayley Ker, explains why coastal is getting a refresh: "Our new Coastal Calm range for 2023 cleverly combines a Mid-Century design with Scandi minimalism for an effortlessly timeless collection inspired by the coast. Layers of tonal blues and ash greys meet beachy soft white textiles for a peaceful collection reminiscent of soothing shorelines.
Choose natural white-washed textures, dried grasses, and pebble tones for a peaceful harbor-side setting. Layer up walls with boat and sea-bird motif wall art and sea-shell accessories.
"Choose wall art that takes its cues from the coast, for a feel of total tranquillity and charm," suggests Debbie Drake, design director at Dunelm (opens in new tab).
13. Pendant lights
Feature pendant lighting has been a hero of kitchen trends for decades. In 2023 expect to see the ambient statement hanging over living room coffee tables too.
"2023 is the year of the bold," explains Peter Legg, lead designer at där lighting (opens in new tab). "As we get more explorative with paint, pattern, and shapes in the home, we'll see lighting embrace this newfound sense of self with dynamic and dramatic conformations, simplicity celebrated in supersize and confident use. Grand pendants and chandeliers are set to take hold this year."
Choose rattan shades with scalloped edges to cast a curvaceous as well as ethical glow. Smoked glass orbs look glamorous in traditional living rooms and striking 'Sputnik-'style chandeliers are retro-cool.
Rachel Homer has been in the interiors publishing industry for over 15 years. Starting as a Style Assistant on Inspirations Magazine, she has since worked for some of the UK's leading interiors magazines and websites. After starting a family, she moved from being a content editor at Ideal Home to be a digital freelancer and hasn't looked back.