The 5 best dehumidifiers to eliminate damp and mold in your home
We've tested the best dehumidifiers to find out how well they banish condensation and prevent dampness indoors by collecting the excess moisture in the air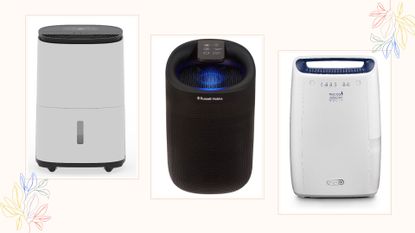 (Image credit: Future)
woman&home newsletter
Sign up to our free daily email for the latest royal and entertainment news, interesting opinion, expert advice on styling and beauty trends, and no-nonsense guides to the health and wellness questions you want answered.
Thank you for signing up to . You will receive a verification email shortly.
There was a problem. Please refresh the page and try again.
Humidity is a common issue in winter. You know the signs: foggy windows, walls that feel wet to the touch, and mold blooming surreptitiously in dark corners. These are exactly the issues that the best dehumidifiers are designed to combat.
They're also great to have on hand if you often look for ways to dry clothes indoors, as they can draw in the residual water that fabric retains after a wash. This helps to speed up the drying process and also catches the evaporated liquid before it can collect on your walls and windows – helping to prevent condensation on windows.
To help navigate the world of dehumidifiers, we've rigorously tested the best on the UK market at home, not only to gauge how well they work but also to assess ease of use, practicality, noise, and aesthetics.
How we tested the best dehumidifiers
Why you can trust Woman & Home Our expert reviewers spend hours testing and comparing products and services so you can choose the best for you. Find out more about how we test.
There is a huge range of dehumidifiers on the market from a host of different brands. We sifted through countless models in our research to find the most effective, efficient, and reliable – then tested our shortlist.
First, we assessed customer reviews from retail sites and reviews from other experts around the internet. Then we investigated specific brands and the ranges they offer, looking for their specialisms, gauging their reputation, and sizing up customer satisfaction.
To ascertain how effective each dehumidifier model proved we looked at:
Ease of use: How easy each dehumidifier was to set up? Did it come with instructions, and how long did it take to read and work out how to use it?
How many functions did it offer: Did it only offer different speed modes or a laundry setting?
Value-for-money: Is it worth the price tag, or could you get an equal experience for less money? Do the more expensive models offer a better experience?
How easy it was to clean and store: And, how to clean a dehumidifier, was it easy to empty? Were the components easy to remove for cleaning?
The best dehumidifiers – tried & tested by our expert
Image 1 of 2
1. MeacoDry Arete One
Best overall dehumidifier
Specifications
RRP: £159.99
Tank capacity: 2.5 litres
Maximum extraction per day: 10 litres
Modes: Dehumidify and laundry
Reasons to buy
+
Contemporary look
+
Very quiet when in constant use
+
Child lock for safety
+
Relatively compact

Reasons to avoid
-
Not suitable for cold areas like basements or garages
Meaco is a brand that will no doubt be one of the first to pop up in your dehumidifier research. It has a few models, but we think the easy-to-use Arete One is likely its best value. We were impressed with the extraction potential (up to 10 litres in 24 hours) and the capacity of its easy-to-remove tank, given its modest size and price tag.
The matte off-white and charcoal finish, along with its sleek shape and minimalist, Scandi-esque design make it about as handsome and unobtrusive as a full-size dehumidifier is going to get. We loved the little extra details too, like the hidden handle that pops up from the control panel and the handy cord tidy which keeps the two-metre-long cable in check when the unit is not in use.
The Arete One is pretty quiet (we regularly forgot it was there, whirring softly away in the background) and there's a night mode that turns the fan to low, kills the lights, and stops the buttons from bleeping, meaning it didn't interrupt our snoozing at all.
It's designed to extract moisture from space as big as 42m² (meaning it has whole flats and smaller houses pretty much covered) and can take care of a sizable load of washing pretty quickly, thanks to its laundry mode. Its premium functionality and mid-tier price make it a real standout model.
See our full MeacoDry Arete One 10L dehumidifier review
Image 1 of 2
2. Russell Hobbs Fresh Air Pro Compact 2-in-1 Dehumidifier and Air Purifier
Best compact dehumidifier
Specifications
RRP: £89.99
Tank capacity: 1 litre
Maximum extraction per day: 750ml
Modes: 3 speed settings
Reasons to buy
+
Stylish appearance to have on show
+
Lightweight to manoeuvre
+
Compact in size, so not imposing
+
Purifies as well as dehumidifies
Reasons to avoid
-
Limited capacity
-
Not ideal for large rooms
This stylish dehumidifier is one of the least imposing models we tested. It's sleek and contemporary, not to mention small so blended into the background easily in whichever room we were using it. Its compact size means that it's easy to transport too, and while that limits the capacity of the water tank, which slots in smoothly at the front, we think it's a reasonable pay-off.
Really easy to use, and its control panel is kept simple with three fan speeds – we'd barely glanced at the instructions before it was happily whirring away. As you'd imagine, the more powerful settings are noisier, but the lowest is still efficient and plenty quiet enough to have running in living spaces.
We found it worked well in the small and medium-sized rooms of our house where there was general winter dampness, although the cable struggled to reach some higher sockets in our kitchen – it is modest, though not disastrous, at 1.5 metres long. If you have larger rooms, a more severe damp issue, or masses of laundry to get dry, you might need something just a little heftier.
Image 1 of 2
3. EcoAir Desiccant 8L Dehumidifier DD128
Best for drying laundry
Specifications
RRP: £249.96
Tank capacity: 2.2 litres
Maximum extraction per day: 8 litres
Modes: 3 drying modes, 2 laundry modes
Reasons to buy
+
Really efficient laundry mode
+
Timer function
+
Handle makes it easy to carry from room to room
+
Energy saving mode
This is a versatile desiccant dehumidifier – while great for colder spaces, it's also efficient in the home. We found it to be pretty powerful too, collecting moisture much more quickly than some other models, and the cord was long enough that it could reach a socket from all the places we needed to position it.
The laundry mode was especially effective: as well as capturing the moisture it also blows out warm air, meaning our load of washing was dry in a matter of hours as opposed to days. The timer function meant we didn't have to leave it running all night to get those clothes dry either – it can be set to power down in two, four, or eight hours.
There's a decent 2.2-litre tank on this model, which is easily removable from the side of the unit for emptying and even has a built-in handle for ease. But also, if you want to leave it for long periods of time, it also comes with a handy hose for continuous drainage.
It's not the most intuitive to use, although that's to be expected with a model that offers lots of different settings – we got the hang of it after going over the instructions a couple of times.
The fan is quite loud on all but the economy setting (which is designed for maintaining air quality once optimal dryness has been reached), meaning we felt this wasn't one for the living room. But there's no denying it's a real workhorse and has serious speed and power. Plus, it has an anti-bacterial filter and Ioniser to purify the air.
Image 1 of 2
4. Probreeze 20L Dehumidifier
Best for particularly damp areas
Specifications
RRP: £249.99
Tank capacity: 5.5 litres
Maximum extraction per day: 20 litres
Modes: Normal, low power, high power, laundry
Reasons to buy
+
Large capacity
+
Impressive daily extraction potential
+
24-hour timer
+
Child lock safety
Reasons to avoid
-
Imposingly large and bulky
-
Not easy to carry
This compressor is the bulkiest model we tested – both in terms of size and weight. While it was tricky for us to lift up a set of stairs, it does have a fold-out handle and wheels on the bottom, so moving it from room to room was a piece of cake. the generous cord length also helped up its convenience.
Again, there are quite a lot of modes and customizable settings, which is great for efficiency and versatility, but means reading those instructions is a must.
Able to extract 20 litres of moisture a day from the air (the most of any model we tested), this generous appliance has a really decent talk capacity (5.5 litres) but can also be fitted with a hose. The tank simply slides out from the back of the unit and has a useful flip-up handle – this made it easy to carry to the slink without spillages, despite its size.
There's an inbuilt sensor that allows you to set your desired air humidity and save on energy (the machine will kick in only when needed to maintain it), a 24-hour timer function, laundry mode, and – our favorite feature of all – a child lock.
Our 18-month-old is very into buttons right now and was getting heavily involved with all the dehumidifiers we tested. This model, though, protected against those chubby, ever-fiddling fingers: by holding the button down for three seconds we could lock and unlock the control panel easily.
Image 1 of 2
5. De'Longhi DEX212F Tasciugo AriaDry Multi Dehumidifier
Best quiet dehumidifier
Specifications
RRP : £254.99
Tank capacity: 2.1 litres
Maximum extraction per day: 12 litres
Modes : 3 settings for environment humidity level, plus laundry function
Reasons to buy
+
Very quiet, ideal for bedrooms
+
Intuitive to use
+
Can filter dust and allergens 


Reasons to avoid
-
On the heavy side, difficult to move around as a result
-
Shorter cable than other full-size models (1.5 metres)
This was the quietest model on test – it didn't even bother us when it was in the bedroom at night or running in the living room when we were watching TV. And thanks to its simple, smart design, it didn't look out of place in either room. The 2.1-litre tank is really easy to remove and carry for emptying – the water is completely contained which prevents spillage.
Navigating the control panel is straightforward – there's one laundry mode and three dehumidifying settings that allow you to choose your optimum humidity level for the air. Once your chosen level has been reached, the machine will stand down until it's needed again.
There's frost protection functionality here too, making it safe to use in colder environments, which was handy when we had no heating on during a particularly bitingly cold day.
It's not all about controlling humidity though: hygiene is another of its concerns, and it has filters for dust and allergens as well as the capacity to neutralize undesirable bacteria to improve air quality in your home.
Do dehumidifiers work and are they worth it?
A dehumidifier is the most effective way to reduce excess moisture in your home. It collects the liquid it draws from the air inside a tank, meaning you can see exactly how well it's working.
Ensuring your home is properly ventilated can also help with pesky humidity, but during the colder months, cracking your windows isn't a tempting prospect as you'd end up losing precious heat and likely pushing up your energy bills.
Speaking of heat, cranking that thermostat up helps to dry out damp too, but with the recent price hikes for gas, this is far less of an affordable option than it once was – how much it costs to run a dehumidifier being a more affordable option.
Meanwhile, other tactics like having colder showers to prevent creating condensation and drying clothes outside just aren't practical in the winter.
If most of your dampness comes from airing laundry, you might also be thinking about investing in a tumble dryer – although these start at around the same price as a dehumidifier and it's widely agreed they cost much more to run. But there are alternative ways to dry laundry, one of which is to use a dehumidifier to help dry clothes.
So, especially when compared to other methods of damp prevention and treatment, dehumidifiers are sound investments.
What are the main types of dehumidifiers?
There are two main types of dehumidifiers: compressor (or refrigerant) and desiccant. These both remove moisture from the air using different methods and are designed for different environments.
Compressor dehumidifiers (which you might also find labeled as refrigerant), work by sucking in air with a fan and passing it over a cold surface (think metal coils or plates). This creates condensation inside the unit, which then drips into the water tank. This method is reliant on the air that's drawn in being warmer than the cold surface inside, otherwise, condensation won't form and the liquid can't be extracted. Compressors, then, are popular for warmer spaces where central heating is used – think bedrooms and living rooms.
Meanwhile, desiccant dehumidifiers capture moisture using an absorbent material. The liquid that's been sucked up then trickles down into the tank. This type of appliance doesn't rely on the air being a particular temperature, meaning they're great for colder spaces that are perhaps not well insulated or heated, like conservatories, basements, and garages. They do tend to use more energy than compressor types, though.
What to consider when buying a dehumidifier
So should you buy a dehumidifier? As well as the environment in which you plan to use your dehumidifier, there are several other things to consider before you invest.
For instance, will it stay in the same spot, or do you intend to move it from room to room? Some models are far more portable than others, so pay close attention to the size and weight of the appliance.
And think about where it'll be used and stored too; you don't want to be tripping over it constantly if it's a heftier model or have nowhere to pack it away in the summer months when you may not need it.
Size isn't the only potentially imposing characteristic of a dehumidifier – they all make noise while operating. If it's going to be used in a living space, consider how loud of a hum or whirr you can realistically live with.
While dehumidifiers can help keep energy bills down by negating the need to dial up the heating or succumb to the tumble dryer, there will, inevitably, be an initial outlay. So when you're deciding how much to spend on a dehumidifier, be prepared to play the long game. Net savings will amass gradually over time and use – so if you don't think you'll realistically rely on your new appliance very often or plan to still use a tumble dryer, a smaller, more affordable dehumidifier might rep the best value for you.
It's helpful to try and work out where your dampness is coming from, too. Modern dehumidifiers have different modes so, for instance, if drying endless loads of laundry (we can relate) is the cause of all that excess moisture, looking for a model that has a specially designed laundry mode is wise.
Jessica is a journalist and editor who works across print magazines and digital media. Specialising in food, she cut her teeth writing restaurant guides and reviews, before moving on to edit a food and drink magazine. It was her work there which saw her shortlisted for the Best Food Editor award by the British Society of Magazine Editors two years running. These days she works freelance, writing features and shopping guides as well as commissioning and editing content. She works with brands ranging from WIRED and BBC Food to The Independent, Ideal Home and Stylist.