We've tested the 8 best dehumidifiers to banish mould and damp this winter
Featuring leading brands like Meaco, De'Longhi and ProBreeze, our guide to the best dehumidifiers features options for every space and budget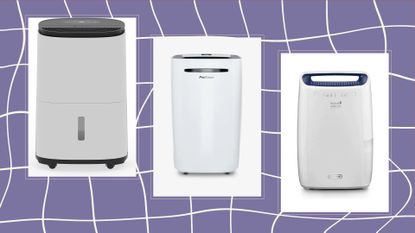 (Image credit: Future)
Best dehumidifiers 2023: Jump Menu
Owning the best dehumidifier for your home can save you from common winter woes. Whether it's fogged-up windows, or even dreaded mould emerging on your walls, a dehumidifier can tackle condensation and keep your home healthy even when it's too chilly to crack open a window.
We've also been tracking this year's Cyber Monday dehumidifier deals for those who can hold off making the investment, but because winter is peak season for steamy windows and wet walls, we have noticed that many of the best dehumidifiers we've tested are selling out even before they go on sale.
Some will want a portable dehumidifier which can be stowed away in the Summer months, whereas others may face year-round humidify from using heated clothes airers or even your morning shower.
Although there are a few ways to tackle mould and prevent condensation on windows, investing in the best dehumidifier is one of the most effective solutions. By removing moisture by the air, it can keep humidity at a safe and comfortable level throughout the year.
We'd recommend taking a close look at the specs, because the right dehumidifier for you will depend on your home size and the severity of the issue. If you're unsure whether a dehumidifier is the right choice for you, we've consulted with experts and asked for the benefits of investing in a dehumidifier in the Winter.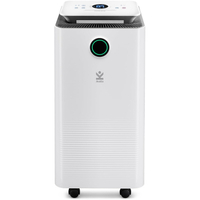 Avalla X-125 Dehumidifier for Home: was £239.99, now £189.99 at Amazon (save £50)
Our #1 dehumidifier from Avalla is out of stock, but this slightly larger model is £50 off at Amazon for Cyber Monday. We don't expect stock to last long, but it's a great deal if you can get it.
The quick list
The best dehumidifiers: tried & tested by our experts
Why you can trust Woman & Home Our expert reviewers spend hours testing and comparing products and services so you can choose the best for you. Find out more about how we test.
The best dehumidifier
Image 1 of 2
1. Avalla X-150 dehumidifier
The best overall dehumidifier
Specifications
RRP: £260
Tank capacity: 3.5 litres
Maximum extraction per day: 16 litres
Modes: Automatic, sleep and fan
Reasons to buy
+
Great size for a family home with a good tank capacity
+
Two-year warranty allows you to buy with confidence
+
A quiet sleep mode allows you to turn down the volume come nighttime
+
Additional hose attachment allows for continued use which is very useful in high-traffic areas like utilities or bathrooms
Reasons to avoid
-
You can still hear the night mode while it's running, so this might not be suitable for light sleepers
Our first impressions of this machine are that it's both compact and stylish in so far as similar models go. It's a sleek tower design that is small enough to fit in most household spaces and has curved corners and a simple white gloss finish.
For the most part, it's just a plug-in-and-go job, but this particular dehumidifier also comes with a two-metre long hose which needs to be fitted separately if you'd like to use it. It's a simple feature but it is hugely helpful in spaces which need extra attention, like utilities or bathrooms, allowing you to have the machine on continually over the course of the day or night.
Despite its neat stature, it has a large enough capacity to deal with up to 46m² at any one time. However, we found it most efficient in smaller spaces where it drew in a surprising amount of water in just a few hours. This will fluctuate with the levels of humidity in any one environment, but our tank was full after half a day and needed emptying.
One of the rooms we made use of this in was an old bathroom without an electric extractor. Typically we'd have seen water running down the walls and condensation pooling on the shower walls and the windows. This helped keep the air much clearer and eliminated the most visible moisture in under an hour.
The clothes drying feature also more than halved the time needed for clothes to be ready to fold, compared to leaving them to air dry normally. Not only is this great in terms of time-saving, it also apparently saves up to 93% on energy bills, according to Avalla.
The best easy-to-use dehumidifier
Image 1 of 2
2. MeacoDry Arete One
Best dehumidifier for ease of use
Specifications
RRP: £159.99
Tank capacity: 2.5 litres
Maximum extraction per day: 10 litres
Modes: Dehumidify and laundry
Reasons to buy
+
Contemporary look which would suit most decor schemes
+
Very quiet when in constant use so is ideal for family life if used around sleeping children
+
Child lock for safety when there are little ones around
+
Relatively compact
 so can fit into smaller spaces or be easily stored
Reasons to avoid
-
Not suitable for cold areas like basements or garages
Meaco is a brand that will no doubt be one of the first to pop up in your dehumidifier research. It has a few models, but we think the easy-to-use Arete One is likely its best value. We were impressed with the extraction potential (up to 10 litres in 24 hours) and the capacity of its easy-to-remove tank, given its modest size and price tag.
The matte off-white and charcoal finish, along with its sleek shape and minimalist, Scandi-esque design make it about as handsome and unobtrusive as a full-size dehumidifier is going to get. We loved the little extra details too, like the hidden handle that pops up from the control panel and the handy cord tidy which keeps the two-metre-long cable in check when the unit is not in use.
The Arete One is pretty quiet (we regularly forgot it was there, whirring softly away in the background) and there's a night mode that turns the fan to low, kills the lights, and stops the buttons from bleeping, meaning it didn't interrupt our snoozing at all.
It's designed to extract moisture from space as big as 42m² (meaning it has whole flats and smaller houses pretty much covered) and can take care of a sizable load of washing pretty quickly, thanks to its laundry mode. Its premium functionality and mid-tier price make it a real standout model.
See our full MeacoDry Arete One 10L dehumidifier review
The best dehumidifier for damp areas
Image 1 of 2
3. Probreeze 20L Dehumidifier
Best for particularly damp areas
Specifications
RRP: £249.99
Tank capacity: 5.5 litres
Maximum extraction per day: 20 litres
Modes: Normal, low power, high power, laundry
Reasons to buy
+
Large capacity means this is ideal for bigger homes or for open-plan living
+
Impressive daily extraction potential collects a huge amount of water
+
The 24-hour timer allows you to programme the machine how you like it over the course of the day and night
+
The child lock safety feature is great if you have junior family members
Reasons to avoid
-
The trade-off for such a powerful machine is that it does feel a touch imposing
-
Similarly, it's not very easy to carry so wouldn't suit anyone with mobility issues
This compressor is the bulkiest model we tested – both in terms of size and weight. While it was tricky for us to lift up a set of stairs, it does have a fold-out handle and wheels on the bottom, so moving it from room to room was a piece of cake. the generous cord length also helped up its convenience.
Again, there are quite a lot of modes and customizable settings, which is great for efficiency and versatility, but means reading those instructions is a must.
Able to extract 20 litres of moisture a day from the air (the most of any model we tested), this generous appliance has a really decent talk capacity (5.5 litres) but can also be fitted with a hose. The tank simply slides out from the back of the unit and has a useful flip-up handle – this made it easy to carry to the slink without spillages, despite its size.
There's an inbuilt sensor that allows you to set your desired air humidity and save on energy (the machine will kick in only when needed to maintain it), a 24-hour timer function, laundry mode, and – our favourite feature of all – a child lock.
Our 18-month-old is very into buttons right now and was getting heavily involved with all the dehumidifiers we tested. This model, though, protected against those chubby, ever-fiddling fingers: by holding the button down for three seconds we could lock and unlock the control panel easily.
The best dehumidifier for flats
4. Wood's 10M2 Dehumidifier MRD10
The best dehumidifier for flats
Specifications
RRP: £249
Tank capacity: 2 litres
Maximum extraction per day: 10 litres
Modes: Automatic
Reasons to buy
+
Sturdy and feels like it's made to last
+
Efficient and powerful, drawing in a lot of moisture over a short time period
+
Emits low-level warm air which helped dry our laundry quicker than usual
Reasons to avoid
-
Slightly heavy to move around the home
The Woods model comes in a few different sizes, with this one of the more petite in its range. Despite its stature, it's one of the more powerful machines we tested, and because of its size, it's not too bulky to become cumbersome. In fact, we found this really easy to move around thanks to its in-built carry handle (although it doesn't have wheels as some other models do, so this might suit homes with more carpet than solid floors, where you might prefer wheels).
With just a handful of touch buttons, the interface is straightforward to use, allowing for quick programming and slick switching between functions when needed. You simply set the humidity to your preferred level and make use of the timer if you like, and away you go.
It emits a low hum, but nothing that would disturb you during the day. Come the evening there isn't a night mode which means you'll be falling asleep to the light buzzing of an electronic device which we could personally do without (much preferring to switch its running time to daylight hours only).
The best dehumidifier for drying laundry
Image 1 of 2
5. EcoAir Desiccant 8L Dehumidifier DD128
Best for drying laundry
Specifications
RRP: £289.98
Tank capacity: 2.2 litres
Maximum extraction per day: 8 litres
Modes: 3 drying modes, 2 laundry modes
Reasons to buy
+
The really efficient laundry mode helped us to dry clothes and linen in an impressively quick time frame
+
There's a timer function which is great for busy households
+
The handle makes it easy to carry from room to room
+
There is also an energy saving mode which can help to keep costs down
Reasons to avoid
-
This isn't one of the quietest models we tested, so be prepared for a bit of noise
This is a versatile desiccant dehumidifier – while great for colder spaces, it's also efficient in the home. We found it to be pretty powerful too, collecting moisture much more quickly than some other models, and the cord was long enough that it could reach a socket from all the places we needed to position it.
The laundry mode was especially effective: as well as capturing the moisture it also blew out warm air, meaning our load of washing was dry in a matter of hours as opposed to days. The timer function meant we didn't have to leave it running all night to get those clothes dry either – it can be set to power down in two, four, or eight hours.
There's a decent 2.2-litre tank on this model, which is easily removable from the side of the unit for emptying and even has a built-in handle for ease. But also, if you want to leave it for long periods of time, it also comes with a handy hose for continuous drainage.
It's not the most intuitive to use, although that's to be expected with a model that offers lots of different settings – we got the hang of it after going over the instructions a couple of times.
The fan is quite loud on all but the economy setting (which is designed for maintaining air quality once optimal dryness has been reached), meaning we felt this wasn't one for the living room. But there's no denying it's a real workhorse and has serious speed and power. Plus, it has an anti-bacterial filter and Ioniser to purify the air.
The best dehumidifier for small spaces
6. Vonhaus 12L dehumidifier
The best dehumidifier for small spaces
Specifications
RRP: £139.99
Tank capacity: 2 litres
Maximum extraction per day: 12 litres
Modes: Auto, continuous, sleep
Reasons to buy
+
Ideal size for smaller homes thanks to its neat size
+
Automatically switches off when the water tank fills up, so gives you peace of mind to run it while busy with other things
+
It's lightweight and has wheels for easy maneuverability
+
The child lock feature makes this ideal for family life
Reasons to avoid
-
The tank can fill up fast, and right to the top, meaning you have to be careful when emptying it
-
You can't turn the machine off once the water tank is full, so you have to empty it before being able to use any of the other controls
The perfect mid-size dehumidifier, this model was compact enough to easily stow away after use but large enough to tackle a good surface area if localised - like a single room or cupboard, for instance. Aesthetically speaking it's fairly unremarkable and in line with most other similar machines as a small white box with a touch screen panel on the top. The monitor tells you current humidity levels as soon as it's switched on, and you can set a desired outcome too, to help you keep your home at your ideal specification.
Because we tested this in a very damp, under-the-stairs cupboard, the machine's automatic cut-off feature was really useful. It meant we could leave the machine running while we were out, to capture as much water as possible, without having to worry about overflow. In fact, in just a couple of hours, it had filled and switched off.
To avoid this, if you want to run it for longer, you can attach the continuous cycle hose, which allows you to have the water go straight into a sink, drain or larger receptacle. One thing to note is that despite the tank at the back being easy to remove and reattach, we found that it got really full before it switched off. Because of it its tall, narrow design it was easy to spill water out of when moving it to a sink to be emptied. This wasn't a huge issue, but we did slosh water over our carpet a couple of times while getting used to it.
As with most dehumidifiers, this was a bit noisy. Not so much that it would disturb you during the day, but you might not want it on at night (even with the night mode, in our opinion). While it's running you can also hear the water being collected, which we oddly found quite satisfying.
The best compact dehumidifier
Image 1 of 2
7. Russell Hobbs Fresh Air Pro Compact 2-in-1 Dehumidifier and Air Purifier
Best compact dehumidifier
Specifications
RRP: £99.99
Tank capacity: 1 litre
Maximum extraction per day: 750ml
Modes: 3 speed settings
Reasons to buy
+
Stylish appearance to have on show and ideal for modern homes
+
Lightweight to manoeuvre, so really easy to move around if you intend on using it in a few different spaces
+
Compact in size, so not imposing if used in living areas
+
Purifies as well as dehumidifies for cleaner air too
Reasons to avoid
-
Limited capacity so requires emptying often in more damp areas
-
Not ideal for large rooms as it doesn't have the power to cover a large square meterage
This stylish dehumidifier is one of the least imposing models we tested. It's sleek and contemporary, not to mention small so blended into the background easily in whichever room we were using it. Its compact size means that it's easy to transport too, and while that limits the capacity of the water tank, which slots in smoothly at the front, we think it's a reasonable pay-off.
Really easy to use, and its control panel is kept simple with three fan speeds – we'd barely glanced at the instructions before it was happily whirring away. As you'd imagine, the more powerful settings are noisier, but the lowest is still efficient and plenty quiet enough to have running in living spaces.
We found it worked well in the small and medium-sized rooms of our house where there was general winter dampness, although the cable struggled to reach some higher sockets in our kitchen – it is modest, though not disastrous, at 1.5 metres long. If you have larger rooms, a more severe damp issue, or masses of laundry to get dry, you might need something just a little heftier.
The best quiet dehumidifier
Image 1 of 2
8. De'Longhi DEX212F Tasciugo AriaDry Multi Dehumidifier
Best quiet dehumidifier
Specifications
RRP : £254.99
Tank capacity: 2.1 litres
Maximum extraction per day: 12 litres
Modes : 3 settings for environment humidity level, plus laundry function
Reasons to buy
+
This machine is very quiet, so it's ideal for bedrooms
+
The setup and usage is extremely intuitive, so ideal for households with less tech knowledge
+
Can filter dust and allergens too, making it a great multi-tasker

Reasons to avoid
-
On the heavy side, difficult to move around as a result
-
It has a shorter cable than other full-size models (1.5 metres) which means you'll need a plug near to where you want to use it
This was the quietest model on test – it didn't even bother us when it was in the bedroom at night or running in the living room when we were watching TV. And thanks to its simple, smart design, it didn't look out of place in either room. The 2.1-litre tank is really easy to remove and carry for emptying – the water is completely contained which prevents spillage.
Navigating the control panel is straightforward – there's one laundry mode and three dehumidifying settings that allow you to choose your optimum humidity level for the air. Once your chosen level has been reached, the machine will stand down until it's needed again.
There's frost protection functionality here too, making it safe to use in colder environments, which was handy when we had no heating on during a particularly bitingly cold day.
It's not all about controlling humidity though: hygiene is another of its concerns, and it has filters for dust and allergens as well as the capacity to neutralize undesirable bacteria to