Should you buy a dehumidifier in the Cyber Monday sales? I will be, and here's why
Why you should buy a dehumidifier in the Cyber Monday sales and the model woman&home editors are snapping up for their own homes while stocks last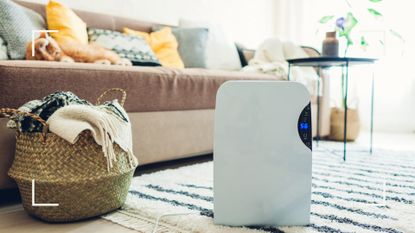 (Image credit: Getty Images | Mary Violet)
woman&home newsletter
Sign up to our free daily email for the latest royal and entertainment news, interesting opinion, expert advice on styling and beauty trends, and no-nonsense guides to the health and wellness questions you want answered.
Thank you for signing up to . You will receive a verification email shortly.
There was a problem. Please refresh the page and try again.
Now is the perfect time of the year to buy a device that removes moisture from our homes, so getting a cheap dehumidifier in the Cyber Monday sales today is a no-brainer.
Dehumidifiers are the easiest way to eradicate excess moisture in the air, so if you have a problem with dampness or condensation in your house, this handy home device is a must-have.
With the cost of living crisis (opens in new tab) and high energy prices making many of us think twice before turning the heating on this year, our homes could become more susceptible to damp. This is because while we can put an extra jumper on to keep warm without putting the heating on, our homes still feel the effects of the cold. This is made worse by wet weather or activities like using the hob or drying clothes indoors, which can increase the amount of moisture in the air.
Why should you buy a dehumidifier?
Condensation is a real issue at this time of year, and if condensation isn't dealt with, the excess moisture can lead to bigger problems such as mould and mildew. Buying a dehumidifier can help tackle this issue.
"Dehumidifiers reduce the level of humidity by sucking in air from the room, removing the moisture, and then blowing the warm, dry air back out into the room again," explains Chris Michael, Managing Director of Meaco (opens in new tab), the UK's leading air purification specialist. "This can help to remove the 'damp chill' factor in the air, so the central heating could run at a lower temperature or even be switched off."
Another reason to buy a humidifier is that they are far more cost efficient to run than the cost of turning your heating on. So if you're putting off making your home cosy and warm for as long as possible this winter, then the dehumidifier will help keep the damp at bay.
"Dehumidifiers can cost as little as 8p per hour to run*," explains Chris. "Look for dehumidifiers that have a dedicated laundry mode where the machine run up to six hours before switching itself off to save energy.
"Investing in an energy-efficient dehumidifier over other similar products on the market can save homeowners up to £150**."
*A dehumidifier that can extract up to 12 litres a day, with a wattage of 157w (0.157 kWh) would cost just over 8p an hour based on the October 2022 price of 52p per kWh per hour. A dehumidifier that can extract up to 20 litres a day, with a wattage of 480w would use 0.48 kWh, meaning that an hour's usage would cost just under 25p.
**Research from Meaco in April 2022 after the spring price rate rise found that the Meaco Arete One 20L was £143 a year cheaper to run than its worst-performing competitor, based on six hours of use per day over 365 days.
Why buy a dehumidifier today in the Cyber Monday sales?
We already know the benefits of buying a dehumidifier, but you could save even more money by purchasing this winter-essential while it's on offer. Dehumidifiers are popular products in the UK this year for the reasons already stated, so they're selling out fast. Snapping one up while it's in stock and on offer in the Cyber Monday sales would be wise, before stock gets any lower and prices return to the usual RRP next month.
We've rounded up the best Black Friday dehumidifier deals, but there are also some impressive Cyber Monday discounts on dehumidifiers this week, too. The best discounts we've unearthed today include 25% off at Amazon on the Pro Breeze Portable Air Dehumidifier (opens in new tab) to make it just £49.74; a massive £70 off a Blyss 16L model at B&Q (opens in new tab) and a favorable £37 off the Argo Dry Pury Dehumidifier at Wayfair (opens in new tab).
The very one I've just bought in the Cyber Monday sale is just £9.74 at Robert Dyas (opens in new tab)!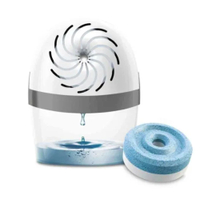 (opens in new tab)
UniBond Aero 360 Pure Moisture Absorber Dehumidifier: £12.99 £9.74 | Robert Dyas (opens in new tab)
Not all dehumidifiers are expensive either, I've just bought this mini design that requires no electricity at all – zero running costs. Because my main damp issue is not having sufficient ventilation in my bathroom ( no fan, just a window to let the steam out) this model is ideal because it doesn't require any electricity. A £3.25 saving was enough to convince me to finally buy something that my home will hugely benefit from.
The best Cyber Monday dehumidifier deals available today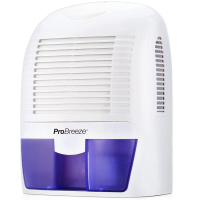 (opens in new tab)
Pro Breeze Dehumidifier 1500ml Portable Air Dehumidifier: £64.99 £49.74 | Amazon (opens in new tab)
A great all-rounder at the cheaper end of the budget. With 23% off this model is ideal as a cost-effective way to tackle damp mold, and excess moisture in kitchens, bathrooms, bedrooms, garages, and basements.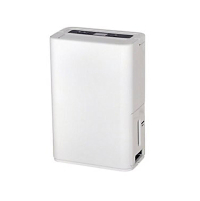 (opens in new tab)
Blyss 16L Dehumidifier: £170 £100 | B&Q (opens in new tab)
There's a huge £70 price reduction on this leading dehumidifier during the Cyber Monday sales. The generous model comes complete with a reusable air filter to ensure longevity.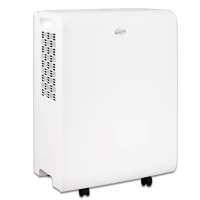 (opens in new tab)
Argo Dry Pure Dehumidifier: £264.99 £227.99 | Wayfair (opens in new tab)
For those who need a more substantial option, there's currently a £37 saving on the Dry Pury 11 are is the perfect dehumidifier for rooms up to 16 meters squared. With a dual function and high performance it dehumidifies and purifies the air in the room with additional filters: catechin, silver ions, anti-bacterial filter.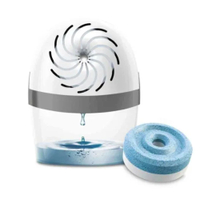 (opens in new tab)
UniBond Aero 360 Pure Moisture Absorber Dehumidifier: £12.99 £9.74 | Robert Dyas (opens in new tab)
Our Homes Editor's pick of the Cyber Monday dehumidifier deals this week, Tamara has bought one of these for her own home and the rest of the team is following suit.
Tamara is a highly experienced homes and interiors journalist, with a career spanning 19 years. Now the Lifestyle Editor of womanandhome.com, she has spent the last 16 years working with the style teams at Country Homes & Interiors and Ideal Home, and it's with these award-winning interiors teams that she gained a wealth of knowledge and honed her skills and passion for shopping, styling and writing about every aspect of lifestyle and interiors.
With a keen eye for the latest interior trends, there's not a lot she doesn't know about home decor – whether it's what colour we should be painting our living rooms next season, or if the latest 'must-have' buys are actually worth investing in.
A true homes and interiors expert, Tamara has served as an ambassador for leading interior brands on multiple occasions, including appearing on Matalan's The Show and presenting at top interiors trend events such as the Autumn Fair and Spring Fair.