How to clean a dehumidifier in 5 easy steps
Using a dehumidifier is the most effective solution for removing excess moisture from the air, but regular cleaning is a must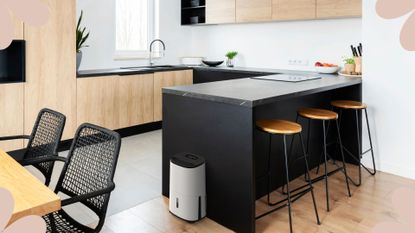 (Image credit: Meaco)
woman&home newsletter
Sign up to our free daily email for the latest royal and entertainment news, interesting opinion, expert advice on styling and beauty trends, and no-nonsense guides to the health and wellness questions you want answered.
Thank you for signing up to . You will receive a verification email shortly.
There was a problem. Please refresh the page and try again.
Knowing how to clean your dehumidifier effectively not only ensures it will always run to maximum efficiency but will also prolong the life of this invaluable household device.
Using a dehumidifier is the most effective solution for removing excess moisture from the air, preventing condensation on windows, and making your home feel warmer and more comfortable. Unless of course, your dehumidifier is dirty and therefore not removing moisture from humid air as efficiently as it should be.
This is why knowing how to clean a dehumidifier is vital to keep it working effectively for combating dampness and possibly even mold.
So how do you clean a dehumidifier? We've asked experts in the world of air purity for the best approach to cleaning your device to keep it in tip-top condition.
How to clean a dehumidifier
As with the best air purifiers, the key to maintaining a proper level of humidity in your home comes down to having a clean and fully functioning appliance.
There are several different parts to concentrate on and be aware of, including the filter, which needs to be cleaned regularly.
"The air filter is crucial in protecting the parts inside the dehumidifier and cleaning the dry air in the room. If the air filter is dirty or covered in dust, the dehumidifier will not do its job as the air will not be able to pass through," explains Chris Michael, managing director at Meaco (opens in new tab).
"There are several common problems that can arise from a filthy air filter: the unit will not be able to collect water, the unit will continue to work but reduce the humidity level insufficiently/there will be little water in the tank, or it can even result in a noisy dehumidifier."
To answer the question of how to clean a dehumidifier correctly you'll need the following tools, depending on your device:
Warm soapy water
A clean microfibre cloth
A vacuum cleaner (optional)
A small soft brush such as a toothbrush (optional)
White wine vinegar (optional)
A screwdriver if screws need to be removed with casing
1. Unplug the appliance
As with any electrical appliance, for safety reasons, it is vital to switch off and unplug the machine from the electricity supply before attempting any element of cleaning especially here where water is such a major component.
2. Empty and clean the water reservoir
Unless you're collecting and pumping water from a dehumidifier hose directly into a drain, the reservoir will need to be emptied regularly.
Every dehumidifier has a removable container that collects moisture from contracted air. This should be emptied every day. Although this can vary depending on the relative humidity levels in the space.
When cleaning a dehumidifier, empty the cartridge and submerge it in warm soapy water to remove any build-up of limescale or bacteria from polluted air particles.
Ivan Ivanov of End of Tenancy Cleaning (opens in new tab) explains."Use a microfibre cloth with a little dish soap to wipe down the interior of the reservoir. This way, any potential mold build-up will be removed, meaning the dehumidifier is healthier and also works more efficiently."
3. Clean the dehumidifier filter
Knowing how to clean a dehumidifier filter varies by model and manufacturer but essentially the goal is to remove dust and debris from all components to ensure air runs through freely. Clogging and blockages within the filter will hinder the process.
"To clean the air filter, carefully vacuum it, or if the suction is too strong, you can also use a damp cloth and warm soapy water, to gently wipe the dirt away," suggests Chris. "The water should be no hotter than 40°C. Once all the dust has been rinsed off, simply dry the dehumidifier filter with a tea towel before placing it back in the dehumidifier."
"If the filter is very fine, use a clean leftover toothbrush! The small bristles work perfectly for getting into those tough-to-reach spots," adds Ivan.
"Please note that if the dehumidifier has dual use as an air purifier it is likely to have a HEPA filter," warns Chris. "These filters are made up of a very delicate fine mesh of fibers that capture organic matter such as mold spores and other allergens. Manual cleaning is not recommended. A HEPA filter should be thrown away and replaced every six months."
To access the filter you may need to remove the outer casing of the machine first while others slide out of the back of the unit. Always consult your user manual if you are unsure.
4. Inspect the dehumidifier coils
A dehumidifier works by sucking air currents into coils via a fan. The warm air shrinks as it feeds through the chilled coils of the machine, and water molecules are squeezed out and collected in a compartment inside the machine.
If the coils aren't kept clean and dust-free the build-up that accumulates on the surface will make the coils work harder to either absorb or release heat, resulting in less efficient operation.
To clean the coils of a dehumidifier, vacuum the outer tubes or carefully brush away any dust and debris with a clean, dry brush.
On the topic of cleaning coils, Chris advises against consumers opening up a mains-operated appliance and points out it is illegal for non-FGas registered people to work on a refrigerant-based product according to government guidelines (opens in new tab).
5. Finish by wiping down the dehumidifier casing
Once the inner components are clean, dry, and have been replaced, refit the outer casing of the dehumidifier. Then, use a damp, clean microfibre cloth to wipe down all surfaces, paying special attention to the suction pump.
Explaining why it's important to give the exterior a final wipe down Ivan explains: "The dehumidifier actively sucks in air, meaning all of the dust and dirt that's in the air follows suit. Sometimes, the dust doesn't make it all of the way through to the filter, settling on the exterior of the dehumidifier instead."
Once this is done allow the unit to completely dry, before plugging the appliance back into the mains to start using it once again.
Top tip: "If the dehumidifier is not going to be used for a period of time make sure to keep the device stored in a dust-free area away from direct sunlight, ideally covered in a sheet of plastic," says Chris. This ensures your newly cleaned machine stays in perfect working order, dust-free for when you need it next.
Do dehumidifiers need to be cleaned?
The short answer is yes. To keep a dehumidifier running to peak performance it will require regular upkeep and occasional deep cleaning, using the routine above, to continually improve the air quality of your home most efficiently.
Particularly the filter. "The air filter is a driving force behind the dehumidifier, with the bucket collecting water, the air filter is pivotal in extracting dust and other large particles from the air in your home. If the air filter is not properly cleaned it can result in the dehumidifier stopping functioning," explains Chris.
But, just like the big question of how often should you clean your house, the time between cleaning this invaluable home appliance depends on how often you use it. If your dehumidifier is in optimum use, add it to the fortnightly deep-clean list that also reminds you to clean your dishwasher, clean your washing machine, and clean your oven.
Can I clean a dehumidifier with vinegar?
If you are looking for natural options for how to clean a dehumidifier, a blend of water and white vinegar can be used instead of soapy water.
"White wine vinegar is a godsend when it comes to cleaning. A weak form of acetic acid, it is effective at killing mold bacteria and germs" says professional cleaner Lynsey Crombie (opens in new tab), TV's Queen of Clean.
Explaining how to try a method of cleaning with vinegar Lynsey explains: "Mix 120ml / half a cup of white wine vinegar and 50g/ 1 quarter cup of bicarbonate of soda with 2 liters / 8 cups of water. Mix until fully dissolved. Decant into a labeled spray bottle and use it to clean with ease."
This solution can be used to remove mold, bacteria, and dust debris from the outer casing of the dehumidifier as well as the filter, coils, and water collector.
How do I clean the dust out of my dehumidifier?
Gently vacuum off the top layer of dust from the outer casing of the dehumidifier. Then, use a soft-bristled brush or microfibre cloth to wipe down the unit. To remove dust from inner components follow the numbered steps above.
How often should I clean a dehumidifier?
"Household dehumidifiers typically come with a life-long filter which should not have to be replaced, except for reasons of wear and tear," explains Chris. "With regular use, the filter will collect dust and dirt particles, meaning that it must be cleaned every two weeks, at minimum. Not doing so could invalidate the dehumidifier's warranty."
However, this depends on how much the appliance is used. If your dehumidifier is in constant use we recommend emptying the tank daily and cleaning the filter weekly.
The difference between an electric dehumidifier and a non-electric dehumidifier is price point and performance. Put simply you get what you pay for and investing more money in an electric dehumidifier means your air humidity will remain less for longer. But of course, factoring in how much it costs to run a dehumidifier may influence which model you choose.
Rachel Homer has been in the interiors publishing industry for over 15 years. Starting as a Style Assistant on Inspirations Magazine, she has since worked for some of the UK's leading interiors magazines and websites. After starting a family, she moved from being a content editor at Ideal Home to be a digital freelancer and hasn't looked back.