The most dazzling celebrity engagement rings and the stories behind them
From Kate Middleton's to Elizabeth Taylor's, these celebrity engagement rings really make a statement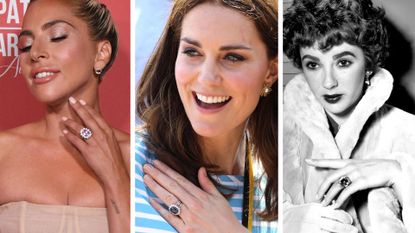 (Image credit: Getty Images)
woman&home newsletter
Sign up to our free daily email for the latest royal and entertainment news, interesting opinion, expert advice on styling and beauty trends, and no-nonsense guides to the health and wellness questions you want answered.
Thank you for signing up to Woman & Home. You will receive a verification email shortly.
There was a problem. Please refresh the page and try again.
There's just something about celebrity engagement rings that we can't get enough of - from shockingly gorgeous rocks to unique gemstones, many with epic pricetags.
But celebrity or not, engagement rings trends continue to fascinate the masses - and as years have gone on, designs have strayed from classic diamonds to much more unique looks. What has continued to be true for decades, though, is that no one does bling like the A-list.
One of the world's most famous engagement rings - an oval-cut 12-carat blue sapphire surrounded by 14 solitaire diamonds - currently belongs to Kate Middleton. Prince William presented Kate with the ring that once belonged to his mother, the late Princess Diana, when he proposed in 2010. It is now worth a reported $418,505 (£390,000).
But there are plenty more stunning options to look at, so without further ado, here are the best celebrity engagement rings.
20 of the best celebrity engagement rings
Kate Middleton's 12-Carat Blue Sapphire
As far as celebrity engagement rings go, Kate Middleton's engagement ring takes the cake for most widely loved and recognizable. Not only is this 12-carat blue sapphire surrounded by 14 diamonds and an 18-carat band - but it's also a family heirloom, once belonging to Prince William's mother, the late Princess Diana.
It is said that Princess Kate's ring cost King Charles around $418,505 (£390,000) when he had it made for Princess Diana, but the sapphire gem certainly holds much more monetary value now. This is also the most expensive ring currently owned by the Royal family.
The couple, who has been together for over a decade and now have three children, got engaged in Kenya while on holiday together in October 2010.
Lady Gaga's 7-Carat Pink Sapphire
Lady Gaga is, of course, an undeniable force of nature on the stage and screen, so it's only appropriate her engagement ring should match. This pink sapphire, given to Gaga by her ex-fiance Christian Carino when they were previously engaged, looks quite similar to that of Kate's or Princess Eugenie's (more on that one later) with the diamond-surrounded sapphire. Lady Gaga's however, is a magnificent pink hue, and reportedly cost Christian somewhere around $400,000 (£328,000).
After the couple allegedly got engaged privately in 2017, Christian and Gaga had a two year relationship until she called off their engagement in 2019, just after the release of her film, A Star is Born. According to Harper's Bazaar, she's currently dating entrepreneur Michael Polansky.
Jennifer Lopez's 8.5-Carat Natural Green Diamond
Although this isn't the first engagement ring for Jennifer Lopez, Ben Affleck certainly stunned the second time around with this green, emerald-cut diamond. The diamond was reportedly sourced by Ilan Portugali of Beverly Hills Diamonds and is estimated to have cost a whopping $5 million to $10 million (£4-8M).
As mentioned, however, this isn't Jennifer Lopez and Ben Affleck's first rodeo with getting engaged - Jen was previously engaged to Ben in 2002, when he gave her a pink, 6-carat diamond.
She also was previously engaged to Marc Anthony and Aaron Rodriguez for extended periods of time before reuniting again with Ben in 2022.
Meghan Markle's 3-Carat Diamond
With Meghan Markle's timeless and classic style, it's only appropriate that Prince Harry would get her a ring that reflects as such. Meghan's engagement ring stone, which is a cushion-cut 3-carat diamond, was said to be imported from Botswana, the country where the couple took their first vacation together. In a romantic act to propose, Harry popped the question to Meghan one night in the UK as they were making a roast chicken together.
The two diamonds that are next to the center stone are diamonds from Princess Diana's jewelry collection, making the ring quite a sentimental piece of jewelry for Meghan and Harry - one that comes in at about $150,000 (£122k).
Katy Perry's 2.5-Carat Pink Diamond/Ruby
Katy Perry's stunning, non-traditional wedding ring sparked major praise when she first revealed it on Instagram in 2019, although there is still a question mark as to whether the gem in the middle is a ruby or a pink diamond. Nevertheless, the pink gem perfectly reflects Katy's bubbly and fun personality, while the halo of diamonds around it forms what looks like a daisy (which just so happens to be the name of Katy Perry and Orlando Bloom's daughter.)
If the ring has a ruby at its center, then the ring is reportedly valued somewhere between $25,000 and $50,000 (£20-41k). However, if the stone in the middle is a pink diamond, it could cost up to $2 million (£1.6M).
Priyanka Chopra's 4-Carat Diamond
It's no wonder the Jonas wives all have dazzling engagement rings from their pop star husbands, but Priyanka's ring is certainly one to be desired. When Nick and Priyanka were set to get engaged, he allegedly closed down a Tiffany store so that he could have a private shopping experience. That's where he purchased Priyanka's 4-carat, cushion-cut diamond for an estimated $2 million (£1.6M).
The singer took Priyanka (who also has her own haircare line) to Crete for her birthday, and made sure to propose at midnight so that their engagement anniversary wouldn't overlap with her birthday.
Megan Fox's 18-Carat White Gold with Matching Diamond and Emerald Gems
The award for most talked about ring of 2022 goes to Megan Fox's engagement ring - the two-stone, emerald, and diamond bling given by her fiancé Machine Gun Kelly. The ring, which was specially made for Megan, has an emerald sourced from Colombia - and both an emerald and the diamond cut into the shape of a teardrop, according to Vogue.
The real kicker with this ring (and the detail that made the most headlines) is that Machine Gun Kelly designed the ring so that it hurts Megan when she takes it off. The bands in the ring, according to Kelly, are thorns - aka, the devil is literally in the details. The ring, which actually can be deconstructed into two separate rings (this is some complicated bling) is also estimated to have cost about $300,000 (£245k).
Sofia Vergara's 5-Carat Diamond
Sofia Vergara deserves a ring that's as sparkly as her personality - and that's certainly what she received. The cushion-cut diamond is said to be around 5-7 carats, making it truly impossible to miss - especially seeing as she wears it often. The ring, given to her by her husband Joe Manganiello, reportedly cost him around $500,000 (£409K).
When the couple got engaged in 2014, they were in a hotel room in Princeville, Hawaii, around Christmastime. Joe told Haute Living that he prepared a speech in Spanish to give her as the sun set over the water - the perfect setting it seems.
Amal Clooney's 7-Carat Diamond
If George Clooney's description of falling in love with Amal doesn't melt your heart, maybe Amal's emerald-cut diamond will. The 7-carat piece mimics every bit of glamour and elegance Amal possesses. With the center diamond and two tapered baguette diamond accents on either side, the ring is believed to have cost somewhere between $600,000 and $750,000 (£491-£614k).
In a truly cozy and romantic act, George popped the question to Amal in 2014 in their home while making a pasta dinner. He hid the ring in a drawer, which she found after he asked him to retrieve something from it.
Anne Hathaway's 6-Carat Diamond
Anne Hathaway's ring is classy and elegant, just like she is. The center diamond, which is an emerald cut, is reportedly a 6-carat stone, and has a classic solitaire setting. Anne's husband Adam Shulman is estimated to have paid around $150,000 (122k) - although he undoubtedly got a discount, seeing as he's a jewelry designer himself!
Although the details of Anne and Adam's engagement aren't widely known, we're sure he popped the question in a truly romantic way - Anne only deserves the best, after all.
Blake Lively's 12-Carat Pink Diamond
Blake Lively has been an "it" girl for years, from her early career days in Gossip Girl to the highly-anticipated It Ends With Us movie - so it was crucial that her husband, Ryan Reynolds, picked out a ring that captured Blake's essence perfectly. He settled on a rare, pink hued diamond, making the ring an extra special purchase, and although the details of their engagement remain private, we're sure it was as special as Blake.
The oval-cut pink diamond, which, according to Brides is 12-carats, is set on a band with other much smaller diamonds - and is estimated to have cost about $12 million (£9.8M). Serena Van Der Woodsen would certainly be pleased.
Salma Hayek's 5-Carat Diamond
Salma Hayek's beau, François-Henri Pinault, left no detail out when picking a ring for her - which perhaps was a good omen for their relationship, seeing as the two have been married since 2009. The 5-carat, center cut oval stone dazzles with trillion-shaped diamonds on either side of it, and allegedly cost her husband around $200,000 (£163k), making it a truly unmissable piece of jewelry.
Salma and François had a simple courthouse wedding, but she recently revealed that she had no clue she was heading to get married that day - her family dropped the news on her because she was scared of marriage.
"I didn't even know I was getting married that day," the Magic Mike's Last Dance star told Glamour. "It was like an intervention. I don't think I ever told this story. No, they just took me to the court. My parents, my brother, they were all ganging up on me. I had a phobia of the marriage thing."
Queen Elizabeth's 3-Carat Diamond
The Queen and Prince Philip's love story has always been talk of the town and as the picture of elegance and the Monarch of Britain, it was simply crucial that the Queen had a truly stunning and timeless ring, especially since her other jewelry items (see: Queen Elizabeth's tiara collection) were so precious. The center diamond, which was sourced from a tiara worn by Prince Phillip's mother, is 3 carats, surrounded by clusters of smaller diamonds, making the ring come out to about 10 carats altogether. The couple secretly got engaged in 1946.
Although of course the ring holds sentimental value, like many other rings possessed by Royal family members, this one also has monetary value, and was estimated to have cost $227,500 (£185k) at the time of purchase.
Princess Eugenie's 4-Carat Padpardscha Sapphire
Princess Eugenie certainly took a page from Princess Diana's book with her engagement ring - but, in true Eugenie fashion, put her own elegant twist on it, opting for a "Lotus Blossom" ring. The pink center stone is called the Padparadscha sapphire, and experts have estimated that it's about 5-carats. Akin to Kate and Diana's ring, this one is also surrounded by round-cut diamonds, but is set in a yellow gold band.
According to the Adventurine, a rare Padparadscha sapphire can cost about $10,000-$50,000 (£8k-40k) at an auction - and seeing as Princess Eugenie's ring is around 5 carats, this ring could cost anywhere between $50,000-$250,000 (£40k-204k).
In a highly romantic gesture, Jack proposed to Eugenie while on holiday in 2018 - in front of a volcano as the sun was setting in Nicaragua, no less.
Kate Hudson's 6-8-Carat Diamond
Kate Hudson, who recently starred in Netflix's hit comedy Glass Onion, has a sparkling charisma about her on and off the screen, so it's no wonder her ring emanates the same energy. Her engagement ring, given to her by Danny Fujikawa in 2021, is a rectangular, cushion-cut diamond, reportedly weighing in somewhere between six and eight carats.
Danny, who according to experts paid somewhere around $200,000 (£163k) for the ring, had been dating Kate for five years before he proposed in 2021. They also have a daughter named Rani Rose, who was born in 2018 - and they have a blended family with his kids from a previous marriage.
Elizabeth Taylor and her many, many rings
Legendary actress Elizabeth Taylor was certainly a busy woman in Hollywood on and off the screen. Aside from her many successful movies, she also had quite the handful of engagements - 10 to be exact. Of those 10 engagements, she was married eight times - and some of her rings were said to have been over 30-carats and have garnered asking prices at auctions of over $1 million (£818k).
Her unique rings included blue sapphires and emerald cut diamonds, but her reported 33.19-carat diamond from ex-husband Richard Burton certainly took the cake as her most memorable ring to date. This one had an Asscher cut diamond, which is now known as the Elizabeth Taylor diamond, and sold for $8.8 million (£7.2M) at auction.
Scarlett Johansson's 11-Carat Diamond
Scarlett Johansson and Colin Jost have become something of an "it" couple since their engagement in 2019. The ring, is quite an unusual design with its oval-shaped, yellowish-brown diamond (which happens o be 11 carats) and black, thin band.
This is Scarlett's third engagement (she was previously engaged to Ryan Reynolds and Romain Dauriac), so we hope this ring from Colin is the ring of her dreams. The one-of-a-kind ring reportedly cost Colin around $400,000 (£327k).
Victoria Beckham's *14* engagement rings
Posh Spice certainly is living up to her title - Victoria Beckham's husband of 23 years has bought her a total of 14 different engagement rings over the years. Originally, David initially popped the question with a marquise-cut diamond, which was reportedly worth about $85,000 (£69k).
After a few more years, Victoria debuted a huge (and we mean huge) emerald stone surrounded by smaller diamonds, and later, she debuted another similarly huge ruby rock, and after that ring came a magnificent sapphire. She's had other various diamonds, such as a light pink diamond, a yellow diamond, and other more traditional stones. She's pretty much circled through the primary colors and cuts of popular engagement rings! All in all, the cost of her 14 engagement rings totals about $11.7 million (£9.5M). Posh Spice, indeed.
Sign up to our free daily email for the latest royal and entertainment news, interesting opinion, expert advice on styling and beauty trends, and no-nonsense guides to the health and wellness questions you want answered.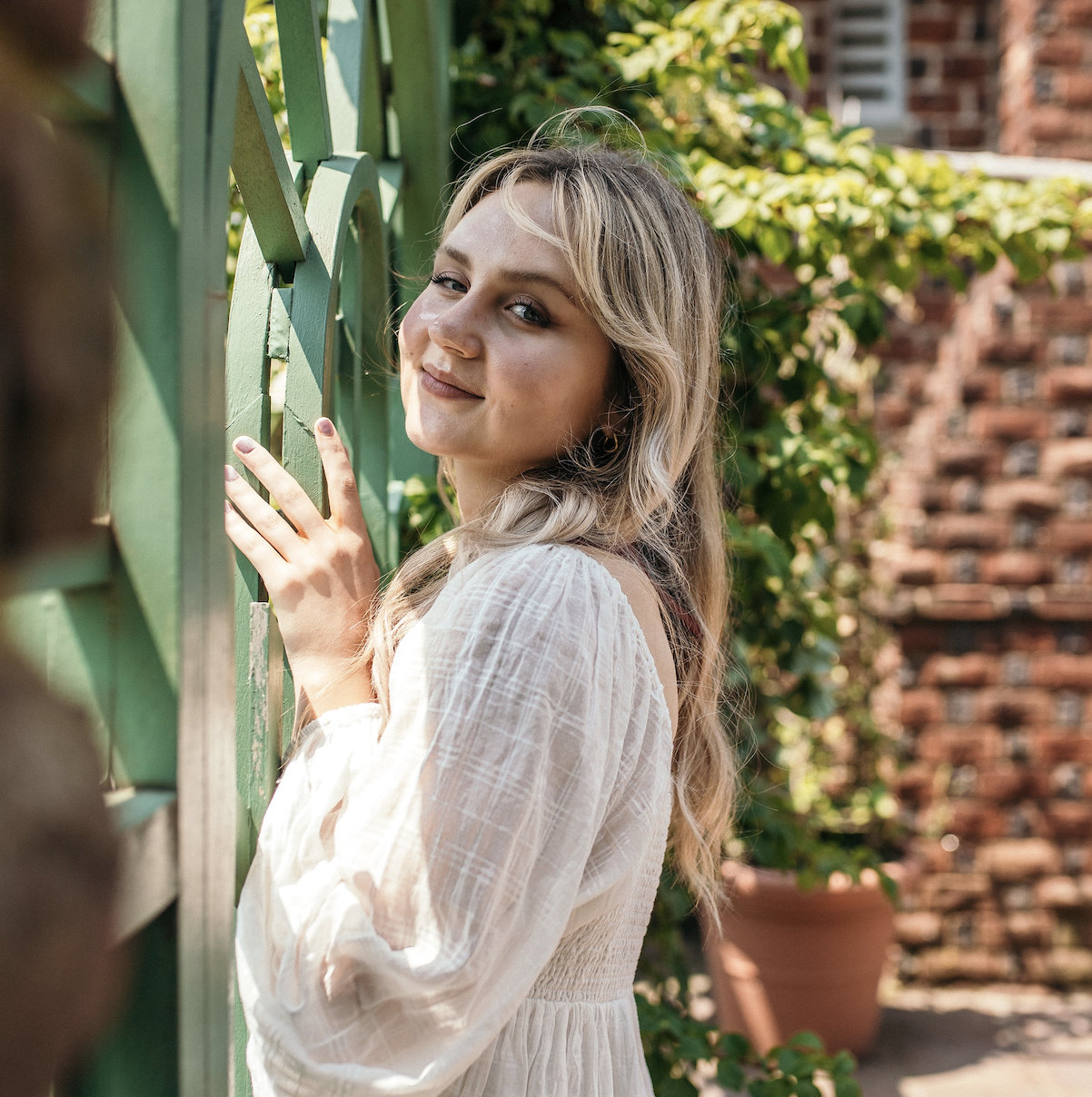 Madeline Merinuk is woman&home's US lifestyle news writer, covering celebrity, entertainment, fashion, and beauty news.

She graduated in 2021 with a B.A. in Journalism from Hofstra University, winning multiple student journalism awards, including a National Hearst Award, during her time there. After graduating, she worked at today.com, the digital site for the Today Show, where she wrote pop culture news and interviewed big-name personalities like Emily Ratajkowski, Haley Lu Richardson, Emma Corrin, and more.
Her personal interests, in no particular order, are: cheese, Joni Mitchell, reading, hot yoga, traveling, having multiple chapsticks in every handbag at all times, and dancing to ABBA songs as if she were in the Mamma Mia movies.