Everything you need to know about the It Ends With Us movie drama, from casting to the coloring book
Colleen Hoover is under scrutiny - see what people are saying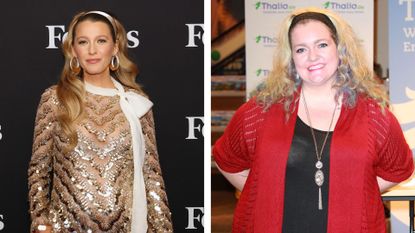 (Image credit: Alamy / Getty Images)
One of the world's most popular authors, Colleen Hoover, is making a movie out of her bestselling novel, It Ends With Us, starring Blake Lively - but there's already some controversy surrounding the project.
There's much to discuss in the Colleen Hoover-verse. The author, whose books have been a mainstay on #BookTok, has been a name that comes up in conversation for readers of all ages. Most devour her books within a day or two, and her books will likely show up in any book club you'll join. Needless to say, the writer has pop culture lasting power.
And don't take it from us. One of her most popular novels, It Ends With Us, sold over a million copies in 2019 alone - and is now being made into a movie.
Colleen recently announced that Blake Lively has been cast as protagonist Lily Bloom in the It Ends With Us movie and Justin Baldoni as Ryle Kincaid, Lily's romantic partner who ends up domestically abusing her. You may recognize Justin from Jane the Virgin.
In true internet fashion, this casting news has caused some serious concern among Colleen's fans and beyond. Read below for everything we know about the movie and the controversy that surrounds it.
Before there was a movie, we almost had a coloring book
After seeing It Ends With Us continue to flee off bookshelves on a global scale, Colleen decided to take the IEWU franchise further. In January 2023, she announced that she would be releasing an It Ends With Us coloring book to accompany the novel - which was met with backlash from fans and onlookers alike because of the themes of the original novel.
"Colleen Hoover creating a coloring book for a novel that's supposedly about DV and SA is just profiting off of the subjects DV and SA. At this point it's about money for her and I feel like we should absolutely 100% boycott her and stop buying from her and supporting her," the tweet says.
In response to the controversy, Atria Books, the publisher that was set to release the coloring book, and Colleen announced that they were pulling the project, and Colleen apologized for the 'tone deaf' nature of it.
Who's involved in the It Ends With Us movie?
As previously mentioned, the movie will star Blake as Lily Bloom, and Justin Baldoni as Ryle. Justin is also set to direct the film.
"Our Lily is going to be played by Blake Lively. Blake Lively, y'all. She's my dream Lily," Colleen said in a video posted to her Instagram. In the video, she also gives a tour of her humble childhood home. When addressing Justin, she says, "When I first met Justin Baldoni, who is directing the film for It Ends With Us, I immediately wanted him to be Ryle."
Blake Lively also debuted a cryptic selfie of her sporting a new brunette hairdo shortly after Colleen made the announcement. Whether the two are related is anyone's guess.
What's all of the controversy with the It Ends With Us movie?
The book and Colleen in general are praised by her fans - as of January 28, It Ends With Us has held a spot as a New York Times (opens in new tab)bestseller for 90 weeks. Despite this, there are some people who find Colleen's novels, particularly this one, to be troubling in content.
In the past, Colleen has been accused of glorifying the abusive dynamic between Lily and Ryle.
In a glaring review of the book on GoodReads (opens in new tab), one user summarizes what It Ends With Us nay-sayers are agreeing upon. "It Ends With Us contains a lot of dark elements such as abuse, toxic relationships, and attempted rape," reads the review. "I understand this novel is based off the author's personal experience, but that doesn't mean it's any good nor am I obligated to like it," it continues. "There's absolutely no justification for abuse and why lily continues to stay is beyond my comprehension."
Hoover has acknowledged these controversies, however, telling Glamour (opens in new tab) in February 2022 that she doesn't expect everyone to like her writing. "I don't expect everyone to like my books, so if someone doesn't, it isn't my job to deal with them," she said. "That is their right, and I respect that. I put 100% of the focus into the people who do enjoy my books, and I do my very best to make those people happy."
As far as the movie goes, some fans aren't super thrilled that Blake signed on to a project that involves such controversial content.
Whether Blake intended to or not, she's become somewhat of an 'it' girl. On Gossip Girl, she played Serena - and she was often referred to as a golden girl, and continued to carry that archetype with her for the rest of her career. So folks were surprised to see that she's going to be involved in a project that's more controversial in nature like It Ends With Us. Not to mention there's a 12-year gap between Blake's age, 35, and Lily Bloom's age, 23.
"I love Blake but when I think about lily I don't see it being Blake," someone commented under Colleen's Instagram video that announced the casting for the movie.
Another tweet reads, "tbh love blake lively but casting her as lily for it ends with us is quite possible the worst casting that's ever been cast."
Needless to say, people are feeling iffy about Blake being cast as Lily.
i hate to be *that* person but blake lively as lily bloom from it ends with us is just not it.. this is why readers hate book to screen adaptations 😭 #itendswithusJanuary 27, 2023
See more
Where there is skepticism, there is also praise. Some fans are pretty excited about the casting, and have either looked beyond (or have simply not realized) that some fans were questioning the casting choices.
"BLAKE LIVELY AND JUSTIN BALDONI BEING LILY AND RYLE IN THE IT ENDS WITH US MOVIE IS EVERYTHING. IM SOOO EXCITED," one person tweeted.
Someone else tweeted that they found it 'hilarious' that Justin cast himself as Ryle, even after he was set to direct the film. "Justin Baldoni casting himself as the lead in the It Ends With Us movie that he's directing is hilarious to me," they said. According to Colleen's Instagram video though, it seems she had an equal share in the casting of Justin as Ryle - so whether Justin nominated himself to play the role or Colleen did is anyone's guess.
When is the It Ends With Us movie coming out?
So far, there's no predicted release date, since casting has only just been announced. However, since production is likely starting to assemble, we expect the movie could come out sometime within the next two years.
Madeline Merinuk is woman&home's US lifestyle news writer. She covers celebrity, entertainment, fashion, and beauty news but is also obsessed with internet trends - you can find her reciting trending TikTok sounds out loud at any given time.
After winning multiple student journalism awards for her investigative work, she graduated from Hofstra University in 2021 with a B.A. in Journalism. After graduating, she worked at today.com, the digital site for the Today Show, where she wrote pop culture news and interviewed big-name personalities like Emily Ratajkowski, Haley Lu Richardson, Emma Corrin, and more.
Her personal interests, in no particular order, are: cheese, Joni Mitchell, reading, hot yoga, traveling, having multiple chapsticks in every handbag at all times, and dancing to ABBA songs as if she were in the Mamma Mia movies.