Daniel Craig and Kate Hudson look very glamorous in first pictures from Knives Out sequel Glass Onion
Netflix just announced the release date and new cast photos for the new Knives Out sequel Glass Onion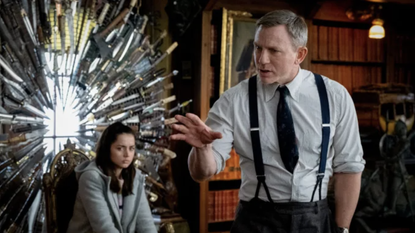 (Image credit: Lionsgate)
It's official: the much-anticipated Knives Out sequel, Glass Onion: A Knives Out Mystery, will premiere on Netflix right before the holidays, on December 23. It will also enjoy a theater run before that, although the streaming giant has yet to announce details about it.
Netflix made the date announcement earlier today, also dropping first-look photos of the production. In one shot, the stellar cast is seen sitting around a table looking glamorous and, in a second image, Rian Johnson is seen directing Janelle Monáe on set while wearing a mask.
Who stars in the Knives Out sequel Glass Onion?
Just as was the case in the original Knives Out, the sequel features an incredible cast, again directed by Rian, who actually earned a best original screenplay Oscar nomination for his work on the 2009 production.
Daniel Craig reprises his role as Southern private detective Benoit Blanc, this time investigating a mystery that is set in Greece and is unrelated to the one explored in the original iteration of the franchise.
---
The ensemble is rounded out by Edward Norton, Janelle, Leslie Odom Jr., Kathryn Hahn, Jessica Henwick, Madelyn Cline, Kate Hudson, Dave Bautista and Ethan Hawke. All likely playing suspects, the majority of the characters are seen in the first-look photos.
What is the Knives Out sequel Glass Onion about?
Not many details about the plot of the Knives Out sequel Glass Onion have been released. What we do know is that Edward stars as tech billionaire Miles Bron, who invites his close pals on a trip to his own private Greek island. Someone, of course, turns up dead, at which point detective Benoit steps in to figure out the mystery.
Rian Johnson's Glass Onion: A Knives Out Mystery is coming to select theaters on a date to be announced and globally on Netflix December 23! https://t.co/EdWQ53EOGT pic.twitter.com/TJ9l0IzlJ9August 22, 2022
See more
"You definitely get to know [Detective Benoit] a little bit better," says Rian in a new interview with Netflix's blog site Tudum (opens in new tab). "In the first one, because of the way it was structured, Marta, Ana de Armas' character, was very much the protagonist. In a big way, Blanc was the threat. He was almost the antagonist in terms of just the story structure, because you were worried, even as they got closer, that he was going to catch her and he was going to have to turn her over at the end. So Blanc was always outside of the sphere of our protagonist and was a little bit more of an enigma in the first movie. Whereas, in this one, Blanc gets an invitation to come to this murder mystery on this island. We're very much meeting these people and getting into this world through his eyes."
The director also went into detail about the sequel's title, explaining it is an homage to the eponymous 1968 song by the Beatles.
"I'm always fishing for something fun that Blanc can grab onto as an overwrought metaphor that he can beat to death," he said on the record. "This is all in plain sight from the very start. So, the idea of glass came to me, something that's clear. I'll be very honest. I literally got out my iPhone and searched my music library with the word 'glass.' There's got to be some good glass songs. I was like, 'Oh, is it a glass fortress? Is it a glass castle? Is it a glass man?' The first thing that came up, because I'm a huge Beatles fan, is 'Glass Onion.'"
Where can I watch the Knives Out sequel Glass Onion?
The Knives Out sequel Glass Onion will premiere on Netflix on December 23. Before that, it will be released in movie theaters around the country but Netflix has yet to announce a specific date for that.
Until then, you can catch up and rent Knives Out on Apple TV, Amazon Prime and Google Play.
Anna Rahmanan is a New York-based writer and editor who covers culture, entertainment, food, fashion and travel news. Anna's words have appeared on Time Out New York, the Huffington Post, Fortune, Forbes, Us Weekly, Bon Appetit and Brooklyn Magazine, among other outlets.