Best aromatherapy candles with powerful, aromatic scents to help you unwind
Made using essential oils, these are the best aromatherapy candles for a spa-like experience at home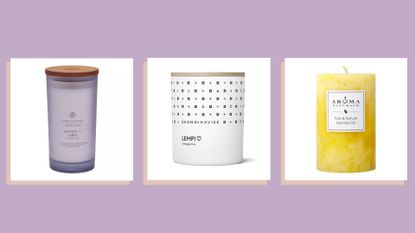 (Image credit: Future/various brands)
Investing in one of the best aromatherapy candles will fill your home with scents that will relax, uplift, and balance your mood. Whether you're craving a spa retreat but don't have the time, or are on the hunt for a fragrance to help you unwind after a long day, aromatherapy is a powerful tool.
Aromatherapy candles differ from regular scented candles as they are made using a blend of only wax and essential oils. The essential oils give the candle its fragrance, often making aromatherapy candles stronger—and for the most part—cleaner. These naturally-scented candles are safer to burn in closed spaces, as they aren't made using synthetic or artificial ingredients, so you can burn them with the assurance that they won't fill the air with toxins that your family or pets will breathe in.
Different scents bring out different emotions—you can find an aromatherapy candle to lull you to sleep, aid relaxation, or invigorate your senses and get you ready for the day. "Essential oils are made up of many chemicals—the combination of which can have a stimulating or balancing effect on the body and mind," Julia Oyeleye, Clinical Aromatherapist, teacher, and author of Aromatherapy for Mental Wellbeing, told us. "These chemicals—when inhaled—have a direct effect on the part of the brain that regulates our mood and emotions."
Of the aromatherapy candles we tried, our overall favorite has to be Skandinavisk's Lempi—which translates to love—candle, which has a gorgeously floral aroma. Next up is the Chesapeake Bay Serenity + Calm Scented Candle, which is great for relieving stress and anxiety with calming notes of lavender. The third pick on our list goes to Neom's Perfect Night's Sleep Scented Candle, and the clue is in the name that this candle can do a particular job well.
If you're a candle enthusiast who wants to pursue all the best candles on the market, head to our best scented candles edit for a thorough run-down. For those interesting in finding out more about aromatherapy, our guide to the best essential oils is packed with useful information.
How we chose the best aromatherapy candles
Why you can trust Woman & Home Our expert reviewers spend hours testing and comparing products and services so you can choose the best for you. Find out more about how we test.
We chose these candles, by rigorously testing them and analyzing reviews from genuine shoppers. We ignored all marketing spiel and armed with an understanding of how different aromatherapy scents can affect our mood and impact our sleep and stress levels, we set about testing.
All our choices are infused with high-quality essential oils, with their scent and ingredients major factors in what made our final edit. We've listed candles ranging in price from cheaper options to luxury buys.
The key considerations for choosing the best aromatherapy candles were:
How long and well the fragrance lasts—does the scent fill the room and linger after the candle was blown out?
Appearance—would the candle make an attractive feature in the home?
Key essential oils—is this candle best for relieving stress, sleep, or mood-boosting? And does it live up to its challenge?
Value for money—is the candle worth the price tag?
The best aromatherapy candles for home use
1. Skaninavisk Lempi Candle
Best overall aromatherapy candle
Specifications
RRP: From $20/£12.60
Burn time: 20 hours/50 hours
Weight: 65g/200g
Reasons to buy
+
Organic cotton wick
+
Eco-friendly
+
2 sizes
+
Great throw
Shopping for the best aromatherapy candle overall? Skanvinavisk's Lempi is our top favorite with a clean burn and a to-die-for sweet scent. It's even made using Swedish rapeseed wax. This is thanks to notes of peonies, roses, strawberries, and mosses. With a strong throw, this aromatherapy candle can easily flood a room, and we suggest lighting it in a bedroom, entryway, or in the main room of your house. To show off its scent—and looks—with pride.
With an organic cotton wick and an uplifting and inviting aroma, this candle is aptly named Lempi, which translates to love in Finnish. How nice! While this candle may not promote sleep or aid relaxation, it'll certainly bring out those happy hormones inside of you once you light it. Its smell truly is one-of-a-kind, so expect friends to ask what you are burning when they next come over. We suggest lighting this candle in spring or summer, as its floral scent bodes well with the fresh outdoors.
Poured inside a painted glass votive that's made of recyclable materials, this eco-friendly candle has a pure cotton wick and sports an FSC-certified beechwood lid. Lempi comes in two sizes with a burn time of either 20 hours or 50 hours.
2. Chesapeake Bay Serenity + Calm Scented Candle
Best aromatherapy candle for stress and anxiety
Specifications
RRP: From $27.99/£70.88
Burn time: 70 hours
Weight: 12.5oz
Reasons to buy
+
Large jar
+
100% recyclable jar
+
Self-trimming wick
+
Clean burn
+
Wooden lid for dust protection
With powerful notes of lavender and thyme, Chesapeake Bay's Serenity + Calm fragrance is perfect for aiding relaxation and helping you to unwind. It's made of a soy wax blend, and since it is our best aromatherapy candle for stress and anxiety, this candle is made using only the best natural essential oils.
There's rosemary, thyme, patchouli, camphor, and eucalyptus to give it a fresh, earthy smell. Orange and bergamot give it a secret citrus twinge, while cedarwood and fir needles add a woody, warm balance underneath everything else. Delivering an impressively clean burn, this aromatherapy candle is best for lighting before bed, in your bedroom, or in an entryway during the day to allow it to flood your rooms with its aroma—to bring a sense of calm to your entire home or apartment.
Poured in the USA into a purple frosted glass jar that is 100% recyclable, this candle has a lead-free wick that shines through the glass once lit. This wick is also self-trimming so you needn't worry about upkeep. Soft in design, this jar is especially large so as to make a statement at home. It even comes with a wooden lid to protect it from dust when unlit. This candle also comes in other sizes, including a medium jar and a coffee table jar. The large jar has a burn time of 70 hours.
3. Neom Perfect Night's Sleep Scented Candle (1 wick)
Best aromatherapy candle for sleep
Specifications
RRP: $36.50/£32
Burn time: 35 hours
Weight: 6.52oz/185g
Reasons to buy
+
Luxurious
+
Infused with 19 essential oils
+
Bestselling
Reasons to avoid
-
More expensive than other brands
The clue is in the name when it comes to this Neom candle. It's rated our best aromatherapy candle for sleeping, to be lit before bed or during those times when you are struggling to get some shuteye. Aptly named Perfect Night's Sleep, there are an impressive amount of 19 essential oils infused in this fragrance. This includes English lavender to promote calmness and wellness, jasmine to twist it into a floral scent, and basil to balance it out with something sweet. This 100% natural candle was formally called Tranquility, as that is the effect it has once it floods a room, while it's a classic scent and a bestselling one for Neom.
Hand-poured into a glass Neom vessel with their classic labeling, this candle will look the part in your bedroom—whether on a dresser or atop your nightstand. With one wick and a 35 hour burn time, you should get plenty of pre-snooze uses out of this fragrance.
4. Aroma Naturals Orange and Lemongrass Candle
Best aromatherapy candle on Amazon
Specifications
RRP: $26.18/£20.75
Burn time: Up to 70 hours
Weight: Up to 12.8oz
Highly rated by Amazon reviewers and for a very good reason, this citrus-scented candle from Aroma Naturals is powerful and made of paraffin wax. With notes of orange and lemongrass, it's refreshing, energetic, and uplifting, to lighten the mood at home in an instant. It's made using pure and natural essential oils and poured to surround an all-cotton metal-free wick. It's said to be allergy-friendly, too. Reviewers love it and say that it's the perfect balance between citrus and sweet, while it's never overpowering yet has an impressive throw.
Yellow in color and large in height, you will have to burn this candle on a plate, or inside a pillar candle holder, since it's not housed inside a glass. This is great if you are eco-conscious since after burning it there's essentially little to no waste. It comes in 8 size options, while the largest size has a slow burn time of 70 long hours. Each candle is handmade in the USA in Aroma Naturals' Southern California factory.
5. Mrs. Meyer's Basil Soy Candle
Best budget aromatherapy candle
Specifications
RRP: $7.99/£16.80
Burn time: 25 hours
Weight : 4.9oz
Reasons to buy
+
Recyclable packaging
+
Cruelty-free
+
Available in majority of grocery stores
+
2 sizes
+
Budget-friendly
If you are on a budget while searching for an aromatherapy candle, then this one from Mrs. Meyer's is the perfect burn. It's basil scented, to make a gorgeous addition to almost anywhere in the home—including a kitchen or bathroom. This scent is both uplifting and grounding while being fresh, to bring the outdoors in. It's great for lighting in the warmer months of spring and summer. The ingredients of this candle list basil oil, as well as parsley seed oil, and black pepper seed oil. Made using essential oils and from soy wax and vegetable wax, it can be found in most grocery stores and you can even buy one of these aromatherapy candles from Walmart or Amazon. To say this Mrs.Meyer's candle is refreshing would be an understatement—and this herbal scent will be sure to make your home smell clean and fresh.
This cruelty-free candle is poured into recyclable packaging to make it kinder to the environment. This packaging is pretty plain, although it comes complete with a black lid to keep dust at bay. It comes in two sizes, including a small 4.9-oz jar and a large 7.9-oz option. The smaller jar has a 25-hour burn time, while the larger jar can burn for 35 hours.
6. MyLuminaCreations Eucalyptus Candle
Best aromatherapy candle for the home
Specifications
RRP: $16.99
Burn time: -
Weight: 6.05oz
Reasons to buy
+
Small business
+
Handmade
+
Topped with a crystal and gold flakes
+
Lovely gift idea
MyLuminaCreations candles are definitely something to shout about—we are talking in both looks and scent. These aromatherapy candles are handmade using soy wax, while they promote sinus relief and they can help you unwind. The Eucalyptus Mint scent in particular has been handpicked by Etsy's style and trend editors. With strong, stress-relieving notes of eucalyptus and spearmint, this scent imbues a home within minutes. We would definitely put this candle on show, due to how beautiful it is, perhaps in the center of a coffee table, on a shelf in your bathroom, or even in the middle of your entryway table. It will look lovely and striking on display, which is why we rate it our best aromatherapy candle for the home.
This candle comes topped with a citrine crystal, as well as gold flakes, around its wick, and it's poured inside a glass jar. It comes in only one size of 6.05oz, which is admittedly small, but rest assured this doesn't affect its throw.
7. Molton Brown Black Peppercorn Three Wick Candle
Best luxury aromatherapy candle
Specifications
RRP: $75/£60
Burn time: 60 hours
Weight: 17oz/180g
Reasons to buy
+
Three wicks
+
Luxury glass jar
+
Comes in a gift box
+
Vegan friendly
Highly rated by Molton Brown fans and for good reason, this Black Peppercorn scented three-wick candle is grand in looks—and in price. Created by Master Perfumer Jacques Chabert, it's also labeled adventurous, confident, and potent, with immediate notes of black pepper which is balanced well with lemon and ginger. It has herbal hearty notes underneath, of coriander oil and basil, while its base notes are vetiver, oakmoss, and ambergris. This strong candle ought to impress in both looks and scent. We recommend lighting this woody candle in late summer, going into fall.
Poured inside a recyclable brown glass jar and made in England, Molton Brown's iconic Black Peppercorn scent has a cotton thread wick and it comes packed inside a fancy gift box, making it ready to wrap and gift at Christmas, Thanksgiving, or for a birthday. This fragrance is vegan-friendly as well as gluten, nut, paraben, and phthalate-free. It's available in two sizes including a 6.4ox single-wick candle, while this three-wick candle has a burn time of up to 60 hours. You can find the Black Peppercorn scent also in various forms including Eau de Parfum, Eau de Toilette, bath and shower gel, deodorant, and even as a body scrub bar.
8. Neom Happiness Scented Candle
Best Neom aromatherapy candle
Specifications
RRP: From $18.50/£16—$52.50/£46
Burn time: From 20 hours - 50 hours
Weight: From 2.65oz/75g - 14.81oz/420g
Reasons to buy
+
Three wicks
+
Long burn time
This is the best Neom aromatherapy candle you can buy. Why? It imbues your home with the scent of happiness—otherwise known as white neroli, mimosa, and lemon. This fresh scent ought to bring an uplifting vibe to your home, whether placed in a bedroom and lit early in the morning, or inside the main room in your home and enjoyed in the late afternoon. You could alternatively place this candle inside a hallway, to enjoy its aroma subtly as it floods every room. Made using vegetable wax and seven essential oils, this three-wick candle is happy in both scent and looks—and it will be sure to give you a mood boost.
Neom's Happiness candle is hand-poured inside a glass, while there's even a three-wick option available. Depending on the size you choose, from 2.65oz to 14.81oz, burn times range from 20 hours to an impressive burn time of 50 hours. The Happiness candle comes housed inside a classic Neom jar with plain white Neom labeling. It does, however, come packaged inside a colorful box making it ready to gift. It also comes in the form of a reed diffuser and an essential oil blend, to use with the essential oil diffuser.
9. Bath & Body Works Orange Pineapple Punch 3-Wick Candle
Best Bath & Body Works aromatherapy candle
Specifications
RRP: $24.50
Burn time: Up to 45 hours
Weight: 14.5oz
Reasons to buy
+
3 cotton wicks
+
Lid for protection
+
Great throw
Reasons to avoid
-
Bright colored glass jar
Bath & Body Works fan? This is their best aromatherapy candle, as rated by online reviewers. The Orange Pineapple Punch candle is the perfect balance of tangy, sweet, fruity, and citrusy, with an impressive throw performance. With notes of tart orange juice, sweet pineapples, and vanilla sugar cane, it's made using only natural essential oils – and evenly melting soy wax. With three wicks in total, it will add a lot of light to an otherwise dark room, while its smell will fill your entire space, small or large. We say light this candle from early spring, throughout summer, into early fall.
Housed inside a vibrant orange jar, this candle will inject a pop of color into your home wherever you need it. It has a decorative label of a photo of a flamingo, making it the ideal addition to a fun bedroom or even the main room. It even comes with a decorative lid, to protect it from dust when you're not burning it, while it has a burn time of up to 45 hours. They say not to burn it for longer than 4 hours at a time.
10. Mrs. Meyer's Honeysuckle Soy Candle
Best Mrs. Meyer's aromatherapy candle
Specifications
RRP: $7.99/£15.85
Burn time: 25 hours/35 hours
Weight: 4.9oz./7.2oz
Reasons to buy
+
Lead-free wick
+
Budget-friendly price
+
2 sizes
+
Comes with lid
+
Recyclable packaging
The honeysuckle scent by Mrs. Meyer's is top-rated as their best scent online, and it's easy to see why. With sweet notes of flowers and fruits, including orange and ylang-ylang, this candle is made from renewable ingredients, such as soy and vegetable wax. It's as fresh as they come and it's made using essential oils, while it would burn lovely inside the main room inside your home—or in your kitchen. Mrs.Meyer's candles are highly-rated and can be found in grocery stores far and wide. They say their candles aim to provide garden-fresh fragrance while you clean or relax at home. And this one does just that.
Honeysuckle is poured inside a recyclable glass jar and adorned with a lid to keep dust and bugs away from this sweet scent. You can also reuse this jar for storage or food purposes, once you are finished and it has been cleaned. Made from a cruelty-free formula, this candle boasts a lead-free nonmetal wick and it has a burn time of 35 hours. It also comes in two sizes—4.9oz and 7.2oz—but we say the larger the better.
11. Apotheke Charcoal Candle
Best aromatherapy candle for winter
Specifications
RRP: $38
Burn time: 60-70 hours
Size: 11oz/312g
Reasons to buy
+
Impressive burn time
+
Stylish jar
+
Powerful
Reasons to avoid
-
Seasonal fragrance you may not want to use year round
Apotheke's broody Charcoal Candle is the best aromatherapy candle you can buy for winter. It's full-bodied with woody, smoky notes and it's a soy wax blend. What does it smell like? Its top notes are of maple bacon, raspberry, and the skin of an unripe tomato (precise!). Middle notes of this candle are green clove leaf, to give it a slightly herbal twinge, and faint cinnamon to bring the holiday vibes home. Its bottom notes are smoky embers, cedarwood, and guaiac wood, which is essentially everything you want in a winter candle. Did we mention that it's made using perfume-grade fragrance oils? This makes it impressively powerful. It's definitely one for lighting in the colder months as reviewers claim it has an aroma similar to a roaring wood-burning fireplace. Use this Apotheke candle to switch off after a long, chilly day at home.
This aromatherapy candle is hand-poured in the USA, straight into a sleek-looking matte black glass jar. A signature candle that will look the part on a coffee table, atop shelving, or as center-stage on a dresser. Keep this candle out of smaller rooms as it really is powerful. It comes in just one size, which boasts an incredible burn time of 60 to 70 hours.
12. Craft & Kin Fresh Linen Candle
Best aromatherapy candle for spring
Specifications
RRP: $16.99
Burn time: 45 hours
Weight: 8oz
Reasons to buy
+
Non-toxic
+
Great gift idea
+
Impressive burn time
+
All-natural
+
Amber glass jar
Light this Craft & Kin candle while you are doing your spring cleaning, to make your home smell as fresh as the last load of laundry you scrambled out of the dryer. If you hadn't already guessed, this candle smells of fresh linen with top notes of lemon and orange, and subtle aromas of vanilla and musk. This candle isn't just for spring as it can really be enjoyed year-round, whether on a cold fall morning, a fresh spring afternoon or during a warm summer evening. Craft & Kin make their candles using 100% natural soy wax, and they scent them using the finest organic essential oils to make a non-toxic product. Thanks to this, they boast an ultra-clean burn and an impressive throw – this scent floods a room without being too overpowering.
Hand-poured inside an amber glass jar and mailed to you in a sleek black gift box, this candle even comes with a lid—and it has a 100% cotton wick. The amber glass jar will definitely look the part in your home, especially if you have vintage-style or boho decor. It comes in one size, 8oz, which has a very long burn time of 45 hours.
13. Tom Ford Private Blend Tobacco Vanille Candle
Best aromatherapy candle for fall
Specifications
RRP: $99/£68
Burn time: 40 hours
Weight: 21oz/200g
Tom Ford's Private Blend Tobacco Vanille Candle is the aromatherapy candle you'll be lighting throughout fall. With notes of creamy tonka bean, vanilla, cocoa, dry fruit, and sweet wood sap, it's heady and warm—as well as complex. It's iconic and known for its spicy, bougie nature. An elegant addition to any home, we say to light this inside the main room of your house, perhaps placed atop a mantlepiece or coffee table. This type of scented candle is usually known to give off an uplifting relaxed vibe, while the vanilla can even curb cravings.
Housed inside a fancy brown glass vessel, this Tom Ford scent is only available in one size, and that one size has a burn time of 40 hours.
14. Diptyque Baies Candle
Best aromatherapy candle for summer
Specifications
RRP: From $38/£29
Burn time: 20hrs/60hrs/75hrs/90hrs/120hrs
Weight: 70g/190g/300g/600g/1.5kg
Baies is Diptyque's bestselling candle and for good reason—it smells divine and it's exactly the blend of floral and fruity goodness you'd want to smell inside your home during the months of summer. It has notes of Bulgarian roses, blended with blackcurrant leaves and buds, and then topped with ambergris. A unique concoction. We say light this candle in spring or summer, in either your hallway or your living area. It might be a tad too strong for a bedroom, and having it in an entryway will encourage the scent to subtly make its way through each and every room in your home.
Baies comes in a pretty basic though classic branded glass vessel. Since it is a bestseller, it's available in five sizes ranging from a 70g mini candle to a 1.5kg indoor and outdoor candle. You can also purchase Baies in a room spray, car diffuser, and reed diffuser form, as well as a scented oval, to hang in your wardrobe or closet to gradually release scent around your clothes and more.
15. Scentered SLEEP WELL Home Aromatherapy Candle Refill Duo
Best eco-friendly aromatherapy candle
Specifications
RRP: $48.81/£34.95
Burn time: 35 hours each
Weight: 220g / 7.8oz each
Reasons to buy
+
2 pack
+
Eco-friendly
+
100% natural
Reasons to avoid
-
Not recommended for use while pregnant
-
Glass not included
These Scentered aromatherapy candles are a great option if you are eco-friendly—and if you are searching for a candle that doesn't come in a glass vessel. The idea is that before burning, you remove these candle refills from their compostable packaging and pop them inside a glass jar of your own. This scent is 100% natural and also vegan-friendly, while it's made using essential oils to create a relaxing environment, whether placed in the main room of your home, or inside a bedroom. With alluringly sweet notes of Bois de rose and geranium, and a floral twist thanks to lavender, chamomile, palmarosa, and ho wood, this candle has a calming, therapeutic aroma. It's balanced well with patchouli, clove, and ylang-ylang. We suggest lighting this candle while you are going about your chores on a weekend morning, or you could light it just before bed, for an hour or so, to lull you to sleep.
As already mentioned, these two candles come in two compostable coffee cups that are made from plants, and you'll need to remove them from this cup and place them into a glass jar before lighting them. Perhaps from another candle, Scentered or not, the jar just needs to be 220g/7.8oz in size (or more). Each candle has an impressive burn time of 35 hours.
What are the benefits of aromatherapy candles?
There are three main benefits:
'Clean' fragrance
Mood changing properties
They aid relaxation and sleep
Aromatherapy candles have essential oils in their wax and are an all-around more natural product. These essential oils fragrance the candle, so that once it is lit the candle gives off essential oils into the air, instead of an artificial fragrance. A cleaner burn makes aromatherapy candles clean to use at home, and around children and pets (if you are interested in this feature, you may want to read our guide to clean beauty). Though this does mean that aromatherapy candles are often more expensive and take more time and energy to craft than regular candles. We would say the benefits outweigh the price tag here.
Aromatherapy candles not only have the ability to change your mood, but they can also promote sleep, relaxation, and even productivity. After being lit for just a few minutes they will flood a room. Some fragrances lull you to sleep, others are known for promoting bursts of energy and some can aid relaxation...the list goes on. Burning any candle, not only aromatherapy candles, can encourage your brain to produce serotonin and dopamine.
How? As you sniff the scent and the fragrance reaches your nose, it will trigger different parts of your brain depending on its scent. For example, lavender candles are said to be relaxing, while minty candles are said to be stress-relieving.
A final tip for buying aromatherapy candles
Be aware that there's no regulation on the term 'aromatherapy', so any candle company can use the term. It's always worth checking the ingredients before purchasing any candle claiming to be aromatherapy.