How to start a flower business—three entrepreneurs tips' for a blooming business
These three women ditched suits for welly boots to run blooming businesses, as Sarah Ewing discovers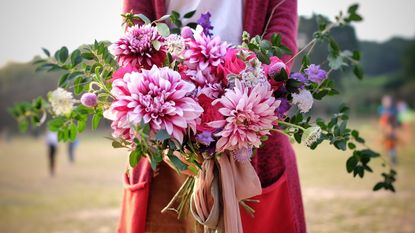 (Image credit: Getty Images)

These three women set up three different flower businesses, from floral-inspired homewares to entire nurseries.
Our Brand New Directions series takes a look at inspiring businesswomen and how they got started setting up their own companies. We delve into the costs involved in realizing their dreams, and the brilliant achievements won through their hard work.
Winterbrook Garden Nurseries founder Hanna Armitage
Hanna Armitage, 37, lives in Wallingford, Oxfordshire, with husband Sam and daughters, Phoebe, six, and Martha, four. In 2018, she transformed an abandoned nursery into Winterbrook Garden Nurseries, a community hub.
The idea
I was a secondary school art teacher and hated my job. While I loved its creative side, I didn't love the box-ticking paperwork. When we moved back to my home area, I gave up teaching and we relied on my husband's salary from the local agricultural college, while I dabbled in my artwork and textile designs, and raised the girls. But I was itching for more. Then, in 2018, a plant nursery my dad had rented out for over 30 years was abandoned by his tenant. Dad and I went to take a look and it was such a mess—with dying plants and a broken greenhouse, we were in tears. I was adamant I was going to take it on, and that's when Winterbrook Garden Nurseries was born.
What happened next?
The whole site needed clearing and locals pleaded with me to bring it back to life. Sheer determination not to let them and my dad down got me going. My artistic side meant I had a good eye for color and design, so I knew how to lay out the site to entice customers. We had to rebuild everything but the good thing is I don't have rent to pay. I'm organized but had to learn to delegate tasks to Dad, which could have been awkward, but he's supportive. I also read as much as I could, knowing I could turn to Dad, who's been passionate about plants since childhood and is very knowledgeable. I grow every single thing from scratch.
Breakthrough moment
Last year I became one of the Small Business 100 run by Small Business Saturday, which was a huge accolade. I'd had to set us apart from your typical nursery and garden center. The stock had to be different and I was passionate about growing in an eco-friendly and plastic-free manner, including picking pests off by hand! I wanted to make it a destination, rather than just a nursery. I think people found I was approachable and didn't try to confuse them with lots of Latin plant gobbledegook.
Steepest learning curve
I've had to work hard on marketing and spreading the word on social media, as we're off the beaten track. A website that's easy for all generations to navigate is very important!
Business Breakdown
Start-up costs: £5,300
Comprising...
- Seeds, materials and overheads: £5,000
- Social media (ads and website): £300
Current turnover: £10,000
Website: winterbrookgardennurseries.com
And because of the seasonal nature of the business, I plan carefully. The period between Christmas and the spring and summer rush allows me to focus on my product line that I design around bees, wildflowers and winged things and sourcing the antiques we sell.
Where are we now
When COVID-19 hit, everybody wanted plants and compost, and sales were up over 250%. Working while homeschooling and growing the business has been a challenge, but it has made me handle my time better. There are lots of things in the pipeline, including an orchard, beehives and a cafe. We're only just beginning to make a profit, but the groundwork has been set for a thriving future.
---
Sue Tait founder of Lothian Lavender
Former bank worker Sue Tait, 39, lives outside Gifford, East Lothian, with her farmer husband, Grant, and daughters Sophie, five, and Emily, two. She established a business growing lavender to make gifts in 2016.
The idea
The seeds of my business started 11 years ago. I'm from Dublin, where I could grow anything in my garden. On moving to East Lothian, I struggled to find anything that would thrive in the sandy soil, that was drought tolerant and could withstand my dogs running around it—and it turned out lavender was the answer! I enjoyed embroidery growing up, so I started making hand-sewn lavender bags at my kitchen table. I did local craft fairs and sold directly to customers. Demand was phenomenal, so I had to plant a larger plot.
What happened next
By the time I'd married, and moved to our current farm in 2016, I'd started doing candles and soaps. I now had a paddock of 350 lavender bushes. As I wasn't able to transplant all my previous bushes that spring, it was hard work to get the new plants established and ready to harvest. Everything I've added to our product line is based on customer requests. Doing it this way, I knew I had a customer base, which gave me confidence. I've taken a course in organic skincare formulation, so I've now added skincare, hand cream, luxury fragrance oils and pillow mists.
Breakthrough moment
Being stocked in prestigious Edinburgh department store, Jenners, in 2018 was a very proud moment, but my success meant I had to upscale to meet their demand, as well as that of the small independent shops I was stocked in. I couldn't justify being away from my girls so much, as I've always been adamant that the business should work around family commitments, so I had to withdraw from Jenners. Our skincare range has become our biggest growth area; that's where the focus will be going forward.
Steepest learning curve
While the paddock allowed us to expand, the drainage wasn't the greatest, so the ground was frequently soaking, and the bushes weren't producing enough growth. So we moved their position again earlier this year to the farm's cottage garden, and put them into raised beds to keep their 'feet' dry. This will be their forever home and gives them a better chance of growing.
Business Breakdown
Start-up costs: £905
Comprising...
- Fabric: £5 (I already had a sewing machine)
- Copper still: From £300 (bigger ones can cost £10k)
- Formula Botanica course: £600
Current turnover: £10,000+
Website: lothianlavender.co.uk
Where we are now
Growing at a pace that's comfortable is a priority because a slow, steady pace is more sustainable. In the early years, the money from each sale went towards more materials. I try to add one or two new products, like balms, each year. And I've had the taste of really big orders from all over Europe and America, so I know I can do it. But until my girls are older and more independent, my family comes first.
---
Alison Walker founder of Yewbarrow Flower Farm
Former military nurse Alison Walker, 44, lives in Penrith, Cumbria, with her husband Kev, and sons Edward, 16, and Toby, 14. In 2018, she started Yewbarrow Flower Farm.
The idea
After traveling the world as a military nurse, I got married, had children and settled in Penrith, working as a district nurse. I've always loved gardening and, as a child, spent a lot of time helping my grandad with his amazing flowers. I got an allotment so I could grow more flowers. I wanted to share them, but you can't sell from an allotment. I just knew there was a business to be had.
What happened next?
In 2019, I was fortunate enough to get just over an acre of land and a barn from a local farmer. This was the base for my business, Yewbarrow Flower Farm. We had to transform the plot from a wheat field—putting up polytunnels and sheds, and creating a lawned area for workshops, and beds for annuals. I also took courses, including RHS Level 2, a business flower farming course, and one at The Covent Garden Academy of Flowers.
Breakthrough moment
You have to have a unique selling point. I am passionate about British classic flowers, grown sustainably, especially old-fashioned roses, Sweet Williams and sweet peas. The beauty and scent of flowers is missing from supermarket bouquets. Scent can trigger wonderful memories. I worked with a marketing expert to get the branding right. I love growing from scratch and I'm known for producing garden-grown, natural looks for events and selling direct to the public.
Business Breakdown
Start-up costs: Around £28,000
Comprising...
- Second-hand van and stock: £15-£20,000
- Branding and website: £5,000
- Professional courses: £3,000
Current turnover: £18,000 (£8,000 without weddings)
Website: yewbarrowflowerfarm.co.uk
Steepest learning curve
I didn't realize the amount of work needed to develop the best growing conditions, plus I worked hard on our social media. And at the start, I planted eucalyptus bushes and rabbits ate the lot—we're rabbit-netted now!
Where we are now?
We are developing a bee-friendly woodland area, for wildflower cuttings and beehives. My five-year plan is more workshops, weddings and eco-friendly postal flowers. I rebranded just before lockdown and it has turned out to be a phenomenal year! I've been busy with direct sales and people wanting to shop local. Simple jam-jar posies with a hand-written note have been a big hit. I also did some socially distanced workshops, which were a huge success.
Sign up to our free daily email for the latest royal and entertainment news, interesting opinion, expert advice on styling and beauty trends, and no-nonsense guides to the health and wellness questions you want answered.