Flooring trends 2023: 18 popular design choices for stylish floors
From dark wood tones to oversized tiles, these are the big flooring trends to follow for decor refurbishments this year, according to experts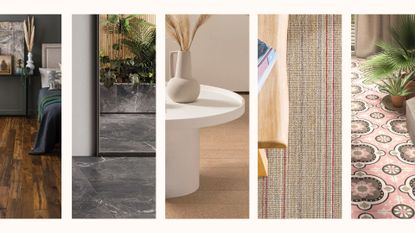 (Image credit: Woodwork | Real Stone Tile & Bathroom | Recork | Sisal & Seagrass | Porcelain Superstore)
woman&home newsletter
Sign up to our free daily email for the latest royal and entertainment news, interesting opinion, expert advice on styling and beauty trends, and no-nonsense guides to the health and wellness questions you want answered.
Thank you for signing up to Woman & Home. You will receive a verification email shortly.
There was a problem. Please refresh the page and try again.
From the latest in carpet choices to the most in-demand hardwood, vinyl, and tile designs, experts predict these will be the biggest flooring trends to follow right now.
If you're looking to remodel your home or update flooring it's always going to be an investment, so it pays to stay informed of the latest trends for the best materials and designs that will prove timeless for years to come.
Because the right flooring is key for providing the foundation for any room no matter the current scheme, whether it's a bold living room trend or the latest contemporary kitchen trend the flooring is key in supporting your design choices.
From the latest in comforting tactile carpets in neutral trends to more dramatic patterned tiles and herringbone wood floors there's an on-trend style to suit all rooms and all tastes.
Flooring trends 2023: 18 key design choices
To inspire floors for all rooms, of all sizes, w&h asked the leading experts in the world of flooring to ascertain what's going to be popular and prove a worthwhile investment for flooring for the year ahead, and well beyond.
1. Rich wood tones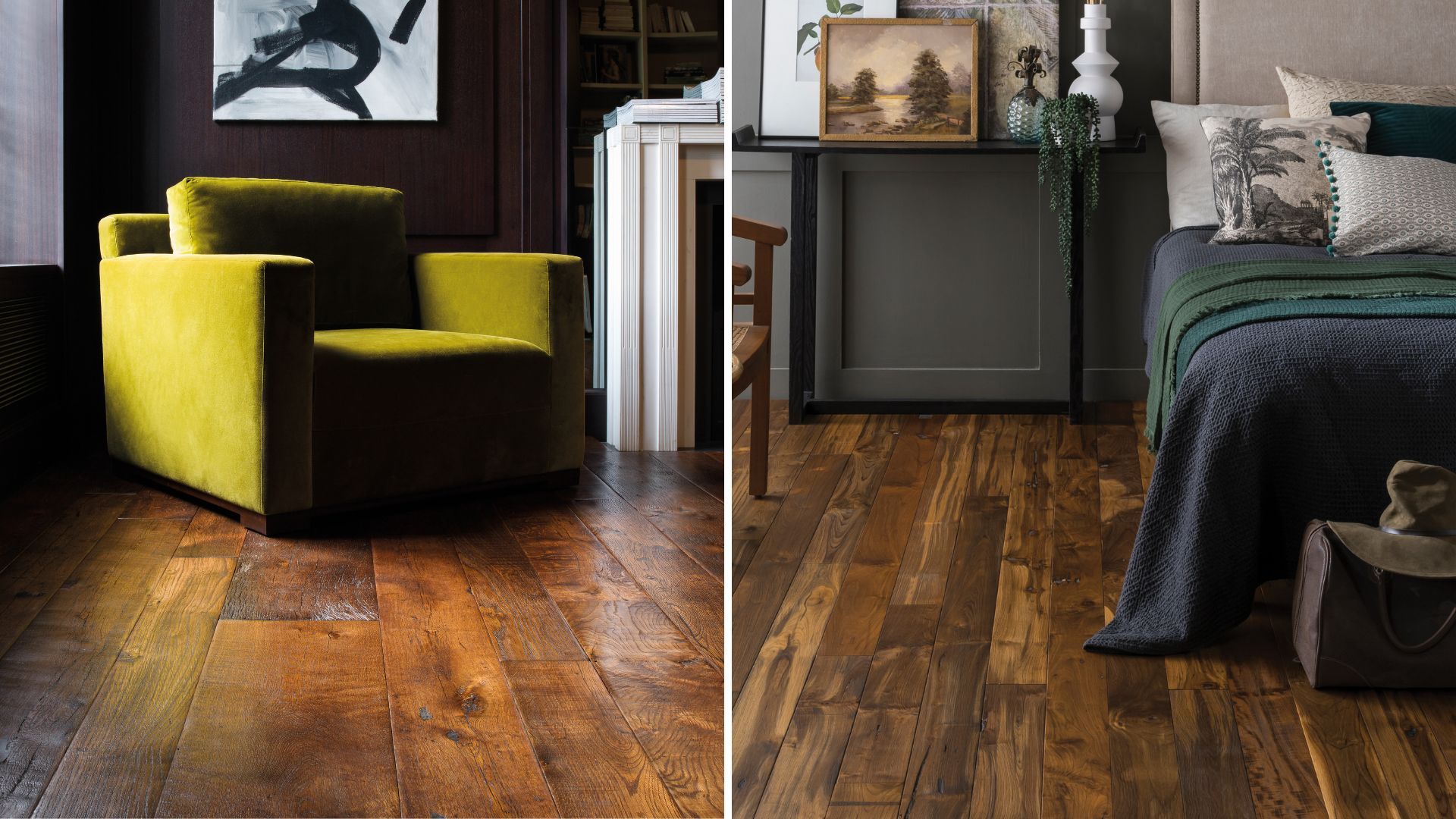 Typing in perfectly with the emerging popularity of rich brown tones as a key interior paint color trend 2023 it's no surprise to see the bleached woods of Scandi style being challenged by the demand for darker shades of wood varieties.
"While paler woods have been a popular option for flooring for several years, people are now embracing the deep, rich tones that work in perfect harmony with maximalism interior trends which are expected to stay popular in 2023," says Katie Hudghton, head of marketing at flooring specialists Woodworks.
"Versatile and classic, darker flooring can work perfectly with more traditional or eclectic interior styles and will age brilliantly. For those scared to commit to the darker tones, it's worth considering that if you eventually do want to go back to a lighter floor, you can always sand down and stain the wood."
2. Tactile textures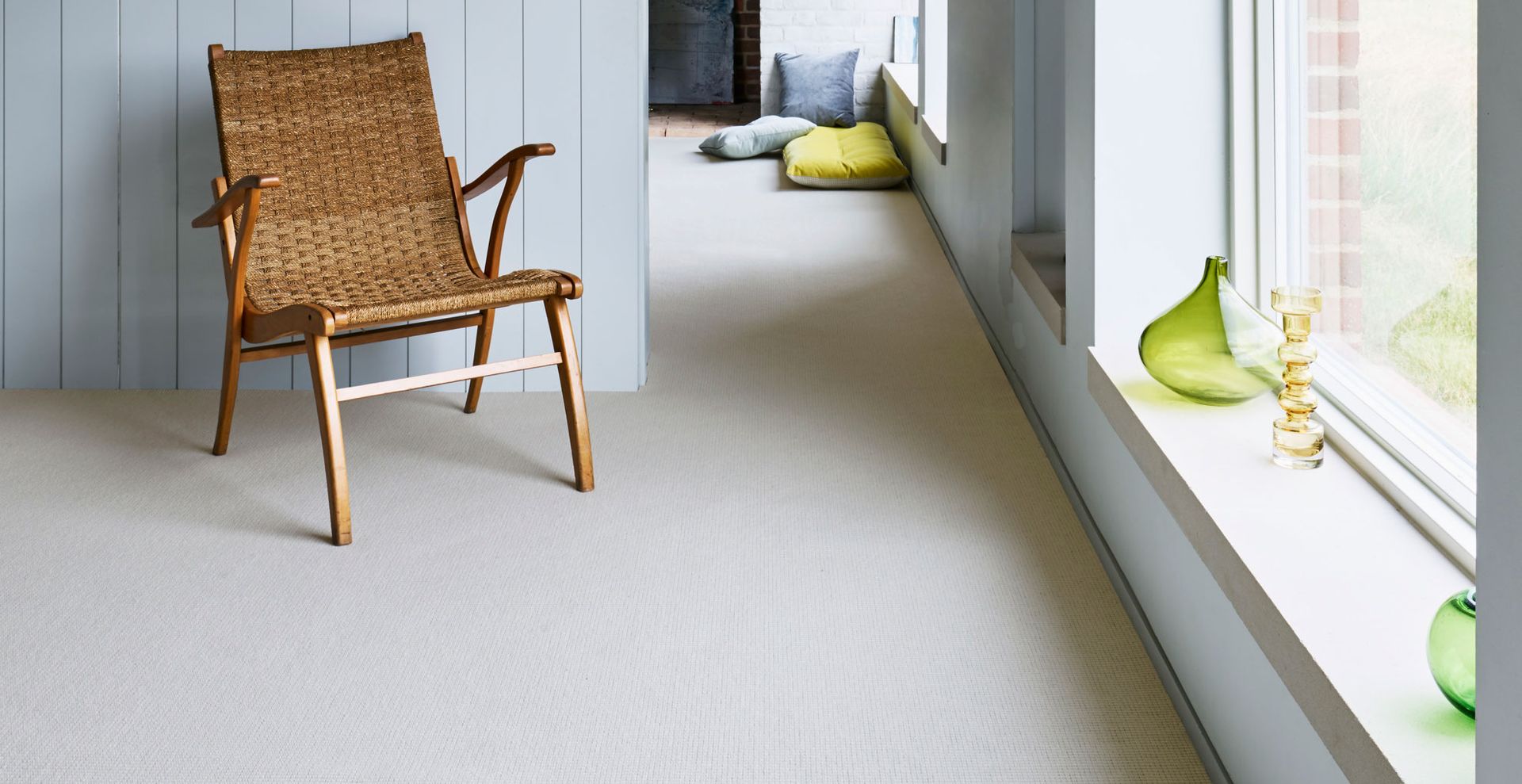 If color isn't your thing but you still want to make more of an impact with a neutral color scheme then this is the flooring trend for you. Over the past few years, we've seen a growing desire to furnish homes with tactile materials and textures, boucle being the prime example of one of the hottest interior design trends of 2023, to add depth to softer color schemes and make homes feel cozy and inviting.
"Texture is a key trend in interiors with many people working with materials to create an inviting room scheme," reveals Jon Flannigan, product manager at Kersaint Cobb. Comforting textures can also play a huge role in creating stress-free home decor.
"Creating a space that provides peace, rest and refuge will be a big trend for 2023," predicts Flooring Superstore's Craig Smith, merchandising manager. "Natural colors, fibers, and texture all create a gentle aesthetic that is the perfect ambiance to relax and unwind."
"The heightened desire for a connection to nature and for spaces that evoke feelings of sanctuary and calm will continue to drive how homes are decorated," explains Lorna. "This year, natural colors, softer, more organic shapes, and heavier textures are key design focuses."
"Light colors and texture are particularly effective in narrow or small areas," Jon helpfully adds. "Soft, pale-colored flooring brightens up a small area, creates the illusion of space, and gives a light, airy look."
3. Imperfectly beautiful finishes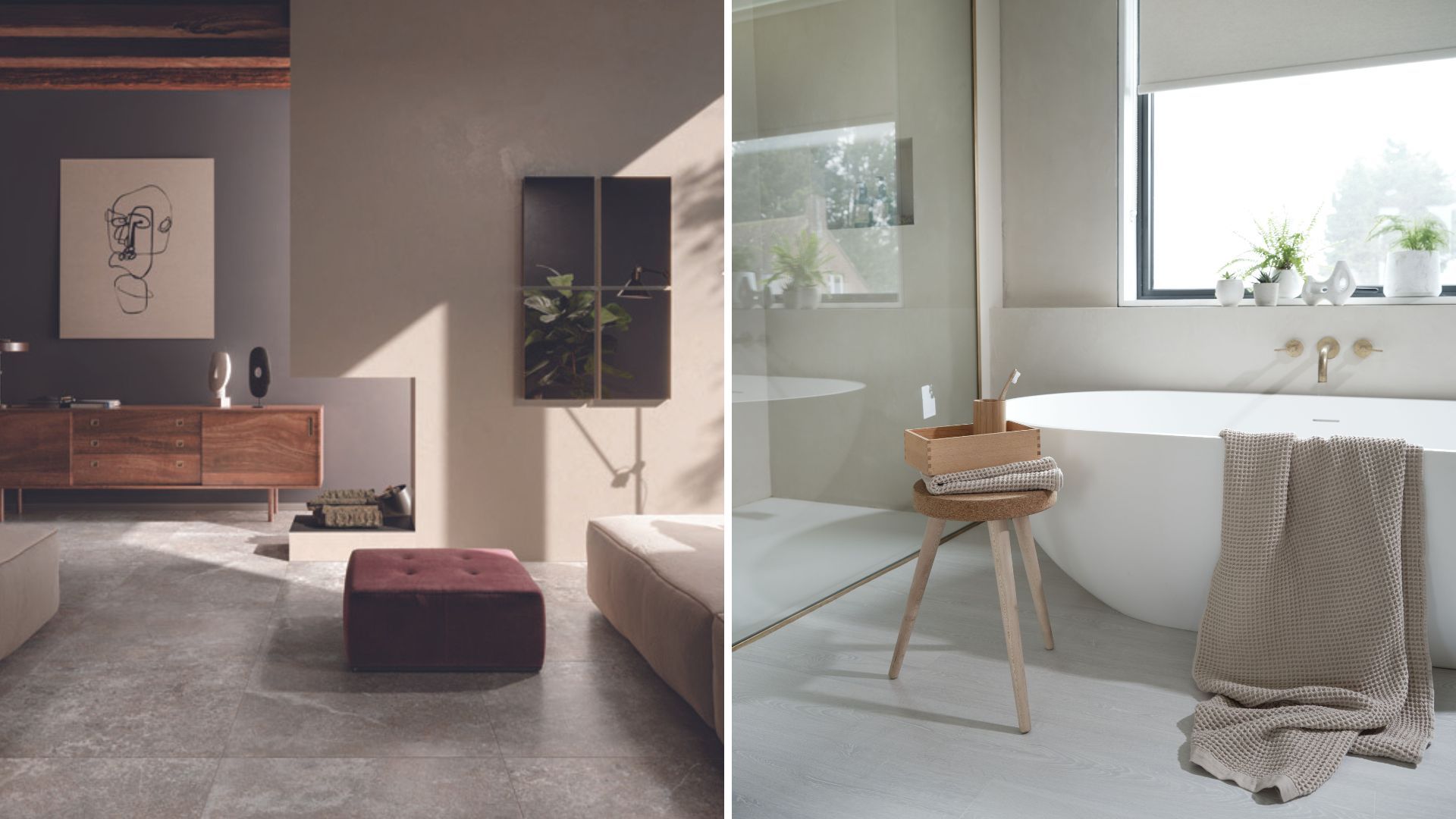 The trend for celebrating natural materials in their truest form is a direct connection to the popularity in recent years of the Japandi style trend. Whether it be a Japandi living room, a serene Japandi bathroom, or a Japandi kitchen the flooring will be one of simple beauty to provide an understated yet stylish foundation to build the room decor around.
"One of the main trends for 2023 is authenticity," explains Lorna Williams, head of product design at Amtico. "Elements of craftsmanship, heritage, and a correlation to natural materials remain key within interior design. Textures play a big role in this trend, helping to give flooring longevity." Think of characterful wood grains and unperfect concrete surfaces, in this trend natural imperfections provide charm.
Tapping into this beautifully imperfect ideal Katie explains: "A newer trend set to become popular over the next year is the 'unfinished' look. While not actually disorganized, the flooring is carefully and strategically placed down using different-width planks to go against that uniform look people traditionally strive for."
"The variety in plank width, with slight gaps incorporated throughout, adds depth and character to your flooring and gives it a heritage feel."
4. Bold color choices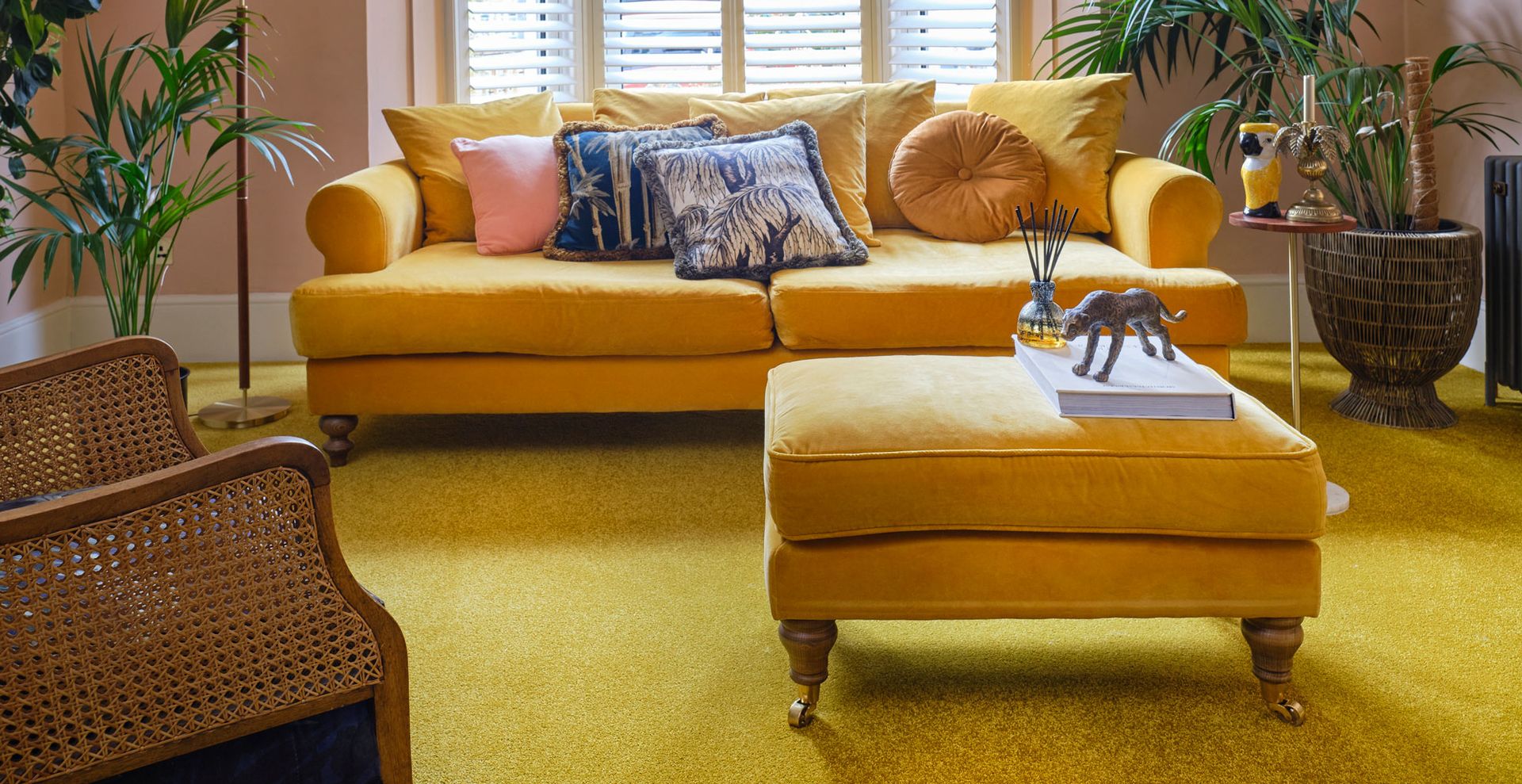 There are two camps when it comes to interior color trends 2023, bold or neutral. With bold colors even applying to floors, for those brave enough of course.
"Brights are back," says Paul "Full of personality and joie-de-vivre, get ready to inject color into your home from floor to ceiling with the new 'Color Pop' trend."
"The use of color in flooring has broadened over the past couple of years; retreating to nostalgic designs that evoke comfort and assurance," Lorna explains. "With the evolution of maximalist interiors seeing the transition of abstract designs in a sophisticated color palette of tones and textures. Evoking a sense of drama with calmness to provide a modern take on retro design."
"Simultaneously, there is a growing desire to invest more into the home to create a relaxing sanctuary. Colors that will be popular include blues, greens, and golds – both in a calming context and a bold, botanical way" Lorna adds. "We should see this in the form of carpets especially, although there are some whimsical vinyl options that would suit this colorful trend."
"There's been a trend recently of 'bringing the outside in'. In line with this, bright, expressive colors resembling citrus and other naturally occurring bright colors will be 'in' this year for flooring," predicts Johanna Constantinou, brand and communications director at flooring specialists Tapi.
5. Traditional herringbone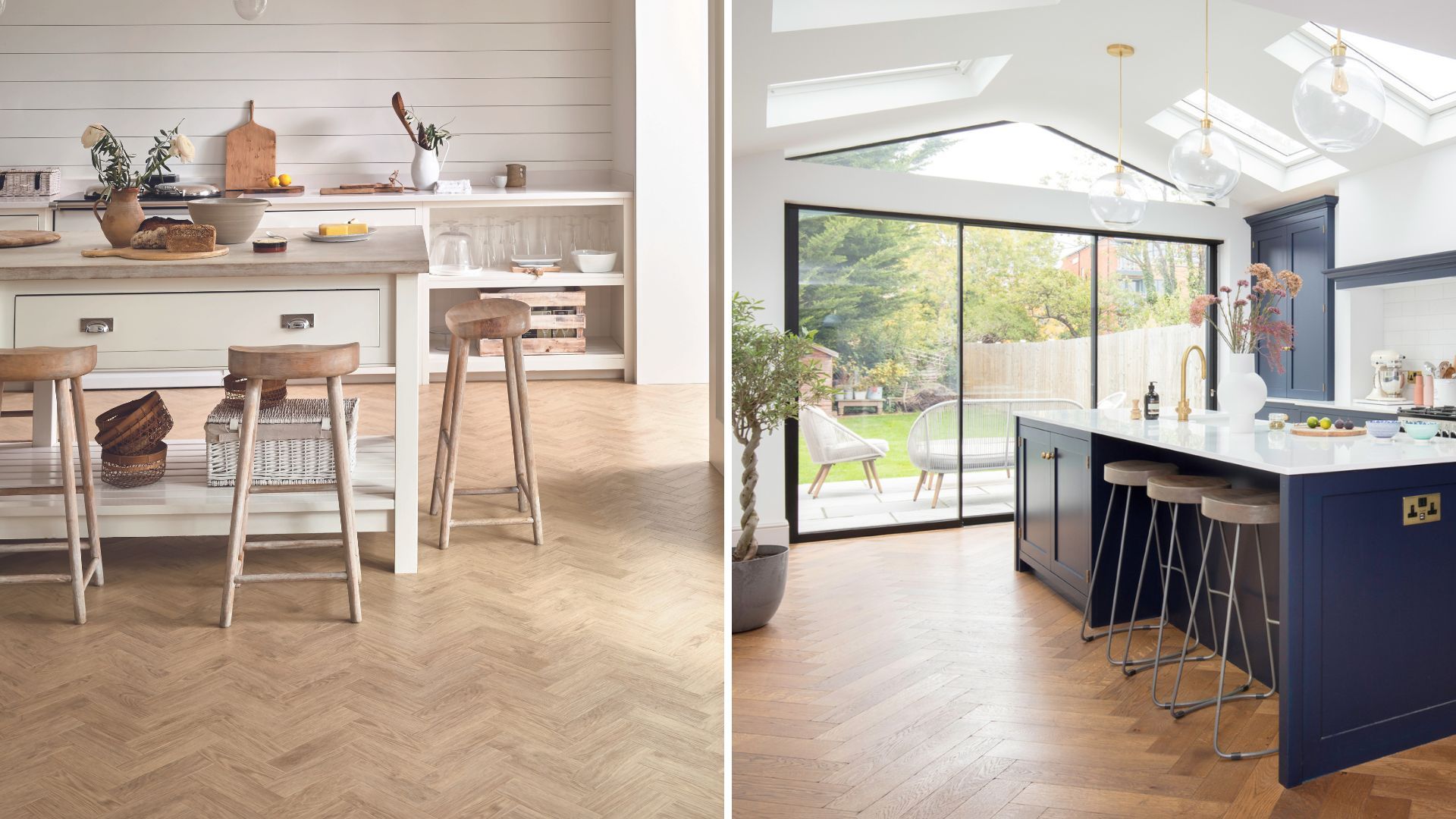 For both carpets and hardwood floors the herringbone pattern is one of the most significant trends to be aware of in 2023.
"Flooring patterns can completely change the look of a room," says Lorna. "Timeless patterns such as herringbone and parquet remain key patterns, and will no doubt be for 2023 as they continue to answer the evolving trends."
"Continuing on with the theme of incorporating nature in the home, natural wood effects, particularly with a herringbone pattern to add extra visual excitement, is perfect for 2023," says Johanna. "This floor comes in the form of engineered wood, vinyl, LVT, and carpet, so there's an option for every home."
"Additionally, herringbone can really open up a room because of its pattern resembling a movement. We're seeing a lot of interest in making the most of smaller spaces, so this floor is a strong contender for those looking to make a room look bigger."
6. Sophisticated stone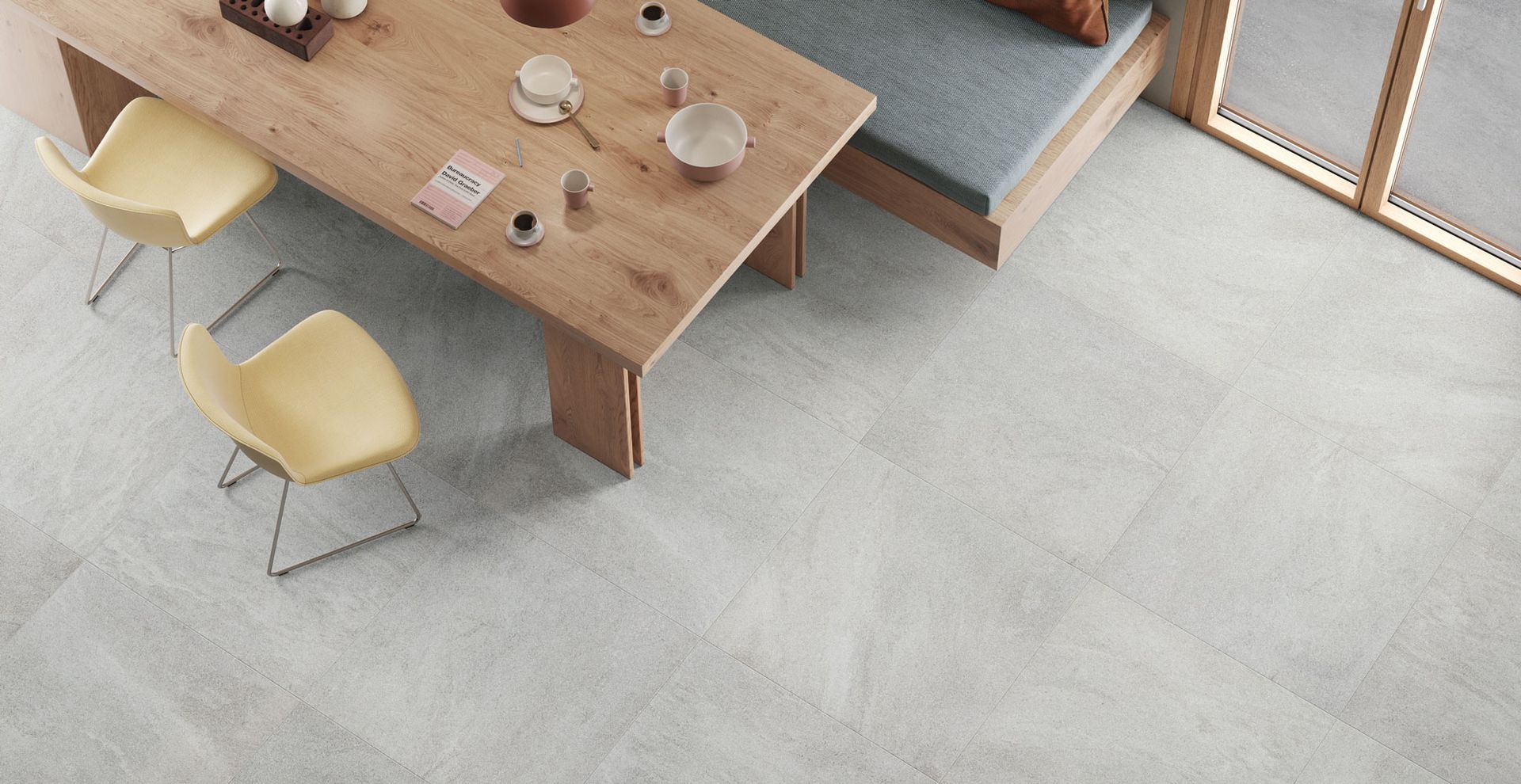 Whether it's contemporary porcelain or regal marble flooring, stone finishes are set to make a statement and remain a top choice for interiors in 2023 – particularly across kitchen and bathroom trends.
"Nature-inspired tiles are very much on-trend and porcelain offers the perfect opportunity to bring this look into the home without compromising on function," says Ben Bryden, sales and marketing Director at RAK Ceramics UK.
"Tiles with a subtle or bold marble-effect pattern work well when teamed with materials like wood, creating a calming and timeless that works well across rooms, including the bathroom and the kitchen."
"Revised classy marble and granite inspired patterns displaying elegant veins used on kitchen floors, for example, create a sophisticated ambiance that is the epitome of luxury and sophistication."
"The use of stone and concrete effect materials will see a shift to a more contemporary aesthetic with natural, softer tones," suggests Lorna. "From chalky, paler marbles that mirror natural pigmentation, to the concrete effect that beautiful simplicity provides gentle movement across the floor to achieve a minimalistic, yet industrial scheme."
7. Expressive patterns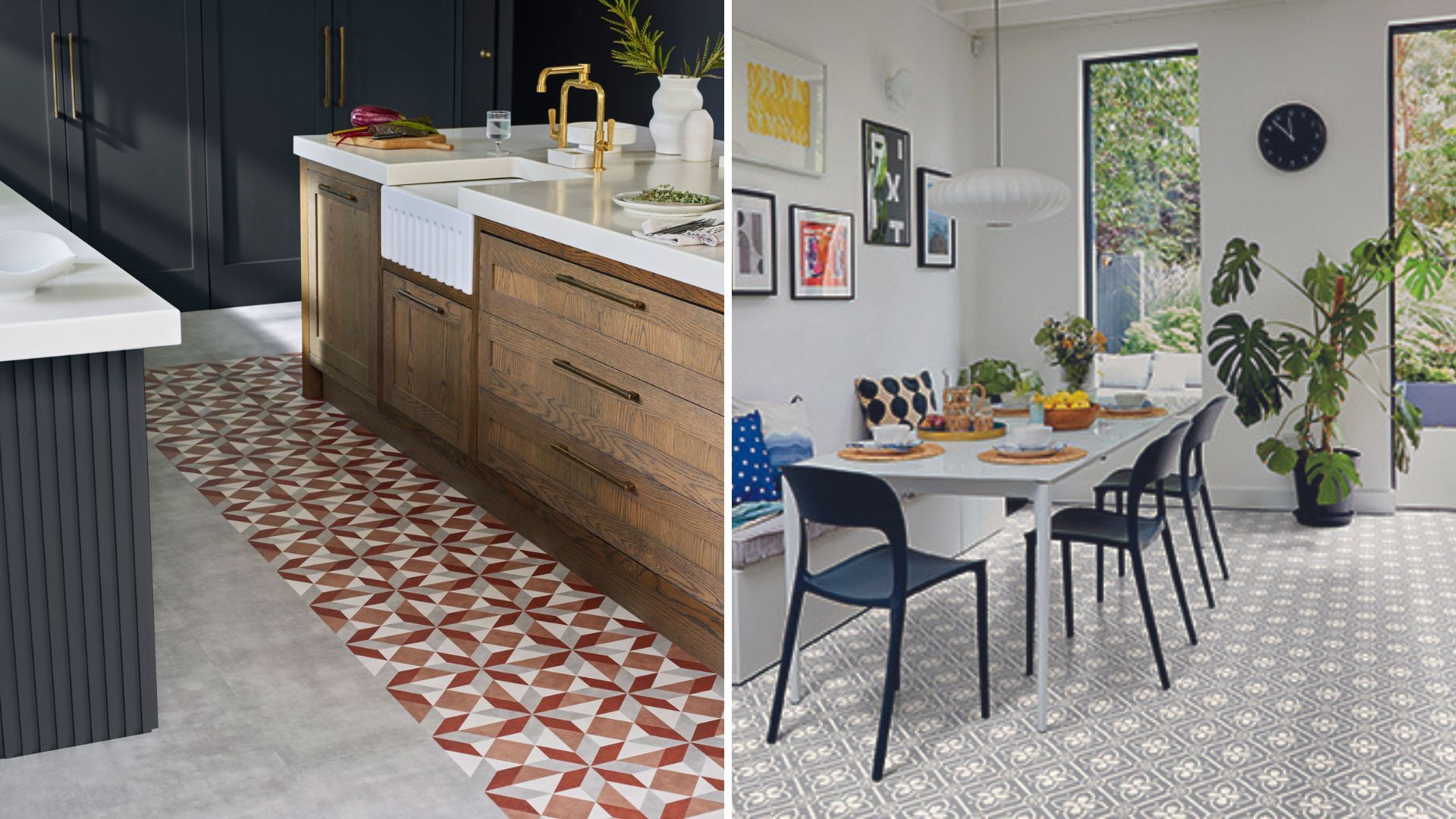 Another bold trend, particularly across tiles and vinyl, is one of the expressive patterns to show a little more personality through flooring choices. Safe neutral flooring is being rivaled by bolder choices to allow the floor to command attention and let the softer living room paint colors or bedroom paint colors on the walls take a backseat.
"Tiles in 2023 are all about making a statement," says Craig, "whether it's a dramatic geometric pattern or bright and bold pops of color, 2023 is the year to push boundaries with your tiled flooring. Team with neutral shades and low-key accessories to make your flooring pop."
"This year, we'll see people injecting their personality into their homes more than ever," says Johanna. "Along with the increase in popularity of bold, exciting patterns and colors, patterned vinyl will be the perfect way to turn any room into a statement."
"The styling opportunities are endless with patterned vinyl, and this will be an exciting concept for people who want to take their interiors to the next level."
8. Classic checkerboard floors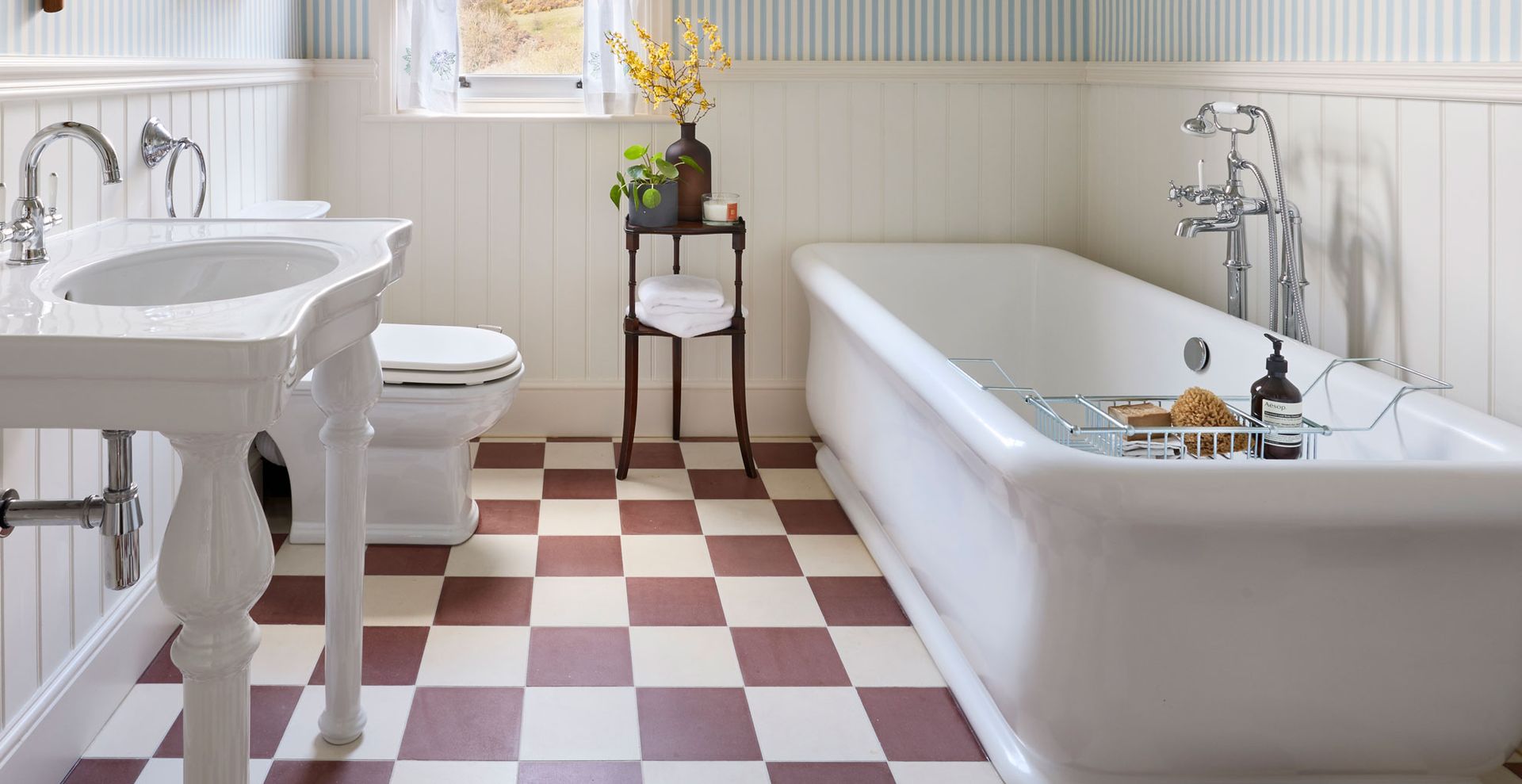 Checks are back in fashion in a big way, particularly for bathrooms, cloakrooms, and kitchens. "Checkerboard patterns, once absorbed within a traditional design, has now emerged as its very own trend and evolved into one of the hottest surface and tile trends of 2023," says Barrie Cutchie, Design Director at one of the leading bathroom manufacturers, BC Designs.
"Checkerboard floor is a great way of adding pattern and color to a bathroom (hallway or kitchen too) without it becoming too complicated or over the top. The overall look will be dependant more on the colors chosen than anything else, as it doesn't have to be traditional white and black. Instead, contrasting, or similar shades can be used that can soften and warm the space."
"This floor style is also a great feature of transitional bathroom trends, where contemporary and traditional styles are blended together." The versatile look can work in almost any space. "They work just as well in cloakrooms as they do in larger bathrooms, though in smaller spaces, it is best to work with smaller tiles so you can see more of the pattern."
9. Stylish sustainable materials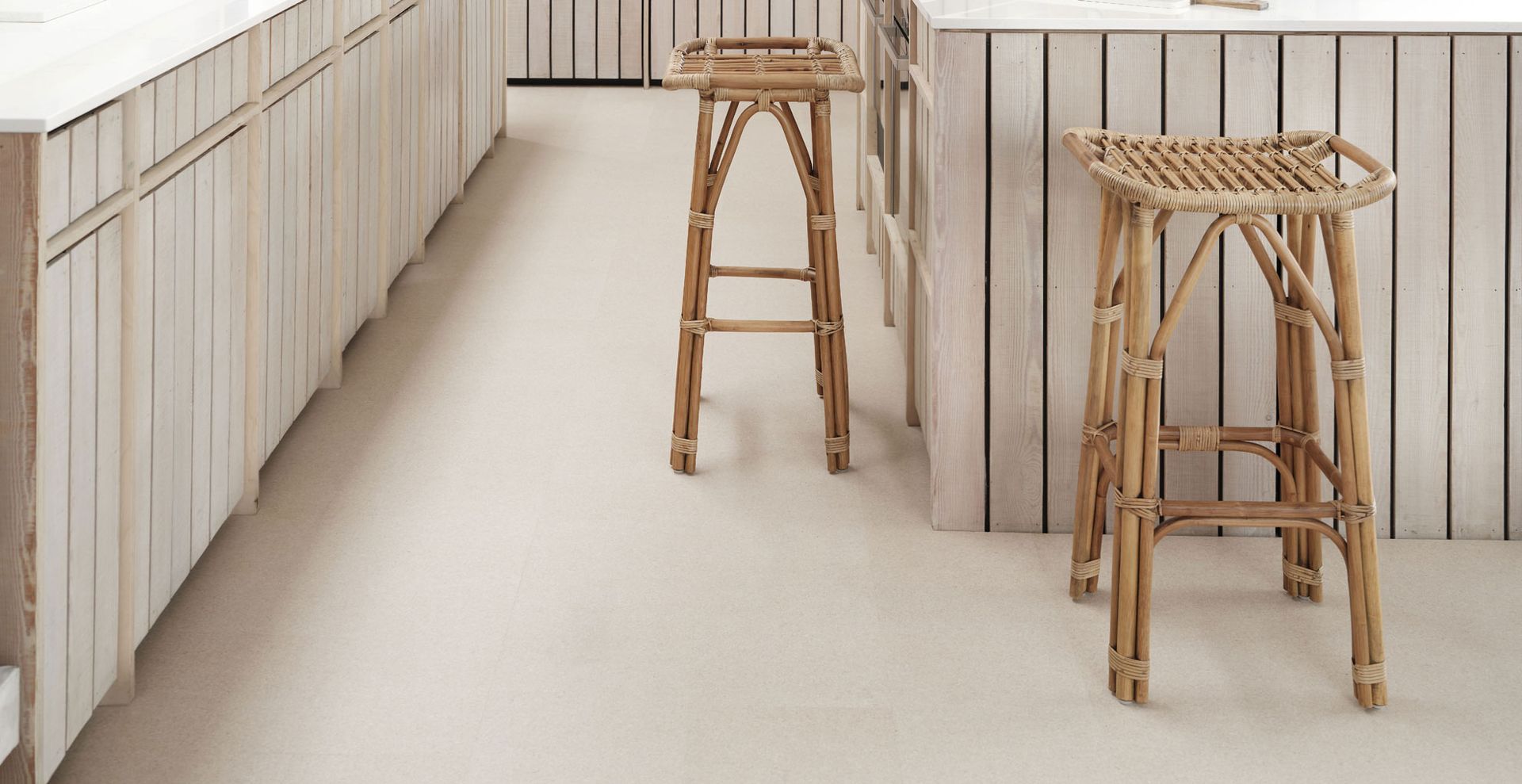 The movement for more sustainable living choices is now reflected in how we choose to furnish our homes. For flooring, it's about striking the right balance of laying a stylish material that ticks all the boxes when it comes to sustainability.
"The environment is high up on people's list of priorities and in 2023 this is only set to go further as we incorporate pre-loved materials into our homes," agrees Katie. "There's absolutely no reason that quality, reclaimed wood shouldn't also be making it into more homes to create a bespoke, high-end look while also being a great choice for the environment."
Like when buying second hand furniture there's an element of pre-loved charm that comes from reclaimed woods and materials that have been naturally aged.
10. Inspired heritage
Beautiful encaustic tiles of old, reimagined for the modern home. This is a trend to inspire those looking to add pattern and a touch of eastern influence to their floors. Durable decorative tiles are ideal for adding character and functionality to entryways, kitchens, and bathrooms.
Abbas Youssefi, director of Porcelain Superstore, says of their new Hanoi Rose tiles: "While they might be the newest design to join our collection, these tiles are steeped in history, having been inspired by the stunning flooring found in Vietnam."
"However, unlike their encaustic counterparts, Hanoi Rose has all the benefits of modern manufacturing methods and because they are made from porcelain, are perfect for busy households thanks to minimal maintenance requirements."
Inspired by the colorful encaustic eastern tiles, their captivating design will add an exotic flavor to any room. Pair with the best off-white paint color or neutral wall tiles to create an enduring look that will stand the test of time.
11. Modern country style
For some aspects of design, the modern country look is now considered an outdated interior trend but certainly not when it comes to flooring. Flooring choices, such as rustic wood offer longevity that plays a role well beyond seasonal favorites. Handcrafted, aged planks that look original to the property are thriving, as more homeowners look to achieve a 'lived-in' look.
"The modern country aesthetic combines classic and contemporary style for an on-trend twist," explains Natalie Mudd, director at The Wood Flooring Co. "Recognised for its use of raw materials, a modern country interior is often drawn to an aged wooden floor due to its rustic appeal."
"The presence of knots, color variation, and characterful wood grain positions rustic grade planks as the perfect choice for a modern country home. Style your boards alongside neutral shades and tactile materials including cotton, linen, and rattan to accentuate the natural beauty of the wood grain."
12. Taking a layered approach
Whether it's to make a home feel cozy or simply to create an eclectic look, layering rugs is an easy way to update any room. Using rugs to add color and pattern is a less permanent flooring trend that opens up more possibilities for those wishing to transform a living room on a budget.
"While large, room-filling rugs are still popular, what's coming through from both the interior designers who are setting new trends, as well as consumer desire to insulate floors more than ever, is the use of three or more rugs in complementary designs applied within one space," says interiors expert Daniel Prendergast, from The Rug Seller.
"Layering rugs can include mixing different textures, different designs, and different sizes. Rugs can be layered on any type of flooring – even carpet. You can add a pattern, or layer different colors, to bring depth to your home design and help to zone a specific space, especially in open-plan living areas where you may want to break up the flooring with areas of interest."
Be sure to check out our guide for how to clean a rug to keep your layers looking in tip-top condition.
13. Classic stripes
Stripes have always been a popular choice for carpets and rugs, particularly in a rustic interior scheme but for 2023 they have had a modern-country makeover. The stripes are being used on more natural grounds, such as sisal and coir to create stylish and subtle patterns to add just enough decoration without overwhelming the feel of natural flooring.
With the growing popularity of pared-back decor inspired by natural materials and pigments, there's a definite trend for desaturated tones creating sophisticated stripes
"Until recently, natural flooring was considered to come in either warm yellows or sandy browns, but with the evolution of natural dyes, Sisal & Seagrass have introduced a new twist to carpets and rugs," says its spokesperson.
A striped outdoor rug is a great way to add personality and pattern to any outdoor area and because stripes break up the use of block color it softens the overall look.
14. Depth of design details
Wooden floors are a timeless choice, proving both practical and aesthetically pleasing. The beauty of the wooden flooring trend for 2023 is that you can create more interest simply by opting for varying layouts, thoughtful placement ideas, and depth of grain details. The trend for darker grains is a prominent one but so is also the desire for more characterful finishes – such as diamond patterns, parquet, and herringbone rather than plain planks.
"Flooring with plenty of character is continuing to be a popular trend for 2023," explains Edward Eagle, global sales director at Havwoods. "While prime grading has been the favorite for some time, we are seeing more consumers opting for boards with added character."
"As planks with character grading will have more knots and traditional wooden characteristics such as visual cracks and sapwood. The 'Nature' trend comes to mind with character boards, as it allows one to feel more in line with nature by being able to see the knots and grains of the wood."
15. Contemporary cork
Who would have ever thought cork would be one of the most in-demand materials in the modern design world? "We are seeing a big demand for cork as a popular environmentally friendly material, and the ideal sustainable floor covering," explains Paul Herbert, head of buying for carpets, Carpetright. "This biodegradable and fully recyclable material is light, resilient, and boasts great sound and thermal insulation."
"As trends come and go, flooring is much harder to replace compared to wall colors or furniture. It's therefore essential to choose a material that will stand the test of time," says James Scully, founder of Recork. "Not only to suit the design preferences of the homeowners but flooring that is sustainably made and can take whatever life throws at it. "
"Although previously more popular in commercial spaces, cork is very much in the spotlight for our homes thanks to its incredible sustainability credentials as an inherently natural, renewable material that plays a vital role in the fight against global warming."
16. Seamless flooring throughout
The trend for laying a uniform floor throughout the entire downstairs is gaining in popularity, especially as our homes evolve to become more adaptable to a more multifunctional way of life.
"Whereas previously many homes were sectioned off into designated areas for cooking, dining, and lounging, in recent years, there has been a surge in homeowners who are now rethinking their floorplan, and opting instead for an open plan living space," explains Leigh Price, co-founder of Real Stone, Tile & Bathroom.
"As a result of this, we have seen that many customers are now choosing one design to cover their entire downstairs floor, creating a seamless run that flows from one space to another."
"What would have simply been the kitchen in the past is now the social hub of the home, and often features an adjoining dining space and TV area. Often the same tile is used throughout, across a far larger area than before," says Leigh.
17. Extending into backyards
Not only are interiors becoming seamless, but the flow is also no longer broken as you step over the threshold into the backyard beyond. With the rise of outdoor living room ideas, the trend from indoor to outdoor living is extending to floor tiles too.
As Leigh explains: "Moving into the summer months, many of us wish to extend our social space into the garden, taking inspiration from the layouts of houses in warmer climates, which are typically open-plan, and often feature bi-folding patio doors that can be flung open to utilize the feeling of indoor-outdoor living."
"When it comes to choosing the perfect shade of tile that will enhance both inside and out, it is important to note that many of the leading Italian tile brands don't offer a thicker slab suitable for outdoor use in their lightest shades, as when the sun's rays hit directly onto these tiles it creates an almost blinding brightness, making it uncomfortable to view."
18. Large format tiles
When considering your tiles, it's about more than just the materials. For many modern homes, the trend for tiles is to go large and get maximum coverage from one design.
The use of oversized tiles helps to create a greater sense of space thanks to the flow of fewer joins and broken lines.
"In order to achieve the illusion of a larger space that lighter tiles are commonly used for, opting for a large format tile in a neutral ton, natural material such as concrete, wood or marble-effect will work to open up your home by creating a full 'floor-covering' effect meaning there are far less visible grout lines than there would be when opting for a smaller tile," says Leigh.
"This not only creates a completely seamless finish, but also means far less upkeep, and makes it much easier to clean." Go large to make cleaning your floor tile easier because there's less grout cleaning involved.
What is the most popular wood floor color for 2023?
The most popular wood floor color for 2023 is the darker tones of Walnut and dark oak that offer richness to the surrounding interior scheme. As general decor color trends lean into earthier tones of brown and peat we are seeing a direct correlation to darker wooden floors to support the desire for creating a grounding aesthetic to build a natural-inspired look.
"This year comforting, dark brown with hints of gray is emerging as one of the most sought-after colors for floors," explains Sue Kim, director of color marketing at leading wood stain experts Minwax. As a result, the color expert has announced their color of the year as Aged Barrel, a rich and dark stain that "brings a sense of sanctuary to any room."
"Time-honored wood tones take on a more neutral nuance with less red, capturing a simplified rustic mood that builds a foundation for personal styles. The craftsman look of dark wood tones adds a touch of sophistication that serves as the foundation for a variety of complementary color palettes and pairs well with all-over grays, chalky neutrals, and bold pops of color."
Sign up to our free daily email for the latest royal and entertainment news, interesting opinion, expert advice on styling and beauty trends, and no-nonsense guides to the health and wellness questions you want answered.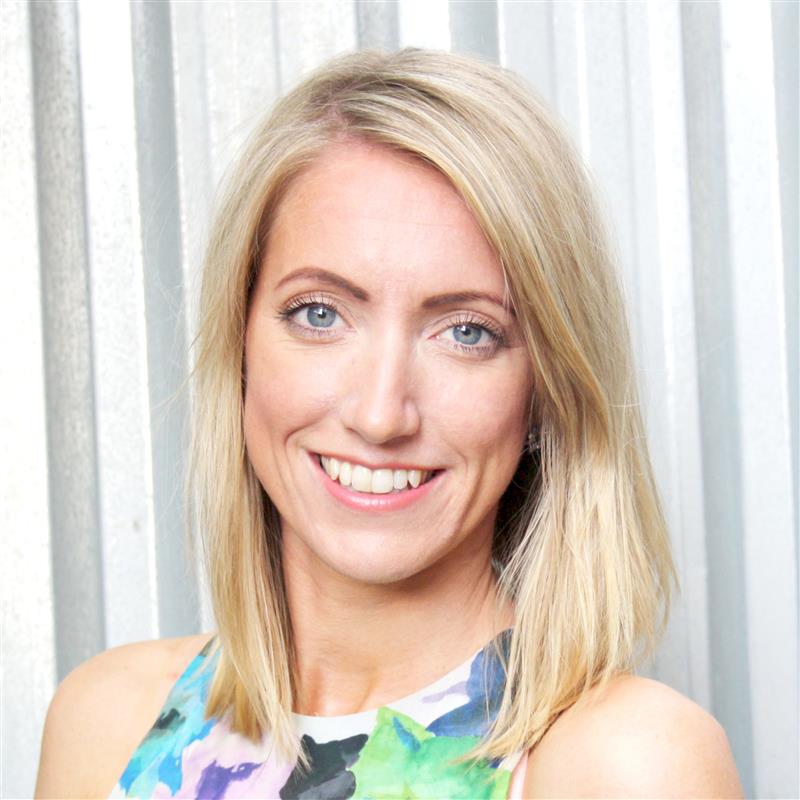 Tamara is a highly experienced homes and interiors journalist, with a career spanning 20 years. Now the Lifestyle Editor of womanandhome.com, she has spent the last 17 years working with the style teams at Country Homes & Interiors and Ideal Home, and it's with these award-winning interiors teams that she gained a wealth of knowledge and honed her skills and passion for shopping, styling and writing about every aspect of lifestyle and interiors.
With a keen eye for the latest interior trends, there's not a lot she doesn't know about home decor – whether it's what colour we should be painting our living rooms next season, or if the latest 'must-have' buys are actually worth investing in.
A true homes and interiors expert, Tamara has served as an ambassador for leading interior brands on multiple occasions, including appearing on Matalan's The Show and presenting at top interior trends events such as the Autumn Fair and Spring Fair.