How to transform a living room on a budget: 12 easy ways to update your space
These interior design tips offer inexpensive, even free ways to transform a living room on a budget, all with minimal effort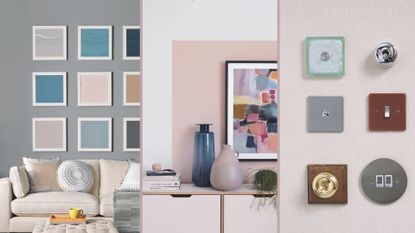 (Image credit: Future)
Feeling inspired by the change in seasons to give the decor a refresh, but dread the possible expense? Fear not, because there are interior design styling tricks and tips that can completely transform a living room on a budget – some are even free.
Yes, that's right, there are multiple ways you can give your main living space an update for the new season without having to spend huge amounts on emulating the latest interior design trends. So often it's the finer details that help to make a home look expensive because a little thought goes a long way when it comes to improving interior decor.
We've appealed to interior designers to share insider secrets on how to transform a living room on a budget – and they didn't disappoint. From expense-free styling hacks to affordable paint ideas, there's a solution for every home.
12 ways to transform a living room on a budget
From totally free ideas such as rearranging furniture layouts to using peel-and-stick wallpaper there's a solution for all homes – and best of all, they can all be achieved for under $50.
1. Declutter to refine the space
Nothing beats decluttering a home to transform any space in an instant. Piles of clutter and overcrowded areas can instantly bring down the decor in any room. And better still, it doesn't have to cost a thing.
"Spring is the perfect time to catch up on the cleaning and organizing tasks you've been putting off," says Jessica Harris, interior designer and manager of production design at Living Spaces (opens in new tab). "If you're finding it difficult to part with some items you don't have a home for, try storing them in decorative boxes for a stylish take on the organization."
The great thing also about decluttering is that you can find a new space to show off your most treasured possessions, where they might have previously felt lost in amongst a collection of items.
2. Rearrange the furniture
Another entirely free way to transform a room in no time at all is to reconfigure the layout to make it feel like a renewed space. Whether that's switching where the couch is placed or moving bulky pieces into another room to free up space – this idea is simple but highly effective.
"Moving furniture pieces can completely transform the look and feel of a room, without having to spend money on purchasing new items," explains Jon Sanborn, co-founder of house flipping specialists SD House Guys (opens in new tab).
"Rearrange the living room by swapping out different chairs, sofas, and tables. If possible, move other larger pieces such as TVs or bookshelves from one wall to another to change the layout."
I did this recently in my own apartment, where the action of shifting an occasional chair and center table closer to the couch to free up a clear space on the other side of the room to place a small desk and chair to create clearly zoned areas for work and rest.
It's been completely game-changing for how the room feels at different times of the day, by creating a more intimate chill-out zone on one side of the room to escape the home office at the end of each working day.
3. Swap out seasonal designs
To welcome a new season it's a good starting point to remove anything that feels wintery. "Spring weather tends to mean the temperature is too warm for a heavy blanket but still cold enough that you want something to cozy up with," says Jessica. "Try using a quilt as a throw blanket on your couch as a functional way to brighten up the room."
Additionally, think about your seasonal color palette too. "Spring and summer are the perfect time to have fun and incorporate new colors and textures into your room design," says Jessica. "Try sprucing up your living room by mixing and matching colorful decorative pillows."
"You can also use accent pillows that are a different material than the couch. Working with standout colors and textures is a great way to add depth to the room and is an inexpensive and risk-free way to try out new styles, colors, and trends."
Who says you even have to buy new or leave the house to do some homeware shopping? Look around alternative rooms to find items to swap in place of heavier winter accessories.
For example, try swapping the heavy throw that you used to make your home cozy during the winter out for a lighter design that might have previously gone unnoticed in the corner of a bedroom. Rehoming items gives them a new sense of purpose and makes them feel new.
Of course, we're not suggesting indefinitely getting rid of any items – merely putting them into storage or simply removing them from the room you wish to transform.
4. Refresh walls with fresh paint
Reviving the walls with a splash of paint is an obvious but highly effective way to transform a room, particularly if it's the best living room paint color or one of the latest interior paint color trends – like the beautifully rich rust color shown above by Benjamin Moore (opens in new tab).
"One of the simplest and most effective ways to decorate a room affordably is with a touch of paint," says Ann Marie Cousins, founder of interior design company AMC Design (opens in new tab)."Either updating your current wall color with a new coat of paint or choosing to go in a different direction and opting for a bold new color, your walls can make a serious impact within the greater scheme.
And while painting the whole room is likely to cost near to $50, it's still an affordable way to remodel without having to buy all new furnishings. As Ann suggests: "With a new wall color you've given your existing lighting, flooring, and furniture a whole new lease of life."
5. Pick out focus areas with accent color
If painting the entire room isn't within your budget or you're wanting to add a playful accent color to transform your living space then an accent wall or highlighted architectural detailing could be a better solution for you.
"A great way to add some new character to your space is to create an accent wall," suggests Jessica. "Accent walls let you experiment with trends and allow you to decide how much time and money you'd like to invest in creating one. For example, an accent wall can be as simple as purchasing a can of paint."
"Try painting your built-in bookcases with a fun color," Jessica goes on to suggest. "Add color to the inside of your doorways and doors to incorporate personality into those smaller spaces."
"If you have the courage, paint the ceiling!' says Jessica. Explaining how an alternative color for a ceiling can transform the space she says: "This is a fun and unexcepted way to help guide the eye around the room and can also support in making your room feel taller."
Choosing just one small area to concentrate on color saves money, because. you need less paint and it can also feel more transformative by giving your living room a new focal point. It can also be a great way to make a room look bigger using paint.
6. Try peel-and-stick wallpaper
The latest wallpaper trends 2023 are a sure way to transform any room, but wallpapering doesn't always come in under budget, unless you look for smart solutions.
"Peel and stick wallpaper is an easy and non-invasive trick to making your home feel like new and more sophisticated," says Devin Shaffer, lead interior designer at Decorilla (opens in new tab). "We've been using peel-and-stick wallpaper in our designs for nearly a decade and the interest continues to grow, especially for renters striving to make their apartment feel like home."
"Peel-and-stick wallpaper can be highly versatile, and Chasing Paper's removable wallpaper is sold by the panel instead of by the roll," says Elizabeth Rees, founder of Chasing Paper. "This allows you to buy only what you need, and save money in the process. Our 2' x 4' panels retail for $45 and give you endless DIY possibilities for decorating a room on a budget."
And not just for walls, you can use peel-and-stick wallpaper to upcycle key furniture pieces too. Some of Elizabeth's favorite projects are furniture hacks: "Applying wallpaper to the back of a bookshelf or built-in adds a small pop of color that will feel impactful and interesting" she explains. "You can completely update the look of a piece of bland furniture by adding a piece of printed wallpaper to the front, top, and/or sides."
7. Introduce plenty of greenery
Never underestimate the power of plants and flowers to enhance the decor. Welcoming an abundance of greenery into a living room is a fabulous way to inject life and vibrancy into the space, transforming it instantly on a budget.
"Adding some indoor plants to your space is an affordable way to bring life and color into the room," says Jon. "Choose plants that are easy to maintain and will fit nicely with your existing decor. This is an especially great way to add some greenery if you don't have many opportunities to do so outdoors."
There are plenty of affordable places to buy plants online, or you can pick them up at local grocery stores if you'd rather choose in real time.
"Bringing nature inside your home or apartment immediately changes the feeling of it," says Diana Melicahr, founder of Melichar Architects (opens in new tab). "Flowering plants, succulents, ferns, and ivies can be found inexpensively at home improvement and chain grocery stores. Pick plants with interesting pots, and group them together on a sunny windowsill for more effect."
8. Rearrange artwork
Be it a gallery wall or wall-mounted picture ledges this simple styling trick goes a long way when it comes to changing the look and feel of a room with artwork on display.
To transform a picture ledge you can very simply reorder the artwork to make it feel refreshed and considered – you can also use this opportunity to get rid of dust while you're at it.
Reconfiguring and tweaking a gallery wall helps to create a new formation that gives the layout a different perspective, you could also try swapping out frames if you have the budget to replace old frames with new, more colorful designs.
Alternatively, if you want to achieve a new look for free try moving artwork from one room to another, because it might be that you have artwork in a bedroom that guests have never seen – et voila, now it's visible in the living room it suddenly feels like new.
9. Adjust the light levels
Changing the light can be as simple as replacing an overhead pendant or seeking more table lamps to lower the level of lighting in a living room – to create ambiance.
"Lighting has a massive effect on the overall aesthetic of a space and can be a simple way to freshen up your living room," says Jessica. "Lighting fixtures are also a fun way to add personality to your space."
"Lighting can affect the mood and the ambience of a room completely, so it's important to consider this if you're looking to update and decorate a room on a small budget." advises David Amos, founder of Amos Lighting (opens in new tab).
"If you're decorating a space used predominantly for relaxation, such as the living room, then we'd recommend changing the bulbs of any lights that aren't task lights to warmer glowing bulbs, usually below 3000K. This will create a more inviting and cozier aesthetic, transforming the look and feel of the space."
10. Restyle surfaces
Another completely free solution for transforming a space is to rethink your shelves, sideboards, and center tables to immediately change the look of the room.
Whether an organized bookshelf, a central table, or a mantel display it pays to take everything off and reposition where everything goes – even moving items from room to room to give surfaces a new lease of life by renewing the contents so it feels fresh.
"Add some personality to your dresser by adding a mirror, lamps, plants, or artwork on top," suggests Artem Kropovinsky, head of Arsight (opens in new tab), an interior design studio in NYC. "If you don't have a dresser, you can use a sideboard or a center table instead. They serve the same purpose and can be styled similarly."
"You can place a sideboard against a wall or behind a sofa and use it to store items such as family games, films, or special glassware. You can also use it to display your collections, trinkets, plants, lamps, or artwork."
11. Add accent colors to a neutral scheme
If painting with color is not your thing that's ok, you can inject personality and vibrancy into an all-neutral scheme without having to commit to redecorating with paint.
"If you're a fan of neutrals, you're not alone," exclaims Jessica, who also favors a neutral color trend. "If you're looking for a way to spruce up your home without bringing in color, try working with neutrals on the opposite end of the spectrum."
"For example, if most of your home is various shades of white, cream and beige create an accent piece by adding in a dark brown or navy item. This contrast is sure to be eye-catching and will certainly breathe new life into your space."
12. Replace hardware
One of the biggest ways to make a kitchen look expensive on a budget or a bathroom is to replace the hardware. While in a living room, these details might be less obvious they can still prove transformative when looking to lift the overall scheme.
"Replace hardware," suggests Artem, "swap out old knobs, handles, or hinges on your furniture or cabinets with new ones that match your style."
Your walls will look all the better for a new light switch or plug socket in a delicious shade of burnished bronze, replacing unattractive plastic alternatives. Doors are sure to feel better dressed with shiny new handles, doorplates, and hinges to command attention from the minute your walk into the room.
Tamara is a highly experienced homes and interiors journalist, with a career spanning 19 years. Now the Lifestyle Editor of womanandhome.com, she has spent the last 16 years working with the style teams at Country Homes & Interiors and Ideal Home, and it's with these award-winning interiors teams that she gained a wealth of knowledge and honed her skills and passion for shopping, styling and writing about every aspect of lifestyle and interiors.
With a keen eye for the latest interior trends, there's not a lot she doesn't know about home decor – whether it's what colour we should be painting our living rooms next season, or if the latest 'must-have' buys are actually worth investing in.
A true homes and interiors expert, Tamara has served as an ambassador for leading interior brands on multiple occasions, including appearing on Matalan's The Show and presenting at top interiors trend events such as the Autumn Fair and Spring Fair.