How to organize bookshelves: 10 practical tips for styling bookcases
Mastering how to organize bookshelves allows you to display books in style and gain more enjoyment from your collection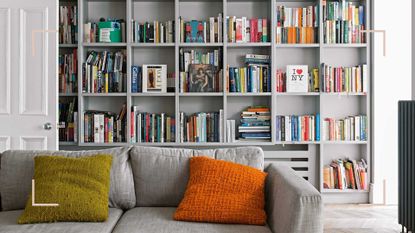 (Image credit: Future | James Merrell)
Learning how to organize bookshelves means not only will your book collection look good, but you'll also be more able to find your favorite titles – and less likely to feel overwhelmed when looking for something to read.
Organizing books is the kind of task you can easily put off. But once you've set aside the time, an afternoon or a day sorting and styling your collection can actually be really enjoyable, not to mention satisfying. Who knows, you might even get on a roll and start decluttering the rest of your home while you're at it.
Before you can start styling your bookshelves, you'll likely need to declutter your books first. Once you've been through your whole collection and are sure it only includes titles you really want to keep, you're ready to start organizing and styling bookcases.
How to organize bookshelves: 10 expert tips
"A streamlined, organized bookcase will lead to a tidier, calmer space for you and others to enjoy," says Lisa Skinner, co-owner of Order In The House (opens in new tab). "And if you need the books for work or study, the order should significantly enhance your productivity."
Convinced you want to organize your collection? Follow these inspirational ideas for organizing and styling your bookshelves.
1. Rethink your storage
If you've decluttered as much as you can and you still have too many books to fit comfortably in your storage, then you may want to consider getting more, says Gillian Gudgeon, APDO (opens in new tab) member and founder of Restore The Calm (opens in new tab). But like when decluttering your loft it pays to be mindful when seeking new storage.
"You could consider a floor-to-ceiling or wall-to-wall unit in one room, which has different-sized cubbies that allow for different-sized books. IKEA Kallax units (opens in new tab) are great and allow for free-standing books in the cubbies or storage options and doors to help contain or hide stacked books," she says.
Also, look around for any spaces you might not be utilizing: "Do you have space in bedrooms, guest room, or the hall or landing for bookcases?" asks Gillian. "If you have higher ceilings you could pop shelves above doorways and along the wall to accommodate, interspersing books with other objects." There may also be space on the high wall in front of where your stairs descend, she adds.
2. Think about location
If your books are in different rooms or locations around the house, then think about location carefully. "Store books where they are most likely to be used," says home organization and KonMari consultant Sue Spencer (opens in new tab). "Store cookery books in the kitchen if you have space. Work-related books can be stored in the study or on a separate shelf."
"If you have a student in the family, why not invest in a desk with built-in shelves for their bedroom?" suggests Heidi Phillips of Organised Home and Mind (opens in new tab). "This way they can store their textbooks close to their writing space."
Gillian has some ideas for utilizing and organizing small spaces: "In the hallway by the kitchen you could place a small bookcase to house recipe books, the guest room could contain light fiction/reference that visitors can easily pick up, the landing could house travel books and so on."
3. Organize like a library
Looking for a way to organize and style bookshelves on a large scale? The library method is ideal for a vast book collection.
"If you're looking for a practical book organizing method which is especially good for large book collections, pretend your home is a library, and categorize your books by genre first and then by author," says The Spark Joy Collective (opens in new tab)'s Hester van Hien.
This doesn't mean that you need to go all out and start labeling everything like you might want to in a bathroom declutter, but organizing your books roughly into categories, or at least dividing them into fiction and non-fiction, then alphabetizing, can make it easier to locate them.
4. Organize by color
Organizing your book collection by color is a favored book styling option, favorable for organizing a closet. too, but as our experts explain, it doesn't suit everyone. "It is loved by the minority and seen as controversial but it works for me personally," says Mimi Bogelund of The Spark Joy Collective. "I am a very visual person so a complete mix of patterns and colors feels 'loud' to me. Color blocks look calming and pretty."
There are some other benefits of this method, too: "It certainly makes a feature of your bookcase and provides a talking point for guests," says Lisa. And as the founder of Dialogue Books (opens in new tab) Sophie Andrea points out, a color-coordinated bookcase could enhance your room, and can "provide pops of color in relatively plain rooms".
This method may not be suitable for all book collections, however: "Only organize by color or size if your collection is small, otherwise, you've got no hope of ever being able to find a particular book," warns Gillian.
"Although if you have a visual memory and can remember what each book or spine looks like, styling by color could work for you," says Marcia Sloman of Under Control Organizing (opens in new tab).
5. Think about height
A less controversial book styling option is to arrange your books by height or by size. This method works particularly well for smaller book collections to create depth, as the height ascension gives the illusion of greater space.
Whether you choose to arrange by height or not, you may want to put different types of books on different levels on your shelves. Books for children can go lower down where they can reach them, for example.
You could also put books you're less likely to read higher up, and vice versa: "Put books you want access to most on the lower shelves that you can reach more easily," says professional organizer Vicky Silverthorne (opens in new tab). But don't worry if that doesn't work for you, as "everyone has different ideas of how they want their shelves to work or look".
6. Highlight favorites and unread books
One of the best parts of a book organization is getting to rediscover favorite books you may have forgotten, and by highlighting these favorites you can make your bookshelves more personal. "If there's a book you particularly love and you have space, try storing it facing outwards so you can enjoy the front cover," says Sue.
Your books don't necessarily need to be on a bookshelf, either. "I think books can really add that finishing touch to a room," says Nicki. "I have three books that are covered in diamantés with designer labels on the bound, which I use as a focal piece on a footstool in my lounge."
To keep on top of the books you've yet to enjoy, one option is to separate your shelves into 'read' and 'unread' books. "I have a client that has one small bookcase dedicated to books she hasn't yet read," explains Gillian. If you do go down this route, make sure the 'unread' pile is regularly decluttered, or it can easily become overwhelming – a common problem when looking to declutter a garage.
7. Stack in piles, with caution
While some, such as Hester, believe books should be stood up rather than stacked in piles, "because you can easily take the book of your choice without having to move other books", others believe that stacks of books do have a place in a stylish home. "Don't be afraid to stack books in a pile (in particular larger books) as long as it's a concerted effort to do so, rather than a running out of space option," says Gillian.
Stacks of books can also add interest to a shelf full of upright books. "Arrange some books upright, then a stack of three or four horizontally, then a clear space," suggests Mimi.
Accessories can also enhance a book stack: "For expensive books such as the designer ones for example, I would stack these in a three and then accessorise on top with a candle or artificial small plant," says Nicki.
8. Avoid cramming
No matter how you choose to style your bookshelves, it's important that you don't overfill them, says Lisa. "Only house the amount of books your shelves can realistically take."
"Resist the urge to stack books on top of others or jam them in too tightly," she adds. "You should be able to access any one of your books easily without damaging it or pulling out several others with it."
How many is too many? "You want just enough books together so that they don't fall over, or if you have space you can use a pretty bookend to stop this happening," says Heidi.
Leaving some gaps or spaces on your bookshelves can also lead to a less cluttered-looking bookshelf. "You can leave this empty space as it is, or add something decorative," explains Hester, who adds that having 'breathing space' in your home can make it easier to relax and unwind.
9. Use accessories
"Use accessories between books to create more of a hotel look rather than a charity shop feel," says Nicki. You don't necessarily need to buy new items to achieve this look. Mimi has some tips:
Shop your home for decorative vases, ornaments, a pretty tea cup, a candle, a textured basket, a framed picture and place those on the shelf gaps.
A special small bowl placed on top of two horizontal books, where the jacket colour resonates with the bowl looks impactful.
Add different things of textures like a faux trailing plant, glass, ceramic, wood, natural shell and stone.
Plants or prints can also add impact. "Maybe add an ornamental plant on the top shelf draping over the side of the shelf or a small framed motivational quote placed centrally on one of the shelves," suggests Heidi.
10. Match your books to your space
If you want to go all out and create a soothing living room interior where your books blend into your space, then Sophie has some ideas: "My personal favorite is styling my bookshelves to blend in with other items such as plants, trinkets, and photographs.
"To achieve this, place a selection of books of the same height at one end of a shelf, holding them up with a plant pot, candle, or something heavy enough to withstand the weight," suggests Sophie.
"Then you can place another selection of books at the other end of the next shelf with a similar idea. Each shelf is a chance to create something different so you don't have to put books on it at all, you can mix it up as much as you like depending on how big the shelving unit is."
This look works especially well with large open shelving, says Sophie, as it gives you more space to spread out the books so they don't look as cluttered.
Some, like Nicki, may want to take things a step further: "I personally only have on display in my home books that have a cover of either white, grey, or pink so they match my home decor."
How do I organize a large book collection?
Categorizing by genre and author works well for large collections of books
Avoid organizing your books by colour, as for large collections, "it's not the most practical solution if you need to find a specific book", says Hester.
"If your budget stretches, getting built-in shelving created in awkward or otherwise wasted space is an excellent way to organize large collections," says Sophie
Don't forget to make your book area attractive by adding in "the odd ornament here and there", says Heidi
"Book collectors generally like to be able to find a book easily. Organizing a large book collection by topic or category is best," says Marcia
How do I organize a cluttered bookshelf?
Sue has some tips for tackling the book clutter:
Gather your books in one place and sort the books by genre so it makes it easier to see and compare
Take a minute to look at the piles to see what themes stand out, is there much duplication and are there some books you'd read over others? If there is duplication, then it's time to pass it on, by using trade-in apps like Ziffit (opens in new tab)to easily sell your books. Plus, you'll contribute to the circular economy, earn money and protect the planet.
Starting with one pile, pick up each book and immediately ask yourself what it means to you and when you last looked at it. If it's a book you love or would read again, put it to one side in your keep pile. If it's a book you definitely don't want, put it in a discard pile.
Work through your books until you've decided which ones you want to keep, and then you can start organizing your remaining books.
To keep on top of the clutter, Heidi recommends organizing your books regularly and enjoying using the books you already have before buying new.
How many books can fit on a bookshelf?
Try not to cram in too many books. "You don't want to ram your books in so tight that they start popping out of the row and looking messy," says Heidi
"A standard bookshelf is between 9-12 inches in depth and around 31.5 inches wide, which is plenty of space for a medium size book," says Sophie. "With this in mind, you should be able to fit around 25-35 paperback books on one shelf of an IKEA Billy shelf."
"Approximately 11-15 books, depending on thickness of each book, will fit within one foot of shelf space placed side by side," says Marcia.
Leave space for ornaments, prints or plants to add interest. But don't worry if your approach is different: "As long as you don't have to fight with books to get them out, it's fine!" says Vicky.
Rosie is deputy editor on woman&home's sister site, Creative Bloq, which covers all things art and design. In a former life, she lived in Buenos Aires, Argentina, where she was deputy editor on Time Out Buenos Aires magazine. Reviewing hotels, restaurants and shops, she developed a love of quirky and stylish interiors.
Since moving back to the UK, she has worked for a variety of print titles, including graphic design title Computer Arts, traditional art magazine Paint & Draw, and tech mag Mac|Life, before making her way over to digital on Creative Bloq.
In her spare time, she is slowly renovating her house in Bristol, and also sings in a (very cheesy) rock and pop choir.