5 things tube mascara can do for your lashes that regular mascara can't
Tube mascara could be what your lashes are calling out for - here's why...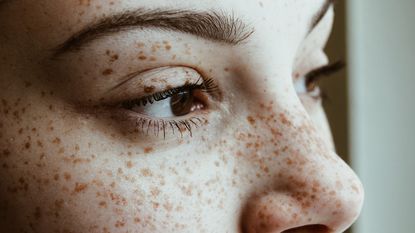 (Image credit: Getty)
Could tube mascara be your next make-up must-have? We all have one product that we couldn't live without and for many that one product is the best mascara (opens in new tab). It's the desert-island pick, magically adding a flash of definition with just a swipe of its wand, providing maximum impact with minimal effort. However, not all mascaras are created equal.
More often than not, everything from the weather to a particularly sweaty gym session can wreak havoc on our make-up handiwork. As well as sending even the best foundation (opens in new tab) sliding down out cheeks, our mascara can also look vastly different at the end of the day from how it appeared at the start. And while waterproof mascaras might seem like a good workaround, they can feel heavy and can be a nightmare to remove. So what's the solution?
If you're looking for the perfect balance of length and longevity, a tube mascara could be the makeup game-changer you've been looking for.
What is a tube mascara and how is it different?
First of all, the 'tube' in tube mascara has nothing to do with the packaging. Rather, it refers to the way that the formula wraps around each lash forming a tubular coating. In contrast, regular mascaras tend to paint just the underside of the lashes.
What's more, instead of traditional products' pigment base, a tubing mascara is made from micro-fibres (aka polymers), which is why the results are so budge- and smudge-proof.
What tube mascara can do for you
1. It's easier to remove
This is the biggest selling point of a tubing mascara; no more scrubbing. Rather than using up valuable makeup remover to take it off at the end of the day - or go through the painstaking steps of how to remove waterproof mascara (opens in new tab) - you need only use warm water.
Simply get your lashes nice and wet and then use your fingers to gently slide away the tubes of mascara – it's extremely satisfying.
Plus, as you're much more likely to get rid of every last bit of it than you are other types of long-wear mascara, your pillowcase will be free of pesky black flakes the next morning and your lashes are less likely to harbour harmful bacteria that could cause an infection.
2. It's supremely long-lasting – and it won't weigh your lashes down
Although tubing mascara comes off with water, that water needs to be warm and combined with some form of gentle pressure, meaning there is no need to worry about a sudden downpour on an umbrella-less journey to work – it shouldn't induce any panda-eye panic.
Rest assured that mascara's not coming off until you're ready for it to. "A tubing mascara is brilliant in the humidity and heat, so come holidays, the gym or exercise classes, they can withstand the pressure," says makeup artist and hair stylist Mira Parmar. And, unlike other heavy-duty mascaras that can feel claggy and thick, they're lighter in texture too. Some personal favourites come from the likes of Hourglass, Clinique and Kevyn Aucoin.
3. It can smudge-proof your favourite mascara
If you're not quite ready to part ways with your current favourite because of its brush or thickening or nourishing formula, we have great news: as tubing mascara is so lightweight, it also layers like a dream. "Tubing mascaras lengthen but unfortunately do not give a great amount of volume," says Mira.
However, she continues by telling us that they "are amazing when used on top of a regular mascara to stop smudging, to set and to keep the base layer waterproof".
Just pop your chosen tubing product on top of your first mascara once it's dried. Sounds like the ultimate team player.
4. It's a kinder option for sensitive eyes and lashes
Tube mascara is a great alternative to regular mascara if the skin on your eyelids and/or under eyes is particularly sensitive. Wondering why it's one of the best mascaras for sensitive eyes (opens in new tab)? Because warm water instead of an eye makeup remover is far less likely to irritate them.
Plus, any sensitivity won't be exacerbated by the excessive rubbing or several rounds of cleansing that can be needed for other types of long-wear mascara.
5. It'll keep your contact lenses flake-free
As a general rule, eye makeup can get a little complicated where contact lenses are concerned. However, tubing mascara is one of the rare exceptions.
"There are no flakes with this type of mascara so no fall out, which means no irritation," explains Mira.
Transfer, smudge and flake-free, sounds like one of those rare finds in the beauty world that has universal appeal.
Ayesha is a freelance beauty writer and when she's not contributing to woman&home she can be found writing about all things cosmetics, hair and self-care in her role as Senior Features Writer for Get The Gloss. She also writes a monthly hair column called 'Who, What, Hair' (which combines her love of puns and buns perfectly), in addition to a column exploring the new and exciting options now available for women of darker skin tones called 'Not Fair'. She's also been shortlisted for a number of awards including Best Online Beauty Journalist at the Johnson and Johnson Journalism Awards.