The 12 best night serums for every budget and skin type
Our edit of the best night serums that'll supercharge your beauty sleep for glowing skin by morning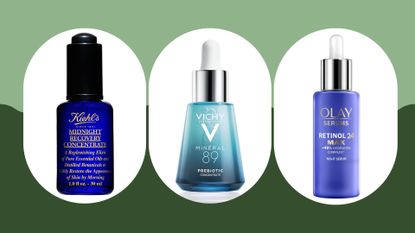 (Image credit: Future)
Applying the best night serum is a critical part of any bedtime routine, as non-negotiable as brushing your teeth. While you're catching those zzz's, your skin is hard at work repairing damage and rebuilding cells. A great night serum will take advantage of this nocturnal renewal process.
Our skin goes into defense mode during the day, warding off free radical damage from UV exposure and pollution. Just as you would always protect your skin with one of the best facial sunscreens, establishing a solid evening routine can help reverse any damage incurred during the day. "Night serums can refer to formulas suited for day and night application, as well as formulas intended purely for overnight use," explains award-winning dermatologist, Dr Stefanie Williams (opens in new tab). "They are made to work in harmony with your body's natural overnight repair processes for a fresh, healthy-looking appearance when you wake up."
The best night serums usually contain potent active ingredients, such as antioxidants and acids to improve skin's health and appearance. From fighting pigmentation and strengthening the skin barrier to addressing fine lines and wrinkles, there's a formula out there to answer any skin concern you might have. These are the best night serums to support skin on the night shift and transform your complexion by day.
How we tested the best night serums
Why you can trust Woman & Home Our expert reviewers spend hours testing and comparing products and services so you can choose the best for you. Find out more about how we test.
We tested dozens of night serums to whittle down this list of the best, including exciting new launches and old favorites we have used for years. We assessed ingredients against the purpose of the serum, as many are designed to tackle specific concerns, and also took into account textures, fragrances, and the way they feel as they absorb into the skin. It goes without saying that, with skincare, we're all about results. So we kept a close eye on our skin during the testing period, looking at tone, texture, hydration levels, and lines to see which serums performed best of all.
The best night serums, chosen by our beauty editor
1. L'Oreal Paris Midnight Serum
Best overall night serum
Specifications
RRP: $27/£29.99
Key ingredients: Hyaluronic Acid, Vitamin E
Reasons to buy
+
Quick to absorb
+
Great value for money
+
Deeply hydrating
We tend to think of antioxidants as being particularly helpful little things during the day - warding off damaging free radicals generated by environmental aggressors like UV exposure and pollution. But actually, they're vital overnight too. After midnight is when skin renewal reaches its peak, but it's also when the skin barrier function weakens. In Midnight Serum, antioxidants including Vitamin E and an ingredient derived from bitter orange peel help to reinforce the skin barrier, kickstart sluggish cell renewal, and protect cells from oxidative stress. Basically, you're getting a lot of bang for your buck in this bottle.
As with most L'Oreal Paris products, this is is quite obviously fragranced. I personally enjoy the floral fragrance that runs through many of my favorite L'Oreal staples, but for others, it might be a little much. The serum itself is on the thicker side, which makes it easy to apply from the pipette, and it absorbs almost instantly. Good news for white pillowcases. From the first application, my skin felt soft, quenched, and almost velvety, and since then has been starting to show the first signs of a smoother texture.
2. Clarins Double Serum
Best luxury night serum
Specifications
RRP: $90/£60
Key ingredients: Turmeric, Avocado, Kiwi, Mary's Thistle, Leaf of Life
Reasons to buy
+
Iconic product
+
'Clean' smelling
+
Targets multiple signs of aging
Reasons to avoid
-
Pricier than others on our list
If ever there was a product worthy of a spot in the skincare hall of fame, it's Double Serum. Clarins sells 1 bottle every 5 seconds worldwide and while it may have launched 35 years ago (the current formula is its 8th iteration), this serum is still a staple on many a Beauty Editor's nightstands, including my own. The iconic elixir is enriched with 21 plant extracts that stimulate the skin's vital functions, which slow with age: regeneration, oxygenation, nutrition, hydration, and protection.
Skin cells have their own language, decoding messages and responding to them. The ingredients within the serum 'speak' to the cells, sending messages to perform certain tasks according to the skin's needs to improve cellular communication, so that eventually lines appear softer, skin is smoothed and radiance is restored.
The doser is powerful but precise. The soft floral scent strikes the perfect balance between making application a pleasant, relaxing experience without lingering too long and becoming a distraction. This is one of those serums that can be applied day and night. I personally prefer it in a skincare night routine. My skin becomes a little slippery after applying a dose, which isn't always conducive to speedy make-up application. There are many reasons to love this serum. It's a stalwart. I can always rely on it to make my skin look better in the morning, which is exactly what you want from the best night serum.
3. Bioeffect EGF Serum
Best collagen-boosting night serum
Specifications
RRP: $155/£129
Key ingredients: Glycerin, Barley (Hordeum Vulgare) Seed Extract, Egf (Barley Sh-Oligopeptide-1
Reasons to buy
+
Award-winning
+
Thickens the skin
+
Backed by a decade of research
Reasons to avoid
-
Expensive for a small bottle
This isn't strictly a night serum - it's actually best applied both morning and evening. An in-house study found that this twice-a-day ritual resulted in a 132% increase in skin hydration after three months. Impressive. Plus, the minimal formula is great for sensitive skin. With only seven ingredients to its name, this pure but efficacious serum stimulates skin without freaking it out.
It's a glossy, unfragranced elixir that spreads evenly over the skin - you only need two or three drops to cover your face and neck, which is lucky because this is incredibly expensive for a very mini 15ml bottle. But, if your budget affords it, this formula is groundbreaking. It addresses fine lines, wrinkles, and other signs of aging using epidermal growth factors.
This sci-fi-sounding protein is something we have lots of in our youth and plays a crucial part in maintaining healthy collagen and elastin levels but it declines with age. Using a plant-derived replica made from barley, this serum stimulates collagen and elastin production to help diminish lines, enhance radiance and even boost skin thickness. It made my skin look fresher and feel more resilient impressively quickly. It may not be the best night serum for everyone, but if you have the cash to spend, you'll be impressed.
4. Biossance Squalane and Lactic Acid Resurfacing Serum
Best night serum for uneven skin tone
Specifications
RRP: $65/£56
Key ingredients: 10% Vegan Lactic Acid, Clover, Sugarcane-Derived Squalane
Reasons to buy
+
Overnight brightening effect
+
'Clean' formula
+
Won't dry out the skin
Reasons to avoid
-
May tingle on sensitive skin
Skin cell turnover speeds up at night, which is why, if you have dull, rough, uneven skin, it's the perfect time to incorporate Alpha Hydroxy Acids, like glycolic acid. Lactic acid is another brilliant AHA and will help take advantage of new cell production as you sleep. Biossance uses a vegan version at the optimal percentage to exfoliate and resurface the skin.
I don't think of myself as having particularly sensitive skin but the first few times I applied this, I experienced a very slight tingling sensation. Nothing unpleasant, and it dissipated within a few seconds but something to be mindful of if you do have irritable skin. The formula goes some way to counteract any potential irritation, with clover to balance and hydrating squalane.
Compared with other serums on our list, this formula is thicker, with a creamy consistency, which feels like a big hug for dry skin. Straight away, my skin looked more even. I'm not saying the resurfacing ingredients work that quickly but there's something about the velvety cream that made my skin look a bit less bumpy and my pores look less 'open' as soon as I applied it. My skin definitely errs on the dull, grey side and I've really been enjoying waking up to a brighter, more luminous reflection.
5. Kiehl's Midnight Recovery Concentrate
Best night serum for tired skin
Specifications
RRP: $53.50/£41
Key ingredients: Lavender Essential Oil, Evening Primrose Oil, Squalane
Reasons to buy
+
Visibly corrects the effects of poor sleep
+
Relaxing aroma
+
Award-winning
+
99.4% natural
Dry skin, dark circles, and a dull tone are all signs you've been burning the candle at both ends and this could be the best facial oil to counteract that. It helps visibly correct the appearance of skin damage caused by poor sleep. "There are studies that show that chronic lack of sleep, which disrupts the circadian rhythm, can lead to an acceleration of the signs of aging," says Dr. Meghan O'Brien, Kiehl's Global Consulting Dermatologist. Trust me when I say this is a tincture for tired skin, starring lavender essential oil, rich in antioxidants and evening primrose oil, which helps maintain a healthy skin barrier with omega fatty acids.
What I love about this elixir (and why I've slightly circumvented the rules to allow a facial oil in this list) is because of the ritual it evokes. It's less about function, and more about the whole wind-down process of bedtime, which begins with the application – I add two to three drops of oil into the palms of my hands and smooth them together then use my fingers and palms to press it gently into the cheeks, forehead, and neck, and – hello! – I'm suddenly transported to a 5* spa. It's the beautiful botanical scent, mixed with mind-melting tactile application that really does it for me. And if you're usually put off by the slippery feel of oil, let me assure you this is in no way greasy or slick. If you're not converted yet, I know that just one use will change your mind.
6. Olay Retinol 24 Max Night Serum
Best night serum for retinol beginners
Specifications
RRP: $34.99/£39.99
Key ingredients: Retinol, Retinyl Propionate, Niacinamide
Reasons to buy
+
Made without fragrance
+
Good price for a retinoid
+
Soaks in well
Reasons to avoid
-
Pipette is a little unpredictable
Retinol is the gold standard of skin-improving ingredients, stimulating cell turnover to address lines and wrinkles. If you're wondering how to use retinol, a night serum is an ideal way to introduce it to your routine – it's the perfect ingredient to take advantage of the skin's overnight renewal process. This is Olay's highest level of retinoid blend, mixed with niacinamide, aka vitamin B3, which is known to strengthen the skin barrier and even out the skin tone.
The serum was light and soaked in quickly, which I appreciate. If you're slathering on an expensive product before bed, you don't want half of it ending up on your pillows! I wouldn't class myself as having particularly sensitive skin (luckily) and I experienced no irritation using this, not even the slightest tingle, which bodes well for others with slightly more reactive skin. This formula contains 40% more hydrating ingredients than Olay's regular Retinol Serum and their best retinol creams, which goes a long way in negating the potential drying side effects of retinol. It felt so quenching, I didn't actually feel the need to apply night cream. It's too early to say whether my wrinkles are drastically improved, but this feels like a solid retinol serum.
7. Pai Skincare Back to Life Hydrate Serum
Best night serum for sensitive skin
Specifications
RRP: $74/£44
Key ingredients: Hyaluronic Acid, Jojoba, Pepperberry, Coconut Extract
Reasons to buy
+
Beautiful silky texture
+
100% natural
+
Suitable for sensitive, eczema-prone skin
Reasons to avoid
-
Dry skin may require a night cream
When you have the kind of skin that feels hot and itchy at the mere mention of an intensive serum, it can be a daunting prospect to take the plunge with a new formulation and stray from your perfected routine. Let Pai's 100% natural formula be your serum safety net. It's been specially formulated for sensitive and eczema-prone skin to deliver a big slurp of hydration without any uncomfortable side effects. Moisture loss increases at night so to help counteract that, you've got low molecular-weight hyaluronic acid that absorbs quickly, and antioxidant-rich berries that protect against moisture loss and lock in maximum hydration.
My skin tends to air on the dry side, so while this felt very soothing, once it had absorbed I definitely needed to apply my best night cream on top. This is not a bad thing, I think I'd feel off-kilter going to sleep without a final slurp of decadent balm. My favorite thing about this though has to be the scent. It smells like a spa - just the sort of zen aroma you want as you slip between the sheets.
8. Evolve Organic Beauty Bio-Retinol + C Booster
Best night serum for dull skin
Specifications
RRP: $32.20/£28
Key ingredients: Bakuchiol, Organic Rosehip Oil, Vitamin C, Sea Buckthorn
Reasons to buy
+
94.5% organic
+
Gentle retinol-alternative
+
Vitamin-rich
Reasons to avoid
-
Fruity scent may be off-putting to some
For all its line-smoothing, skin-brightening prowess, retinol comes with a few downsides. Its potency can cause dryness and irritation, particularly for sensitive skin. As a purveyor of kind-to-skin, kind-to-the-environment ingredients, Evolve has sourced a gentler, botanical alternative for its tired skin elixir. Derived from the babchi plant, bakuchiol has been found to produce the same wrinkle-busting, collagen-boosting results as retinol, without irritation. Win-win. You've also got vitamin C, which works really well with the retinol alternative, to give dull skin a brightening boost. These active ingredients are blended into an oil base (Rosehip oil, to be precise). This is great for two reasons. Firstly, organic Rosehip oil for the face is ideal to soften textural issues and also nourish the skin. And secondly, it allows the product to penetrate deeper than water-based serums.
I like to apply my serums straight after I've cleansed my face in the early evening. Partly because I am lazy and have been known to be so tired rolling into bed I skip serum. But also because I like the look of my post-serum skin. This was one of the most flattering serums I tried so I could enjoy a few hours of glowy skin before hitting the hay. It's a little runny and oily, so I found it best to apply a few drops to my palms, then press it into my skin. My under-eye area especially seems to have benefited from a little wake-up injection since using this.
9. The Ordinary Multi-Peptide + HA Serum
Best affordable night serum
Specifications
RRP: $23.35/£14.30
Key ingredients: Hyaluronic Acid, Matrixyl 3000, Matrixyl Synthe'6, SYN®-AKE, Argirelox, Relistase
Reasons to buy
+
Great value
+
Instantly quenching for dry skin
+
Targets multiple skin concerns at once
Often, serums home in on specific skin concerns - pigmentation, dullness, deep wrinkles - but sometimes a serum comes along that basically does it all. Multi-Peptide + HA Serum (the artist formerly known as 'Buffet' for Ordinary devotees in the know) is a one-stop shop for addressing multiple signs of aging, from lines and loss of elasticity to dehydration and overall texture. Its universal success owes much to the multi-functional benefits of peptides. Peptides are made of amino acid chains, and signal to skin cells to carry out certain functions, such as producing more of the collagen and elastin proteins essential to smooth, firm, plump-looking skin.
You can apply the serum both morning and night, so it will potentially save you money on multiple formulations. As soon as I smoothed this over my face, it felt like the serum my tired, dry, bleurgh skin was crying out for. Those little fine lines around my eyes seemed to bounce back quicker. And let me tell you how incredibly soft this serum makes your skin feel. It's a Jack of no trades, master of everything serum, and definitely one of the best The Ordinary products you can buy.
10. Strivectin Advanced Retinol Nightly Multi-Correct Serum
Best night serum to smooth lines
Specifications
RRP: $99/£79
Key ingredients: Optimized Surface Release Retinol, Polyglutamic Acid, Ashwagandha, NIA-114TM
Reasons to buy
+
Results in 7 days
+
Great before and afters
+
Indulgent, slightly thicker texture
Reasons to avoid
-
May cause slight tingling
Retinol is probably the most famous nocturnal skin whizz kid. "Retinoids are best used at night as some are unstable in sunlight so become less effective and cause sensitivity to sunlight," explains Dr Mary Sommerlad (opens in new tab), Vichy Consultant Dermatologist. Although the ingredient is notoriously irritating, Strivectin's retinol serum has been calibrated to deliver a more comfortable retinol experience thanks to polyglutamic acid, a moisture-binding ingredient that counteracts dryness, and ashwagandha to soothe. Plus, Strivectin's patented form of niacin plays really well with retinol, whilst reining in any sensitivity. Basically, this is an ultra-concentrated, potent serum. Clinical results showed an improvement in lines, wrinkles, texture, and radiance in seven days.
When I used this, my first thought was that the packaging was a little bit needless. Don't get me wrong - it looks great with its fancy pump dispenser - but all you need for retinol is an opaque bottle and you're golden. Once I pumped it out, I was impressed with how rich it was. Less syrupy, and more creamy like a moisturizer. I sensed the slightest tingle in my skin the first few nights but now I'm using it with zero side effects. I'm seriously impressed with how glowy my skin looks. I look less grey and tired, and the mottled patches my eyes are drawn to in the mirror are a little less glaring. I'm impressed.
11. Vichy Laboratoires Mineral 89 Probiotic Fractions Serum
Best night serum for stressed skin
Specifications
RRP: $34.50/£31
Key ingredients: Probiotic Fractions, Niacinamide, Antioxidant Vitamins, Vichy Volcanic Mineralizing Water
Reasons to buy
+
Improves skin health
+
Dermatologist tested
+
Intensely refreshing
Reasons to avoid
-
Can feel a little tacky if over-applied
The skin barrier is pivotal to skin health and even affects how your complexion looks at surface level. When this layer is weakened through seasonal extremes, harsh ingredients, smoking, or poor sleep, your skin can feel rough, dry, and sensitive, with fine lines appearing. Vichy's serum targets a compromised skin barrier to improve the look and feel of stressed skin. Niacinamide provides anti-inflammatory properties to pacify the skin, while probiotics help to support the skin barrier. These microorganisms act like plant food for your microbiome - bacteria that form a crucial component of the skin barrier - to help them thrive and protect the skin against daily stresses. The result is smoother, softer, and less reactive skin.
As soon as I applied this serum, there was an immediate calming, almost cooling sensation, which I imagine would be especially gratifying to inflamed or hot-feeling skin that's in crisis. My skin feels smoother, softer, and definitely quenched. This is a solid investment to ready skin for the colder months.
12. DeloRx The Youth Matrix Activator
Best investment night serum
Specifications
RRP: $189.04/£165
Key ingredients: 0.5% QuadRetinoidTM, Niacinamide
Reasons to buy
+
Packed with 34% active ingredients
+
Suitable for Rosacea and acne-prone skin
+
Dermatologist-approved
It's not just wrinkles that many of us contend with as we age. Up to 50% of adult women suffer from skin that's breaking out with acne or rosacea. Unfortunately, blemish-fighting ingredients can feel harsh and dry, while many line-improving products can aggravate spots, forcing women to choose between getting rid of acne and smoothing wrinkles. Delo Rx, created by dermatologist Dr. Stefanie Williams, tackles both issues with anti-aging actives designed with breakout-prone skin in mind. The QuadRetinoid complex blends four different retinoids, which have both texture-improving and anti-breakout benefits to improve dull skin, wrinkles, and breakouts simultaneously. Plus, the light but powerful serum won't clog pores.
I grew up with acne, so I know first-hand, how insanely drying spot-fighting products can be. It is an absolute dream to find something that doesn't leave my skin crusty or flaky (apologies for the visual) This is a fragrance-free formulation, ideal for very reactive skin, but with the addition of calming organic cucumber juice, you get this beautiful fresh scent as you apply it. Dr. Williams recommends building up skin tolerance by applying only twice a week in the first two weeks. I found my skin acclimated well, and actually, I've already noticed an improvement in the red scars left behind from the spots of my past.
---
How to find the best night serum for your skin type
Dr Stefanie Williams shares her expert advice on pinning down the perfect serum for your skin type, whether you're looking to fix dry skin or slot a serum into a skincare routine for sensitive skin.
Dry skin: "Look for serums with hyaluronic acid and natural oils like argan oil. These ingredients will hydrate your skin while providing a barrier that prevents moisture from escaping the surface of your skin."
Oily Skin: "Choose serums with salicylic acid or niacinamide, which help to reduce oil secretion. Niacinamide can also help brighten and improve the appearance of aging skin."
Balanced Skin: "If you have balanced skin, you can use any kind of serum - hydrating, brightening, or line-reducing. Look for antioxidants like Vitamins C and E, ferulic acid, and resveratrol to protect your skin from environmental damage."
Combination: "If you have combination skin (an oily T-zone and normal or dry cheeks), opt for light serums with hyaluronic acid and niacinamide. They won't clog your pores but will moisturize your skin well."
Sensitive Skin: "The best way to find a serum for sensitive skin is to use a serum designed for sensitive skin. Such a serum will contain calming ingredients like chamomile, cucumber, aloe vera, and so on."
How should you apply night serum?
To get the most out of your skincare and make your products work even harder you should apply them in the right order. Generally speaking, that means starting with the lightest formula, saving the heaviest, thickest creams until last. So where does your best night serum fit in?
"Night serum should be applied to clean skin after all makeup has been removed and the face cleansed," explains Dr Sommerlad. "Apply a thin, even layer over the face, neck, and décolletage." A pea-sized amount, or 2-3 drops if you're using a pipette applicator should be enough to cover the area.
The application will also vary based on the type of serum you apply. Dr Williams recommends building up retinoid doses gradually so that the skin builds up a tolerance. "Start with twice per week for two weeks, then every other day for two weeks, then if tolerated, increase to daily."
Serums are usually followed by night cream. "Applying moisturizer after a serum ensures that the outer layer of your skin remains protected and hydrated," explains Prudvi Kaka (opens in new tab), Chief Scientific Officer at DECIEM. "Moisturizers also act as a way to seal the skin after serum application allowing for optimal results."
What's the difference between day and night serum?
"Broadly speaking, day serums tend to contain antioxidants to protect the skin from pollution and free radicals, while night serums tend to be richer, more hydrating formulations," says Dr Sommerlad.
The type of serum you choose also depends on the ingredients within the formulation. Some active ingredients are best reserved for evening application, as they make skin more susceptible to sun damage. As Kaka explains, "Night serums can contain ingredients that may cause issues surrounding sensitivity with UV exposure, like retinol." Debating whether AHAs vs BHAs deserve a place in your daytime routine? The answer is neither. Designed to slough and renew the skin, both can also cause sensitivity to UV exposure, and are therefore best reserved for evening use.