Best The Ordinary products for all skin concerns—from pigmentation to blemishes
Find the best The Ordinary products for your style with our guide by skin concern and type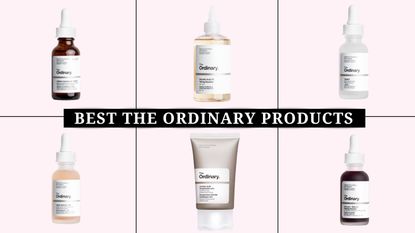 (Image credit: Future/The Ordinary)
woman&home newsletter
Sign up to our free daily email for the latest royal and entertainment news, interesting opinion, expert advice on styling and beauty trends, and no-nonsense guides to the health and wellness questions you want answered.
Thank you for signing up to . You will receive a verification email shortly.
There was a problem. Please refresh the page and try again.
Skincare is complicated, but thankfully, the best The Ordinary products make even skincare novices feel like beauty experts.
Launched in 2016, the aim of The Ordinary was to simplify the way we use skincare. Most of the brand's products champion just one hero ingredient, like glycolic acid, niacinamide, or retinol, meaning there's no need to scan the back of the bottle to see if what you need is included in the formula. They're transparent about percentages too, information that not all brands are willing to share.
Arguably the biggest selling point of The Ordinary products is the affordable price tag. For context, you can snap up their cheapest product, The Ordinary 100% Plant-Derived Squalane for just $3.95/£2.75. That's a chunk of your skincare routine for the price of a sandwich, so how do they do it?
By singling key ingredients out, instead of packing multiple actives into one formula, The Ordinary manages to keep their margins much lower than other brands. Their ingredients lists are pretty scarce, with "filler" and fragrance left out. Instead of fancy pumps and ornate packaging, The Ordinary also keeps costs low by using fuss-free vials and tubes that wouldn't look out of place in a lab. As a result, you can treat yourself to around 8 different The Ordinary products for the price of one high-end moisturizer. Less financial commitment to a single product means more freedom to experiment with what may, or may not, work for your skin.
The best The Ordinary products, by skin concern
Why you can trust Woman & Home Our expert reviewers spend hours testing and comparing products and services so you can choose the best for you. Find out more about how we test.
Whereas most brands make it clear on the packaging who the product is for, whether that be dry, oily, or mature skin, The Ordinary requires knowledge of individual ingredients to put a routine together. Our list highlights which of the best The Ordinary products are suitable for particular skin concerns and needs.
(opens in new tab)
The Ordinary Azelaic Acid Suspension 10%
Best The Ordinary product for acne-prone skin
Reasons to buy
+
Helps to reduce breakouts
+
Evens out skin texture
Azelaic acid is one of the lesser known ingredients in our round-up of the best The Ordinary products, and therefore a good place to start. Like all good skincare ingredients, it has a number of different benefits. The first is preventing breakouts by unclogging pores and tackling bacteria. The second is reducing the appearance of marks left behind by stubborn blemishes so skin is left smoother and clearer. Remember, it is an exfoliant, so make sure you're also using an SPF of at least 30 to protect the new skin beneath.
(opens in new tab)
The Ordinary Retinol 1% in Squalane
Best The Ordinary product for wrinkles
Reasons to buy
+
Plumps fine lines
+
Evens out skin tone
The punchiest of all the retinols The Ordinary offers, this is for experienced users only. If you're new to this hero anti-ageing ingredient and trying to work out which is the best retinol for you, we'd recommend starting with the 0.2% and working your way up to the 1% strength. For experienced users, the results are good, with fine lines appearing less prominent and skin looking fresher and younger. As with all retinol products, its best used at night, when it can work undisturbed on the skin, and followed with one of the best facial sunscreens you have on hand for the next day.
(opens in new tab)
The Ordinary Salicylic Acid 2% Masque
Best The Ordinary product for spots
Reasons to buy
+
Clears out blocked pores
+
Restores clarity to skin
As a general rule, we'd always prioritize sticking to a regular skincare regime rather than using bi-weekly face masks to tackle skincare concerns. But, at such a reasonable price, this salicylic mask is a nice add-on for anyone who suffers from blemishes. Pore-clearing salicylic acid works in tandem here with charcoal and clays to draw impurities from the skin. Apply a thin layer and leave on for 10 minutes max once or twice a week. For first-time users, we'd recommend a patch test, or using for a shorter period of time, to see how your skin reacts.
(opens in new tab)
The Ordinary Hyaluronic Acid 2% + B5
Best The Ordinary product for dry skin
Reasons to buy
+
Adds instant moisture to dry skin
+
Leaves skin soft and pillowy
A single molecule of hyaluronic acid can hold up to 1000 times its own weight in water, making it a crucial ally in the fight against uncomfortably dry skin. It plays nicely with most other ingredients too, and can help to balance out self-inflicted dryness caused by over use of AHAs or retinol. This formula uses a considered combination of high and low weight hyaluronic acid, to penetrate different levels of the skin's surface. The addition of B5 helps to ensure the skin barrier is functioning well enough to effectively retain much-needed moisture.
(opens in new tab)
The Ordinary Niacinamide 10% + Zinc 1%
Best The Ordinary product for oily skin
Reasons to buy
+
Helps to balance sebum in the skin
+
Soothes stressed out skin
Niacinamide, also known as vitamin B3, is often overlooked in favor of more popular ingredients. It has a number of benefits, but is especially good at reducing blemishes and congestion in overwhelmed, oily skin. Partnering with zinc in this formula, it works to decongest clogged pore and balance out the overproduction of sebum that can leave your make-up sliding off by 2pm It helps reduce inflammation too, calming previously red, angry pimples.
(opens in new tab)
The Ordinary Alpha Arbutin 2% + HA
Best The Ordinary product for hyperpigmentation
Reasons to buy
+
Helps fade age spots
+
Improves skin tone
Hyperpigmentation can be caused by a number of factors, including, but not limited to, sun exposure, blemishes and hormones. It's frustratingly easy to develop, but not so easy to shift. Alpha arbutin is part of a family of ingredients called tyrosinase inhibitors, which can keep hyperpigmentation at bay. They help prevent an overproduction of melanin, the pigment that gives skin its color, to stop dark spots from forming. The Ordinary has paired alpha arbutin with hyaluronic acid to ensure a smooth and effective delivery into the skin, with an added bonus of additional hydration.
(opens in new tab)
The Ordinary Glycolic Acid 7% Toning Solution
Best The Ordinary product for uneven skin tone
Reasons to buy
+
Removes dead skin cells
+
Leaves skin glowing
Skin feeling a little gray? This is the product for the job. A generous percentage of glycolic acid works to whisk dead, dulling skin cells from the surface of your skin, revealing the shiny new ones beneath. The results are almost instant, making this a good choice for a quick fix. Incorporate into your routine slowly, just a couple of times per week to begin with, to give your skin a chance to adapt. This does tingle a little, and may be too punchy for sensitive or easily-irked skin.
(opens in new tab)
The Ordinary AHA 30% + BHA 2% Peeling Solution
Best The Ordinary product for dull skin
Reasons to buy
+
Deep exfoliation
+
Skin appears more radiant
A fast-acting solution for lackluster skin, it's no surprise this peeling solution has gained cult status. Despite it's popularity, it's high-strength means it's for experienced acid users only, not first-timers. Alpha-hydroxy acids (AHAs) work on the surface level, shifting dead skin cells, while beta-hydroxy acids (BHAs) dive deeper into pores for a proper clear-out. Follow the instructions carefully and don't leave on for longer than the recommended 10 minutes.
(opens in new tab)
The Ordinary Lactic Acid 5% + HA
Best The Ordinary product for gentle exfoliation
Reasons to buy
+
Mild exfoliation
+
Suitable for more sensitive skin
Lactic acid is an exfoliating acid that sits within the alpha-hydroxy acid family (AHAs). It's derived from milk and works brilliantly to smooth skin. Although the results are still good, the molecule size of lactic acid is larger than the widely used glycolic acid, meaning it doesn't penetrates as deep. For this reason, it's a sensible choice for first-time acid users or those with sensitive skin. The Ordinary has added hero hydrator hyaluronic acid into the mix to help combat any potential dryness the exfoliation process might cause.
(opens in new tab)
The Ordinary Buffet
Best The Ordinary product for mature skin
Reasons to buy
+
Uses peptides to help boost collagen
+
Skin looks soft and bouncy
Apart from everything we've already told you about The Ordinary, their "Buffet" is a combination of different ingredients (hence its name). The aim is to turn back the clock on aging complexions, using a mix of peptides and hyaluronic acid to plump and hydrate the skin. Peptides occur naturally in the skin and are the building blocks of the proteins that give our skin its bounce, like collagen, elastin, and keratin. Unfortunately, their levels deplete as we age, which is why replenishing their levels topically is a good idea. Apply this serum at night, before your moisturizer.
(opens in new tab)
The Ordinary Vitamin C Suspension 30% in Silicone
Best The Ordinary product for brightening
Reasons to buy
+
Brightens skin
+
Helps to reduce sun spots
Vitamin C is a potent and effective antioxidant which fights off the free radicals responsible for speeding up the ageing process. It's best applied in the daytime, when skin is most exposed to the elements. The Ordinary has included L-Ascorbic Acid in this formulation, which is widely considered the gold standard of vitamin C. Over time skin will appear brighter and more even, with dark spots reduced. Thanks to the addition of silky silicone, this leaves a smooth film over the skin, which makes a great canvas for makeup.
Which The Ordinary products shouldn't be mixed?
When you discover a brand as exciting as The Ordinary, there's an understandable temptation to pile on products. Try to resist—overwhelming your skin can lead to irritation, and not all ingredients play nicely together.
There are some skincare ingredients you should never mix together, some as they counteract each other, and some as they become too potent when blended.
If you follow the regimens above, you're in safe hands. But for extra peace of mind, we've put together some pairings to steer clear of.
Glycolic Acid 7% Toning Solution and Retinol 1% in Squalane
Both retinol and glycolic acid work to expose shiny new skin cells, which are more sensitive to damage from UV rays. Using too much of these ingredients in tandem, without proper SPF, is a recipe for disaster. Try to stick to just one, or use on alternating days to reap the benefits of both actives.
Salicylic Acid 2% Solution and Retinol 1% in Squalane
Retinol is a punchy ingredient, and although originally used to target acne, it's now mostly touted as an all-round anti-aging solution. Salicylic acid has become a more popular way to tackle blemishes, as it dives deep into pores to clear out gunk, oil, and grime. Pair the two together and skin is likely to be left dry and irritated, as much-needed moisture is zapped away.
Ascorbyl Tetraisopalmitate Solution 20% in Vitamin F and Glycolic Acid 7% Toning Solution
Ascorbyl Tetraisopalmitate is an oil-soluble derivative vitamin C, meaning it can be used at higher doses for skin-brightening effects with less chance of irritation. However, if you apply at the same time as an AHA like glycolic acid, skin can easily be overwhelmed. The best way to get round the problem is to use them at different times of day. Apply vitamin C in the morning, and keep your glycolic acid for evening only.
Jess Beech is an experienced fashion and beauty editor, with more than eight years experience in the publishing industry. She has written for woman&home, GoodtoKnow, Now, Woman, Woman's Weekly, Woman's Own and Chat, and is a former Deputy Fashion & Beauty Editor at Future PLC. A beauty obsessive, Jess has tried everything from cryotherapy to chemical peels (minus the Samantha in Sex and The City-worthy redness) and interviewed experts including Jo Malone and Trinny Woodall.