Is niacinamide good for acne? Skin doctors weigh in
Our beauty editor asks the experts, is niacinamide good for acne? And how should we use it in our skincare routines?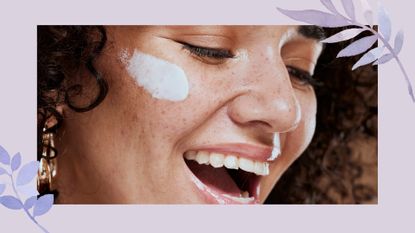 (Image credit: Future/Getty images)
This skin-soothing ingredient has a whole host of benefits, but is niacinamide good for acne? When you're treating blemishes it's important to use the right ingredients, so understanding what each one does will arm you with the knowledge to build the best routine.
Mastering a skincare routine for acne can feel like a daunting task, but it really doesn't have to be complicated. Most experts advise simplifying your regime, and not using anything too oily or irritating. Treatments like light therapy for acne can help, but consider them a handy little extra, rather than a full-blown essential.
The downside of a lot of acne treatments is that they can be a bit drying, but you can balance this out by opting for certain skincare combinations. Niacinamide is often referenced as a good calming, balancing ingredient, but how does it work with blemished skin? We asked aesthetic doctor Dr. Usman Qureshi and dermatology nurse and skincare expert Emma Coleman, is niacinamide good for acne? And this was their take.
Is niacinamide good for acne? The full low-down
is Niacinamide good for acne?
Dr. Quershi explains, "Niacinamide boasts numerous properties that make it extremely effective in fighting active acne, even in more severe cases. It protects your skin from pollution and toxins, which can trigger breakouts, whilst working as an anti-inflammatory. It also alleviates acne swelling, redness, and lesions, and can regulate oil production in the skin. This helps reduce breakouts caused by oily skin and blocked pores."
Now we've broken down that yes, niacinamide is good for acne, it'd probably help to explain what this ingredient is and how it works for your skin generally. Simply put, it's a form of Vitamin B3. According to Coleman, "niacinamide's anti-inflammatory properties combat redness and swelling, and it regulates the amount of sebum produced within the skin."
Does Niacinamide cause acne breakouts?
No, it shouldn't, unless you're allergic to particular formulations that include this ingredient. If you're noticing that niacinamide-infused products have caused breaking out in your skin, the culprit may be another ingredient in the formula. In these cases, it's best to stop using it and find another product that works better for you.
Don't feel the need to 'power through' if your skin doesn't get on with niacinamide, or in fact, any product. Sometimes even good-on-paper ingredients won't get on with certain skin types, for a whole roster of undiscernible reasons. Stop using anything that causes breakouts or irritation, and start slowly reintroducing it after a few weeks. If it happens again, avoid it altogether.
Is Niacinamide or Salicylic acid better for acne?
Wondering, is niacinamide good for acne when compared to blemish-busting salicylic acid? This BHA (beta hydroxy acid) is one of the best ingredients you can use to treat acne, exfoliating while balancing out excess oil production. Does that make it a better option for treating acne?
Coleman believes there's space for both in your skincare routine. "Whereas niacinamide reduces inflammation and gently moisturizes the skin, oil-soluble salicylic acid is stronger," she says. "The latter can be drying, so the two can be used together and actually complement each other in treating acne."
Salicylic acid is the superior spot treatment and niacinamide can help balance out dehydration, so using them together makes for a match made in skincare heaven. How to slot both into your routine? Coleman advises, "apply your niacinamide first to ensure that the skin barrier is adequately hydrated – this will allow the salicylic acid to penetrate more deeply without the effects of dehydration."
Can you use niacinamide every day?
According to Coleman, yes you can. "Because it is such a gentle ingredient, niacinamide products can be used every day, and in some instances, even in the morning and again at night," she says.
Dr. Quershi advises a slightly gentler approach. "Introduce niacinamide into your skincare regime gradually to see how your skin reacts to it," he recommends. "That being said, niacinamide is, generally speaking, a pretty gentle ingredient that should be fine to use daily within your skincare regime, depending on the formulation of your products. More potent products, such as serums, should be used no more than once a day, as overuse of strong concentrations of niacinamide can irritate your complexion."
The W&H verdict
We've heard from the experts, so what's the official w&h take on the big question: is niacinamide good for acne? My verdict would be an absolute yes. Not only will it help prevent excess oil production, but it'll also soothe your skin if you've gone a bit OTT on drying spot treatments. This ingredient also plays nicely with other gentle hydrators, so there's no need to weigh up niacinamide vs hyaluronic acid - your skin should tolerate both.
There aren't any downsides to incorporating niacinamide into your routine, but it's extra beneficial for blemish-prone skin. So yes, niacinamide is certainly good for acne. There are a lot of easy ways to incorporate niacinamide into your routine, but for more effective treatment I'd recommend a serum. It's also a great ingredient to look out for in spot treatments and toners.
Our beauty editor recommends...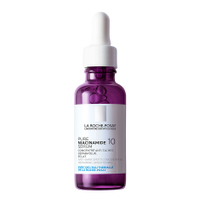 La Roche-Posay Niacinamide B10 Serum | RRP: $39.99/£38
Often selected as one of the best La-Roche Posay products, this is a brilliant serum for acne-prone skin. LRP are the pros at designing products that won't irritate your skin, so if you're nervous about introducing a new ingredient this would be my recommendation.
Paula's Choice Clinical 20% Niacinamide Treatment | RRP: $52/£50
Paula's Choice's BHA toner is my go-to savior when my skin's misbehaving, so it makes sense that the rest of the range caters to acne so well. This treatment is a good step up if you've been using niacinamide for a while, and want a more potent formula.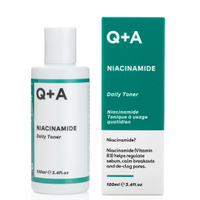 Q+A Skin Niacinamide Daily Toner | RRP: $11/£8
Toner isn't necessarily a skincare essential, but it could be a handy extra step to clean your skin, especially if it's on the oily side. This affordable option is a great soother when your skin feels sore or irritated. Apply to a cotton pad and sweep over the skin after cleansing.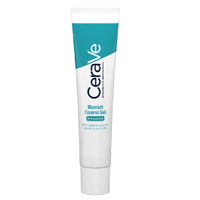 CeraVe Blemish Control Gel Moisturiser | RRP: $21.99/£12.50
Blending niacinamide with salicylic acid, this light moisturizer is a great everyday cream for acne-prone skin. It's hydrating without clogging pores, and the two key ingredients will also help treat and minimize any blemishes as you wear it.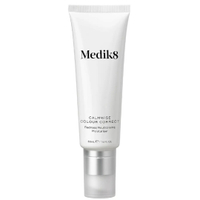 Medik8 Calmwise Colour Correct | RRP: $62/49
Covering acne and redness is a tricky thing to balance – you don't want to overload your skin with too much foundation or heavy-duty concealer, which often makes the whole issue worse. This clever cream is green-tinted, which will counteract redness and sit nicely under a breathable foundation or tinted moisturizer.
Rhiannon Derbyshire is the Senior Beauty Editor for Woman & Home and other publications.
She started interning for glossy magazines while working alongside her Fashion Journalism degree. There, she was lured to the beauty desk, seduced by matte lipsticks, posh shampoos, and every skincare product imaginable. 10+ years into her career, she can confidently tell you why the best mascaras are always high street, and why SPF is a non-negotiable all year round. Ask her about her curly hair routine, skincare minimalism, and how to find the exact right red lipstick