What is fuller's earth and how does it work?
Fuller's earth is a key ingredient for sufferers of oily skin. Get to know if it could work for you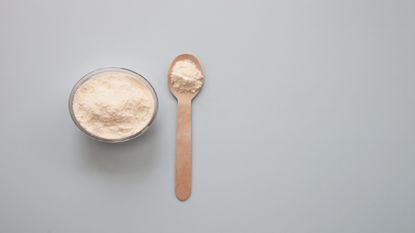 (Image credit: Getty Images)
woman&home newsletter
Sign up to our free daily email for the latest royal and entertainment news, interesting opinion, expert advice on styling and beauty trends, and no-nonsense guides to the health and wellness questions you want answered.
Thank you for signing up to . You will receive a verification email shortly.
There was a problem. Please refresh the page and try again.
Fuller's earth is an all-natural ingredient that some of the biggest beauty brands incorporate into their face masks, cleansers, and exfoliators. When mixed with other ingredients, the clay-like texture creates an incredible scrub for your face making it easy to apply, massage, and rinse away.
Like with any beauty ingredients in your skincare routine, whether all-natural or otherwise, you should always know what you're putting on your skin. So to help you decide on whether fuller's earth is right for you and your skin, we've broken down some of the most important things to know about it.
What is fuller's earth?
Fuller's earth is a mineral clay extracted from the earth used for a wide variety of things. A popular beauty ingredient, it is composed of minerals such as magnesium, aluminum, iron, and silica, which are all very absorbent. This absorbency is the reason fuller's earth is so good for extracting dirt and oils from your skin and why it's so popular in creams, cleansers, exfoliators, and face masks. It helps give your skin that radiant, luminous glow. It's also found in other products like body lotion, shampoos and conditioners, soaps, concealers, powders, and more and can be used medically to treat burns and wounds.
Fuller's earth benefits
Fuller's earth has a significant amount of benefits. For your hair, fuller's earth adds important nutrients to your scalp, strengthening your hair to grow thicker and faster.
For skin health, fuller's earth is an extremely effective ingredient for a clear, beautiful complexion. According to medical experts with eMediHealth, you can look forward to the following benefits for your skin:
Tighten pores: The minerals absorb oils and dirt, resulting in fewer breakouts.
Create a natural glow: Since fuller's earth is used as a deep skin cleanser, it will help remove congestion and clear out clogged pores that can leave your skin looking dull and uneven.
Gentle exfoliation: Using fuller's earth helps slough away dead skin cells, leaving you with a more even complexion.
Treat sunburn: It has soothing and cooling properties that help tone down redness and swelling.
Reduce the appearance of dark circles: Since fuller's earth tightens skin, it also boosts the microcirculation under your skin, ultimately lightening your dark circles.
Are there side effects to using fuller's earth?
Fuller's earth's raw form is powder, and it is not safe to inhale as it can irritate your throat.
According to Healthline, "In large concentrations or prolonged or repeated exposure, fuller's earth may cause serious skin and eye irritation and lung damage." They also emphasize the importance of following the directions on the packages you're using. Patch tests are always a good idea to ensure it doesn't cause skin irritation.
As an ingredient in beauty products, this shouldn't be a problem, but as with any new product, test on a small area before slathering all over.
When to use fuller's earth (and when not to)
Fuller's earth is ideal for those with very oily skin. It is perfect for removing and reducing excess oils from your face that cause acne, pimples, and blackheads. It's also great for users who struggle with wrinkles and fine lines due to its firming and tightening effects. In all cases, be sure to use fuller's earth as directed and never exceed more than twice a week.
If you already have problems with dry skin, fuller's earth is not for you. It can cause havoc on your already dry skin and dry it out more. If you're pregnant or breastfeeding, it's always best to consult your doctor before continuing or starting to use any beauty ingredient.
How to use and apply fuller's earth
Since fuller's earth is in so many types of our beauty products, the best rule for applying it to your skin or hair is to follow the directions on the label of the product you're using. However, it is most popularly used as a face mask and can be effectively applied as follows:
Use a cleanser and wash your face.
Mix fuller's earth with a DIY mask of your preference. For example, brown sugar and coconut water are great with fuller's earth to tighten pores. When combined with honey, milk, and potato juice, you'll achieve a soft, radiant glow.
Apply your face mask and let sit for about 10 minutes.
Wash off thoroughly.
Continue with the rest of your skincare routine.
Note that when using fuller's earth as a face mask, you should only use it in your routine about once or twice a week. Fuller's earth is great at extracting grease and oils from your face, but if used excessively, it can completely dehydrate your face, causing other issues like irritation, flaky skin, and even an overproduction of oil.
Fuller's earth is great for your skin and hair, particularly if you struggle with oily skin. The key is to use only as directed, and you'll see the many benefits of this highly-prized ingredient.
A lifelong creative writer and beautyphile, Eunice Lucero-Lee graduated from De La Salle University in 2002 and was hired a year later to front all beauty coverage for Pink Magazine. A beauty, astrology, and pop culture obsessive and insider for over 18 years, Eunice is an internationally published editor (and now certified astrologer) whose work has been featured in publications such as Cosmopolitan, Esquire, and The Numinous, among many others.