The best menopausal skincare products and routine, recommended by experts
Menopausal skincare to nourish, cool, and soothe - plus skin doctors reveal the perfect routine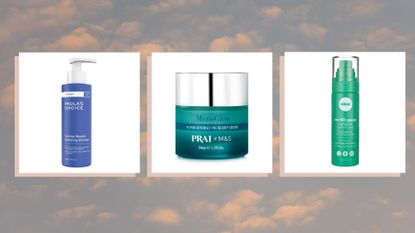 (Image credit: Future)
Menopausal skincare is storming the beauty aisles, and it's about time too. Until recently, the 'change' was cloaked in mystery, and yet its physical effects - in particular on our skin - can be overwhelming. Thankfully, more brands are delivering dedicated, inclusive menopausal skincare ranges targeted to the many millions of women who are currently peri- or post-menopausal.
If you thought you had your skincare routine down pat but suddenly your favorite serum or the best night cream isn't having the same effect, it's probably time to switch things up. "Because of the changes women can experience during menopause, it's important to adapt how we look after ourselves - and our skin - during this time," says Dr Alia Ahmed (opens in new tab), Consultant Dermatologist for Revive Collagen. "Focus on self-care, learn about your skin's texture, tone, and needs. Evaluate your skincare and whether it's meeting your requirements. I tell clients that their skincare will change all year round, and it's the same for the seasons of life."
The good news is with a carefully-planned menu of the best skincare products, from mega moisturizers with ingredients to calm flared skin to the best face mists for cooling and super supplements, you can replenish your skin, whatever stage of menopause you're at.
Why do I need menopausal skincare?
Why you can trust Woman & Home Our expert reviewers spend hours testing and comparing products and services so you can choose the best for you. Find out more about how we test.
The average age for the start of menopause is 51, which is marked by 12 months without a period. Peri-menopause is the transition before menopause, which averages four years. During this time, cell regeneration and healing slows and estrogen levels also deplete, which means:
Dehydration: Estrogen drops mean reduced hyaluronic acid production (the moisturizing molecule that helps skin stay plump and dewy) and also have a negative effect on the skin barrier, which is responsible for keeping moisture locked in. Pile on the fact that your skin has fewer natural oils and you've got a triple whammy of dehydration, which leads to rough, itchy skin that has lost its glow and feels more sensitive.
Collagen levels drop: The dip in estrogen also has a knock-on effect on the bouncy cushion of the skin too. "Studies have shown that women's skin loses about 30% of its collagen during the first five years of menopause and it continues to decrease by 2.1% every year after menopause," explains Dr Ahmed (opens in new tab). This means that skin can become less supple and more thin-looking.
With changes coming from every angle, it can be hard to know exactly what skin needs. "Look for ingredients like glycerin and hyaluronic acid for hydration and moisture, and ceramides to support your skin barrier" advises Dr Ahmed. "Antioxidants are collagen-stimulating and protect the skin against environmental damage so all of these actives are worth including in your skincare regime."
10 menopausal skincare saviours, selected by our beauty experts
1. Paula's Choice Resist Anti-Aging Hydrating Cleanser
The best cleanser for menopausal skin
Reasons to buy
+
Gentle formula
+
Replenishes the skin barrier
+
Formulated with antioxidants
"I'd recommend using non-fragranced, gentle, creamy soap substitutes when washing the skin to keep it hydrated," advises Dr Ahmed. "Then gently pat dry and avoid aggressive rubbing of fragile skin."
Milks and creams are some of the best cleansers to use in a menopausal skincare routine, which often requires a more delicate, less aggressive approach. This gentle cleanser is light and creamy, lifting impurities and make-up without disrupting the skin barrier. Green tea extract has antioxidant properties, while chamomile flower extract is there to soothe and calm.
2. Emepelle Serum
The best serum for menopausal skin
Reasons to buy
+
Fragrance-free
+
Great base for makeup
+
Dermatologist-approved
"Estrogen is an essential ingredient in maintaining skin health and appearance," says Dr Emma Wedgeworth (opens in new tab), consultant dermatologist. "It activates estrogen receptors in key skin cells, stimulating the production of collagen, elastin and hyaluronic acid to promote healthy skin and a vibrant, younger-looking appearance."
This serum, recommended by dermatologists, is part of the only skincare range to use an active ingredient known as MEP, which basically encourages the skin to act as if estrogen is still there to improve dry, dull texture. "This process helps restore lost collagen for younger-looking skin that's hydrated, brighter, and firmer," confirms Dr Wedgeworth. The before and after photos are impressive, and sensitive complexions will be glad to know it's also fragrance-free.
3. No7 Menopause Skincare Protect and Hydrate Day Cream
The best day cream for menopausal skin
Reasons to buy
+
Supports the skin barrier
+
72-hour hydration
+
Contains SPF30
The main focus for menopausal skin should be hydration, so incorporate moisturizing ingredients like niacinamide, which helps to replenish the skin's moisture barrier for long-term healthy skin. This cream is proven to hydrate for 72 hours with a protective antioxidant complex and SPF30 to build up the skin's defenses.
"From consulting more than 7000 menopausal women in our cohort, we know that menopause is associated with several skin changes, with many women reporting increased dryness, dullness, and sensitivity," explains Dr. Mike Bell (opens in new tab), No7 Head of Science Research. "The No7 Menopause Skincare range has been developed to support skin barrier resilience and tackle some of the most common concerns women report."
4. Korres White Pine Meno-Reverse Volumizing Serum-in-Moisturizer
The best lightweight moisturizer for menopausal skin
Reasons to buy
+
Light, gel-like texture
+
Improves deep lines and wrinkles
+
Firms skin
It's a bit of a myth that mature skin always demands thick, heavy creams. If your skin feels particularly tight, dry, and looks flaky, then, by all means, go with a richer formulation. If however, your skin needs a little juicy pick me up, then try something with a higher water content. "When skin is feeling hot or irritated, include lighter formulations like gels or serums as they have a cooling effect on the skin," advises Dr Ahmed.
The top ingredient in this gel cream is water, and the beautiful texture soaks in effortlessly. Despite its refreshing formulation, it works hard and is clinically proven to improve volume in a week so skin looks firmer and plumper.
5. Indeed Labs Me-No-Pause Cooling Mist
The best face mist for menopausal skin
Reasons to buy
+
Instant cooling sensation
+
Calms irritation
+
Can be used as a toner
80% of women experience hot flushes during menopause, so when your face feels like molten lava spritz this on to provide an aura of calm. It's great for chucking in your handbag to relieve flared skin as and when you need it, but can also be used as a post-cleanse toner.
The cooling sensation really is impressive - it's certainly one of the most soothing mists we've tried. The formula is infused with cucumber extract to alleviate the intense scratchy feeling that often accompanies menopausal skin flushing, and contains two lotus flower extracts to relax skin mid-flare-up.
6. Peep Club Instant Eye Relief Spray
The best menopausal skincare for dry eyes
Reasons to buy
+
Suitable for contact lens wearers
+
Instant relief for dry, itchy eyes
If your eyes are suddenly itchy, sore, swollen, and red, you are not alone. Dry eye syndrome affects around 61% (opens in new tab) of perimenopausal and menopausal women.
When your eyes are burning and feel drier than the desert, this spray feels like a cold drink on a hot day. It treats both the eye and the delicate skin on the eyelid and under the eye, too. It's also suitable for contact lens wearers. The spray is infused with colorless sea buckthorn oil and sodium hyaluronate to offer instant relief to tired, heavy, irritated eyes.
7. PRAI Beauty MenoGlow Super Hydrating Sleep Creme
The best night cream for menopausal skin
Reasons to buy
+
Relieves itchy skin
+
Luxurious texture
At night, look for creams with hyaluronic acid to counteract the overnight moisture loss exacerbated by night sweats. As a skincare ingredient, hyaluronic acid can hold up to 1,000 times its weight in water making it a formidable hydrator for extremely dry or dehydrated skin.
This luxurious night cream has a silky texture that feels cooling and calming on dry, irritated skin. It's enriched with that mega-moisturizing hyaluronic acid, along with glycerin and a blend of tripeptides to ease tightness, plump skin, and plump lines.
8. Aveeno Dermexa Emollient Cream
The best body cream for menopausal skin
Reasons to buy
+
Suitable for eczema
+
Calms skin flare-ups
"The skin in menopause can be more sensitive and more likely to feel sensations like itching, crawling or stinging, so one of my top tips would also be to apply emollients liberally to the whole body, including face and even your heels," explains Dr Ahmed.
Emollients such as butters, oils, and fatty acids help prevent water loss, and have a soothing effect on the skin. This cream features emollients including petroleum jelly and dimethicone that act like a seal, trapping moisture in the skin. These ingredients work in tandem with humectants like glycerin and ceramides (which draw moisture into the skin) to double down on hydration across the whole body.
9. Skingredients Moisturising & Priming Skin Shield SPF 50 PA+++
The best sunscreen for menopausal skin
Reasons to buy
+
Works as a primer
+
Silky texture that feels 'invisible'
+
Antioxidant protection
"Prevention is key," says Dr Ahmed, "as some skin changes, such as sun damage, are cumulative and can become more pronounced around or after menopause. My simple tips are effective use of sunscreen and protective clothing all year round."
This sunscreen is a delight to apply, offering a fresh, peachy tint that works fantastically well as a base for make-up. It provides broad-spectrum sun protection from UVA and UVB rays, with added defense against pollution and blue light. It ticks off antioxidant protection too, with zinc oxide, a powerful anti-inflammatory that helps to soothe sensitive, reactive skin.
10. Revive Collagen Enhanced Plus Premium Liquid Marine Collagen Drink
The best supplement for menopausal skin
Reasons to buy
+
Pleasant flavor
+
Better absorption rate than a pill equivalent
"Due to the accelerated collagen loss that women experience during menopause, I'd highly recommend using collagen supplements to help support the body's natural collagen production," advises Dr Ahmed. But don't just pick any old supplement. Dr Ahmed stresses the importance of picking the right oral collagen. "Type 1 hydrolyzed marine collagen has been scientifically proven to be the most bioavailable to the body with 90-95% absorption rates compared to that of tablets and powder which have around 30-40% absorption," she says.
Revive Collagen is the one Dr Ahmed recommends. This drinkable liquid collagen (which, unusually for collagen supplements, tastes delicious) has added ingredients like hyaluronic acid and retinol, plus vitamins that brighten and replenish skin.