The 11 best face mists to soothe, soften and refresh skin
Anyone for a spritz? We've tested the best face mists that are ideal to give your complexion an instant pick-me-up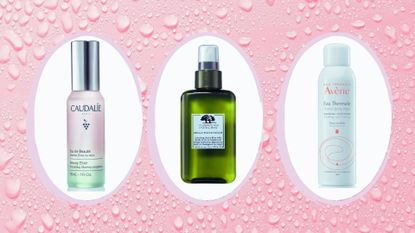 (Image credit: Future)
There's something so calming about a spritz of the best face mists. Whether you're feeling a bit frazzled or dehydrated, they can be the ultimate pick-me-up for tired, thirsty complexions.
You might think that even the best face mists aren't a wholly necessary step in your skincare routine, and to be totally honest, you'd be right. These aren't as essential as your best facial sunscreen or knowing how to wash your face properly, but they can be a nice little extra to refresh your skin, boost your mood, and add hydration.
That's not to say that they're purely a frivolous buy – some face mists have real benefits, and can make difference to skincare concerns like dehydration and sensitivity. Some make other skincare like your best hyaluronic acid products work harder. Mists also come in handy in a skincare routine for menopause – a quick spritz is an instant way to cool down during hot flashes.
Facialist and skin expert Fiona Brackenbury says, "Face mists are a brilliant way of increasing the hydration levels in the very top layers of the skin. A well-hydrated skin is the secret to optimal absorption for the rest of your skincare products, especially your best serums."
How to pick the best face mists for you, according to a facialist
Why you can trust Woman & Home Our expert reviewers spend hours testing and comparing products and services so you can choose the best for you. Find out more about how we test.
Not sure how to pick the right buy for you? Don't fret - Brackenbury shares her tips:
Misting action matters: "I do love a mist, but I am fussy. I don't want to be soaked but I also don't want the spray to be so fine that you can't feel it. It's about looking for that right balance for whatever your texture preference is."
Focus on ingredients: "I'm also picky about the ingredients that are included in the formula! You want your mist to make a difference and not feel like you are just spraying water on your skin. Ideally, you would want to see lots of humectants like glycerin, aloe vera, and hyaluronic acid. These are moisture magnets and will gorge the skin with hydration. The more hydrated your skin is, the more effectively your skincare can absorb products."
Consider your barrier: "If you are wanting to achieve a more balanced complexion, support the skin barrier. If you balance the skin's microbiome it will be less problematic - look for options with pre and probiotics if you struggle with sensitive or acne-prone skin."
The best face mists, as picked by our Beauty Editor
1. Caudalie Beauty Elixir
Best overall face mist
Specifications
RRP: $49/£32
Key ingredients: Green grape, Rose essential oil, Rosemary essential oil
Benefits: Boosts glow, helps tighten pores
Scent: Herbal and fresh
Reasons to buy
+
Uplifting scent
+
Instantly refreshes skin
+
Vegan friendly
Reasons to avoid
-
A bit expensive (but worth it!)
It was a no-brainer for me to award this as the overall best face mist. It was the first one I thought of when I was gathering options - I've easily gone through 20 bottles of this mist over the years. There's something about the fresh, herby scent that just instantly lifts my mood, and helps add a bit of zing to my skin. It's the perfect antidote for that post-lunch 3 pm slump - for that reason, I always keep one on my desk.
A mix of essential oils is responsible for the uplifting scent, plus grape water, Caudalie's hero ingredient to intensely hydrate complexions. It's the perfect level of misting too - not too wet, not too soft. My skin feels radiant and refreshed within seconds after spritzing this. If you're skeptical about mists, try this before making your mind up - I know you'll be hooked.
2. Fresh Rose Instant Hydration Mist
Best scented face mist
Specifications
RRP: $24/£20
Key ingredients: Damask rose extract, rosewater
Benefits: Soothing and hydrating
Scent: Rose
Reasons to buy
+
Pretty rose scent
+
Nice gentle mist
+
Soothes skin
I'm a floral fan but have a particular soft spot for rose perfume, so I was pretty much guaranteed to like this. The petal-powered scent is lovely and bright, without feeling old-fashioned. The misting action is pretty great too - a light, even spritz that doesn't leave your face too damp.
The formula itself is also effective and incredibly hydrating - my complexion felt softened and soothed, leaving my dehydrated skin feeling comfier and less tight and dry. It's a brilliant all-rounder, and the lovely scent is a nice bonus.
3. Sunday Riley Pink Drink Firming Resurfacing Essence
Best multitasking face mist
Specifications
RRP: $48/£42
Key ingredients: Peptides, fermented honey, botanical extracts
Benefits: Firming, balance the skin's natural microbiome, resurfacing skin
Scent: Uncscented
Reasons to buy
+
A handful of different benefits
+
Uses probiotics to balance skin
+
Feels luxurious
Reasons to avoid
-
Expensive, for a face mist
As Brackenbury mentioned, the use of probiotics can come in handy when it comes to a skincare routine for acne. They help keep your skin barrier balanced and content and help soothe irritation. This option blends them with peptides, which is what gives your skin a 'bounce', helping it feel firmer and plumper.
A clever little multitasker, I can vouch that my skin felt content and balanced after spritzing this. It does have a slightly wetter application than the others, so it's likely best applied to bare skin, rather than over makeup. The glass bottle makes it feel weighty and luxurious too, which, to be fair it should for that price tag. I wholly believe that you don't need to spend a lot of money to get the best face mists, but if your budget permits it, you'll love using this hardworking buy.
4. Avene Eau Thermale Spring Water Spray
Best face mist for hot weather
Specifications
RRP: $9.50/£9.25
Key ingredients: Thermal spring water
Benefits: Refreshing, soothing
Scent: Unscented
Reasons to buy
+
Suitable for sensitive skins
+
Frill-free and simple
+
Incredibly cooling
Reasons to avoid
-
It's essentially just fancy water
Brackenbury mentioned that you didn't just want a water spray, but I'd argue that there are some occasions where that's exactly what my skin wants. Namely when I'm sweating it out on vacation, or during a heatwave. You don't know joy until you've sat, sweltering on a sun lounger, liberally spritzing this cooling mist.
It has just one ingredient - thermal spring water (ok, two, it also contains nitrogen to make the aerosol work). While not exactly groundbreaking on the formula front, there's something to be said about the really simple products. If you have sensitive skin that's prone to acting out when you use actives, you'll love this. It's quite a wet mist, so not one for over makeup - but like I said, that's what makes it ideal for instantly cooling down the complexion.
5. Indeed Laboratories Me-NO-Pause Cooling Mist
Best face mist for menopausal skin
Specifications
RRP: $19.99/£19.99
Key ingredients: Cucumber extracts, glycerine, flower extracts
Benefits: Cooling, soothing, relieves itchiness, hydrating
Scent: Unscented
Reasons to buy
+
Relieves hot flashes
+
Cooling and soothing
+
Multitasking
Wherever you're at when it comes to stages of menopause, it's likely you've encountered hot flashes. One of the quickest ways to cool down is to use a facial spray - any of these on the list will do the job, but this option by Indeed labs offers specialized care.
This focuses on targeting all those menopause symptoms for your skin - including itching, dryness, sensitive skin, and hot flashes. This could be your handbag hero, for instant relief when those symptoms kick in. I can vouch that this is probably the most cooling of the mists I tried. When I spritzed a patch on my arm to remind myself of its formula, it was still cool 30 minutes later. Hot tip - keep one in the fridge on particularly warm days.
6. La Roche-Posay Toleraine Ultra 8
Best face mist for sensitive skin
Specifications
RRP: $27.90/£20.50
Key ingredients: Water, glycerine
Benefits: Soothing, hydrating
Scent: Unscented
Reasons to buy
+
Suitable for sensitive skins
+
Alcohol-free
+
Ultra-gentle
Reasons to avoid
-
No actives, if you're looking for a mist with skincare benefits
Sore, irritated skin? This is one of the best face mists to instantly soothe your complexion. La Roche-Posay is known for ultra-gentle, hardworking skincare and this handy little mist is no exception. It's part of the Toleraine range, which includes many of the best La Roche-Posay products for sensitive skin.
It contains no aggravating ingredients like alcohol or fragrance, but does include glycerin to boost hydration. It's a nice, gentle mist - frill-free, sure - but nice and soothing. Brackenbury lists this as one of her favorites too, saying, "This is the best for sensitive, reactive skin. It contains skin soothers and hydrating ingredients that will instantly bring a moment of calm and help diffuse any discomfort." Sold.
7. Pixi Vitamin Wakeup Mist
Best refreshing face mist
Specifications
RRP: $15/£16
Key ingredients: Citrus Fruit extracts, Lavender and Arginine
Benefits: Strengthens and refreshes skin
Scent: Zesty orange
Reasons to buy
+
Lovely zingy scent
+
Refreshes skin
+
Hydrating
Reasons to avoid
-
Not suitable for sensitive skin
-
Scent might put some off
If scent is something that can really affect your mood, or you're a fan of the best fruity perfumes you'll love this zingy, fresh option. It has a bright, orange fragrance that's a real mood booster. It's very aptly named, I must say - it was the perfect pick-me-up mid-afternoon.
The vitamin it's referring to is Vitamin C, thanks to the inclusion of orange and other fruit extracts. It doesn't seem to be an especially high concentration, so it won't necessarily brighten your complexion as well as your best vitamin C serums would, but it'll give you a little boost. The mist is very gentle, so you could get away with using it over makeup, to refresh your complexion. The scent might not be ideal for easily-irritated complexions, and it has a very slightly oily finish, so sensitive and breakout-prone skins might not get on with this one.
8. Tatcha Luminous Dewy Skin Mist
Best luxury face mist
Specifications
RRP: $48/£45
Key ingredients : Botanical oils, hyaluronic acid, Okinawa red algae, squalane
Benefits: Hydrating, boosts radiance
Scent: Light and fresh
Reasons to buy
+
Can be used over makeup
+
Luxury feel and packaging
+
A whole host of hydrating ingredients
Reasons to avoid
-
Very expensive for a mist
I'm obsessed with Tatcha skincare, and was thrilled when Tatcha UK finally landed and the range became available to buy in my home country. I used to ask friends and family to smuggle tubs of the Dewy Skin Cream back to me when they'd visit the US - that's when you know it's true love.
The mist uses the same properties as that famous cream, focusing on deep moisturization while giving the complexion a glowing, radiant finish. It really delivers - my skin felt instantly soothed and moisturized with just one spritz of this. It gave a nice glow too - it'd be ideal to refresh your makeup if it's started to look a bit 'meh' in the middle of the day. The only problem for some will be the high price point - but if you can afford it, it's a real winner.
9. Oskia Citylife Facial Mist
Best face mist for pollution
Specifications
RRP: $66/£46
Key ingredients: Hyaluronic acid, Niacinamide, Vitamin B3 & C, Neroli & Basil Oil
Benefits: Pollution protection, prevents free radical damage,
Scent: Neroli and basil
Reasons to buy
+
An extra step of protection against pollution
+
Packed with hardworking ingredients
+
Luxury scent
+
Hydrating and brightening
Reasons to avoid
-
Scent may not be for everyone
-
Expensive
Pollution is becoming an increasing worry, as we learn more about the effects that it has on our bodies, skin, and even our hair. One of the best ways you can protect your skin is to apply a broad spectrum, high-factor SPF daily, and use antioxidants like Vitamin C in your daily skincare routine.
This face mist offers another little layer of protection – consider it an invisible, forcefield-like shield to your face when you're out and about in polluted areas. It's one of the best face mists for city living, for sure. It uses a blend of very potent, scientific-sounding ingredients to do this (Astaxanthin and Malachite, anyone?) as well as our old faithful Vitamin C. I felt comforted by the extra level of protection, but I particularly enjoyed the fragrance - a blend of neroli and basil for a rich, expensive-feeling scent.
10. Origins Mega Mushroom Hydra-Soothing Mist
Best hydrating face mist
Specifications
RRP: $26/£24
Key ingredients: Snow mushroom, Reishi Mushroom, Hyaluronic Acid
Benefits: Hydration, soothing
Scent: Unscented
Reasons to buy
+
Incredibly hydrating
+
Lightweight and won't clog pores
+
Calming and soothing
As one of the big skincare trends of 2022, the humble mushroom offers impressive skincare benefits. This spritz is part of Origins' iconic mega mushroom range, which blends two funghi - snow mushroom, which holds over seven times its weight in water, and reishi mushroom, which helps soothe redness and irritation.
I loved using this - my complexion has a tendency to be on the dehydrated side, so my skin really drank this up. The light mist was soft and soothing and didn't soak my face in water droplets. It was a nice, even misting. I used it after cleansing, before applying serum, and it did seem to help everything sink in better. I'd call this a brilliant option at a mid-level price point - I can't see anyone not liking this.
11. Mario Badescu FACIAL SPRAY WITH ALOE HERBS AND ROSEWATER
Best drugstore face mist
Specifications
RRP: $7/£6.75
Key Ingredients: Rose water, aloe vera, herbal extracts
Benefits: Soothing, refreshing, calming
Scen: Rose and herbs
Reasons to buy
+
Revives tired skins
+
Lovely scent
+
Great price
+
Available in other scents and sizes
Reasons to avoid
-
Not as many hydrating ingredients
Mario Badescu's range is a great go-to brand for affordable skincare with a fuss-free approach. This range is probably best known for its drying spot lotion, loved by many a beauty editor and celebrity, which is great for treating zits. Their spritzes are also heroes in the product line, available in four formulations - all blending aloe vera with coconut water, green tea, lavender, or orange blossom.
I went for rose water as it's known for its soothing properties and my skin was feeling particularly irritated on the day of testing. It worked like a charm - nice and refreshing, calming and nicely scented. I also like that it's available in a couple of different sizes, so you can use smaller options for travel, or opt for the biggest bottle to stock up.
---
Do facial mists do anything?
Yes - if you pick options that include ingredients that have specific uses! Depending on the results you're expecting from using mists, you can definitely see benefits from using options with hydrating, refreshing, or brightening properties. They can also help your serums sink in better. "Pick wisely and you will see great benefits. Select without doing your homework