Skincare trends 2022: 7 ways to achieve your best skin ever this year
New season, new complexion! Our experts reveal the fresh skincare trends 2022 will bring to your routine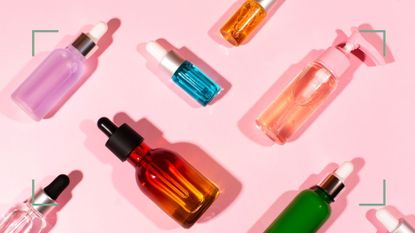 (Image credit: Getty Images)
woman&home newsletter
Sign up to our free daily email for the latest royal and entertainment news, interesting opinion, expert advice on styling and beauty trends, and no-nonsense guides to the health and wellness questions you want answered.
Thank you for signing up to . You will receive a verification email shortly.
There was a problem. Please refresh the page and try again.
With spring on the horizon, now's a perfect time to learn what skincare trends 2022 will bring. A new season often means a fresh start in beauty, so we've spoken to key experts and swotted up on all the latest launches, ingredients, technologies, and treatments.
Whether you're hoping to change up your skincare routine with a new ingredient, swot up on technique with professional skincare tips, or want to learn the best skincare night routine for a radiant glow come morning, the most useful skincare trends 2022 has to offer are based on genuine innovation, rather than flash-in-the-pan crazes.
"I get ridiculously excited about new ingredients but sometimes we don't need to reinvent the wheel," says Abi Cleeve, skincare expert and founder of Ultrasun and SkinSense. "New ways to formulate can be just as exciting. This means even existing ingredients that we might be familiar with work even harder and give the consumer a better result."
Dr Dennis Gross, dermatologist and founder of his eponymous skincare brand agrees. "I don't follow trends, but I do follow science. There can be a lot of fluff with new trendy ingredients. However, I am really excited about the latest developments in technologies." Let's find out more.
Skincare trends 2022, according to the experts
1. At home LED treatments
The most exciting skincare trends 2022 will give rise to are all about new technology. While LED isn't new (it's been a go-to salon treatment for years) What's notable is that at-home treatments are becoming more affordable and less intimidating, making it a fast-growing trend worth knowing
Dr Gross loves the high-tech technique. "We have seen more and more patients understand the benefits of LED light therapy. Don't underestimate the power of what you can do at home to firm and strengthen skin. I am thrilled to see so many adopt this technology and expand their understanding of what constitutes a skincare ingredient." Wondering what is red light therapy doing within the skin? "Our skin cells have receptors for LED like they do for other active ingredients," explains Dr Gross. "Just how traditional ingredients connect to receptors and stimulate collagen production, LED is a catalyst for stimulating our skin's own natural collagen production and reducing inflammation. The key is to look for an FDA-cleared device, this will have the clinical studies to back up any claims."
The best red light therapy devices, as well as other LED treatments, are a great way of boosting collagen, but they can also be a key buy in your skincare routine for acne. Dr Gross explains, "Blue LED light connects to acne-causing bacteria, causing it to self-implode. Unlike some topical products, LED will never dry out the skin, making it a useful tool for those with dry or sensitive skin."
Our beauty editor recommends...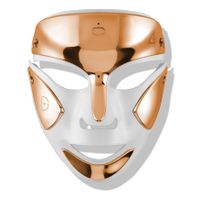 (opens in new tab)
Dr Dennis Gross DRx Spectralite Facewear Pro | $435/£430
Expensive? Yes. Worth it? Absolutely. This is a salon-grade treatment that's safe to use at home. With most LED treatments in salons costing hundreds a pop, you'll get your money's worth from this after just a handful of uses. Just three minutes a day makes a noticeable difference—pop it on for a few minutes' pamper every morning.
2. Mushrooms as an ingredient
Believe it or not, fungi are big news in skincare this year. Abi Cleeve explains. "The benefits of selected mushroom types in skincare have been studied, documented, and implemented for a while, but we've only really seen their prevalent use in skincare grow over the last few years. No longer a niche, and dare-I-say slightly unappealing ingredient, I predict the use of mushroom extracts to become a staple in skincare trends 2022."
She continues, "Various studies have shown the impressive impact mushrooms can have on the skin. Reishi mushrooms support the skin barrier by soothing inflammation, locking in moisture, and helping skin weather environmental aggressors. Shiitake and maitake mushrooms can improve pigmentation, helping to fade dark spots as well as containing anti-inflammatory and antioxidant properties"
They're a natural anti-inflammatory, which makes them ideal for blemish-prone complexions, as well as soothing buys in a skincare routine for sensitive skin.
Our beauty editor recommends...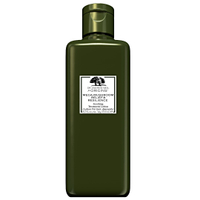 (opens in new tab)
Origins Mega-Mushroom Relief & Resilience Soothing Treatment Lotion | $58/£33
Origins were one of the first big brands to harness this ingredient, and they've just reformulated their bestselling soothing lotion to include ten times more reishi mushrooms, reducing redness and strengthening the skin barrier within hours of application. Ideal for irritated skins.
3. Bakuchiol is the new retinol
The best retinol creams can have all sorts of positive benefits, but they are ultra-potent and can irritate the skin, leaving it feeling sensitive. Step in one of the top ingredient-led skincare trends 2022 has to offer, Baukchiol, which has shown similar results without irritation.
Dr Gross loves this ingredient. "I was excited to see the latest research supporting bakuchiol as a powerful antioxidant. Retinol is the gold standard for targeting aging and complexion concerns, but traditionally, it has a bad reputation for triggering irritation and sensitivity. Research shows that bakuchiol can mitigate the irritating side effects of retinol while strengthening our skin's moisture barrier, increasing cell turnover, and improving collagen production. This is really important because irritation in the skin is counterproductive. Inflammation caused by retinol in these instances creates free radicals—which are the enemy to youthful, firm skin."
Our beauty editor recommends...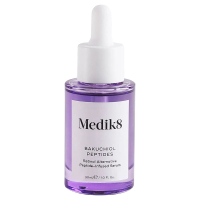 (opens in new tab)
Medik8 Bakuchiol Peptides 30ml | £45 (UK only)
Sponsored
If you're already a seasoned retinol or bakuchiol user, this Medik8 serum is a fantastic next step. Packed with bakuchiol peptides, this works to nourish skin and reduce any inflammation while leaving the complexion clear and radiant. It also boasts a lovely lightweight textures that soaks into the skin without any excess residue.
4. Topical probiotics
Of all the skincare trends 2022 is set to bring us, this is probably the friendliest for every skin type. Also known as good bacteria, probiotics could be the secret to keeping your skin balanced and clear. Similar to the way that probiotics keep your gut happy, in skincare they're known to restore calm and balance, and help healthy skin cells flourish.
The 'good' bacteria in your skin are all part of the microbiome, which is the group of microscopic organisms that live on the skin's surface and need protecting. The outer layer of your skin, also known as the skin barrier can become compromised with the use of too many harsh ingredients. Probiotic skincare helps protect the microbiome while regulating oil production and fending off free radicals. Smart, right? While the idea of probiotics is nothing new, we are seeing a huge influx of sophisticated probiotic skincare flooding the market this year, as experts and formulators' understanding of the microbiome becomes ever more advanced.
Our beauty editor recommends...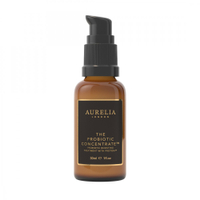 (opens in new tab)
Aurelia London The Probiotic Concentrate | $93/£49.50
This is the ultimate skin soother, leaving complexions calm and restored. It works especially well on skin affected by pollution, brightening up dullness and keeping blemishes at bay. Mix a few drops in with your favourite serum in the evening.

5. Souped-up suncare
We all know that being diligent with sun protection and wearing SPF every day is essential in helping to prevent skin cancer and fight the visible signs of aging. But in 2022, we can expect to see the best SPF products get even better, combining sun protection with high-tech ingredients targeting other skincare concerns. "A large part of the population suffers from issues of pigmentation, which in darker skin tones is driven in part by the synergistic action of UVA-1 and visible light from the sun," Consultant dermatologist Dr Anjali Mahto tells us. "Based on current scientific data, this can only be effectively be blocked by iron oxide-containing sunscreens and there are only a relatively small number of these on the market."
"As knowledge grows on visible light, companies need to respond accordingly and start producing effective sunscreens with the right ingredients to filter this out," continues Dr Mahto, who explains that, "simply using antioxidants will not be the answer based on current data for pigmentation." Instead, an increasing number of market-leading suncare brands are formulating specifically with HEVL (high energy visible light) in mind, as well as including skincare heroes such as ascorbic acid (Vitamin C) for double-duty work on pigmentation.
Our beauty editor recommends...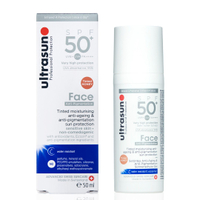 (opens in new tab)
Ultrasun Face Tinted Anti-Pigmentation SPF50+ | $44/£36.00
This is a perfect example of a new-gen SPF-skincare hybrid. As well as protecting skin from UVA and UVB rays, it includes Vitamin C, and HEVL protection plus an enzyme specifically designed to limit UVA photo-aging. It's also slightly tinted with a universal honey shade, which means you could use it as a sheer base.
6. PHAs—the new it acid
If you've been weighing up whether to exfoliate with glycolic acid vs salicylic acid then you'll already be familiar with alpha-hydroxy acids (AHAs) and beta hydroxy acids (BHAs) But what about polyhydroxy acids (PHAs)? These are one of the skincare trends 2022 has already seen the rise of, with several new products launching including the ingredient already this year. But what exactly are PHAs?
PHAs are the gentlest of the exfoliating acids, melting away dead skin cells without irritating complexions. This is due to their larger molecular weight, which means the molecule doesn't penetrate as deeply, so If you've suffered from stinging or redness from other acids, PHAs might be the perfect solution. Dr Marko Lens, founder of Zelens breaks it down for us. "Different acids have different effects. I always recommend choosing a gentle formula if starting out at home, and if your skin is particularly sensitive, I suggest PHA (polyhydroxy acids) which are gentler than other types."
Our beauty editor recommends...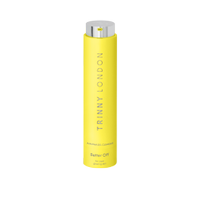 (opens in new tab)
Trinny London Better Off AHA/PHA Gel Cleanser | $38 / £28
Trinny London has branched out to skincare! We particularly love this clever cleanser. It uses a mix of PHA and AHA to deeply cleanse and exfoliate the skin without a tight, dry feeling. It's the perfect option for your second cleanse.
7. Personalized prescription services
Recently, there's been a huge shift to a focus on skincare ingredients, allowing us to personalize products for our complexions' exact needs. The problem is that many of us aren't experts, and end up cobbling a routine together that isn't necessarily right for us. What if you don't have the time to decode every problem and product? What if you simply don't want to spend time sussing out exactly which ingredients to use? Step in prescription skincare, for personalized solutions to all your woes.
"While a few platforms already exist, next year will see a mushrooming of medically-led prescription products available via digital platforms," explains Dr. Mahto. "There is an unmet demand for gold-standard skincare ingredients, such as tretinoin, and online platforms provide a quick and easy way to purchase these."
Our beauty editor recommends...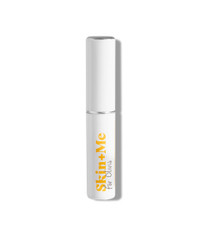 (opens in new tab)
Skin + Me Treatment | £24.99 per month (UK only)
This brand offers a dermatologist-prescribed routine, personalized for your exact skincare needs. Upload pictures, fill out their in-depth questionnaire, and they'll create the perfect prescription serum, delivering it to your door. We saw results within just days of use, and particularly enjoyed the lack of faff involved.
---
woman&home thanks consultant dermatologist Dr Anjali Mahto, Abi Cleeve (opens in new tab) of Ultrasun and SkinSense, and Dr Marko Lens (opens in new tab) of Zelens for their time and expertise.
Lucy is a UK-based beauty journalist who has written for the likes of Marie Claire, Cosmopolitan, OK!, Women's Health and more, as well as contributing to woman&home. Her work covers everything from expert skin and haircare tips to the latest product launches and the show-stopping beauty looks spotted backstage at London Fashion Week. During her career she's interviewed some seriously famous faces, from Little Mix to Drag Race royalty The Vivienne, as well as chatting to the industry's leading hairdressers, dermatologists and make-up artists.