How to pick a winter coat that is genuinely warm (and doesn't just look warm)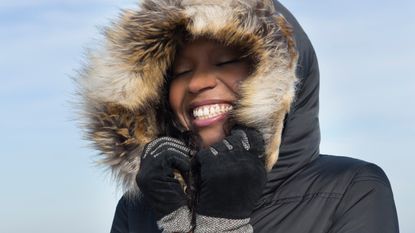 We've all been tricked by fashion before. Heels that seem comfortable. Shapewear that appears breathable. But the worst offenders? Coats that look warm.
Want to know how to pick a warm winter coat that won't let you down when the mercury drops?
Picking the best winter coats is a very personal thing. Whether you're a sucker for a parka, can't live without your peacoat or love trying the latest winter coat trends, most of us can agree that they need to keep us dry and at a toasty temperature. Sadly, that's not a given. We've produced a handy guide to help you spot the warmest winter coats for women among the many duds out there…
How to pick a warm winter coat
Warm winter coats fall into three categories: Down, fabric and waterproof. Down coats are the go-to coat choice for people who feel the chill, but don't overlook the other two, because they each have their pros and cons.
1. Down coats
Taking notes from nature, a down jacket uses the fuzzy under-feathers of ducks or geese to create impressive insulation. Tiny pockets of warm air are trapped between the fluff, retaining heat.
When shopping for down coats or jackets, you might notice they feature a "fill power" rating. The higher the fill power rating, the cosier your new purchase will be. The numbers vary from 400 for medium warmth, all the way up to a super snuggly 900.
Confusingly, the fill power doesn't – as you might have imagined – refer to the amount of feathers packed into the coat. Instead, it measures the loft – or fluffiness – of the feathers and their warmth-to-weight ratio.
The fluffier the feathers, the more air pockets the down will create, giving you maximum warmth with minimal bulk.
Down vs synthetic
Geese down is considered the gold standard when it comes to down coats, with duck down coats tending to be slightly cheaper.
A factory exposé recently revealed that geese were being live-plucked for their down, prompting many brands to make positive steps towards more ethically sourced down. Look out for Responsible Down Standard certification. Alternatively, synthetic down is cheaper still and a good choice for anyone wanting to be sure they are purchasing cruelty-free fashion.
2. Fabric
Regardless of its composition or style, fabric will have the biggest impact on how comfortable your coat is to wear.
You not only want a fabric that will keep you warm, but one that will move moisture away from your body for a cool and comfortable experience.
Wool
A classic that never dates, natural fabric wool ticks both of these boxes. A brilliant insulator, the holes between the fibres ensure it's breathable, too. If you find that wool irritates your skin, look to a lined coat you can wear itch-free.
Cashmere
Not only is cashmere deliciously soft, but as it comes from the downy undercoat of goats, it's a great insulatulator, too. High percentages of cashmere normally come with eye-watering price tags, so if you can't stretch that far, look for a cashmere-and-wool-blend coat instead.
Nylon
Nylon is the most durable fabric that crops up on the labels of winter coats, helping to justify the price tag by maximising your cost per wear. The only downside is that the manmade fibres can rustle when you're wearing them, and nylon coats can take longer to dry than their lighter counterparts.
Polyester
If fast drying is your priority, polyester is your best bet. Polyester coats tend to be cheaper and lighter than their nylon cousins. What they lack in durability they make up for in moisture-wicking, effectively drawing sweat away from your body to keep you dry.
3. Waterproof coats
The risk of rain looms heavy over most outdoor activities from autumn through spring – especially here in Blighty. From short showers through to torrential downpours, a waterproof coat will help to keep you warm and dry.
It's worth noting that not all waterproof coats are created equal, so read the small print before purchasing.
"Showerproof" will shield you from short downpours, but not unrelenting rain. "Water-repellent" pieces have been treated with a special coating to stop them from absorbing moisture, but can let in water through gaps in the seams during sustained showers.
For maximum dryness, look for a fully waterproof coat featuring a water-repellent coating, closed seams and a breathable lining that will help keep you cool without letting water in.
Fast-drying fabrics are important, too, stopping your rain-soaked coat from becoming heavy and cumbersome.
How to pick the right length winter coat
Not sure which length to opt for? It all depends on what you're up to. Generally, if you're planning to wear your winter coat for activities like skiing or hiking, or even just a lot of walking, a cropped number will keep you snug without restricting your movement.
However, if you'll be wearing your new purchase on leisurely errands or will be standing still in it for long periods of time, it makes sense to max out on length with a longer-line style to the mid-thigh or beyond.
Extra design details that make a big difference on winter coats
Sometimes it's the little things that make the biggest difference when it comes to warmth and this sentiment definitely applies to winter coats. Look out for:
Stretchy, closed cuffs and adjustable drawstring hoods or hemlines that will help to trap the warm air inside your new buy.
Closed seams – important for keeping both rainwater and whipping winds out.
Why the care instructions can affect how warm your winter coat is
So you've learnt how to pick a warm winter coat - now how can you keep feeling and looking as good as new?
It might sound silly, but how you wash your winter coat can affect its performance and heat-keeping abilities. Follow the care labels to the letter to avoid shortening its life span. Speedy spin cycles can damage delicate down, while fabric softener wreaks havoc with waterproof coatings.
Shop our edit of the warmest winter coats for women now.
Jess Beech is an experienced fashion and beauty editor, with more than eight years experience in the publishing industry. She has written for woman&home, GoodtoKnow, Now, Woman, Woman's Weekly, Woman's Own and Chat, and is a former Deputy Fashion & Beauty Editor at Future PLC. A beauty obsessive, Jess has tried everything from cryotherapy to chemical peels (minus the Samantha in Sex and The City-worthy redness) and interviewed experts including Jo Malone and Trinny Woodall.