The best blackhead removers that will leave skin clear and radiant
From snazzy devices to skincare formulas, these are the best blackhead removers to prevent and get rid of unwanted blemishes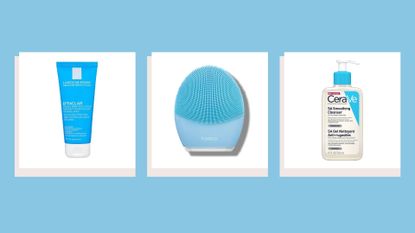 (Image credit: Future)
The best blackhead removers come in a wealth of forms—from masks and strips to scrubs and extractor tools. But when it comes to removing blackheads effectively—and making sure that they don't come back—the most important factor is actually your method. You could use all of the supposed best blackhead removers on a regular basis and still have no (or very little) luck if you're not following the correct procedures.
"Blackheads are a type of acne that occurs when oil and dead skin cells mix inside a pore and then are exposed to air," explains dermatologist and dermatologic surgeon Dr Dennis Gross. "They can occur from fluctuations in oil production due to hormonal changes or stress. This oil can become trapped inside a pore with dead skin cells, and when exposed to oxygen, can harden and appear as black, raised bumps."
This means essentially, the key to removing the blackheads in a skincare routine for acne lies in prevention. The less oil and dead skin cell build-up you have on your skin, the fewer blackheads will be able to develop. "I recommend gentle daily chemical exfoliation. It is important to consistently exfoliate to prevent the clogging from occurring in the first place," agrees Dr Gross. This in turn can act as one of the best pore minimizers. If you're looking to remove deep blackheads, then that's best left to the professionals, but if you have surface blemishes, a combination of targeted formulas and some of the market's best skincare devices can help you work towards removing blackheads safely for smooth and radiant skin.
What is the best product to get rid of blackheads?
Why you can trust Woman & Home Our expert reviewers spend hours testing and comparing products and services so you can choose the best for you. Find out more about how we test.
If you really want to learn how to get rid of blackheads, it's also important to delicately work the pores open before exfoliating or using any tools, so we'd recommend splashing the skin with warm water or doing facial steam beforehand—you could even invest in one the best facial steamers. Then, Dr Gross recommends opting for formulas that use the following ingredients:
AHA/BHAs: There's much debate around AHA vs BHA, but Dr Gross recommends a combination of the two. "A cocktail of alpha hydroxy acids and beta hydroxy acids will decongest pores, increase cell turnover and help keep the skin naturally hydrated."
Salicylic acid: This is "a type of BHA that has been proven to dissolve oil and debris inside the pore," explains Dr Dennis. We've suggested some of our favorite salicylic acid products for removing blackheads below.
Retinol: Dr Gross advises that this "increases cell turnover and keeps the pores' linings clear." Check our guide to the best retinol creams and serums to see which ones would be best to include in your skincare routine.
LED light therapy: "Look for an FDA-cleared device with red and blue LED light, as the red light will reduce inflammation and redness while blue light kills acne-causing bacteria," advises Dr Gross. Our guide to the best at-home red light therapy devices has many suitable options to choose from.
The vibrating facial tools we've listed below can also help to dislodge blackheads, before using a peel or clay mask to attract them out. If you're blackhead-prone, just be sure to stick to our prevention techniques after clearing out what's already there. Keep skin clear of dead skin cells and always make sure you're packing in the hydration. This will stop your sebum glands from going into overdrive to try and keep the skin moisturized.
The best blackhead removers, by our beauty experts
1. Dermaflash Dermapore
The best blackhead remover overall
Specifications
RRP: $99/£89
Product type: Dermaplaning tool
Why it's good for removing blackheads: Dislodges and pushes out blackheads while washing out pores
Reasons to buy
+
Can be used on wet skin
+
Visibly effective
+
Helps skincare absorb
Reasons to avoid
-
A treatment that requires a little time and effort
If patience is definitely not a virtue you possess and you want the very best blackhead remover tool that will push out each and every blackhead, then this really is the one to go for. Like a full hydrafacial in one nifty little handheld tool, this device has two functions—one to extract gunk, impurities, and blackheads, and the other to help your results-driven skincare formulas sink into the skin more effectively.
Unlike most facial tools, the Dermapore is designed to be used on wet skin. This is because the current emitted from the device pushes water down into the pores and then drives it back out as the spatula glides across—essentially washing out each pore as it goes by so that any build-up is rinsed away and pushed out. And you can definitely see the results straight away, as not only does the spatula sport a disgustingly satisfying layer of gunk, but skin looks immediately clearer too. It may not work on very deep blackheads (as they should really be dealt with by a professional), but on surface blackheads and visibly blocked pores, it yields immediate results. The use of water also means that it glides across the skin more comfortably than some other devices, which tend to drag at dry skin.
After you've cleared out your pores, you can then use the other side of the spatula to get the most out of your serum. Short spurts of vibrations break down the formula into smaller particles and push them further down into your skin—which, for us, led to a visibly brighter complexion when followed with our best vitamin c serum and a fresh and hydrated feel after we topped off with our best hyaluronic acid products. It's a relatively easy device to use too—just be sure not to apply too much pressure, as this could lead to skin damage. But it's definitely the best blackhead remover for physically extracting the gunk without shelling out on a professional treatment.
2. CurrentBody Skin Mini Microderm
The best blackhead remover for nose pores
Specifications
RRP: $65/£49.99
Product type: Pore vacuum
Why it's good for removing blackheads: Sucks away dead skin cells and dislodges blackheads
Reasons to buy
+
Comfortable level of suction
+
Glides smoothly
+
Tilted head for streamlined movement
+
Conical tip for awkward areas
+
Quick and easy to use
While pore vacuums work fantastically for preventing blackheads, some can also help with blackhead removal too. They won't suck blackheads away in the pleasing way you might be expecting but can be indispensable when it comes to preparing blackheads for removal. Best used for surface blackheads, rather than deep ones, a pore vacuum can be the first step to removal, as the vibrations work to dislodge the blackheads, making them easier to extract later—either with a tool, a skincare acid facial peel, or (don't tell the experts we said this) by squeezing them out.
This is the best blackhead remover vacuum we tried, as it makes the whole process smooth—and even kind of enjoyable. Designed to be used on dry skin, it glides across the skin more easily than any other dry skin device that we tested with no dragging or discomfort. This is helped by the conical tip and accommodating tilt of the head that encourages easy movement. It boasts impressive suction, even on the lowest setting—but unlike similar devices (which felt like they were almost delivering a cupping treatment), it doesn't suck up too much skin at once or get caught in one place. The modest nozzle also makes this the best blackhead remover for nose blemishes, as it can be used comfortably around the awkward nose area—where blackheads can be super common. It also comes with thoughtful features, like a full charge as soon as it comes out of the box and a diagram that shows the direction in which you should be moving on each different area of the face.
And when it comes to results, this left us pleasantly surprised. Not only does it leave the complexion brighter and clearer thanks to its exfoliation magic, but on the first use, it actually managed to dislodge a couple of blackheads that smoothly slid out the next day. An impressive multi-tasker for anyone who wants skincare for oily skin or a blemish-prone nose.
3. PMD Personal Microderm Pro
The best blackhead remover tool for preventing build-up
Specifications
RRP: $199/£179
Product type: Pore vacuum
Why it's good for removing blackheads: Prevents blackheads by sucking away all the dead skin cells
Reasons to buy
+
Customizable exfoliation level
+
Glides smoothly
+
Leaves skin bright
Reasons to avoid
-
Can't reach awkward areas
When most of us think of blackhead removers, we envision neat little pore vacuums that suck out all the gunk in one swift hit. Unfortunately, those powerful devices are not available to us mere mortals who lack a dermatology qualification. However, pore vacuums can still be useful for removing—or rather preventing—blackheads. The main purpose of a pore vacuum is to exfoliate the skin—i.e. suck away all the dead skin cells that cause build-up in our pores and oxidize to become blackheads.
The PMD Personal Microderm Pro is arguably one of the best devices for doing this as it boasts a strong but comfortable suction and comes with a range of exfoliating discs that control the level of microdermabrasion (a process that essentially exfoliates the skin with crystals and then vacuums away the dead skin cells) that it performs. This makes it a good pick for those with sensitive skin too, as the lower-most disc is designed to be gentler. It glides relatively smoothly across the skin without getting stuck or bruising—just be sure that you don't apply too much pressure. It can be slightly awkward around the nose area, as the suction doesn't really work unless the entire tip is pressed onto skin and it's not quite small enough to get into the smallest nooks and crannies.
This one definitely came with satisfying results, however. Our skin was visibly brighter and clearer after even the first use and the effects were enhanced with each subsequent treatment. And while you probably won't see a satisfying blackhead being sucked away into the void with this one, we can see how it helps in preventing build-up—especially with continued use. For UK dwellers, be aware that this does come with a US plug, so you'll need to dig out your old adapter before firing this up.
4. Dr Dennis Gross Alpha Beta Extra Strength Daily Peel
The best blackhead remover product to use daily
Specifications
RRP: From $17/£18 (pack of five)
Product type: Facial peel
Why it's good for removing blackheads: Clears skin of dead skin cells
Reasons to buy
+
Pleasing tingle
+
Calming and hydrating
+
Leaves skin bright
+
Quick and easy to use
Reasons to avoid
-
Slightly on the pricey side
A daily peel can be a great way to keep the skin fresh and clear of the dead skin cells that can build up to create blackheads. This particular product is known as being one of the best at-home chemical peels for nailing how to get rid of pimples and leaving skin radiant and healthy. This is thanks to its cocktail of active ingredients that work to shed dead skin cells and reveal brighter skin underneath while the second replenishing step hydrates the skin and infuses hydrating ingredients into the newly cleared pores. "Once this dead skin is removed, you reduce your vulnerability to blackheads, since dead skin build-up is one of the main causes of a clogged pore," explains Dr Gross.
Before any skincare benefits are felt, possibly the best thing about this product is how easy it is to use. It comes in a double sachet, each with a soaked facial pad inside that simply needs to be wiped across the skin. Being extra strength, we expected to see redness or inflammation on the skin, but the first step was just met with a slight tingling—nothing too uncomfortable at all. It was also then immediately calmed once we moved onto the second antioxidant-packed pad that boasts a soothing and hydrating feel—we even kept ours in our skincare fridge for 20 minutes before for an extra hit of refreshment. While we wouldn't say this completely removed blackheads, it did definitely calm blemishes that were starting to appear and left skin brighter, less oily, and healthier-looking.
5. Foreo Luna 3 face brush for combination skin
The best blackhead remover to incorporate into evening cleansing
Specifications
RRP: $201/£169
Product type: Facial cleansing brush
Why it's good for removing blackheads: Vibrates as it cleanses to dislodge build-up
Reasons to buy
+
Gives visibly deep clean
+
Effective massage function
+
Easy to use
Upgrade your evening cleansing routine to fight your blackheads with one of w&h's best facial cleansing brushes. The most important factor in preventing blackheads is to keep skin fresh and clear of dead skin cells. Incorporating this tool into your cleansing routine is a great way to do so, as it cleanses and exfoliates in tandem. With delicate silicone bristles, it helps you get the most out of your best cleanser as it drives the formula into the pores to wash them out and then scrubs it away. If you wanted an extra vigorous scrub you could even use this with your best facial exfoliator—just be sure to keep it on a low setting so as not to aggravate the skin. With customizable vibration settings, it also buffs away dead skin cells, while working to dislodge any existing blackheads that have already built up.
Easy to use, with app connectivity that allows you to customize your settings, the Luna 3 really feels like it's giving you a clinic-worthy cleanse. This blue version is designed to use on combination skin with its longer bristles that really get into pores and give them a good clean—it's also great for making sure that even the best foundations are fully washed off. We still followed up with a swipe of our best micellar water just to keep up our double cleansing routine, but if you want to save time that's not totally necessary. The massage function is also a surprising bonus. Designed to help your serum sink further into the epidermis after cleansing, it makes for a relaxing ritual that gets rid of any aches and tension in the face. After repeated use, we even noticed that our skin looked a bit firmer and our jawline was slightly more defined. Since using the Luna 3 on a regular basis, we've also noticed less oil build-up, meaning that it will prevent blackheads from starting to form.
6. CeraVe SA Smoothing Cleanser
The best daily cleanser for preventing blackheads
Specifications
RRP: $14.99/£12.50 for 236ml
Product type: Face wash
Why it's good for removing blackheads: Exfoliates skin and penetrates pores to prevent excess oil build-up
Reasons to buy
+
Comfortable texture
+
No scent
+
Pleasing lather
+
Reduces excess sebum production
Reasons to avoid
-
Can leave skin feeling tight
CeraVe already makes one of our best eye creams, one of our best moisturizers for sensitive skin, and one of our favorite face moisturizers with SPF—quite the achievement! This is all thanks to the cocktail of ceramides and hydrating ingredients that are packed into their products, which all work towards strengthening the skin barrier. But this cult face wash of theirs is all about skin smoothing. It's a great pick to use in combination with the Foreo Luna 3—or even on its own—to help reduce the appearance of blackheads and prevent them from forming. Including salicylic acid, it works to exfoliate away dead skin cells, while the addition of hyaluronic acid adds a layer of hydration to the skin. This extra level of hydration is invaluable in preventing blackheads as the more hydration your skin gets, the less excess sebum it produces—meaning that blackheads are less likely to form because there is less excess oil to build up.
Even after the first use of this clarifying cleanser, we already noticed less oil build-up. So while it doesn't necessarily remove blackheads, it's a great product to include in your regular skincare routine to work towards preventing them. It can leave skin a touch tight, but that's easily remedied once you apply the hydrating step of your skincare routine.
7. Paula's Choice Skin Perfecting 2% BHA Liquid Exfoliant
The best blackhead remover for quick skincare routines
Specifications
RRP: $11/£11 for 30ml
Product type: Toner
Why it's good for removing blackheads: Exfoliates skin and penetrates pores to prevent excess oil build-up
Reasons to buy
+
Not irritating on the skin
+
Visible results on dark spots and hyperpigmentation
+
Quick and easy to use
Reasons to avoid
-
Could be more effective on blackheads
Toning is a seriously underrated skincare routine step. The best toners contain a cocktail of ingredients that either hydrate or exfoliate the skin—sometimes more effectively than some serums or moisturizers can. If you're not one for complicated skincare or time-consuming treatments, including this toner in either your morning or night skincare routine can be a quick and easy way to help keep those blackheads at bay. With a formula that champions salicylic acid, one swipe of this can work to shed the dead skin cells that are both on the surface of the skin and inside the pores. It also features the humectant methylpropanediol, which aids in the absorption of salicylic acid so that it can reach further down into the pores to dissolve away any debris.
And if you suffer from hyperpigmentation or have dark spots or acne scars leftover from previous blemishes, you'll be able to see the proof of this toner's efficacy after just a few uses, as darker areas on the skin definitely become less noticeable. It also has an overall brightening effect on the complexion, which is a pleasing bonus. And while it sounds as if it might be aggressive on the skin, the formula is actually a lot more delicate than it seems. You should still be careful of pairing it with retinol or any strong doses of vitamin C, but it was a lot less irritating than we anticipated, as we were left with just a slightly fresh tingle after using it.
8. La Roche-Posay Effaclar Clay Mask
The best blackhead remover for weekly use
Specifications
RRP: $19.99/£15 for 100ml
Product type: Face mask
Why it's good for removing blackheads: Regulates sebum production to prevent build-up
Reasons to buy
+
Comfortable to wear
+
Reduces excess sebum production
+
Great brand for sensitive skins
Reasons to avoid
-
Can leave skin feeling a little dry
While products with alpha-hydroxy acids work brilliantly at dissolving blackheads and exfoliating away dead skin cells, clay masks have long been an effective solution for those with oily and blemish-prone skin. The main reason for this is that clay works to soak up excess oil in the skin to prevent blackheads from forming.
La Roche-Posay's Effaclar mask uses two different types of clay to do this—Argilla & Kaolin. Argilla absorbs the oil that sits on the surface of the skin while the Kaolin clay attracts the sebum from deep inside the pores to ensure that they are fully clear of any build-up. It also contains the vitamin Panthenol B, which works to calm the skin and prevent the glands from going into overdrive and creating excess sebum.
A humble face mask that does what it says on the tin, this is easy to apply and comfortable to wear—perfect for a relaxing Sunday evening at-home facial. It doesn't brighten skin like some of the other blackhead removers on this list, but it definitely helps to regulate sebum production for oily skin, making it one of the best face masks to add to any skincare routine designed to prevent blackheads.
---
woman&home thanks Dr Dennis Gross for his time and expertise