The most effective hyperpigmentation treatments for Black skin and darker skin tones
We've got the lowdown on the best hyperpigmentation treatments for Black skin and darker skin tones—at home and in clinic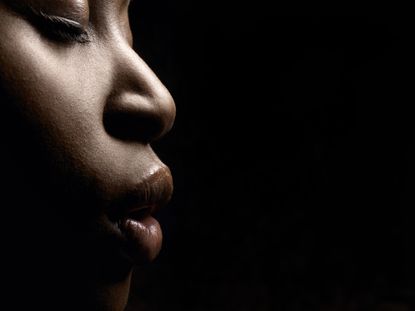 (Image credit: Getty)
Dealing with hyperpigmentation can feel daunting, but there are effective hyperpigmentation treatments for Black skin and darker skin tones out there.
"Hyper-pigmentation is a noted top-five skin concern for Black skin," explains skin specialist and founder of the Black Skin Directory, Dija Ayodele. "At West Room Aesthetics, 90% of our clients report discoloration and dark marks as a key driver for their visit."
Before we dive into hyperpigmentation treatments, let's first define what hyperpigmentation is. According to Aesthetic Doctor, GP, and Founder of Skin W1, Dr. Rabia Malik, "Hyperpigmentation is a skin condition where certain areas of the skin become darker than the surrounding skin, due to increased production of melanin, the pigment that gives skin its brown color."
What does hyperpigmentation look like on Black and darker skin tones?
"In darker skin tones, hyperpigmentation looks like dark patches or spots on the skin, resulting in uneven skin tone. All skin types can be affected by hyperpigmentation, but darker skin tones tend to be more prone to this condition because they already have increased melanin in the skin."
These areas of pigmentation are easy enough to cover up with the help of the best foundations for dark skin you can afford and an understanding of how to apply concealer, but they can affect your confidence when going makeup-free.
What causes hyperpigmentation?
UV light
Inflammation (acne ad pimples)
Hormone imbalance
Pregnancy
Menopause
The contraceptive pill
Some metabolic conditions
"The most common cause of hyperpigmentation is UV light, which stimulates melanocyte activity, leading to an increase in melanin in the skin," continues Dr. Malik. "Other common causes are inflammation, as in the case of post-inflammatory hyperpigmentation, which often occurs after acne, breakouts or some other injury has healed, leaving darker marks behind. Changes in hormone balance are another cause, as hyperpigmentation can occur during pregnancy, menopause, while taking certain contraceptive pills, and also in association with various metabolic conditions that affect hormone levels."
As women, these causes are almost impossible to avoid, so it's no surprise that a high number of people are seeking effective hyperpigmentation treatments for Black skin.
How to prevent hyperpigmentation forming
Although there are effective hyperpigmentation treatments for Black skin and darker skin tones out there, prevention is always better than cure. To limit hyperpigmentation caused by UV exposure, skin expert and Medical Director of Adonia Medical Clinic, Dr. Ifeoma Ejikeme, recommends the following steps:
Wear SPF 50 every day (on your face and body, we can recommend some great products in our guide to the best facial SPFs)
Add in a Vitamin C or Vitamin E under the SPF to boost its activity
Wear a hat and protective clothing, especially during the summer months
Avoid sunburn at all costs
For post-inflammatory hyperpigmentation caused by acne scars and spots, Dr. Malik suggests "getting to the underlying cause of any acne, avoiding picking at spots and trying to avoid injuries to the skin." Of course, using the right skincare routine for acne can help, but some of this is easier said than done. If you find the temptation to squeeze your spots too hard to ignore, then spot patches—such as ZitSticka—will not only help to reduce redness, but will also create a barrier to picking too.
Sticking to a regular skincare routine and making seemingly small lifestyle changes will help as well. "How you live your life has a massive impact on the quality of your skin," explains Dija. "We advise a colorful diet, hydration, restful sleep, less stress, mindfulness, no drugs or alcohol, and more movement and exercise."
What are the most effective ingredients for treating hyperpigmentation on Black and darker skin tones?
Preventative measures aside, the best hyperpigmentation treatments for Black skin and dark skin tones to try at home come via a group of ingredients called tyrosinase inhibitors. These include:
Kojic Acid
Arbutin
Bearberry
Gallic Acid
Resorcinol
Nicotinamide
Niacinamide
Ascorbic Acid (Vitamin C)
Liquorice Root Extract
Vitamin A
Tranexamic Acid
Hydroquinone
Cysteamine
"These ingredients will act as suppressors, faders and skin brighteners to inhibit the melanocyte cell from producing and distributing melanin into the skin," advises Dija Ayodele. The percentages of these ingredients in off-the-shelf products are lower than would be available in clinic, but continued and consistent use will reward you with a reduction in marks.
What are the best hyperpigmentation treatments for Black and darker skin tones at home?
If pigmentation is bothering you but you're not able to make it to a clinic, there are virtual services that may help. Get Harley is an online service that lets's you consult with some of the world's best practitioners online via video link. The consultation costs £30, and lasts for 30 minutes. The practitioner will assess your skin's needs and recommend products that can help fade existing pigmentation and prevent new patches from forming. Some of these products might be medical grade and others from the drug store.
Two other online skin services worth noting are Dermatica and Skin + Me. Both require you to submit photos of your skin, and the brands resident dermatologists will formulate a regime for you. This is delivered to your door, and can be altered and amended depending on your results.
Prefer to go it alone? The below products are available to pick up online or in store, and are a great place to start:
Beauty editor approved at-home treatments
---
---
---
---
The best hyperpigmentation treatments for Black and darker skin tones in clinic
"The preferred course of action for treating hyperpigmentation is to seek the advice of an expert who can guide you to the best approach for your particular skin type," says Dr. Malik. "In my experience, a combination approach gives the best results. This means using products with a high percentage of active ingredients—such as niacinamide, retinol/ vitamin A, azelaic acid, cysteamine or tranexamic acid—as well as certain supplements (for example, glutathione and/ or vitamin C), and clinic treatments, such as chemical peels, and in some skin types, laser." Tweakments, such as microneedling and LED therapy, are also recommended treatments for hyperpigmentation in Black and darker skin tones.
Chemical Peels
"Chemical peels can be used to manage more extensive or stubborn hyperpigmentation on the face or the body," explains Dr. Ejikeme. "At Adonia Medical Clinic, we carry more than 50 different peels to address issues such as hyperpigmentation." Chemical peels work by removing the top layers of skin, reducing the appearance of dark spots in the process.
There is some redness and stinging associated with chemical peels; you will need to take care to use gentle skincare and daily SPF 50 after treatment. The effects will vary from peel to peel and person to person—your dermatologist or therapist will be able to advise further on this.
If you're concerned that chemical peels aren't suitable for Black and darker skin tones, let Dr. Anjali Mahto, Consultant Dermatologist at Skin55, put your mind at ease. "There seems to have been a lot of fear generated regarding whether chemical peels are safe in skin of color. When these are carried out by an appropriately trained professional (for example, a dermatologist or aesthetician with experience in treating skin of color), using the right acid at the appropriate concentration, chemical peels can be incredibly effective. Topical agents can be used to pre-treat the skin a few weeks before the peel if necessary, and side-effects are less likely in the winter months when there is less ambient ultraviolet radiation."
Laser treatment
"Laser and IPL treatments deliver a spectrum of light at specific wavelengths to target pigmented skin," explains Cristina Ucci, Aesthetic Therapist at Stratum Dermatology Clinics. "The laser will target the pigment without affecting the surrounding tissue to effectively lift the pigment sitting in the epidermal layers, revealing a clearer more even appearance."
As with any treatment or tweakment, it is really important to do your research first. If used incorrectly, lasers can cause inflammation on darker skin tones, exacerbating the concern you were trying to fix in the first place.
That being said, it doesn't mean they're not still a viable treatment option for hyperpigmentation. "A common misconception is that it is not safe for darker skin types to have laser treatments," says Dr. Mahto. "This blanket statement is incorrect, and a number of treatment factors need to be considered. Patient selection is indeed important, as is pre-treatment with topicals if there is a risk of worsening pigmentation, as well as appropriate laser device and conservative treatment settings if necessary. For example, by reducing laser energy, additional cooling, increasing duration between sessions or decreasing the total number of times or "passes" the laser beam is fired over the same area of skin."
Not sure how to find a reliable practitioner or clinic near you? Try Dija Ayodele's Black Skin Directory or Alice Hart-Davis' The Tweakments Guide.
Jess Beech is an experienced fashion and beauty editor, with more than eight years experience in the publishing industry. She has written for woman&home, GoodtoKnow, Now, Woman, Woman's Weekly, Woman's Own and Chat, and is a former Deputy Fashion & Beauty Editor at Future PLC. A beauty obsessive, Jess has tried everything from cryotherapy to chemical peels (minus the Samantha in Sex and The City-worthy redness) and interviewed experts including Jo Malone and Trinny Woodall.