The best facial steamer for supple, detoxed skin
Looking for the best facial steamer to cut down on frequent professional facials? Consider your search over!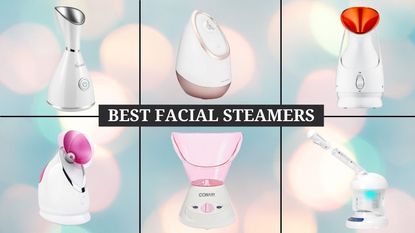 (Image credit: Future)
Like a good face mask, having the best facial steamer as part of your beauty triage kit is a great way to treat your skin when it's in desperate need of some TLC. Its gentle flow of steam softens and detoxifies the skin, while also clearing clogged pores.
Veteran dermatologist Dr. Debra Jaliman, MD (opens in new tab) is a fan: "Anyone experiencing dehydrated skin and enlarged pores can benefit from using a facial steamer," she goes on to talk about the importance of having this tool in your skincare routine. "It helps clear pores, clarifies the complexion, decongests the skin, and allows whatever products you use afterwards to penetrate more efficiently."
Whether you're planning on using this skincare device as part of a skincare routine to treat acne, or just for some at-home facial pampering, these are the best facial steamers you can buy...
The best facial steamers, as chosen by our experts
Why you can trust Woman & Home Our expert reviewers spend hours testing and comparing products and services so you can choose the best for you. Find out more about how we test.
(opens in new tab)
1. Conair True Glow Moisturizing Mist Facial Sauna System
Best starter facial steamer
Specifications
RRP: $39.99/£29
Dimensions: 7.38" x 7.75" x 9.25"
Extra features: Added facial and moisturizing brushes; auto shutoff feature
Reasons to buy
+
No risk of burning
+
Offers 7 timer settings; auto shut-off feature
+
Nasal cone provides more concentrated steaming, which can be helpful in clearing out sinuses and blackheads
+
Very affordable
Reasons to avoid
-
Steam flow may be too weak for some
-
Reservoir U-shape may not fit all face shapes
Don't let its toy-like appearance fool you, as the Conair True Glow Moisturizing Mist Facial Sauna System is more than a triple threat—it offers seven timer settings, two brush attachments, auto-shutoff, and a concentrated nasal cone, all for $40. Impressive.
Because of its extensive features—and decent price tag, may we add—it's the perfect starter steamer for those new to the steaming experience. The steam provided from the unit is warm but never too overpowering, so you won't have to worry about burning coming into the mix.
If that is not enough to entice, perhaps the added nasal cone and brush attachments might; these three bonus items clear away blocked sinuses and stubborn blackheads, as well as obviously provide hydration and exfoliation to the skin. The added timer is another can't miss feature: It beeps to let you know it's time to stop steaming, so you won't overdo it.
Alas, this unit has some caveats; it heats up slowly and may not generate the most powerful steam pressure. Plus, the size and shape of the steaming bowl can also be a turnoff, particularly if your head or face is on the larger side.
For its affordability and easy-to-use extras, though, it's still a great introductory product for steaming newbies to start with, particularly as you amp up your night skincare routine.
(opens in new tab)
2. Dr. Dennis Gross Skincare Pro Facial Steamer
Best luxury facial steamer
Specifications
RRP: $149.99/£108
Dimensions: 10.3" x 7.7" x 5.6"
Extra features: Micro-steam technology; auto shut-off; carrying handle
Reasons to buy
+
Steady amount of steam provides moisture to skin and dry environments
+
Portable handle allows unit to be taken anywhere
+
Reservoir is larger, so steam lasts longer and covers more areas
+
Wider nozzle for more coverage
Reasons to avoid
-
Steam comes out with a slight plasticky odor
-
Expensive
If a spa-like steamer is on the top of your wishlist, let the Dr. Dennis Gross Skincare Pro Facial Steamer satisfy your taste for luxury. Its reservoir is generously sized, it comes with a lightweight portable handle, and its steam force is steady and strong.
Because of its potent blast (which can be felt when standing away from the device) you won't have to worry about clogged pores or dryness coming into play; pores are noticeably smaller and skin feels moisturized after use. An added bonus? This steamer also doubles as a humidifier, so it easily fills any room with moisture during the drier, cracklier months.
Though be advised: Its price tag is steep, and its steam can also have a slight plastic-like odor at times. However, if you want a powerful amount of steam so effective even your house plants feel it, it's definitely worth the splurge. After all, this steamer may spare you from the hassle of finding a new humidifier next winter—not to mention offer up a satisfyingly thorough pore-unclogging experience.
(opens in new tab)
3. Surwit Nano Ionic Face Steamer
Best budget facial steamer
Specifications
RRP: $23.99/£18.99
Dimensions: 7.05" x 6.81" x 4.69"
Extra features: Silicone face brush; spa headband; four-piece blackhead remover kit; cup for filling water
Reasons to buy
+
Unit is perfectly sized; neither big nor bulky
+
Comes with several accessories: silicone face brush, spa headband, a four-piece blackhead remover kit, and a cup for filling water
+
Unit gets hot quickly and provides plenty of steam flow
+
Narrow-shaped cone top allows steam to target face
Reasons to avoid
-
Requires frequent refills
Thanks to a generous steam flow and added perks, you won't have to worry about wasting another lunch hour at the medispa—this steamer brings the spa experience to you in a matter of minutes.
Not only does the Surwit Nano Ionic Face Steam heat up quickly, but its steam flow is also warm, generous, and ionized, so your skin gets velvety smooth after a good eight minutes. Thanks to a narrow-shaped cone, you also won't be dealing with accidental spritzes. Instead, your face receives blasts of moisture exactly where you want it.
To top things off, the unit comes with amazing extras, like an added blackhead remover kit, silicone brush, and a cute spa headband—all which provide that spa-like experience (extractions included) right in your bathroom.
Though, there is one drawback: It requires frequent refills, which can be annoying if you want a longer steam. But because of its price and unbeatable extras, however, it's safe to say there's little room for buyer's remorse. A brilliant price, which is why it made our best facial steamer edit.
(opens in new tab)
4. Vanity Planet Outlines Facial Steamer
Best multitasking facial steamer
Specifications
RRP: $49.99/£36
Dimensions: 4.6" L x 5.9" W x 8.27"H
Extra features: Suction cups to prevent slipping; adjustable nozzle; three oil wells for essential oils; auto-shut off
Reasons to buy
+
Nozzle can be adjusted up or down
+
Unit shuts off when the tank is empty
+
Suction cups prevent the steamer from falling
+
Unit heats water quickly
+
Easy set-up
+
Includes three oil wells for essential oil use
Reasons to avoid
-
Steam flow can be inconsistent at times
-
Water tank can be difficult to remove
Because of its sleek and gorgeous design, this facial steamer would be a perfect addition to any #shelfie. However, it's secretly a multitasker in disguise, as it can also be used as an essential oil diffuser thanks to its three oil wells.
Set up of this unit is easy: The tank (which was hard to remove at first) heats water quickly, triggering a blue light indicating that it's ready to use. The steam flow is also a highlight: Its moderate flow gives skin just the right amount of dewy sheen after use.
Though be aware that while the nozzle is adjustable, it can only be moved in certain directions—up or down, but not side to side. Because of this, the steam flow can be inconsistent at times.
However, since this steamer fits nicely on countertops and its attached suction cups prevent it from slipping and tipping over, it's definitely the best facial steamer for smaller spaces (and especially as it can double as an oil diffuser). After all, the diffusing action is top-notch, it provides major relief for clogged sinuses, and a lavender-scented mist definitely gives a luxe, spa-like feel at bedtime. How's that for beauty sleep?
(opens in new tab)
5. Kingsteam Facial Steamer with Extendable Arm
Best facial steamer with extendable arm
Specifications
RRP: $59.99/£43
Dimensions: 11" x 7" x 10"
Extra features: Aromatherapy function; inside UV light high-tech ozone function extendable arm; 360-degree rotatable sprayer; auto shut-off
Reasons to buy
+
Contains several functions including ozone function to sterilize steam
+
Easy assembly
+
Spray covers a wide area
Reasons to avoid
-
Arm piece may be too short for some
-
Steam pressure may feel weak for some
Because some steamer reservoirs are smaller-sized, the Kingsteam Facial Steamer with Extendable Arm is the steamer to see if you are looking to cover a wider area—neck included.
Unlike some other steamers on this list, this has the USP of having an extendable 360-degree spinning arm, which allows for a targeted flow of steam to reach your neck and décolletage areas if you position and angle it just right. It's as close to a medispa look and feel as you'll ever get, right in the comfort of your home.
Similarly, this steamer's functions are equally notable: Built-in aromatherapy and ozone functions sterilize the steam and ensure you get the purest flow each time you use it.
Though, if you are looking for a unit with strong steam pressure, be advised that steam emitted from this unit is more on the milder side. Similarly, the arm piece does take time to get used to, and, in some instances, can be too short for some. But if you want a steamer with all the bells and whistles, this unit is definitely your best bet.
(opens in new tab)
6. EZBASICS Ionic Face Steamer
Best facial steamer for sensitive skin
Specifications
RRP: $35.99/£29.99
Dimensions: 9.17" x 7.28" x 5.39"
Extra features: Five-piece blackhead removal kit; atomizer
Reasons to buy
+
Nozzle is adjustable
+
Unit heats up quickly
+
Steam is steady and consistent
+
Essential oils are safe to add to tank
+
Temperature is comfortable and not too hot
Reasons to avoid
-
Steam does not last more than 10 minutes
-
Tank does not hold a lot of water
If your skin is extremely sensitive or doesn't tolerate heat well, the EZBASICS Ionic Face Steamer definitely has you covered; as an ideal supplement to a proper skincare routine for sensitive skin, its steam pressure is steady, consistent, but never too hot.
But despite it's more mild steam temperature, this unit is still tough on grease and impurities; slick spots around the nose and chin disappear after minutes of use. Skin is also soft and plump post-steaming, and the included five-piece pore removal kit makes stubborn whitehead removal a breeze.
Though like the other small-sized humidifiers on our list, this unit also calls for frequent refills, and its steam blast does not last more than ten minutes. If a milder steam is what you're after, however, this steamer is worth adding to your shopping cart for its gentler approach.
How and when to use a facial steamer
Despite its different-sized nozzles and added attachments, using a facial steamer is simple: Simply place your face inside the steamer reservoir, and let the steamer do its magic for a good 10 to 15 minutes.
While it's tempting to use a facial steamer every day though, Dr. Jaliman advises only using it on clean skin about two to three times a week. "Using it on unwashed skin can allow more gunk into your skin, especially since the steam opens up the pores," she cautions. Learning how to wash your face thoroughly before steaming is a good initial step.
It is also worth paying attention to is the facial steamer's heat settings. "Some steamers can 'spit' out water if they are set at a high temperature, and you run the risk of burning yourself," according to Dr. Jaliman. "To avoid any injuries, it's best to gradually move up in intensity as you feel more comfortable."
woman&home thanks Dr. Debra Jaliman (opens in new tab) for her time, expertise and contribution to our best facial steamer guide.
Courtney Leiva is a seasoned lifestyle writer with nine years of experience under her belt. She graduated from The Ramapo College of New Jersey in 2012, and since graduation, she has been actively contributing to major news outlets such as Refinery29, Women's Health, Yahoo! Lifestyle, HelloGiggles, NewBeauty, and more.
Courtney initially started off covering beauty news, but as she has grown her career over the years, her health, home, and shopping pieces can now be seen on BuzzFeed, The Daily Beast, and Huffington Post.