Should I buy Isle of Paradise Tanning drops?
Are Isle of Paradise Tanning Drops the best self tan for you? Let's find out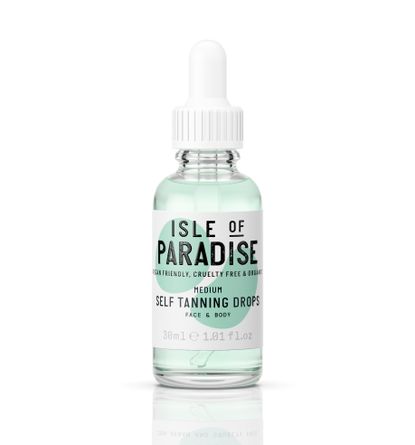 Isle of Paradise Tanning Drops have made a sizable splash in the beauty industry, so much so that you might be wondering what all the fuss is about.
Want to know more about why Isle Of Paradise Tanning Drops are the self tan to beat, how to use them and who should buy them?
Summer may be over but there's nothing wrong with chasing a healthy glow by following a few smart skincare rules, using the best highlighters and a drop or two of tanner. Then all you need to worry about is how to remove fake than and you'll be golden!
Should I buy Isle of Paradise Tanning drops?
If you are looking to warm up and even out your skin in a bespoke way then Isle of Paradise Tanning drops could well be for you.
These weren't the first self tan drops on the market, but they definitely raised the game when they came along. One of the best things about this product is that it can be customised. Unusually for self tan drops there are light, medium and dark varieties available. Then you can tailor your tan further depending on how many drops you use. Each one also colour corrects, with Medium tinted green to tackle redness, Light is peach to brighten the skin, as well as offering the best fake tan for pale skin, and Dark is violet to counteract ashiness.
Isle Of Paradise Tanning Drops will also suit anyone who prefers to build up a bit of colour day by day, rather than going the whole hog with a deep, developing tan (if that's what you're after, check out our Coco & Eve tan review) They contain hydrating skincare ingredients like avocado and chia seed oil and are cruelty-free, vegan and organic, if that's what you prefer.
Isle of Paradise Self tanning Drops
SHOP NOW: Isle of Paradise Self tanning Drops in Light, £19.95, Cultbeauty.com
How do I use self tan drops?
Let me count the ways. These self tan drops are designed to be mixed in with other products, usually a moisturiser, body lotion or serum. Put your base product on your palm, plop anything from one to twelve drops out of the pipette, mix in your hands and slather on.
Then comes the most critical stage with any tan: Wash your hands. Unlike most tanners this doesn't contain a murky guide colour, won't make you smell of digestive biscuits and won't need washed off after developing.
Basically these drops are self tan for people who hate self tanning. But due to that unusually pleasant application it can be easy to forget that you've not just applied your normal face or body cream. Repeat after me: Wash. Your. Hands.
What results can I expect?
After a few hours some colour will develop, how dark it goes will depend on how many drops you have used. I find three to four drops of Medium in a pound coin sized blob of moisturiser the ideal combination to warm up my pale, pink-ish face. If in doubt, start slowly with a couple of drops and build up.
One unique benefit of Isle Of Paradise Tanning drops is how nicely it wears on the skin. So many tans can be drying as they work, but thanks to those hydrating ingredients and the fact it plays nicely with your usual skincare this feels comfortable and looks natural. It also fades very well without collecting in pores and going all dotty -an irritatingly common side effect of so many self tans.
You can expect two to three days wear from one application, which is easy to top up as and when you like.
Because you only use a few drops at a time the little 38ml dropper will last for ages, so is ideal to have tucked away in a drawer whenever you feel your complexion needs a little boost. It's also perfectly portable for weekends away or topping up a holiday tan without spending hours in the bathroom.
Who should buy Isle of Paradise Tanning Drops?
Anyone looking for easy, flattering, tailored tanning. These drops will be particularly appealing if you are a bit of a nervous tanner as they allow you to take a softly-softly approach. They are also reassuringly un 'fake tan' like for anyone previously put off by sticky, smelly mousses and long developing times.
Beauty Editor, womanandhome.com
As woman&home's Beauty Channel Editor, Fiona Mckim has tried more products than she's had hot dinners and nothing makes her happier than raving about brilliant finds on womanandhome.com or her instagram grid (@fionamckim if you like hair experiments and cute shih-tzus). Fiona joined woman&home as Assistant Beauty Editor in 2013 under industry legend Jo GB, who taught her everything she needed to know (learn about ingredients and employ extreme cynicism). She has since covered every corner of the industry, from interviewing dermatologists and celebrities to reporting backstage at Fashion Week and judging the w&h Beauty Awards.