21+ inspiring Fall nail designs and colors, from chic French tips to gradient browns
Get ahead of the cozy season with our ultimate edit of Fall nail designs and colors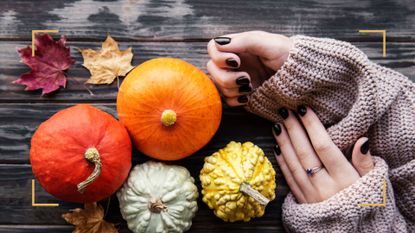 (Image credit: Future/Getty images)
woman&home newsletter
Sign up to our free daily email for the latest royal and entertainment news, interesting opinion, expert advice on styling and beauty trends, and no-nonsense guides to the health and wellness questions you want answered.
Thank you for signing up to Woman & Home. You will receive a verification email shortly.
There was a problem. Please refresh the page and try again.
Finding the right Fall nail designs and colors can be challenging, especially if you want to balance being seasonally appropriate with having the freedom to express yourself. Whether you paint your nails yourself or rely on the expertise of a trusted professional, our edit of on-trend looks will help you choose the best Fall nail designs and colors for the incoming season.
"Treating yourself to fresh nail designs in Fall colors is a great way to tone down your look and tap into a classic trend. Brown is a timeless color choice for this time of year," says Laurie Nicoll, Owner of Lacquered and Stripped Salon. "If a single color is a bit too plain for you, opt for a few different shades of brown. Going from light brown to dark brown with a gradient mani is an effortless and classic choice.''
For those who take a 'more is more' approach with nail designs, consider a twist on classic brown that's set to be one of the most popular nail designs for Fall. ''Tortoiseshell nail art is a head turner. It can be kept simple or elevated with a bit of gold foil,' explains Nicoll. If you want to tap into this trend without overdoing it, keep things simple by opting for tortoiseshell French tip nails instead. Whatever your preferences, these fresh Fall nail designs and colors will be sure to inspire.
21 Fall nail designs and colors to inspire your next mani
They may not be as vibrant as summer nail colors, but Fall nails don't need to be boring. Experiment with a variety of designs and colors that create a mood-boosting result and complement chic fall makeup looks. ''In addition to brown-based neutrals, deep blues and textures such as frosted matte and gold shimmers will reign supreme,'' says Sophie Rogers, founder of Emery Nails.
And what about shape? Squoval nails are a perennial classic, and according to Rogers, classic, rounded nails will continue to be popular. "Almond shapes will be a popular nail shape for Fall as they are modern and elegant. They also elongate fingers which makes hands look slender. They're perfect for all nail shapes."
1. Alternative French nails with contrasting tips
You can't go wrong with classic French tips, however, if you are a longtime fan who wants to try some new fail nail designs and colors, you may want to consider opting for a contrasting tip instead. With a combination of neutral and warm browns, this style is perfect for anyone who desires a timely look with a bit of an edge. To keep this fresh and exciting, opt for a few browns from light to dark and a nude base.
For those who want to achieve this look at home, be sure to prepare your nails beforehand with some nail care products, apply your chosen varnish to clean, dry nails, then lock the design in with a top coat for added protection and a high shine, professional finish.
2. Gradient nails
Gradient nails are perfect for those who don't want to commit to one color. This design is very similar to the pastel nails and bright colors which dominate in spring and summer but come Fall, it's all about the muted neutral gradient. "Gradient pink to burgundy is a classic and it's also super easy to achieve", says Rogers. "Start with a French pink color and transition to a deep burgundy red."
3. Milky White
White nails tend to suit those who love a glossy yet minimal nail design and contrary to what many may believe, it is a universally skin-friendly color. "Milky white is an elegant option for longer nails," says Nicoll. "Instead of a classic nude, opt for a translucent shade to achieve this look." Unless you have super long nails, achieving the on-trend almond shape can be tricky, so you might want to consider a gel or acrylic manicure as the strength best supports the structure of the extension.
4. Gradient Brown
If you don't fancy experimenting with bolder Fall nail designs and colors, play it safe with a variety of browns. For those who want to replicate this look at home, you'll need to start with the lightest shade of brown and finish with a dark chocolate brown. Although the shades in this design look different, they are actually from the same neutral-brown palette. If you decide to go to a professional salon to achieve this style, why not go for the ever-trendy coffin style? You'll be in good company as Rita Ora and Rihanna are fans of this shape.
5. French Tips With A Pink Base
A popular choice that can travel through the seasons, classic pink and white French tips are another great option for anyone who wants to keep things simple. If you are recreating this design at home and want to opt for a modern twist with a rounded white tip, use stencils first, followed by your choice of translucent pink or a peach nude on top.
6. Beautiful Berries
Fall nail designs and colors don't always have to be dark - you can brighten things up! Berry shades are a win-win as they are timeless but also perfect for Fall. In fact, deep pinks, purples and reds are all go-to's during this time of year. If you are going for this shape, Rogers advises, "using shape-specific templates when building up a coffin shape. It's much easier than trying to file the set acrylic into the shape freehand and will also ensure continuity across each nail."
7. Tortoise Shells
Animal print trends are having a moment, and a tortoiseshell effect is the perfect blend of the effortless neutral-brown palette. If you want to master how to paint your nails like a pro, we have good news - this look can be recreated at home, with a little time and patience. "Start with a caramel or mustard polish base and add your brown shade whilst the base is still wet so that the brown blooms,'' says Rogers. "When the brown blooms, this will create the blended-out effect. Use a small brush to spread if needed and once dry, repeat as many times as it takes to get the depth you require, then finish with black to achieve the iconic tortoise shell."
8. Autumnal Abstracts
An earthy and psychedelic take on the abstract trend, these swirls look great on longer nails as there is a lot more space to play with. With a mixture of yellows, greens, and browns, the stylish wiggles have been transformed into Fall-ready nails. '90s and '00's Y2K fashion trends have made a comeback in 2022, so it's no surprise to see the era's influence on this season's Fall nail designs.
9. Golden Nudes
Golden nude nails just scream Fall. From a gold leaf to a 3D nail gem, warm golds are here to stay. To add a bit of glamor to your manicure, mix and match a few golden and nude tones. If you aren't sure which colors should go on which nail, the ring finger is always a great choice for a feature nail. If you plan to DIY at home with gel, be sure to read our guide on how to remove gels at home without causing any damage.
10. Fierce Flames
A real statement look that would also make an excellent Halloween nail design. Use stick-on metallic nail decals to create an impactful look with ease. If gold isn't one of your go-to colors, don't worry - these stickers come in a variety of shades. "Simply add your chosen effect to your dry base color and as a tip, apply a top coat over both to secure it in position," says Sophie. To tap into this trend successfully, always use a solid color for your base.
11. Trendy Brown Swirls
For a trendy finish to your nails, opt for abstract brown swirls, perfect for any dinner dates this autumn. Swirl nails first trended in 2019 and have really stood the test of time. The almond shape compliments a variety of Fall nail designs and colors, including this one. Depending on your preferences, you can keep things modern with a full set of swirls or be bold and add glitter and chrome to the mix.
12. Tiny Hearts With A Layering Effect
This 70's inspired look is perfect for those who are looking for something fun and playful. Psychedelic hearts, French tips, and a brown-neutral theme are combined to create a fabulous layering effect. "Opt for brown and burgundy to capture the '70's look", says Nicoll. "Pair it with French tips or go bold with a full set of the design." If you plan to DIY at home, use a small dotting tool to create the tiny hearts.
13. Maple Leaf Nails
Nothing says Fall like a maple leaf design. Fall nail designs and colors are all about the texture this year, and these maple leaf nails combine a shimmer on top of a plain base coat while creating the shape of a very autumnal leaf. For those who love to do their own nails, it is a tricky design to do at home as each detail will need to be hand-painted, so it might be one for the professionals.
14. French Nails With Green Tips
Another beautiful design for fans of the alternative French tip. If you don't fancy embracing brighter colors or designs this Fall, why not opt for a dark and moody color? Black, burgundy and dark green all look great as a tip. This design is perfect for those who want to be fashion-forward without overdoing it. If you are doing your own nails, use a nude polish as a base to achieve this look.
15. Golden Glam
A fun and a fabulous alternative to traditional Fall nail designs and colors, gorgeous gold glitter nail designs are super easy to achieve. Rounded shapes and neutral bases are an excellent choice for the simple nail art design. The best bit is that they both work on any nail shape, particularly as a nail design for short nails. "Choose three contrasting colors and a nude base and try adding chrome or glitter to enhance the look", says Nicoll.
16. Hand Painted Leaf
Nail designs don't always have to take center stage. If you like a minimal look, why not have a Fall design on one nail instead of all ten of them? This trend will travel through the seasons and is a great way to make a simple yet bold statement. Getting the leaf right might take some time, so make your mani last with the help of the best nail strengtheners that make weak and brittle nails a thing of the past.
17. Ombre Nails With A Marble Effect
Make a statement this Fall with a gorgeous marble effect. As well as being fairly easy to create at home, it can be created in a variety of colors and suit most nail lengths. The popular ombre fade and ballerina shape make the perfect pair. For those who want to elevate the look, add some chrome or foil to your design. These nails would also make an excellent Christmas nail design for a party.
18. Fiery Flames
Fall nail designs and colors can be fierce and this two-tone flame-inspired design is the perfect twist on classic nail art. If black and orange aren't the first colors that come to mind when you think about Autumnal nails, you can opt for another dark base and a rich and earthy tone to pair back the look. "This design can be difficult to replicate at home," says Rogers. "It requires a steady hand if drawn on freehand using a thin nail striper."
19. Classic Fall Colors On Almond Nails
What makes Fall colors such as dark greens, browns, and mustards so appealing is how universally flattering they are. With colors like these, there are no rules - you can play with the order as much as you like, which makes this look perfect for anyone who isn't a fan of traditional manicures.
20. Nude Gradient Nails
Experiment with a variety of nudes this Fall with this subtle and stylish take on gradient nails. A gradient nail design is a simple and subtle way to elevate your manicure, and all of the shades in this design are muted neutrals that compliment all skin tones and perfectly accessorize any outfit.
21. Orange Florals With A Twist
Whether you opt for sunflowers, roses, or blossoms, realistic hand-painted flowers make stunning feature nails. When combined with darker shades like black or blue, they can give the design a fresh and current feel. Hand-painted flowers may be hard to recreate in the comfort of your own home, so you might want to treat yourself and turn to a trusted and talented nail professional to achieve this look.
22. Mix And Match With Gold Decals
Elevate your next manicure by opting for a mix of autumnal shades and gold decals. Decals are a fun, cost-effective, and easy way to inject a bit of glamor to your mani. Like gems, all you need to do is glue them onto each nail. If you are a DIY nail design pro, this look can be recreated in the form of a hand-painted design complimented with a chrome finish.
Sign up to our free daily email for the latest royal and entertainment news, interesting opinion, expert advice on styling and beauty trends, and no-nonsense guides to the health and wellness questions you want answered.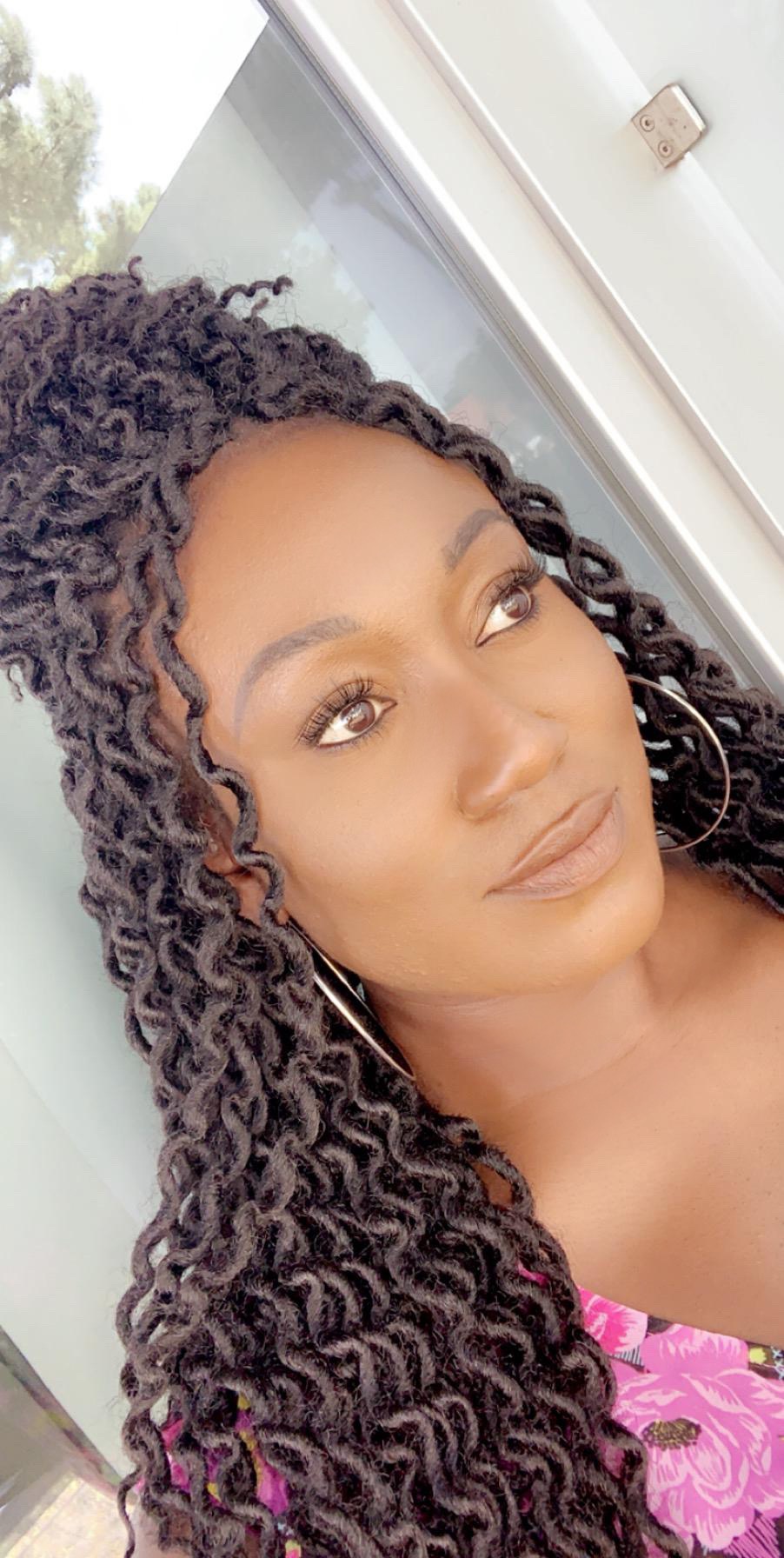 Kelle is a writer and blogger, specializing in beauty, lifestyle and wellbeing-related topics. With over a decade of writing experience, Kelle began writing for digital publications in 2020 and her work has been featured in POPSUGAR, Byrdie, Stylist, BeautyTap, and Brown Beauty Talk. She's an expert in solutions for combination skin and coily hair who, after years of searching for the right formulas, knows just how to find the perfect primer and moisturizer for any skin type.