These are the 10 best foundations for combination skin at every budget
Discover our pick of the best foundation for combination skin that won't cling to dry patches or clog pores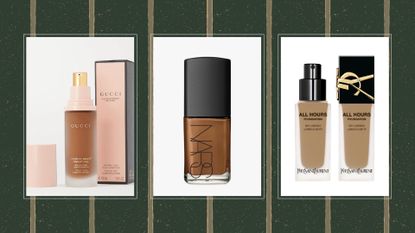 (Image credit: Future/Brand)
The best foundation for combination skin has to work hard to appease both dry and oily areas. If the finish is too matte, it can exaggerate dryness. But too dewy, it will only add more shine to the skin.
Instead, the best foundation for this skin type sits somewhere in the middle to deliver a smooth, radiant finish that will stay put for hours. "When it comes to combination skin, one of the biggest challenges is finding a foundation that will stay put in the oily areas but won't dry out the skin," agrees Amy Conway, Bobbi Brown Global Pro Artist. Her top tip? "Opt for water-based formulas as they can be built up to give flawless coverage but can also be blended out for a lightweight, fresh-faced look." As for the finish, "it's usually a safe bet to go for a satin finish as it sits perfectly between matte and dewy," adds Aimee Connolly, Makeup Artist and founder of Sculpted by Aimee.
"I'd also suggest steering clear of anything heavily fragranced, with a high oil content or with a lot of talc, as they can further exaggerate problem areas on the skin," warns Connolly. As someone with combination skin who has an oily t-zone and dry cheeks, I'm very aware of the struggle to find the perfect foundation. Trying and testing the latest formulas, as well as cult classics, I've whittled down an edit of the best foundations for combination skin that really do stay put. Plus, expert makeup artists answer your foundation FAQs.
How we tested the best foundation for combination skin
Why you can trust Woman & Home Our expert reviewers spend hours testing and comparing products and services so you can choose the best for you. Find out more about how we test.
To whittle down our edit of the best foundations for combination skin, we tried dozens of different formulas spanning every price point – from the best drugstore foundations to top-rated luxury picks. To score highly, the foundation had to cater to both dry and oily skin types. We paid close attention to how well each foundation lasted – checking to see if they settled into fine lines and pores and if they began to oxidize. The base products that made this edit all delivered on staying power, application ease, and the finished look. We applied each one in the morning and wore it for a full day's wear, without touch-ups, to see how well it performed.
The best foundation for combination skin, chosen by our beauty team
1. Givenchy Matissime Velvet Radiant Mat Fluid Foundation
Best foundation for combination skin overall
Specifications
RRP: $51/£36.50
Texture: Liquid
Shades: 17
Reasons to buy
+
SPF 20
+
Long-wearing formula
+
Lightweight and easy to blend
This ticks all our boxes and then some. Incredibly lightweight, Givenchy's Velvet Radiant Mat Fluid Foundation has a thin, silky texture that blends in like butter for a second-skin finish. And while it can stay lightweight and luminous – it can also be built up in light layers for medium-to-full coverage. A godsend for combination skin, we love how the mattifying formula absorbs excess oil on our T-zone, without caking or appearing dry on our cheeks.
Overall, this gave our skin a soft-matte finish that still looked luminous. It's the best of both worlds and a great foundation for everyday wear. Proof that we're hooked, we've been recommending this one to colleagues, friends, and family ever since. To apply, we'd suggest opting for a densely bristled brush to really buff it in – starting at the center of the face and blending outwards. Our only gripe is that it's available in just 17 shades – which won't help some skin tones master how to find your foundation shade and is limited compared to other big beauty brands.
2. NYX Professional Makeup Born to Glow Naturally Radiant Foundation
Best budget foundation for combination skin
Specifications
RRP: $10/£10
Texture: Liquid
Shades: 45
Reasons to buy
+
Vegan formula
+
45 flattering shades
+
Radiant finish
Covet a fresh-faced, luminous makeup look? Turn your attention to this glow-giving Radiant Foundation from NYX Professional. A total game-changer, this featherweight formula stands up to foundations twice and even thrice its price point. In fact, if you're on the hunt for a cheaper alternative to Armani's best-selling Luminous Silk Foundation, give this purse-friendly pick a whirl. The liquid base blends in effortlessly to deliver a veil of dewy coverage.
While a dewy base may sound problematic for oily T-zones, note that this formula is long-wearing and doesn't crease or crack. We found that a dusting of our best setting powder was all we needed to keep unwanted shine at bay. Top tip? Focus your powder on oil-prone areas only – as opposed to applying it everywhere. This way any dry areas can still look luminous. Available in 45 versatile shades, spanning warm, cool, and neutral undertones, there's a shade to suit every skin tone.
3. Gucci Fluide de Beauté Natural Finish Fluid Foundation
Best luxury foundation for combination skin
Specifications
RRP: $68/£46
Texture: Liquid
Shades: 40
Reasons to buy
+
Long-lasting
+
Absorbs excess shine
+
Doesn't cling to dry patches
This is one of the best foundations we've tried, ever. A bold claim, we know – but this formula really is a cut above the rest. What first caught our eye is the luxurious frosted bottle, featuring a powder pink lid and chic gold font. But looks aside, it's what's inside the bottle that impressed us most. A lightweight liquid formula, the texture is silky smooth and incredibly easy to blend. While some foundations can gather around the nose or cling to dry patches on the cheeks – this one does not.
For best results, we recommend using a soft stippling brush to buff this foundation in. Start with a light layer and build it up where needed for medium coverage. The results? A velvet-matte finish that instantly takes down shine. By lunchtime, we noticed more of a glow (mainly on our cheeks) and by evening it was still firmly in place with no creases or patches in sight. While it's expensive, a little does go a long way (we found that one pump was plenty) and it truly is amazing.
4. Oxygenetix Blemish Control Foundation
Best foundation for combination skin prone to spots
Specifications
RRP: $66/£55
Texture: Liquid
Shades: 12
Reasons to buy
+
Long-lasting
+
Absorbs excess shine
+
Oil-reducing skincare ingredients
+
Easy to blend
If you're familiar with the brand Oxygenetix, you'll know that the original Oxygenating Foundation has garnered a huge celebrity following, including Cindy Crawford and Kourtney Kardashian. Joining that award-winning, best-selling formula is the brand's latest base offering – Blemish Control Foundation. Specifically designed for oil- and blemish-prone skin, this new foundation contains 2% salicylic acid to help decongest pores alongside vitamin E and aloe vera to calm redness and inflammation.
As well as an impressive line-up of ingredients, this foundation boasts the same staying power as the original (we're talking 10 hours or more.) We found that it stuck around from our morning coffee to after-work drinks and even lasted a power nap without transferring onto sheets. Impressive, right? It's super comfortable and lightweight with a powder-matte finish that doesn't cake or crease. We also noticed it concealed blemishes, redness, and dark spots without the need for our best drugstore concealer – a big tick! The only catch is the price point, which is significantly more than most foundations we tried.
5. NARS Cosmetics Sheer Glow Foundation
Best glow-giving foundation for combination skin
Specifications
RRP: $47/£35
Texture: Liquid
Shades: 40
Reasons to buy
+
Contains skincare ingredients
+
Doesn't settle into fine lines
+
Radiant finish
Reasons to avoid
-
Have to buy pump seperately
If you prefer a radiant base over a matte finish, give this Sheer Glow Foundation from NARS a go. It's a brilliant all-rounder that's loved by beauty editors and makeup artists alike for its long-wearing, easy-to-build formula that's available in 40 versatile shades. It's also suitable for every skin type – including combination. Although it's dewy, it's not too dewy, meaning it can stay put on oilier complexions without exacerbating shine. The overall finish is a subtle glow that makes skin look healthy and radiant.
If it's a wet look, glass skin finish that you're after – look elsewhere. But for a sheer glow that's luminous and radiant, this is the foundation for you. For a super natural-looking finish, we recommend warming up the foundation in your hands before pressing it into the skin with your fingertips. Our top tip? Less is more with this foundation. As for the formula, it's laced with brightening turmeric extract alongside powerful antioxidants to protect the skin against free radicals. As we said, a brilliant all-rounder.
6. YSL Beauty All Hours Foundation
Best full coverage foundation for combination skin
Specifications
RRP: $58/£36
Texture: Liquid
Shades: 40
Reasons to buy
+
SPF 39
+
Oil-free formula
+
Long-lasting
Reasons to avoid
-
Can settle into fine lines
The best hyaluronic acid products are not solely skincare products. More and more makeup staples star this ingredient too. Take this All Hours Foundation from YSL, for instance. The new and improved formulation now features hyaluronic acid to hydrate and smooth skin. A great pick for the winter months, when skin is starved of moisture, this nourishing formula feels moisturizing and lends skin a fresh (and flawless) finish.
Like the original, it's long-wearing – promising 24 hours of full, matte coverage. And while we can't attest to the 24-hour claim, we can confirm that it stayed put from our morning coffee through to our afternoon Zoom calls without migrating. By the evening, the foundation had settled into our fine lines – but it was nothing a quick touch-up using a sponge couldn't fix. Overall, this is a great full-coverage formula that doesn't feel too heavy, and, unlike some other full-coverage foundations, this one's easy to blend. We also appreciate the addition of SPF 39 (which is higher than most).
7. Rose Inc Skin Enhance Luminous Tinted Serum
Best tinted foundation for combination skin
Specifications
RRP: $49/£36
Texture: Tinted moisturiser
Shades: 14
Reasons to buy
+
Sheer, radiant coverage
+
Hydrating formula
+
Doesn't clog pores
Reasons to avoid
-
Bottle doesn't last long
Searching for the best tinted moisturizer that's suitable for combination skin? Consider the search over as this serum-like tint from model-turned-entrepreneur Rosie Huntington-Whitely gives sheer, radiant coverage that sticks around all day. Perfect for anyone who prefers a barely-there makeup look, we found that this formula is ultra-lightweight, blends in effortlessly, and gives skin a fresh, radiant glow. If it's blemishes and redness you're looking to conceal, we'd recommend spot concealing to add more coverage where desired.
As for the innovative formula, this tint contains pigment spheres that are suspended within a serum base laced with hyaluronic acid, squalane, and peptides to plump up, protect and moisturize skin. We love how this formula feels on the skin – refreshing and hydrating. While we'll likely opt for a heavier base come evening, this has become our go-to for those days when our skin is behaving well and we want just a little coverage (and a whole lotta glow). The downside? We applied three to four pumps in one go, so suspect that the bottle won't last very long.
8. Bobbi Brown Skin Foundation
Best foundation for mature combination skin
Specifications
RRP: $52/£37.50
Texture: Liquid
Shades: 31
Reasons to buy
+
Oil-free formula
+
Long-lasting
+
Healthy-skin finish
This foundation has been doing the rounds for some time. A cult classic, fans adore its lightweight, breathable formula that never feels heavy or caked on. This very thin foundation has a silky, water-like texture that we found easy to apply. Just note that a little goes a long way, quite literally, so be careful not to dispense too much product as it can run on your hand. As with all Bobbi Brown products, the goal of this foundation is to give skin a healthy-looking finish and natural radiance.
The finish sits somewhere between matte and dewy which is ideal for anyone with combination skin. We found that our dry cheeks look luminous while our oily T-zone stayed soft-matte. And while this formula is too lightweight to mask blemishes and dark spots, it does soften their appearance. The staying power is good and we love the fact that it's oil-free and offers broad-spectrum UV protection.
9. Jones Road What the Foundation
Best balm foundation for combination skin
Specifications
RRP: $44/£42
Texture: Balm
Shades: 12
Reasons to buy
+
Natural-looking finish
+
Easy to blend
+
Moisturizing formula
Reasons to avoid
-
Oil-based formula not for everyone
After going viral on TikTok, we were delighted to see What The Foundation from Bobbi Brown's brand Jones Road land on UK soil in early 2022. In keeping with the makeup artist's preference for a natural aesthetic, this foundation balm is designed to give skin a light veil of dewy coverage that looks like your skin on a good day. Intrigued? Housed in a glass jar, the formula has a thick, buttery texture and strong (but, in our opinion, pleasant) scent. To apply, we recommend opting for your best foundation brush to buff in a light layer.
Glow is the aim of the game with this oil-based foundation that's loaded with moisturizing jojoba oil and sodium hyaluronate. For our tester's combination skin, which errs on the dry side, this balm wasn't too oily. Once applied, skin looked healthy with a subtle sheen. By the evening, it was clear to see that the coverage had worn off, but we still detected a glow. If your skin is on the oilier side, we'd advise against this foundation as it can migrate and highlight shine.
10. Sculpted By Aimee Connolly Second Skin Foundation Matte Finish
Best mineral foundation for combination skin
Specifications
RRP: £25 (UK & Ireland only)
Texture: Liquid
Shades: 17
Reasons to buy
+
Non-comedogenic
+
SPF 50
+
Hydrates and calms skin
This matte, mineral foundation is a great choice for combination skin types as well as anyone following a skincare routine for sensitive skin. "I often reach for this foundation for combination skin as it's oil-free so will not add any extra shine to oily areas, but as it's packed with skin-loving ingredients such as hyaluronic acid and aloe vera extract, it will also keep the skin hydrated and nourished," says Connolly.
Although the coverage is medium-to-full, we found that this foundation has a lightweight texture that's easy to blend in. We love how it looks on our skin – disguising redness and concealing blemishes while leaving behind a velvet-matte finish that's akin to a real-life Instagram filter. While some matte formulas can be drying, this one is not. Our skin still looked luminous without becoming shiny. Our only gripe is that the coverage had worn off by the end of the day. To boost its staying power, try spritzing a fixing mist, like our fave Urban Decay Setting Spray, on top.
---
How to apply the best foundation for combination skin
"To ensure you get the coverage you're after, that lasts all day, layer a primer under your foundation," says Conway. The best primers act as a protective barrier between skin and makeup. "On oily skin, primer stops the oil from seeping through and making makeup slide," continues Conway, "and on dehydrated areas, it stops makeup from going patchy."
To take it one step further, Connolly suggests investing in two types of primer. "Go for an oil-controlling primer to mattify areas prone to shine and an illuminating primer for dry areas to add a luminous boost and extra hydration."
In terms of tools, Conway recommends using a brush to apply your chosen foundation. "No matter how clean your hands are, you still have natural oils on your fingertips, which can make the skin oilier and makeup slide. When applied with a brush, you create the most flawless coverage that will last," says Conway.