Skincare for makeup: Expert skin prep tips for a red-carpet-ready look
Your skincare for makeup masterclass by beauty professionals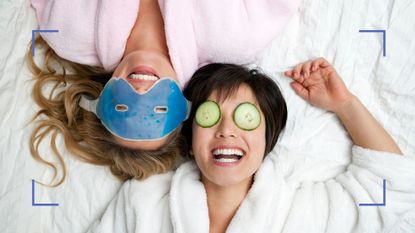 (Image credit: Getty images)
When it comes to skincare for makeup, it's no great secret that a beautiful makeup look begins with well cared-for skin.
However, when most of us are planning a glam look for a special event, it's fair to say our beauty preparations tend to be weighted towards hastily applied warpaint over careful skin prep.
You see, there are two schools of thought on skincare for makeup. Some view the relationship between our skincare routine and make-up bags as an equal partnership, with cosmetics acting as a flattering glaze over your complexion's best assets. Others grab their best foundation and engage it in a heavy-handed hostile takeover—smothering this neglected bit and 'fixing' that one.
Ask any expert and they'll tell you Team A is a happier headspace. So that's just what we've done—asked the experts to reveal the professional skin prep tricks of facialists, makeup artists and aestheticians that will help your finished beauty look shine even brighter.
Skincare for makeup: How to skin prep like a pro
Facialist Chelseé Lewis' night before facial
A glow boosting at-home facial is the ultimate skin prep step, here's how A-List Facialist Chelseé Lewis prepares her client's skin for the red carpet:
"The night before a party, I would recommend a gorgeous at-home mini facial. Start by massaging with a face oil using effleurage—stroking movements out towards the lymph nodes on the sides of the face and down the side of the neck.
Afterwards use an eye mask that you've kept in the fridge, which is incredible for reducing puffiness. Splash the face 10-15 times with freezing cold water, it will give the skin a boost in micro-circulation and has a tightening effect. I would then put on Clarins Flash Balm. This can be applied as a mask for ten minutes before washing off, then later applied before makeup as a primer to make the skin appear radiant."
Makeup artist Joy Adenuga's pre-makeup prep
Skincare for makeup doesn't have to be complicated. Learn how to use face primer and the best skincare products for prep with pro makeup artist Joy Adenuga:
"Prepping the skin is vital. It helps foundation, concealer and powders blend beautifully into the skin. As I apply eye makeup first, masking is my favourite prep. The ingredients in the mask can get to work, then when you're done working on the eyes the skin is ready for make-up.
I'd advise against using strong face scrubs, which tend to mess up the texture of the skin. A hydrating mask works really well on dry skin, I like Vichy Hyaluronic Acid Sheet Mask for oily skin. I massage in a little moisturiser like Embryolisse Lait-Crème Concentré with a mattifying primer on the oily areas. This also helps with longevity, allowing the make-up to stay put for hours."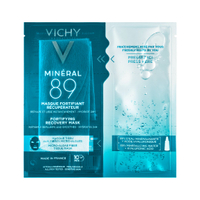 (opens in new tab)
Vichy Mineral 89 Hyaluronic Acid Sheet Mask | RRP: $4.46/£8
Hyaluronic acid (opens in new tab) is the ultimate light and effective skin hydrating ingredient. Unusually for an HA product, this sheet mask doesn't leave the skin feeling sticky, making it an ideal product to include in your skincare for makeup routine.
Skin SOS with Dr Rabia Malik
When puffy eyes, knackered skin or a huge new spot erupts on a big day, consult holistic aesthetic doctor, Dr Rabia Malik's skin for how to get rid of acne and SOS solutions:
SOS: Huge spot
"Apply some ice for a few minutes and then a big blob of spot cream. Use whatever you have or If you're heading to the pharmacy, get some Freederm Gel, which has anti-inflammatory nicotinamide. Leave for one to three hours, remove and apply a hydrocolloid sticker which should bring down any inflammation."
SOS: Puffy eyes
"I would start by applying an ice cube wrapped in muslin to the eye area. Move this around the eye contour for one to three minutes, then use a roller around the eye contour."
SOS: Tired, dull skin
"Prep with an exfoliator, then apply Skin W1 Collagen Stimulating Serum and use a facial roller to massage the active ingredients into the skin. This will hydrate and boost circulation, leaving skin fresh and glowing."
SOS: Hot flushes
"Hot flushes are caused by hormones so can be difficult to get on top of with skincare alone. But cooling products that can be sprayed onto the skin help keep you more comfortable. I recommend Indeed Labs Me No Pause Cooling Mist."
What to avoid when planning your skincare routine for makeup
Hot baths
If you love a long hot soak, make sure you do it the day before the big bash. Residual body heat from bathing can stick around for hours, causing makeup melt, flushing and shine outbreaks on your T-Zone.

Harsh acids
"Avoid glycolic acid exfoliants. This alpha hydroxy acid has small molecules that penetrate the skin deeply. It's the most aggressive AHA so should only be used at least 72 hours before an event," advises aesthetician Abi Oleck.

Puff-inducers
Alcohol, salty food and lack of sleep are a surefire route to puffy, blotchy skin. So, if you can, be sensible the night before. If you can't, Abi recommends a cooling massage with a cryo tool for "minimizing inflammation, helping lymphatic drainage and reducing redness."
woman&home thanks Chelseé Lewis, Joy Adenuga, Dr Rabia Malik and Abi Oleck for their time and expertise
Beauty Editor, womanandhome.com
As woman&home's Beauty Channel Editor, Fiona Mckim has tried more products than she's had hot dinners and nothing makes her happier than raving about brilliant finds on womanandhome.com or her instagram grid (@fionamckim if you like hair experiments and cute shih-tzus). Fiona joined woman&home as Assistant Beauty Editor in 2013 under industry legend Jo GB, who taught her everything she needed to know (learn about ingredients and employ extreme cynicism). She has since covered every corner of the industry, from interviewing dermatologists and celebrities to reporting backstage at Fashion Week and judging the w&h Beauty Awards.