The 9 best IPL hair removal devices for lasting, silky-smooth skin
Our beauty team's favourite IPL hair removal devices offer long-lasting, at-home hair removal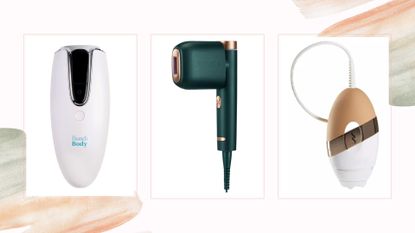 (Image credit: Future/Bondi Body, Jovs, Smoothskin)
woman&home newsletter
Sign up to our free daily email for the latest royal and entertainment news, interesting opinion, expert advice on styling and beauty trends, and no-nonsense guides to the health and wellness questions you want answered.
Thank you for signing up to Woman & Home. You will receive a verification email shortly.
There was a problem. Please refresh the page and try again.
If you're seeking out one of the best IPL hair removal devices, it's likely you want an effective yet affordable way to slow down hair growth. A high-tech method that boasts better results with every use, these are the products that could transform your hair removal routine.
Ready to ditch the best razors for women in favour of something with more long-term results? An IPL could be for you. Intense pulsed light technology involves applying gentle pulses of light to the hair root, which puts the follicles into a resting phase. Stalling growth and causing the hair to fall out as a result, you can expect less and less hair to grow back over time.
Much more cost effective than in-clinic laser hair removal, as well as achievable from the comfort of your own home, IPL hair removal has numerous benefits. Without the pain of the best epilators or the irritation of razor burn, these small but mighty devices are not to be overlooked. Our team have tried and tested a range of the best IPL tools on the market to find out which are really worth the investment, making your journey to flawless hair removal all the more smooth.
9 of the best IPL devices, tested by our team
Why you can trust Woman & Home Our expert reviewers spend hours testing and comparing products and services so you can choose the best for you. Find out more about how we test.
1. JOVS Venus Pro Skin Rejuvenation and IPL Hair Removal Device
Best IPL device for hair removal and skincare benefits
Specifications
RRP: £319 / $429
Areas: Whole body
Includes: IPL hair removal device, Skin Rejuvenation Attachment, Face Filter Attachment, Arm Filter Attachment, Bikini Filter Attachment, Leg Filter Attachment, Underarms Filter Attachment, protective goggles, razor
Reasons to buy
+
Multiple settings for the whole body
+
Skin treatment setting
+
Sleek, trendy design
+
Reasonably priced
Reasons to avoid
-
Slightly fiddly for first-timers due to the number of settings
The JOVS Venus Pro IPL undoubtedly gets our vote as one of the best IPL hair removal devices. If the gorgeous design didn't have us convinced as soon as we unboxed it, the impressive range of features sold us.
With six different attachments plus six treatment modes and intensities, it can be used anywhere on the body. The flexible, rotating head also helps with reaching those trickier spots. The JOVS IPL also features a skin treatment setting (not something you'll find on all IPL hair removal devices) that works to improve skin texture, boost collagen, and even out your skin tone. Even some of the best skincare devices can't promise such results. When we tested this IPL, we started on the lowest level, which was totally painless, and gradually worked our way up as we did more treatments. We also found that this process only takes around ten minutes for a full-body treatment, so it really couldn't be quicker.
For first-time users, this device may seem a little overwhelming. The range of features and removable heads take a little bit of time to wrap your head around, but as soon as you do, it couldn't be simpler. Plus, little extras like protection goggles and a razor prove that no detail has been missed. We love that this one device addresses not only your whole body, but also skin concerns. If you invest in one device, the JOVS will have your every need covered.
2. Braun Silk-expert Pro5
Best IPL hair removal device for most people
Specifications
RRP: £599 / $760
Areas: Body, underarms, bikini
Includes: IPL hair removal device, precision head, premium pouch, razor
Reasons to buy
+
Skin sensor for safety
+
Safe for intimate areas, armpits, and legs
+
400,00 flashes
+
Prevents ingrown hairs
+
Doesn't require charging or batteries
Reasons to avoid
-
Works best on coarse and darker body hair - not for those with fairer hair
This is our second pick of IPL hair removal devices on the market because it does a little bit of everything and does it well. It's easy to use, thanks to simple controls and clear instructions without jargon, it fits comfortably in your hand, and you can keep any discomfort to a minimum with the regular, gentle, and extra gentle settings. This means beginners can start extra gently and build themselves up (we found the extra gentle setting perfect for treating a hairy bikini line).
The skin tone sensor is another excellent feature and, on testing, ensured we were using the perfect setting for our hair and skin colour. It also ensures the device is sitting correctly for optimum contact with the skin to engage the light pulse. We love the app that helps you keep track of your treatment plan too, as sometimes the trickiest part of using IPL hair removal devices is remembering to get them out of the drawer.
The price point of this IPL device is at the higher end but the results justify the costs. Like many, this device isn't suited for those with very light hair - light hair doesn't contain as much pigment as dark hair does for the device to target - but for anyone else, it's a winner.
3. SmoothSkin Bare+ Ultrafast IPL Device
Best easy to use IPL hair removal device
Specifications
RRP: £199 / $233
Areas: Whole body
Includes: IPL hair removal device, power supply, power cable
Reasons to buy
+
Great price point for an IPL
+
Pain-free
+
Ideal for beginners
+
Small and compact
Reasons to avoid
-
Limited settings and options, so less sophisticated than others on this list
For a reasonably priced, simple to use and effective IPL, the SmoothSkin is your guy. When testing this device, we found it to be one of the easiest to use in terms of setting up and the actual treatment, as well as being nice and light to hold. No more debating waxing vs shaving, this little tool will have you converted to IPLs instantly.
The instruction manual that comes with the SmoothSkin explains the process in an extremely easy-to-follow way, which is why it has our vote as the best user-friendly IPL. It promises 97% less hair in 12 weeks, which is slightly longer than some of the other IPLs we've tested, however, this device is also significantly cheaper than most. When testing, we found that it also delivers a full-body treatment in 10 minutes with absolutely no pain, so despite the simple design and lower price tag, it works just as well as its more expensive competitors.
There is only one setting and two treatment modes on this IPL, so it is definitely one of the more basic devices we have tried. For those who have extra sensitive skin or want the option of different settings for different areas of the body, this may not be the one for you. However, if you are a beginner or want something simple and reliable, you really can't go wrong.
4. Philips Lumea IPL Advanced
Best intimate IPL hair removal device
Specifications
RRP: £389.99 / $319.99
Areas: Body, face, bikini
Includes: IPL hair removal device, face attachment, bikini attachment, pen trimmer, travel case
Reasons to buy
+
Ideal for sensitive areas
+
Light and compact
+
Simple to use
+
Smart skin tone sensor
It's no secret that Philips makes some of the best beauty gadgets on the market, but are the brand's IPLs worth the price tag? We certainly think so. Philips offers a wide range of IPLs that all function slightly differently, and this Advanced model is perfect for removing hair on the more sensitive areas of the body, such as the bikini line and face. We appreciated the compact pen trimmer that comes with this IPL, which is ideal for on-the-go use. While many other IPLs typically require weekly treatments, the Lumea Advanced only needs two a month for the first six weeks, then monthly top-ups to maintain results - perfect for low-maintenance beauty lovers.
When we tested the Lumea Advanced, we noticed how lightweight and easy to hold it is. It is cord-powered so doesn't boast a wireless function, however, the extra-long cable makes for easy usage anywhere. We also found that it sits somewhere in the middle of the complexity scale. It has five intensity settings and three different attachments – more than some of the basic IPLs we've tested – but each is very simple to use. Plus, it comes with a handy travel case that fits all components inside, so it is easy to store as well as carry around with you.
When it comes to precise and reliable hair removal on areas like the face, the Advanced model has our vote. This is due to its small size and precision attachments that are perfect for small-area treatments. Plus, its speedy results are ideal for hair in places like the face that you may want gone quicker than the legs. If intimate areas like the bikini line aren't your target area for hair removal, or you want something slightly more multi-functional, check out our thoughts The Philips Lumea Prestige may be a better option, and you can read our thoughts on that further down.
5. Bondi Body Laser @ Home V2.0
Best IPL device for quick results
Specifications
RRP: £299 (UK only)
Area: Entire body (except the male intimate area and face)
Includes : IPL hair removal device, safety sunglasses, charging cable, storage bag
Reasons to buy
+
Recently re-launched
+
Easy to use
+
Less painful than other models
+
More affordable option
Reasons to avoid
-
Overheats more easily than other models we've tested
With a reasonable price point of £299, we were eager to put this budget-friendly model to the test. The Bondi Body range was founded by Trish Coulton, who has 20 years of professional depilatory experience and used her expertise to craft a device that will deliver speedier results than its competitors - the brand claims you'll notice a difference in just four treatments and a significant hair reduction in five weeks. Plus, the product has been recently re-launched, and it is now suitable for use on the face and works to reduce pigmentation, sun spots, and broken capillary veins.
You'll need to use the device twice a week, which is a little more labor-intensive than the treatment protocols than other IPL devices, but the extra weekly session soon pay dividends. Typically it can take around three months for body hair to be reduced with consistent use of IPL, so we did find it promising to see thinner and sparser hair after just three weeks of using this on our legs and underarms. With that said, you'll still need to wait 12 weeks in total to completely treat an area.
The second big promise from Bondi Body is that its IPL device is painless, and we can confirm the brand delivers. While there is a feeling of warmth across the skin while using the device, there's no pain or discomfort. It's also suitable for sensitive skin and has eight settings - more than we've seen on other models. In all honesty, this IPL device is up there with the best of them, for a significantly lower price.
6. Sensica Sensilight Pro Permanent Cordless Hair Removal Device
Best cordless IPL hair removal device
Specifications
RRP: £375 / $365
Areas: Face, body
Includes: IPL hair removal device, 4.5cm treatment head, 2cm treatment head, charging cable, portable pouch
Reasons to buy
+
Rechargeable
+
Unlimited flashes
+
Six functions and two windows
+
Cordless, portable, and good for travel
Reasons to avoid
-
One of the most expensive IPLs in this guide
Yes, this is one of the priciest IPL hair removal devices on our list, and could certainly be considered a luxury item. However, it does boast some high-spec features that justify the investment. For one thing, it's cordless, which makes treating hard-to-reach bits of the body so easy you can throw out your best bikini trimmer for good.
When we tried it, that cordlessness also meant we could use it wherever was most comfortable - be that bed or on the sofa in front of a movie – rather than being dictated by where the plug sockets are in our home. Being battery-operated also meant we could also easily take it with us wherever we went, which will be good news to frequent flyers should you fancy a mid-vacation IPL sesh (to each his own).
Other reasons why we love it? This device provides unlimited flashes – unlike many others, with only a limited amount – which meant that we were able to use it as long as we wanted and take our time. It has two interchangeable windows to get to work on skin smoothing hair removal in both small and large areas, so we were also able to use it on the upper lip or leg areas all in one session. If you value ease above all else, this is a worthy investment.
7. Philips Lumea Prestige IPL Hair Removal Device
Best intelligent hair removal device
Specifications
RRP: £509.99 / $599
Area: Body, bikini, underarm face
Includes: IPL hair removal device, body attachment, power supply, storage bag
Reasons to buy
+
Intelligent programs
+
Versatile, for use in many areas
+
Skin tone sensor
+
Comfortable to use
+
Cordless
This device rings in at the highest price on our list, but that can be justified by its versatility and intelligence. If you're a fan of tech like the best red light therapy devices and want to invest in a smart IPL tool, listen up. The second Philips IPL on the list, this one provides a different experience from the Advance model, which is why we think both deserve a mention. The Lumea Prestige works on the principle of taking the guesswork out of hair reduction, so you simply input the area you wish to treat and the device picks the perfect treatment protocol for you, from the strength of the light to the length of the session. This is a godsend for anyone who finds IPL offputtingly complex, especially when treating several areas.
Safety is catered for here too. The Lumea Prestige can be used on the body, underarms, legs, bikini, and face as desired and the Smartskin sensor selects the right settings for your skin tone and hair colour, so you can zap away with confidence. We love the wide treatment window for the body, which can cover large areas in one go, while the curves and smaller heads of the other attachments helped us get right into more awkward areas like the upper lip and armpits (no more stressing over which body hairs you shouldn't pluck). We also found this one of the most comfortable IPL hair removal devices we tested thanks to the lack of wires, and the reassuring safety features meant we could keep one eye on Netflix while we zapped without worrying.
Phillips says this is their most efficient device yet too, with studies showing up to 92% hair reduction in three treatments, with the average user achieving 78% hair reduction on legs after 12 treatments. Certainly, this is a high-cost purchase, but if you offset it against the price of 12 waxes, this starts to feel like a great investment in a smoother future.
8. Silk'n Infinity IPL Device
Best IPL Device with an accompanying app
Specifications
RRP: £295 / $399
Area: Body, underarms, bikini, face
Includes: IPL hair removal device, power bank, plug, instruction manual, cleaning cloth
Reasons to buy
+
Attractive and compact design
+
Simple and easy to use
+
Accompanying app useful for tracking treatments and reminders
+
Suitable for use on the whole body
Reasons to avoid
-
Results take longer, so persistence is key
The Silk'n prides itself on being a device that's suitable for all skin tones, though has the caveat that the treatment is most effective on skin and hair colours with the most contrast between the two. The Infinity has a built-in skin colour sensor, which scans that skin to help determine effectiveness, meaning if your skin tone isn't suitable for the energy setting you're using, you'll be alerted with a flashing light and the device will stop emitting light. You can also connect the device to an app that will track your treatments and provide reminders so you don't miss one - very useful as consistency is crucial when it comes to getting good results.
The brand recommends using the machine every two weeks for the first two months, then every four weeks after that. After three weeks of use, we saw a slight change in the thickness and amount of hair, though the results weren't as noticeable as other brands, such as the speedy Bondi@home laser. However, the simplicity of this device and its accompanying app make it an attractive option for anyone that's new to IPL, particularly so for those with medium to deep skin tones.
Sample provided by Boots
9. COSBEAUTY Laser Hair Removal Device
Best budget IPL hair removal device
Specifications
RRP: £149.99 / $290
Areas: Legs, underarms, bikini line, face
Includes: IPL hair removal device, one hair removal treatment lamp, safety sunglasses, user manual guide
Reasons to buy
+
Virtually painless
+
Five light settings
+
Comfortable, even on sensitive skin
+
Portable
+
More affordable option
Reasons to avoid
-
Must be plugged in
-
Not as powerful as other IPL devices we've tested
Don't let its lower price tag fool you: This IPL hair removal device can handle any removal job, big or small - it just might take a little longer to get there. It also boasts most of the features you would want and expect from these tools, including five laser settings and two adjustable flash modes to ensure all skin types - sensitive included - can use it to remove hair on the upper lip, legs, and underarm areas for effortless hair removal for sensitive skin.
We found one of the best things about Cosbeauty is how it feels. It doesn't cause pain to the skin and instead provides a gentle warming sensation that isn't even remotely unpleasant. With that said, this is largely down to being a slightly less powerful device, so you will probably need more sessions for the same hair reduction as you would get from its pricier counterparts. Still, we found that the comfortable treatment was a good motivation to persevere with our IPL hair removal journey. We also appreciated the nods to safety, such as including a pair of light-proof glasses to shield your eyes from light exposure.
While this device can help you ditch the disposable razor (no more searching how to shave your legs to avoid bumps and burns) keep in mind that it is best suited to remove darker hair, so lighter body hairs may still remain after using it. Plus, it has the drawback of not being cordless. Overall, we feel this is an impressive option at a lower price point than others on this list, and it could be a great starting point into the world of IPL devices for those not wanting to splurge £/$300+ just yet.
---
How we tested these IPL hair removal devices
On testing, there were several key things we looked out for to determine what made the best IPL tool. Weight and ease of use were key factors, as this impacted the experience of using the IPL and how simple it was to control each device. We also looked at the number of settings each device had, and how many different parts of the body it could be used for. One of the most important points we took into account was how each device felt on the skin and the overall effectiveness of the tool. We also considered design and functionality to determine which IPL hair removal device is really worth the price tag.
Your IPL hair removal device FAQs
How to choose an IPL hair removal device
To choose an IPL hair removal device, board-certified dermatologist Dr Debra Jaliman (MD) advises making several considerations:
Research: "Read online reviews and blogs before you choose one," says Dr Jaliman. "You'll also want to look out for devices that are FDA-cleared and approved."
Cost: "Don't look for a bargain or try to skimp on price, because what you pay for is what you get," she says. An expensive device could feature technology for a cleaner, more efficient process.
Features: "You'll want to purchase an IPL device with enough power and energy, and one as close to an in-office laser hair removal machine as you can get," she explains. "Also look for a unit that has several treatment levels, and for one that targets the pigment in the hair follicle."
Flashes: The number of flashes indicates how long the device will last before the lamp needs to be replaced. A good IPL hair removal device should have between 150,000 to 250,000 flashes.
Suitability: IPL devices shouldn't be used during certain periods of life when hormone imbalances happen - specifically pregnancy, breastfeeding, and your period - doing so can affect pigmentation and cause hyperpigmentation or melasma. If in doubt, ask your doctor before using.
And no matter what device you end up purchasing, being realistic about your results is crucial. "Go in thinking you will reduce hair, instead of completely eliminating or removing it," advises Dr Jaliman.
How do IPL hair removal devices work?
IPL stands for Intense Pulsed Light technology and is most commonly used for hair removal. IPL works by using a handheld device and moving it across the skin, delivering flashes of light to target the melanin in the hair. The light is then absorbed by the hair root, heating it up, and ultimately destroying the papilla or root of the follicle. This plays a key role in the regulation of hair growth.
The hairs you already have will then fall out and eventually, hair will grow back thinner and more sporadically, without pesky ingrown hairs. Double win! In terms of how long it takes to see results, devices can differ and it does depend on the area you're treating. So hair removal from the face might take less time than removing thicker leg hair. Typically, users find between six and ten treatments are needed, usually at intervals four to six weeks apart.Celebrity aesthetic aesthetician Sadaf Jaffari explains, "IPL takes on average about six sessions to get rid of 70% of hair permanently."
Does IPL hair removal hurt?
Pain levels vary for everyone but, generally, you can expect a little discomfort with IPL. Many find it far preferable to waxing and epilating, and roughly on par with a professional laser.
"The pain is normally strongest in the first treatment when hair is thicker and darker and attracts more light and heat," Jaffari explains. "The less hair there is as the treatments go on the less painful it becomes, but also it's all based on the patient's pain threshold."
"At-home IPL machines work by applying the administered gel to the area and then pulse the device over the area, many clients have reported this option is more painful because IPL engages all the skin and hair whereas laser focuses on the hair follicle itself," says Pulse Light Clinic senior consultant, Barbara Taylor.
Reviewers describe the sensation of using at-home IPL as being flicked with a rubber band or as short zaps. This also depends on the device used and the sensitivity of your own skin. However, a common theme throughout reviews is that the discomfort eases with continued use.
What is the difference between IPL and laser?
IPL and laser hair removal are not the same. Where laser uses single-spectrum light, IPL uses multi-spectrum lights. That means, for laser hair removal, the light is densified and it precisely targets the hair follicle without damaging the surrounding skin. For IPL, the light is scattered, making it weaker but also gentler on the skin. Many experts recommend IPL as an effective treatment for rosacea as well as hair removal, while other pro methods are preferable for those with certain hair colours.
"Many at-home IPL devices do not work if your skin is dark or hair light due to the lower intensity to target pigment in the hair follicle than those used professionally," explains Taylor. "Grey, blonde and finer hairs are generally harder to treat with any method, and professional in-clinic electrolysis treatment would be best for this for small areas."
As well as rosacea, IPL can be used to treat other skin conditions, too. "IPL is used most commonly as a hair removal tool but can also help to remove spider veins, improve skin texture and pigmentation and reduce acne," adds Jaffari.
Does IPL remove hair permanently?
In short: no. IPL is not permanent. However, it does reduce hair growth significantly and can give you hair-free skin for longer than both waxing and shaving. Plus, it's far less painful than waxing.
"Often after six sessions you expect to lose up to 70% of the hair," Jaffari explains. "However the sleeping hair follicles can also start to grow, so more sessions are needed to destroy those hairs. You could be hair-free for a few years, but many need to have top-up sessions after that as maintenance."
Is IPL hair removal safe?
"Yes, IPL hair removal is 100% safe," says Trish Coulton, Founder of Bondi Body. However, "it's important to take into consideration a couple of things before beginning your IPL journey. Making sure you have the correct skin tone and hair colour is vital. For IPL, light to medium skin tones, with darker hair is optimal. This is because IPL targets the melanin in the hair, damaging the follicle and stunting regrowth.
"The colour contrast between the hair and skin helps the IPL device to pick up on those darker pigments and interact with them effectively. Also, I always recommend using your device in the winter and Autumn, when the skin is less tanned, again to keep a contrast between hair and skin. I also recommend using the device in the evening, when there is less likely to be a prolonged time in direct sunlight."
As long as the IPL hair removal device you buy is from a trusted brand and you follow the directions for use, the treatment is perfectly safe. If, however, you start experiencing any adverse side effects like a rash or extreme pain, do consult a doctor.
Can you remove pubic hair with IPL?
"IPL is ideal for the intimate & bikini line areas," says Coulton. "Pubic hair is called terminal hair, which is usually darker and thicker than hair on the rest of the body. I recommend shaving the area first and using the device when you feel the hair stubble.
"Hair stubble will allow the IPL light to differentiate between the skin and the hair. This allows the light to pass down the hair directly into the follicle. While result times vary from person to person and different parts of the body, using the device weekly, you should expect to see visible results within six weeks," says Coulton.
Is IPL suitable for all skin types?
No matter your skin type, an IPL should be safe to use. Those with very sensitive skin should start by using the lowest setting on their device to test the waters and ensure no irritation occurs. However, if you have a particular skin condition or are weary about using an IPL device, it is best to consult your doctor before using an IPL.
In terms of skin tones, IPL devices are safest for those with a light skin tone and darker, coarser hair. IPLs work by targeting the pigment in the hair, so there needs to be a substantial difference between your skin and hair colour. Those with a darker skin tone risk damage or discolouration if they use an IPL, so it is best avoided if you don't fit the recommended criteria.
Sign up to our free daily email for the latest royal and entertainment news, interesting opinion, expert advice on styling and beauty trends, and no-nonsense guides to the health and wellness questions you want answered.
Lauren is the former Deputy Digital Editor at woman&home and became a journalist mainly because she enjoys being nosy. With a background in features journalism, Lauren worked on the woman&home brand for four years before going freelance. Before woman&home Lauren worked across a variety of women's lifestyle titles, including GoodTo, Woman's Own, and Woman magazine.