Hair removal for sensitive skin—an expert guide to achieving a smooth, not sore, finish
These tried-and-tested techniques will make hair removal for sensitive skin a far gentler experience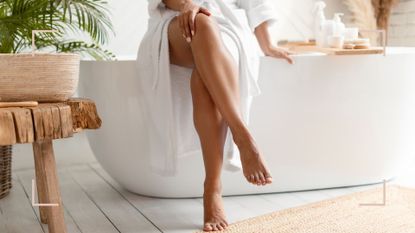 (Image credit: Future/Getty images)
woman&home newsletter
Sign up to our free daily email for the latest royal and entertainment news, interesting opinion, expert advice on styling and beauty trends, and no-nonsense guides to the health and wellness questions you want answered.
Thank you for signing up to Woman & Home. You will receive a verification email shortly.
There was a problem. Please refresh the page and try again.
You might not believe it, but there is such a thing as hair removal for sensitive skin. While some women's skin is less tolerant of treatments and products than others, there is no reason why, if you use these tips and tricks, you can't get your legs, underarms, and bikini line looking and feeling great.
Whether you wax, shave, or take the hi-tech route with one of the best IPL hair removal devices, finding the most suitable method of hair removal for sensitive skin can be tricky.
Nailing your skincare routine for sensitive skin is one thing but finding a hair removal method that won't cause irritation is quite another. It might take some trial and error, but there are tried-and-true methods out there for sensitive skin. Whether it's giving the best razors for women a go, or trying a new waxing method, it is possible to achieve silky-smooth skin, minus the redness.
How to achieve gentle hair removal for sensitive skin
Take care of your skin: If your skin gets irritated during or after hair removal, ask yourself this question before any other: do I give my sensitive skin the attention it needs? It won't help to blame the hair removal method if you're not making sure to do everything possible to keep your skin happy and healthy on a daily basis. "Truly any method of hair removal can be suitable if the right precautions are taken to soothe and protect the skin," says Dr Erum N Ilyas, a board-certified dermatologist at Schweiger Dermatology and founder of AmberNoon.
The less contact, the better: Although Dr Ilyas argues that any procedure can work, she acknowledges that some methods are better than others when it comes to hair removal for sensitive skin. "Most hair removal methods such as shaving, depilatory creams, and waxing irritate or inflame the skin in the process of hair removal," says Dr Ilyas. "Laser hair removal, threading or plucking tend to be ideal for the simple reason that these two methods do not impact the skin directly in the same way that other hair removal methods do."
Try gentler products: Look for hair removal products that are geared towards sensitive skin. Often, these will contain nourishing, soothing ingredients like aloe vera. You'll also need to avoid using certain skincare ingredients before undertaking any hair removal as using a retinol body lotion, for example, can cause skin to become more susceptible to irritation.
Every hair removal method for sensitive skin, rated
Shaving
Good old-fashioned hair-removal methods might still work for you, even if you have sensitive skin. If confused about waxing vs shaving, the key is to get your technique right, choose good products and take care of your skin before, during, and after whatever process you opt for.
Have you ever heard a chef say "a sharp knife is a safe knife?" Well, the same principle can be applied to razors. Dull blades can lead to more nicks and potential razor burn, which in turn results in skin that's more irritated. Make sure your razors are sharp, whether that means sharpening them yourself or getting new razor heads as needed. The American Academy of Dermatology Association recommends sharpening or changing your razor every five to seven shaves.
If you struggle to get smooth, consistent results with your razor, take a look at our how to shave your legs guide and it will remind you of the proper way to do the job.
Waxing
Weighing up longer-term DIY options epilation vs waxing for sensitive skin? Waxing probably has the edge. The technique is everything. It's important to keep the skin taut while removing the strip, and it's essential that you remove the strip in the direction in which the hair is growing.
Make sure you apply gentle products to your skin beforehand to prepare it and then apply a cooling gel or lotion—as well as a cold compress—to the skin afterward. Additionally, taking ibuprofen or another anti-inflammatory 30 minutes before waxing can help with pain and redness. Waxing can be slightly less painful for some, which is why it's often a good option of hair removal from the face.
If you've never tried sugar wax, it might be worth a try as it's far less likely to graze the skin. "Having tried every method out there, I can confidently say that sugaring is the best hair removal for sensitive skin by leaps and bounds," says Salome Sallehy, founder of Sugar Sugar Wax. Sugar wax only adheres to dead skin and hair—not healthy skin—when it's applied. That means that when it's removed, it only strips away the stuff you don't want on your legs, leaving you with smooth, shiny skin.
Threading or plucking
Threading or plucking are processes that grab the hair at the root and force it out of the skin. Ideally, nothing touches the skin, and the motion is so swift that it doesn't tug the skin either.
What's important is that the process is done correctly and efficiently, to prevent damage and ingrown hairs, so the best advice we have for this process is to see a professional and don't attempt it at home, especially without help. This is because there are some hairs you should and shouldn't pluck—and a professional is best placed to know the correct way to do things.
Depilatory cream
If you've ever felt baffled trying to figure out how does Nair work or not had much luck with depilatory creams generally because of your sensitive skin, chances are it just might not be the hair removal method for you.
Even the best depilator formulas are some of the harshest hair removal products because they use strong chemicals that literally dissolve hairs. If you've had reactions to hair removal cream in the past, experts recommend trying a different method all together, such as shaving, IPL, laser hair removal, waxing, plucking or threading.
Laser hair removal
Although it can be pricey, laser hair removal often results in a permanent reduction of hair growth. The procedure is done by a professional in a clinic and involves a concentrated laser zapping each follicle, killing it so the hair can no longer grow. Electrolysis works on a similar principle, but with longer lasting results (our guide to electrolysis vs laser hair removal will help you weigh up both options)
It can be uncomfortable and feels a little like elastic bands pinging on the skin but once you see the results, with zero irritation (yes it's suitable for sensitive skin!) you'll wonder why you didn't start sooner. The only issue with laser is that because it works by targeting pigment within the hair, it doesn't work on blonde hair strands. That means if you want laser hair removal on the face, it won't get rid of peach fuzz.
IPL
Intense Pulsed Light (IPL) is often confused with laser hair removal but these beauty treatments differ in the light source used.
Where laser hair removal uses a precisely controlled, single spectrum laser beam to heat and destroy follicles, IPL uses a broad spectrum of light with multiple wavelengths for more unfocused energy at a weaker strength. However, due to laser only being available in-clinic, IPL trumps this with being a method you can do yourself, at home.
As a method of hair removal for sensitive skin, IPL is fantastic. It doesn't cause any irritation to the skin but it's important to shield the treated area from sunlight during treatments and wear an SPF30 throughout your course of treatments.
The best hair removal products for sensitive skin
Our beauty team recommends...
---
woman&home thanks Erum N Ilyas of AmberNoon and Schweiger Dermatology, and Salome Sallehy of Sugar Sugar Wax for their time and expertise.
Sign up to our free daily email for the latest royal and entertainment news, interesting opinion, expert advice on styling and beauty trends, and no-nonsense guides to the health and wellness questions you want answered.
A lifelong creative writer and beautyphile, Eunice Lucero-Lee graduated from De La Salle University in 2002 and was hired a year later to front all beauty coverage for Pink Magazine. A beauty, astrology, and pop culture obsessive and insider for over 18 years, Eunice is an internationally published editor (and now certified astrologer) whose work has been featured in publications such as Cosmopolitan, Esquire, and The Numinous, among many others.